Interesting formation in the last 24HRs, NEM buyers might end up clearing last week's highs at $1.1.
While at it, USD bulls might drive LTC prices even lower to $200 and $150 now that $250 was sliced though like butter.
LTC is not alone, look at DASH and check the triple bottoms…while sellers close below this significant level? Let's wait and see.
NEM BUYERS EYE $1.1
Now, from last week price action, NEM buyers took charge and as it was, a long bullish candlestick was formed.
However, if you zoom in and study the candlestick viz a viz other technical indicators like BB, then you notice that there was some sort of over-extension and we might as well take both trades especially when signals presents themselves like yesterday.
I pasted a Fibonacci retracement tool on last week's high lows and from the chart, NEM is finding support at $0.86 which is also the 38.2% level.
Taking cue from previous set ups, buyers should aim for at least last week's highs at $1.1
AT $1000, DASH IS AT CROSSROADS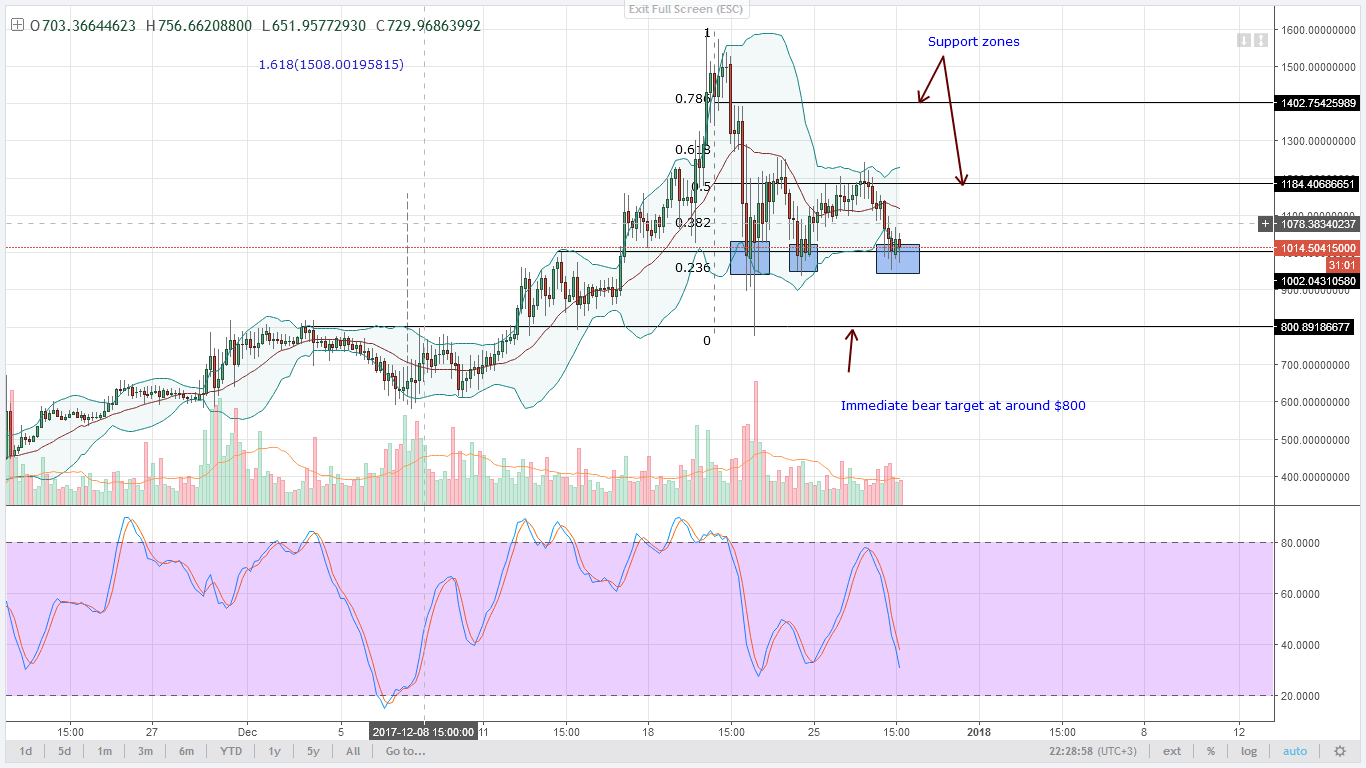 Ha ha, you know what? DASH is trending at IMPORTANT price levels and should there be any strong reaction, then it would prove definitive in the short to medium term.
Now let me tell you. If there is a close below this triple bottoms and a previous support level-look left at December 14 highs, then chances of $800-our ultimate bear target being cleared is high.
Very high I'm even placing possible bear targets at $650. These stochastics are not helping buyers either.
IOTA AT $3.3
Two interesting things happened yesterday. The first got to be those lower lows which closed above the middle BB and then of course that interesting support found at $3.3.
Undoubtedly, we are in a bear trend and IOTA price action is reversing from the 61.8% Fibonacci level.
Referring to Fibonacci reversal and extension rules, we shall project prices to touch sub $3.3 in the coming days.
MONERO BELOW THE MIDDLE BB, WILL IT BOUNCE?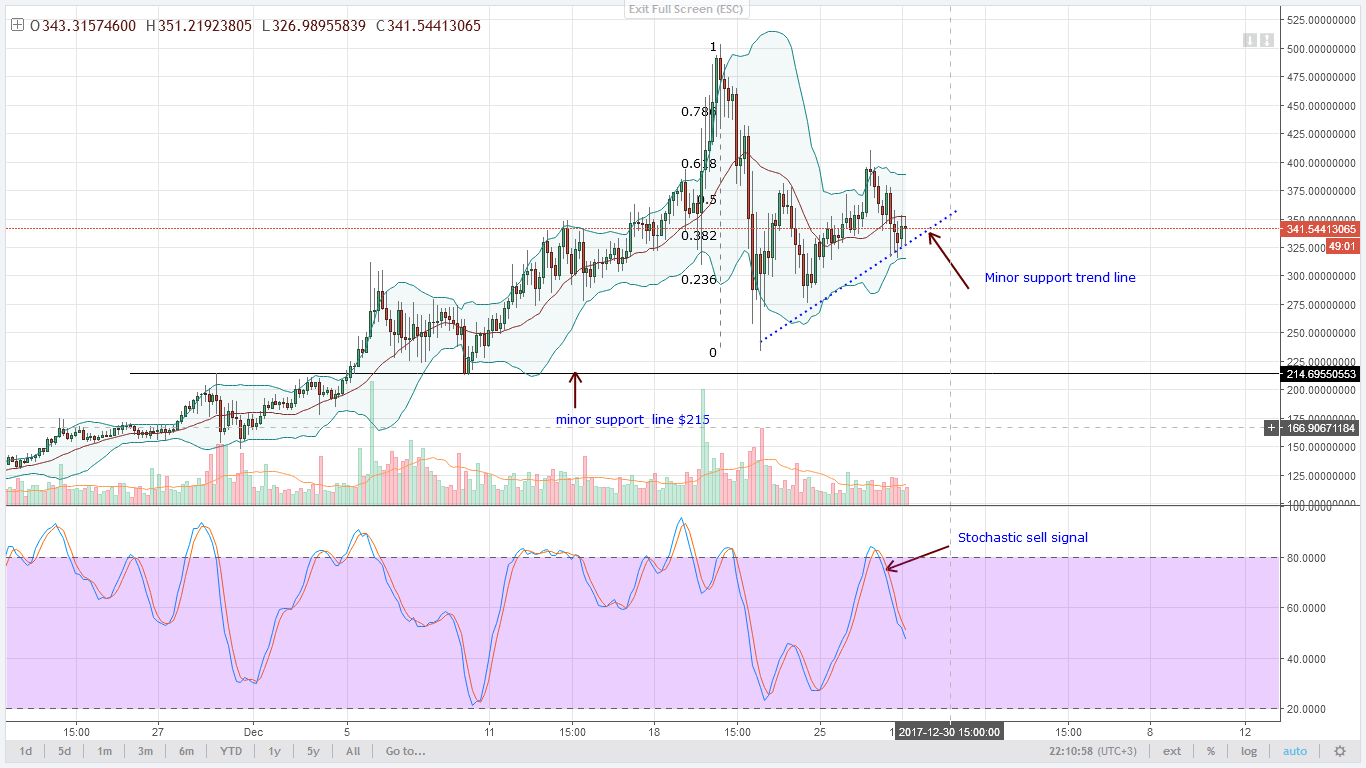 Sell these Monero lower lows? This is getting more interesting as the day goes by. Yesterday we saw price action closing below the 20 period MA as we had anticipated but that was about it.
For more controls, we shall place a minor support trend line connecting December 22 and 2 lows and what we are seeing is some degree of support with the middle BB acting as immediate resistance.
Now here's the deal, I'm pro sellers yes but any strong close above $400 will mess up my projection. Otherwise, $215 is where sellers should be eyeballing.
NOW AFTER CLOSING BELOW $250, WILL LTC COLLAPSE TOWARDS $200 OR $150?
Last week's bear pressure is definitely spilling over to this week. While we can talk about the minor resistance trend line and how it has been ooohh soo perfect in rebuffing buyers, we would rather shift our attention to yesterday's break and close below $250.
This guys is amazing and most importantly telling.
Sellers will be smiling especially with candlesticks banding along the lower BB and the stochastics sell signal in place feeding the sell frenzy clear in this chart.
My advice is to unload LTC and see what happens in the coming sessions.
All charts courtesy of Trading View