Monero and IOTA bulls were on focus yesterday after that strong surge. There were signs of NEM revival after price action broke two levels of resistance and is now trending above the second level of resistance marked at $0.24.
At the moment though, bears looks like they are gaining the upper hand against NEO.
However, if this depreciation is contained by the minor support trend line, bulls might end up driving prices towards $45 or even $50.
Let's look at the charts:
NEM BULLS CLEAR $0.22 AND $0.24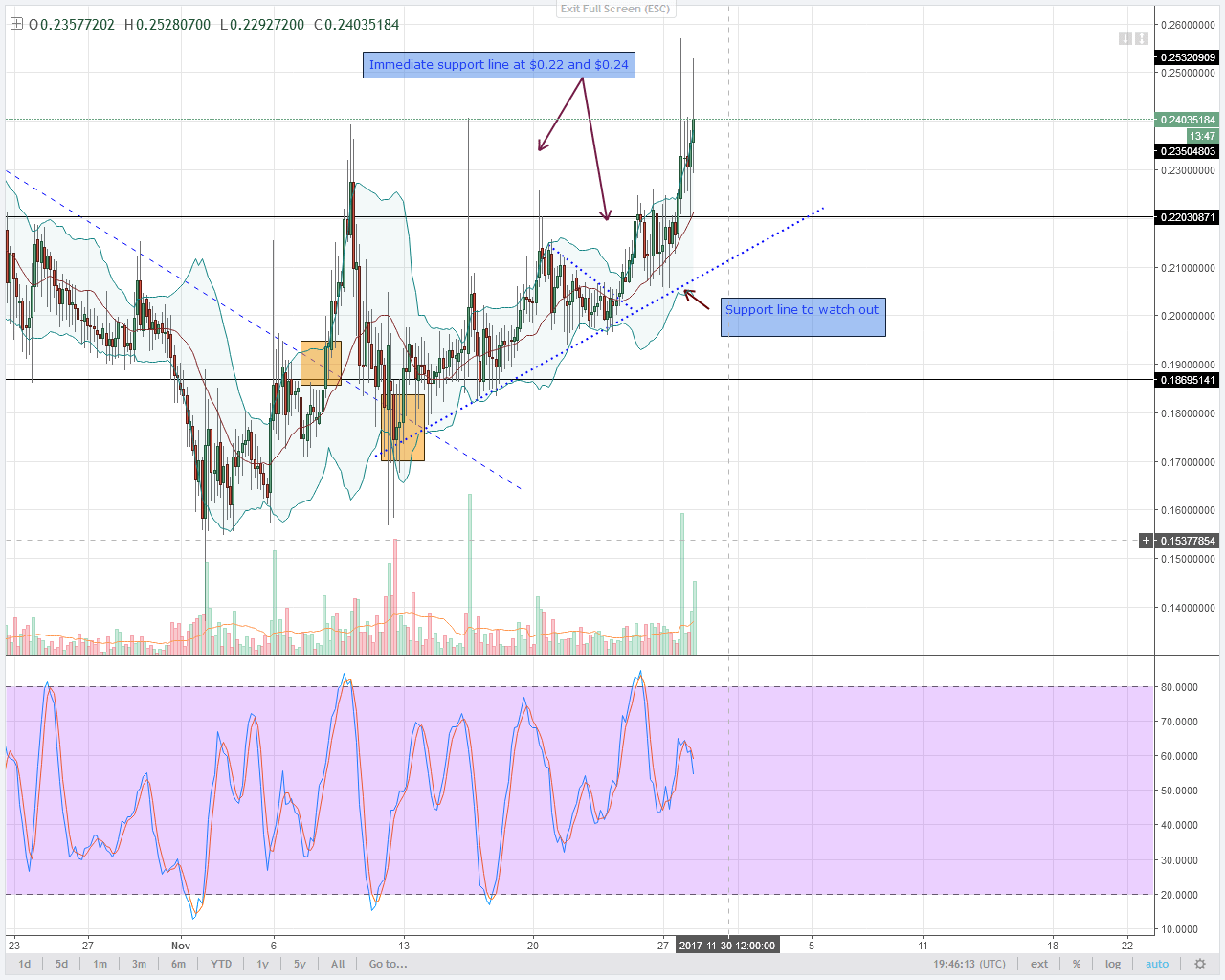 As mentioned before, NEM bulls should continue loading their long positions and be in sync with the under-valuation in the weekly chart.
So far, November highs have been cleared after that strong bullish candlestick hit the first and the second levels of resistance at $0.22 and $0.24 respectively.
Any retest of $0.24, the second level of resistance-now support, is another buy opportunity.
USD BULLS PUSHING DASH PRICES LOWER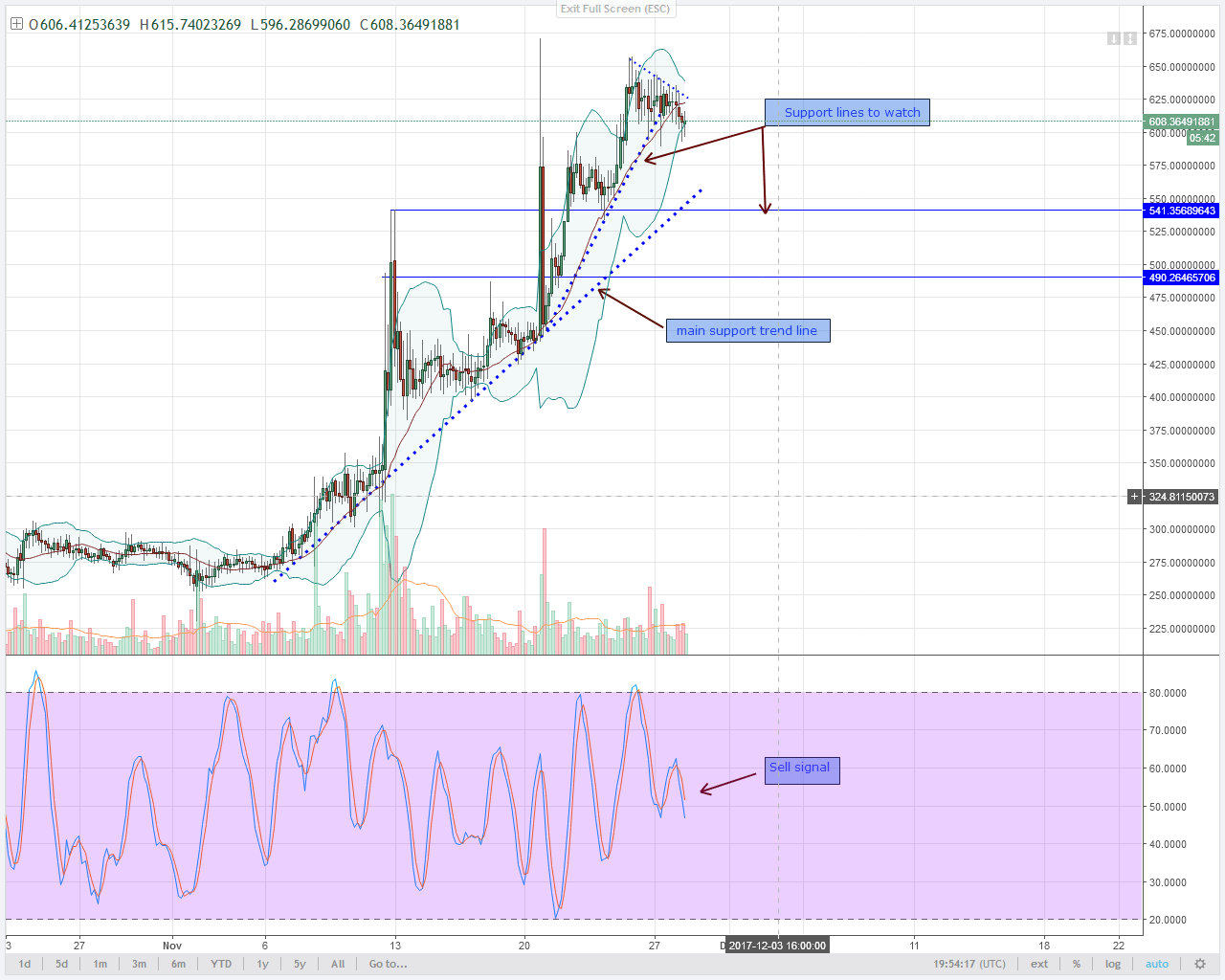 Of course there is strong buy momentum in high time frames-the weekly chart to be specific. However, after that strong surge of prices, it's only natural for prices to correct.
Right now, USD bulls are keeping prices from appreciating and closing above the minor resistance trend line at around $650.
In the 4HR chart, we can see DASH prices trending below the 20 period MA which is the main support trend line now resistance.
At the same time, we have a stochastic sell signal to complement the increasing bearish momentum. The minor support trend line is now acting as resistance with the middle BB.
If this bear momentum continues, bear targets will remain at $540 and $490 respectively.
IOTA BULLS BLAST THROUGH $0.98 AND $1.1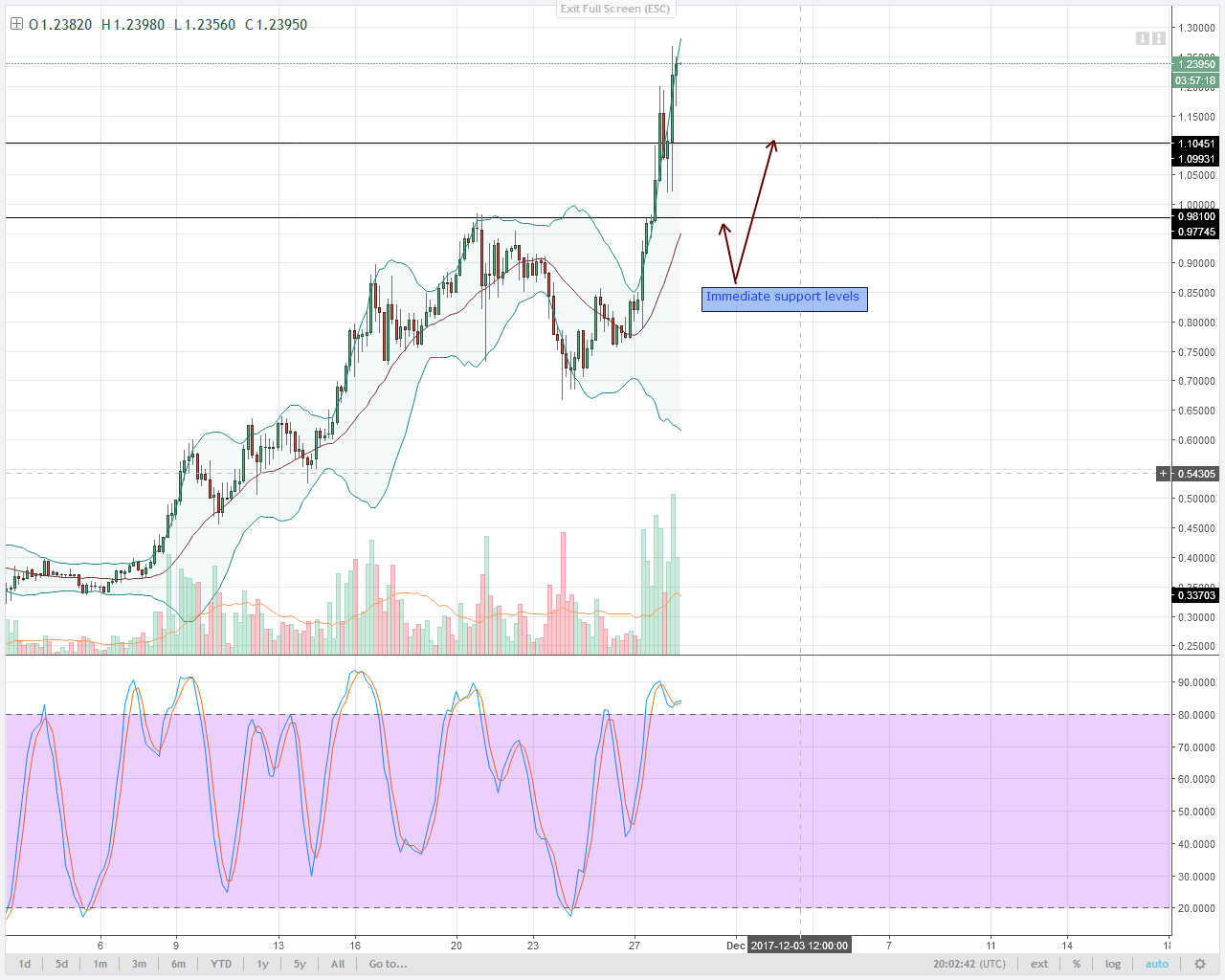 From price action itself, IOTA is breaking milestone after milestone. So far, two key resistance lines at $0.98 and $1.1 no longer hold.
IOTA bulls are eyeing the all time highs of $1.30 and just to put it to perspective; they are just $0.07 away from testing those highs. This week's rally has been an explosion and in two, IOTA is up $0.40.
The bullish break out range that kick started this rally was just $0.35 and it took a whole week for that gain to happen.
Anyhow, the weekly, daily and 4HR chart are bullish and so bulls should aim at June's highs.
MONERO BULLS AT RECORD HIGHS
Even though we had a bearish skew, Monero prices are moving higher. Before our immediate resistance line and upper limit of a transient Monero consolidation was broken, Monero bounced back from the support line at $154.
Price action is banding along the upper BB indicating strong momentum which is in sync with the weekly chart.
In case there is a reversal from these all times high, bears should target support lines at $174. This support is a perfect price level for bulls to enter long.
NEO TESTS SUPPORT TREND LINE OF THE BULL FLAG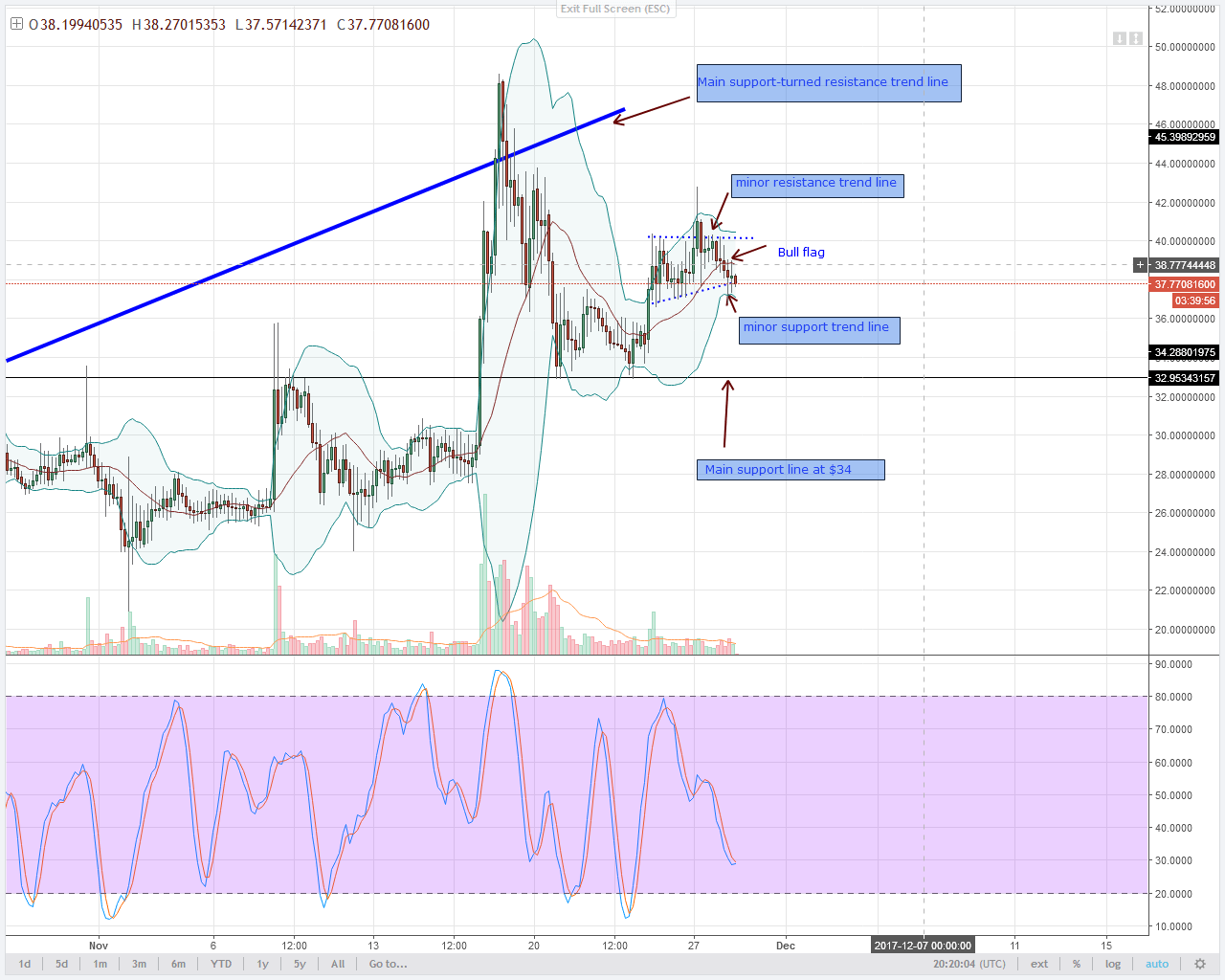 Prices and momentum are dropping but at least they are consolidating inside a bull flag.
As mentioned yesterday, in case USD bulls push NEO prices below the support trend line of this bullish flag then bear target will be at the main support line of $34.
However, if bull momentum picks up and a bullish candlestick confirms this, then buyers should aim at $45, 50 and $58 in that order.
All charts courtesy of Trading View