Of all the major alt coins, NEM move up is slow but the trend is clear. After a sudden spike in prices, NEM still managed to close as a bull despite USD bulls driving prices lower below the main resistance trend line.
Monero is also another cryptocurrency with an upside potential following that close above $136 on November 20. That was the first time it did so in 72 days.
Let's look at the charts:
NEM MOVE UP WITH IMMEDIATE TARGET AT $0.25
As per our recommendation, NEM price action continued to trend higher. Bulls are ramping up their long exposures as we can see from the volumes chart and increasing buy momentum.
Notice that there was a temporary price spike above the upper resistance trend line yesterday. All in all, NEM bulls are in charge and the first target should be at $0.25 especially if prices break above this two month old wedge.
DASH EXPLODES AND TEST $670
After that aggressive bullish push on November 12, DASH price action is literally exploding once more. After November 18 retest of August highs, the past two candlesticks have been confined within a tight $45 range.
As long as prices remain above $410, DASH bulls are in charge.
ALT COIN IOTA BULLS BLOW PAST $0.90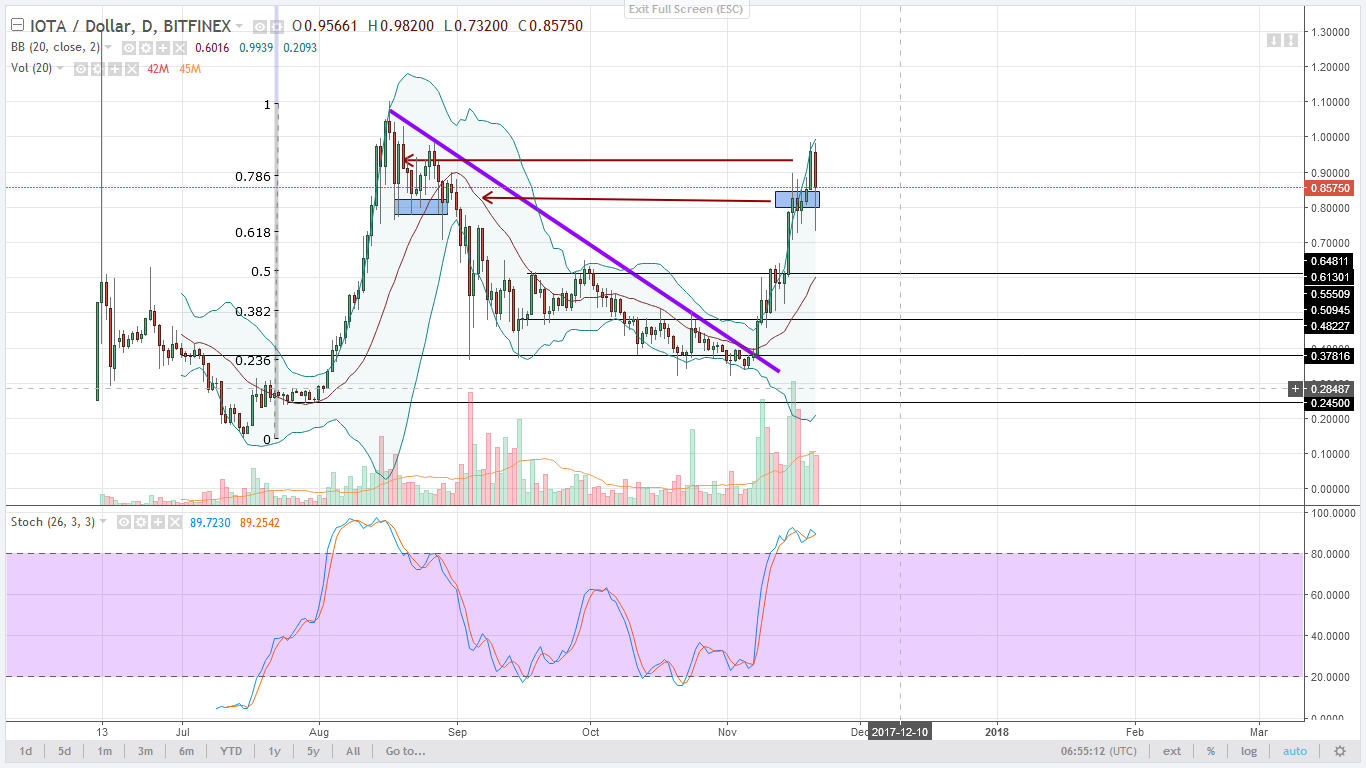 Our potential IOTA reversal point were set at $0.90 but as you can see, price action is now trending above our resistance zone. In fact, alt coin IOTA bulls are quickly zeroing in and testing the August all time highs.
Should IOTA bulls break and close above $0.98 which is the second level of resistance after $0.9 then a price action will be confirming a strong bullish momentum. If that happens, IOTA bulls should be aiming at August 27 highs of $1.1.
August highs is a very critical level for IOTA bulls and any test will be the first since IOTA inception.
MONERO BULLS SET THEIR SIGHT ON AUGUST HIGHS AND BEYOND
Even though we were expecting price to react at $136, Monero bulls pushed prices higher and closed above November 12 highs.
Looking left and you notice that yesterday's move up was the first time in 2.5 months where price action has managed to convincingly close above $136 after that devaluation on September 2.
If you paste a Fibonacci retracement tool from September-July Hi-Lo, you discover that prices reversed from the 61.8% correction level and history shows that prices often end testing the 161.8% extension level after such bounce. We therefore interpret that this bullish rally which begun on November 5 will continue.
The likelihood of Monero closing above August highs is high. Monero bulls should first aim at $153 before potential testing of the Fibonacci extension levels of 150% and 161.8% at $210 and $230.
NEO BULLS SQUELCHED AT $45 RESISTANCE LINE
Following that bear divergence pattern in the 4HR chart, NEO price action is now correcting lower following that over valuation.
It is worth noting that a double reversal pattern is also forming along the main support trend line. Besides that, there is a whole candlestick outside the upper BB.
Further NEO devaluation by today's makes November 18 and 19 highs a bear break out retest. If that happens, then we sell. Either way, this reversal will keep price action oscillating within another $20 trading range between $45 and $20.
All charts courtesy of Trading View