Alt coin NEM and NEO are higher but with no clear trend established in their respective trading charts. Generally, the cryptocurrency space is now stabilizing after last week. Monero and DASH volatility is normal and back to their daily trading ranges.
NEM AND NEO RECOVERS AND IS TESTING 20 PERIOD MA
After testing lows of $0.14 on November 12, the pair gapped higher in response to NEM bulls. NEM closed at $0.19 just along the main support but with a conspicuous long upper wick.
Even though we are still bearish on alt coin NEM as there is a stochastic sell signal, there will be a change of tact if alt coin NEM prices continue to appreciate and there is a strong close above the 20 period MA.
Relative to the lower BB, alt coin NEM prices are correcting higher with those higher lows which beginning on November 2.
DASH DOWN $150 AND IS TESTING AUGUST-SEPTEMBER HIGHS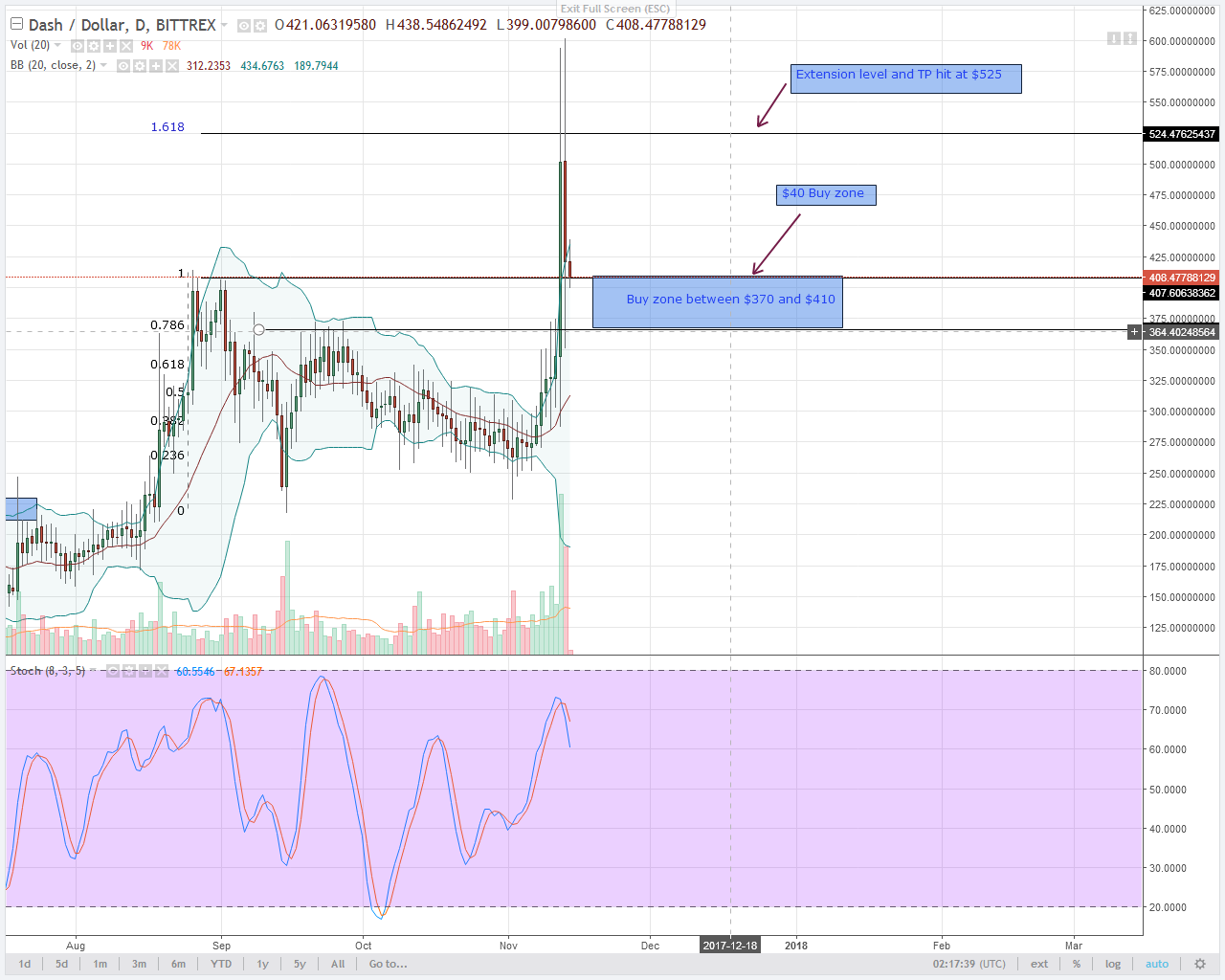 Fact is, prior to last week's $263 upswing, DASH daily average range is about $40. Afterwards, following Segwit 2x cancellation and update to DASH 12.2, it hit highs of $593 within two days. During that time take profit-from Fibonacci extension level drawn from August-September hi-Los- at $520 was triggered.
As mentioned yesterday, it was natural for this correction to happen. A whole candlestick formed outside the upper BB and from previous resistance turned support, price levels between $360 and $410 is a perfect buy zone.
Any long lower wicks irrespective of stochastics signal at this zone will indicate buy pressure and entries can be made in the 4HR chart.
ALT COIN IOTA GIVES IN TO USD BULLS WITH IMMEDIATE SUPPORT AT $0.48
Immediate resistance lies at $0.61. By close of November 13, alt coin IOTA bulls couldn't push prices higher past resistance.
November 12 candlestick is above the upper BB and price action is now trending lower in respect to that alt coin IOTA over-valuation. Additionally, there is a stochastics sell signal turning from over-bought territory.
This confluence of sell pressure means that USD bulls should initiate sells and aim at $0.48 resistance now support highs of October 9 and 25.
MONERO STABILIZES, USD BULLS TARGETING MAIN SUPPORT AT $105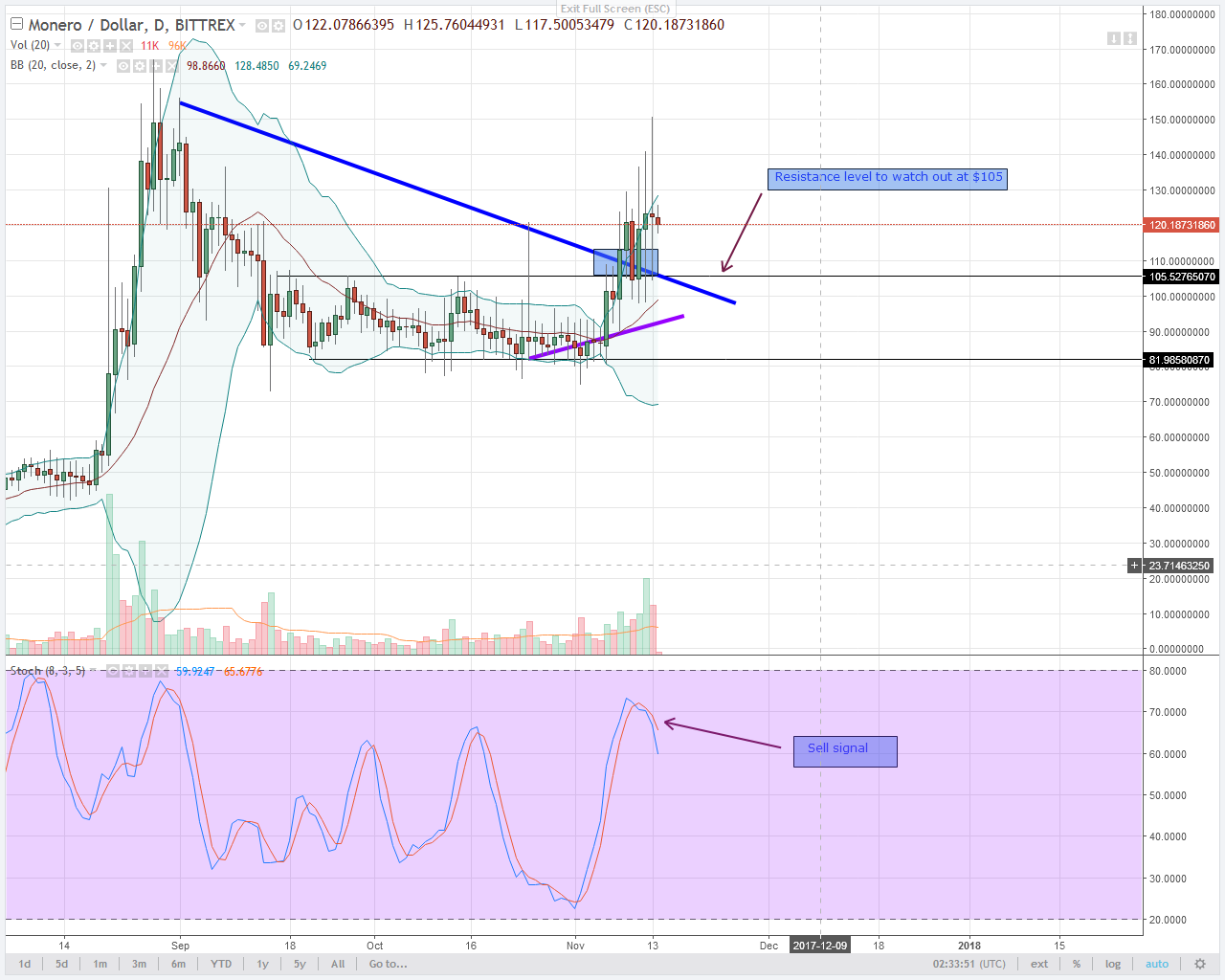 The market is beginning to stabilize and as sanity returns, Monero and USD bulls are equally strong.
Alt coin Monero price action swung $46 and ended up as a doji candlestick with a sell signal in place. If USD bulls continue to push Monero prices lower then support line at $105 and a retest of main resistance trend line is a feasible bear target.
Intra-day traders should look to initiate short positions only in lower time frames. Any appreciation above $140 will nullify this bear forecast.
NO CLEAR TREND IN NEM AND NEO. PRICE ACTION CONSOLIDATING
All in all, we can conclude that there is no clear trend. Alt coin NEM and NEO markets are ranging in lower time frames.
As yesterday's candlestick close, alt coin NEO was still above the support line of $24 at $26. There is a stochastic sell signal in place and alt coin NEO prices are just above the 20 period MA flexible resistance line.
For now, we remain neutral until after a clear trend forms. This will be so especially if price action breaks out from this $10 range.
All charts courtesy of Trading View