Most alt coins are correcting and even in the midst of all this bear pressure, NEM slow down reveals potential support at $0.53.
It might be temporary, who knows but similar traits can be seen in several other alt coins including IOTA, LTC and DASH.
Of course catching reversals at key supports can be dopamine triggering but I urge confirmation and patience.
Otherwise, if the dump continues, I see NEM testing $0.34 while LTC buyers might find refuge at $115 which is around the main support line and the origin of the recent rally.
Let's have a look at other alt coin charts
NEM SLOWS DOWN AND FINDS SUPPORT AT $0.53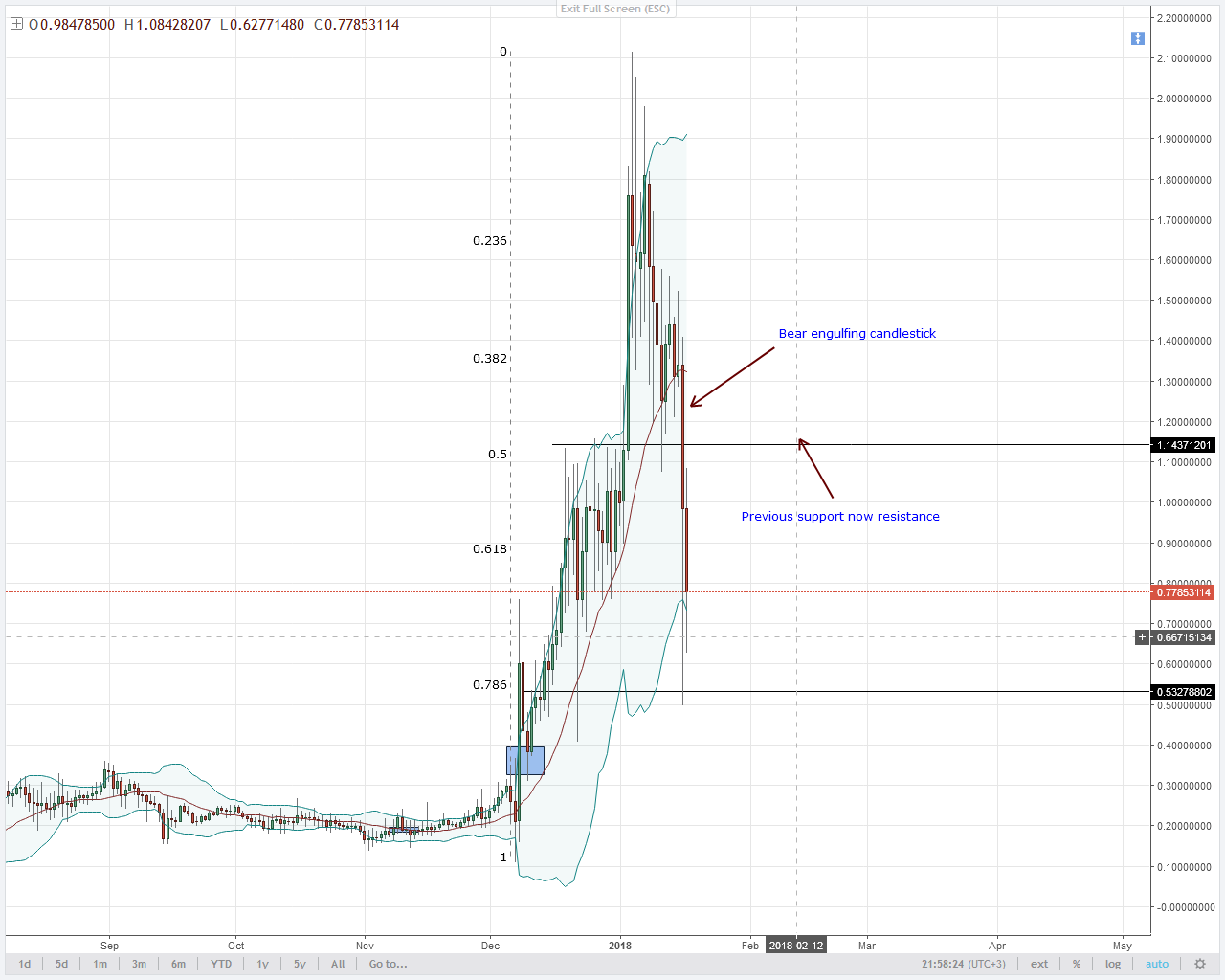 The cool thing about Fibonacci retracement is that it is not choosy and applies to every tradable asset.
When we paste it on NEM daily time frame, we identify a couple of interesting formations. We shall not talk about bears because that is obvious but instead focus shall be on January 16 bearish engulfing candlestick and especially its lows.
Notice something? If not, then that level is square with the 78.6% Fibonacci level and despite lower lows, yesterday's candlestick couldn't test it.
It remains an harami and unless there is some drastic break below, today might end up slow with potential recovery towards $0.88.
BEAR TARGETS $0.17 IF LUMENS BREAK BELOW $0.30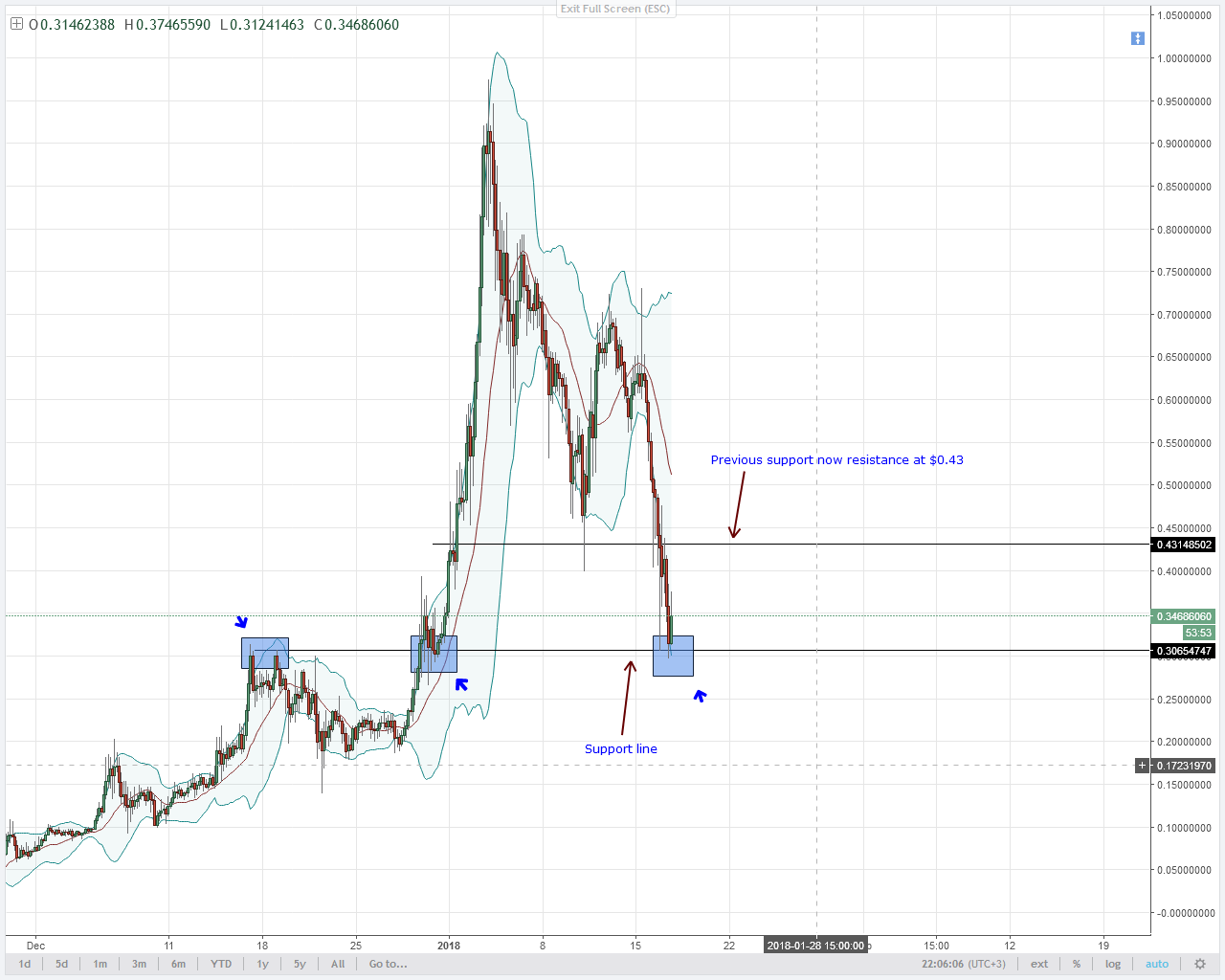 Indeed there was a bullish statement yesterday, bears sliced through $0.40 as if it was nothing and at current prices, I expect some sort of support.
To the left of the chart and $0.30 is previous resistance now support. Possibilities of lower low is high especially in the daily chart. If prices do break below, support might be found at December 6, 2017 highs of $0.17 which is another break out resistance now support below $0.30.
However, any form of consolidation may welcome XLM buyers who could wave back prices to immediate resistance at $0.43.
IOTA BREAK BELOW $3 MIGHT OPEN THE DOOR FOR $1.1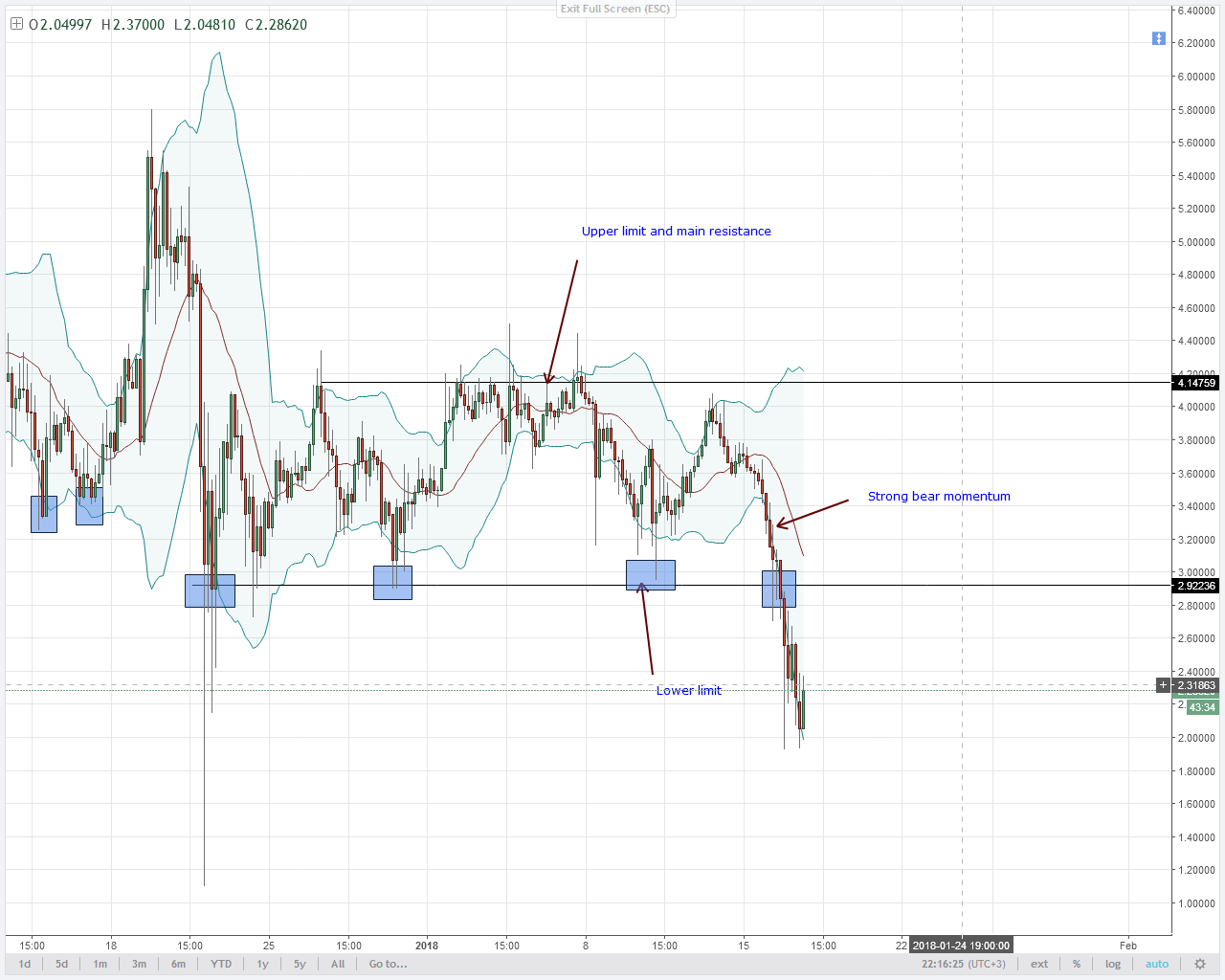 Of course, considering price action, IOTA bearings is clear. Yesterday, bears sliced through $3 but couldn't penetrate and close below $1.9 which happens to be January 16 lows.
IOTA price action is definitely cooling off but chances of prices tipping $1.1 is likely after all, it is December 22 lows and marks the 78.6% Fibonacci retracement of this charged IOTA rally.
In my opinion, any test and close below $1.9 in the coming session might welcome more sell pressure.
Conversely, if this bull candlestick opens up a gate for buyers, then we might soon be testing $3 but odds for that remain slim.
DASH BEAR BREAK OUT
As it is, our bear targets were hit after yesterdays lower lows and what next? Since DASH price are bearish, there is no room for fading trend unless several conditions are met.
One of them is for prices to close above $800. For a solid signal, a follow through on Friday and a consequent close above $900 is ideal for buy entries.
If not, trade the bear break out and eyeball $400 with immediate targets at $525 just like yesterday's projection.
LTC PRICES CLEAR $150 AS SELLERS AIM $115.
Considering the speed of LTC depreciation, using the daily chart for projection is worthy.
Now, the first support and bear targets at $150 no longer holds.  However,  it looks like sellers are not planning on slowing down. From the Fibonacci, prices are just below the 61.8% retracement levels. As such buyers are looking  at $115 as the last stand.
Reason? Well, that price tag is around the break out price and any retest might trigger a rally.
Alternatively, assuming prices finds $150 fair, we shall need confirmation. That can only happen if buyers push prices above $180 or the 61.8% Fibonacci extension level.
All charts courtesy of Trading View