As NEM tests $1.5, other high cap alt coins continue to consolidate. IOTA leads the pack while DASH and LTC follow closely but all of them wide lower and upper limits.
As for Lumens, buyers can only take charge the moment they satisfactorily close above $0.7.
Let's have a look at other alt coin charts
NEM TESTS $1.5 AND TURN LOWER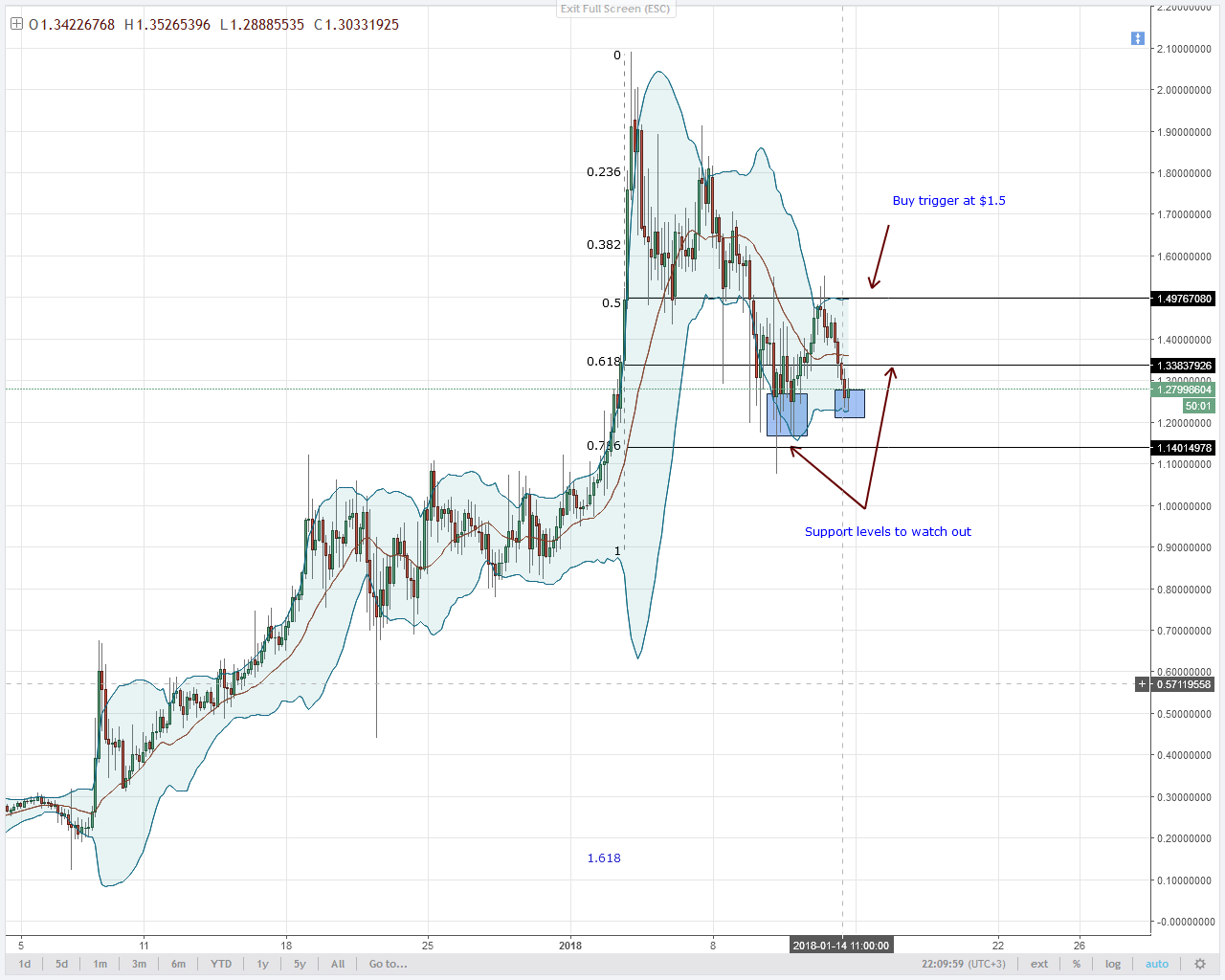 The swings continue with NEM. Last week's was a fruitful week for sellers and as prices continue to consolidate at around key support levels, we shall be watching two levels defined before last week.
That is how price action reacts at $1.13 and $1.33. Depending on how prices react, $1.13 will be our main support line.
On the contrary, if there is a bounce, then double bottoms will form especially if prices close above the middle BB as it winds up towards $1.33.
There is nothing concrete or definitive here, just potentials.
Nevertheless, our buy triggers happen when price clear $1.5 and sellers are in charge if NEM drop past $1.13. So, let's wait and see what happens today.
AS LUMENS REVERSE FROM 61.8%, LONG TRIGGERS SHOULD BE ABOVE $0.7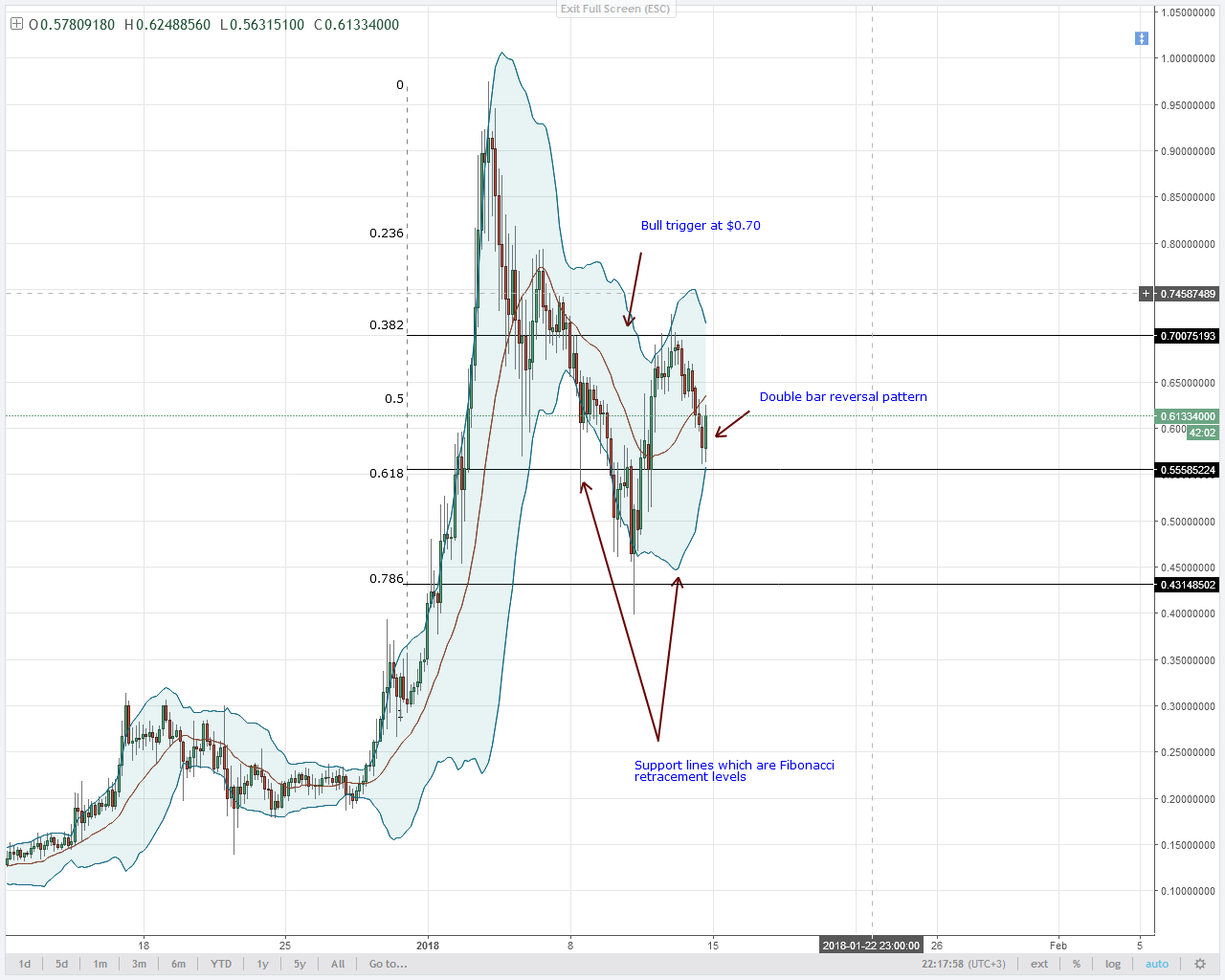 Even though there was a little bit of XLM depreciation over the weekend, we just have to give it up to Fibonacci retracements. From the tool, we can easily notice the significance of its key levels.
Previously, we saw this clean reversal from 78.6%, XLM inched higher, got bumped at 38.2% and now, that spring from 61.8% is just classic. Regardless of the potentials, we shall not rush.
Let's wait for the confirmation of that double bar reversal pattern.
Overly, the trend is up and for risk-averse traders, they should wait for a close above $0.7 or the 38.2% Fibonacci retracement level before increasing their net longs.
IOTA ACCUMULATION CONTINUES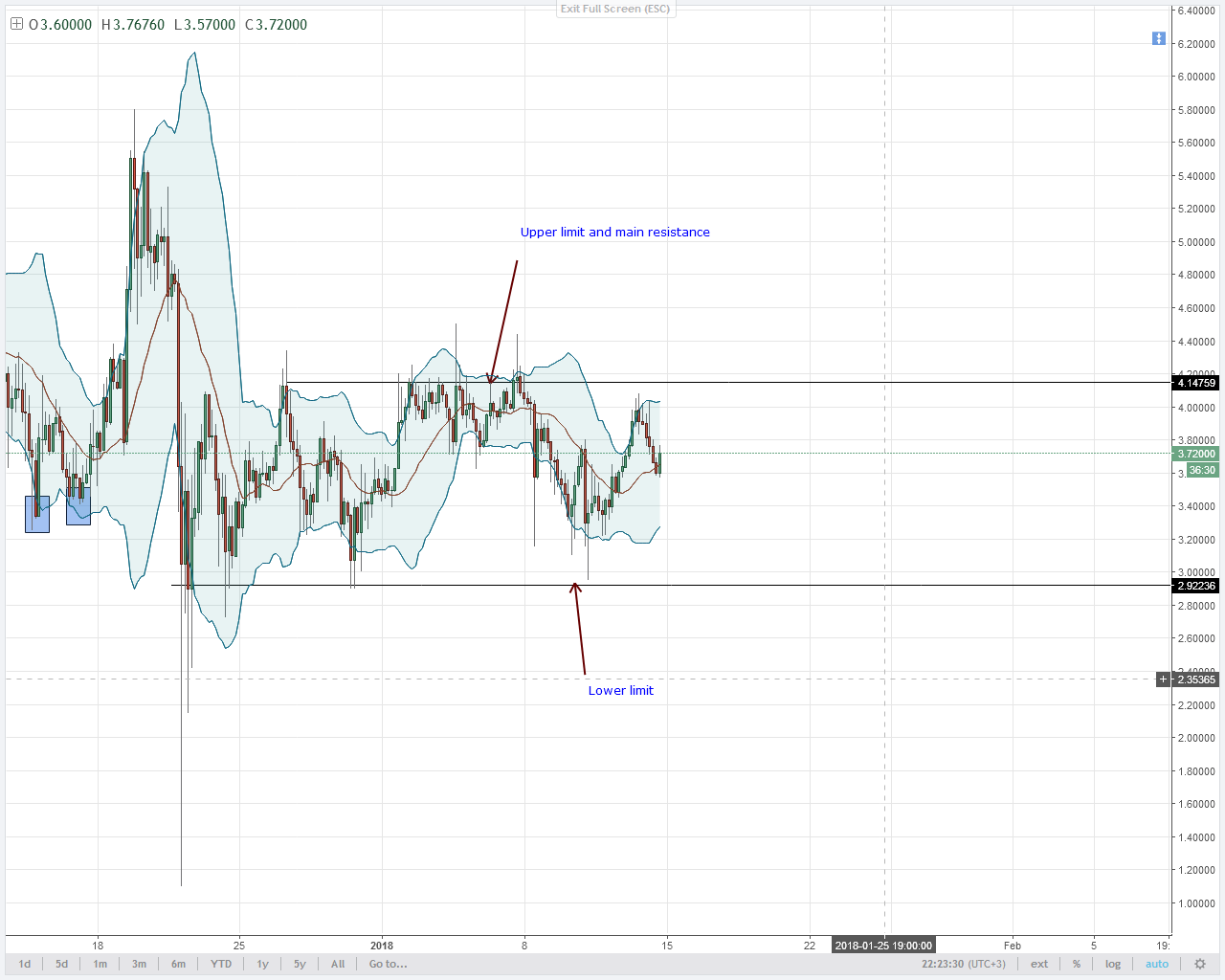 Here's the thing with IOTA, it's still consolidating and the longer the squeeze-visible in higher time frames, the stronger the break out.
In fact, this looks like a copy paste version of LTCBTC. Because of this, I'm not recommending shorts or longs.
The best approach is not to chase prices, first we want to see where the drift will take us and any break out, irrespective of the direction, is where we trade with.
DASH PRICES MOVING INSIDE A WEDGE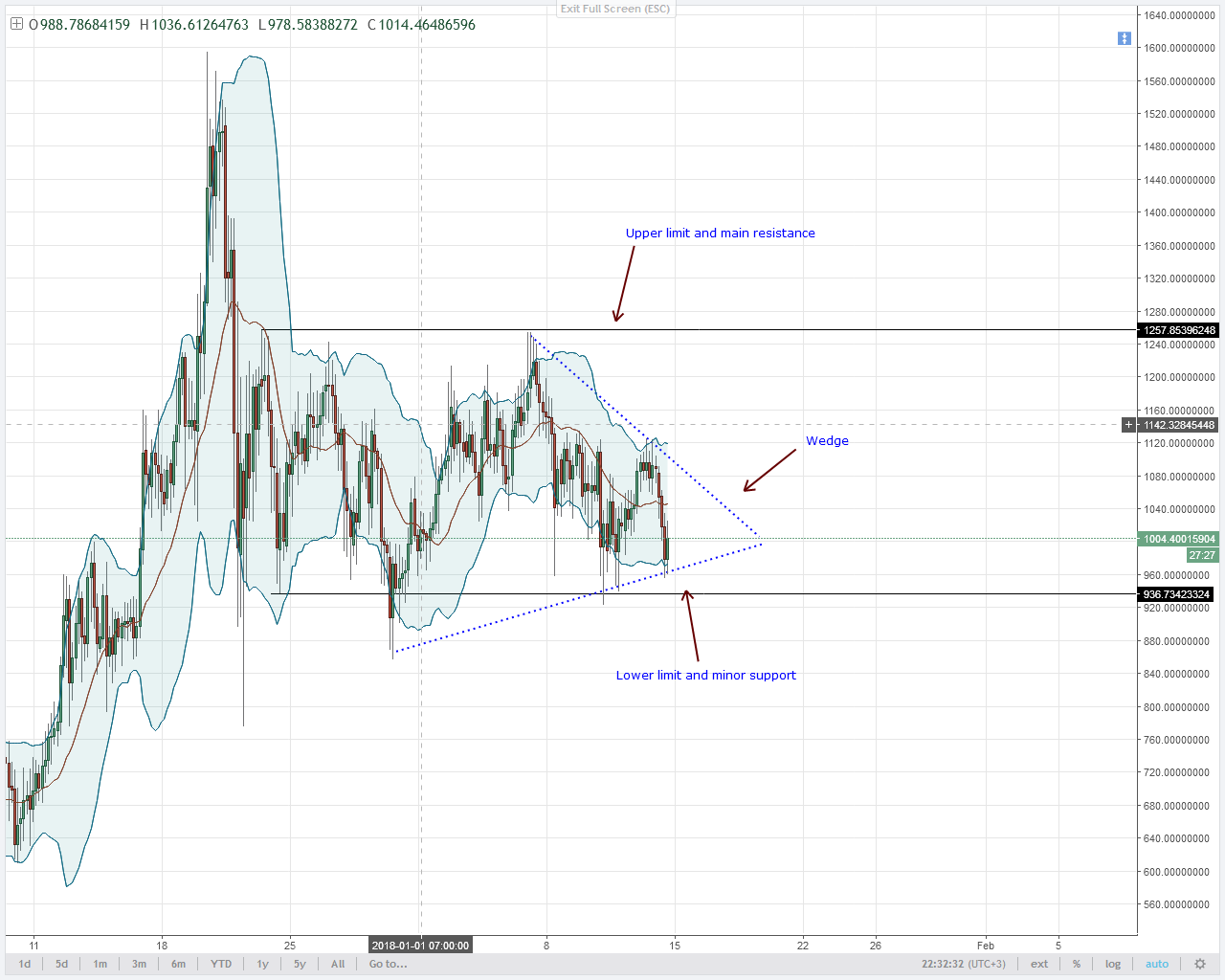 Like IOTA and other bunch of pairs, DASH is in consolidation mode but the only different is the margin of trade. Judging from the upper and lower limits, the height of this consolidation is roughly $330 and $1250 stands out.
Historically, it's now wise to chase prices lest you get burnt so I'm going to draw two trend lines connecting recent highs and low and the result is that wedge you are seeing.
Now, it's going to be a race between buyers and sellers. But I'm seeing strong support given the distance between the minor support trend line and main support line at $940 vis a vis the resistance trend line and the main resistance line at $1250.
LTC SUPPORT LIES AT $210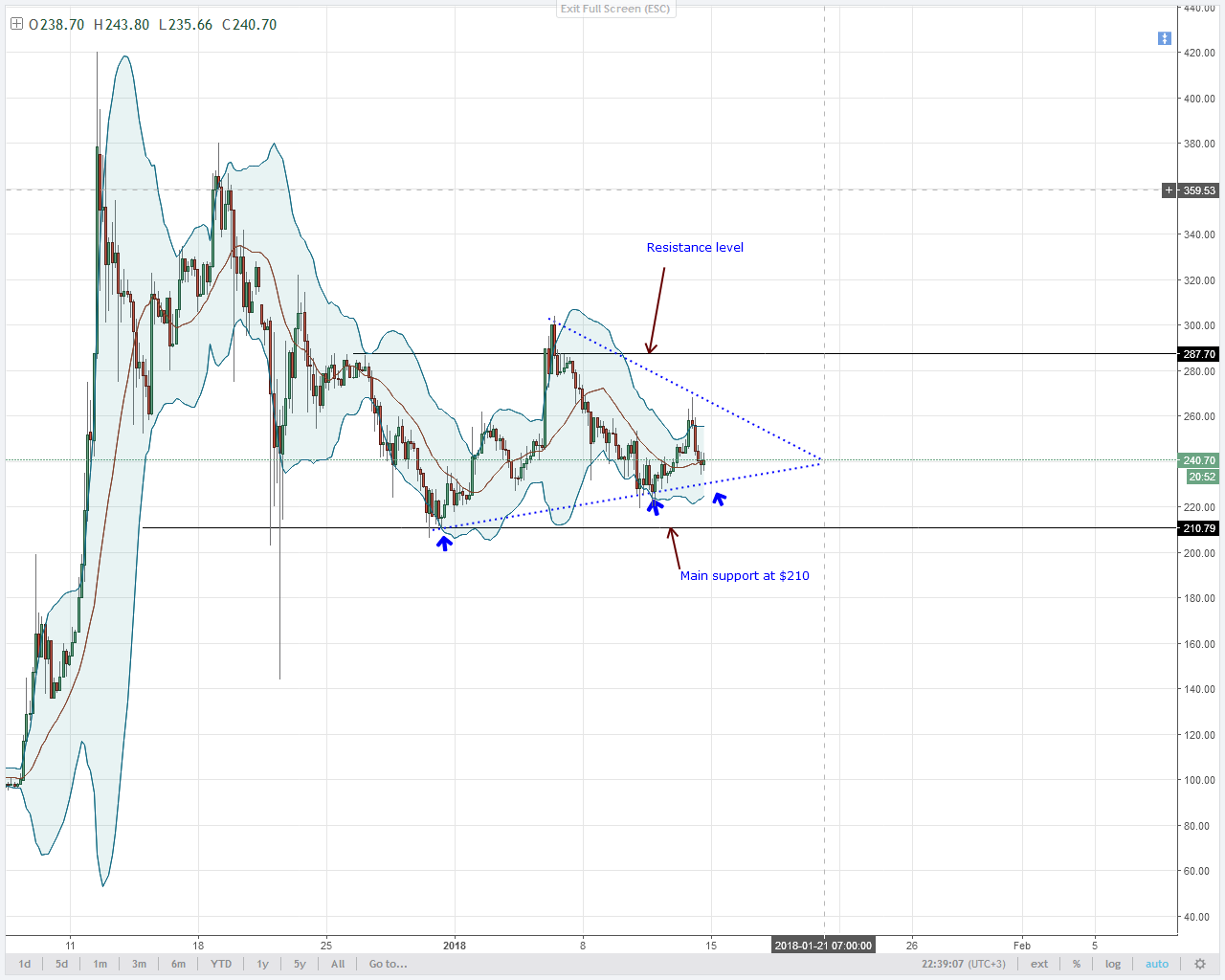 Over a week or so, LTC has been in consolidation mode but those higher highs are visible.
Currently, caution applies and my muzzle is not directed at buyers or sellers. It depends on momentum.
It going to be simple and with such a wide trading range-$60+, I will sit and wait for sellers or buyers to take charge and pull my triggers.
All charts courtesy of Trading View