NEM bulls are on the upper hand after bouncing off the middle BB which is our immediate support.
For all we know, NEM push and close above $0.58 means resumption of bull pressure and as such buyers should be aiming for $0.76. Monero, LTC and DASH are still correcting and we expect some form of bull pressure in the coming sessions.
IOTA is bearish and currently USD bulls are trending below $3.9 support with bear candlesticks banding along the lower BB as sellers aim at $2.8
Let's look at the charts:
NEM BULLS DRIVE PRICES ABOVE $0.58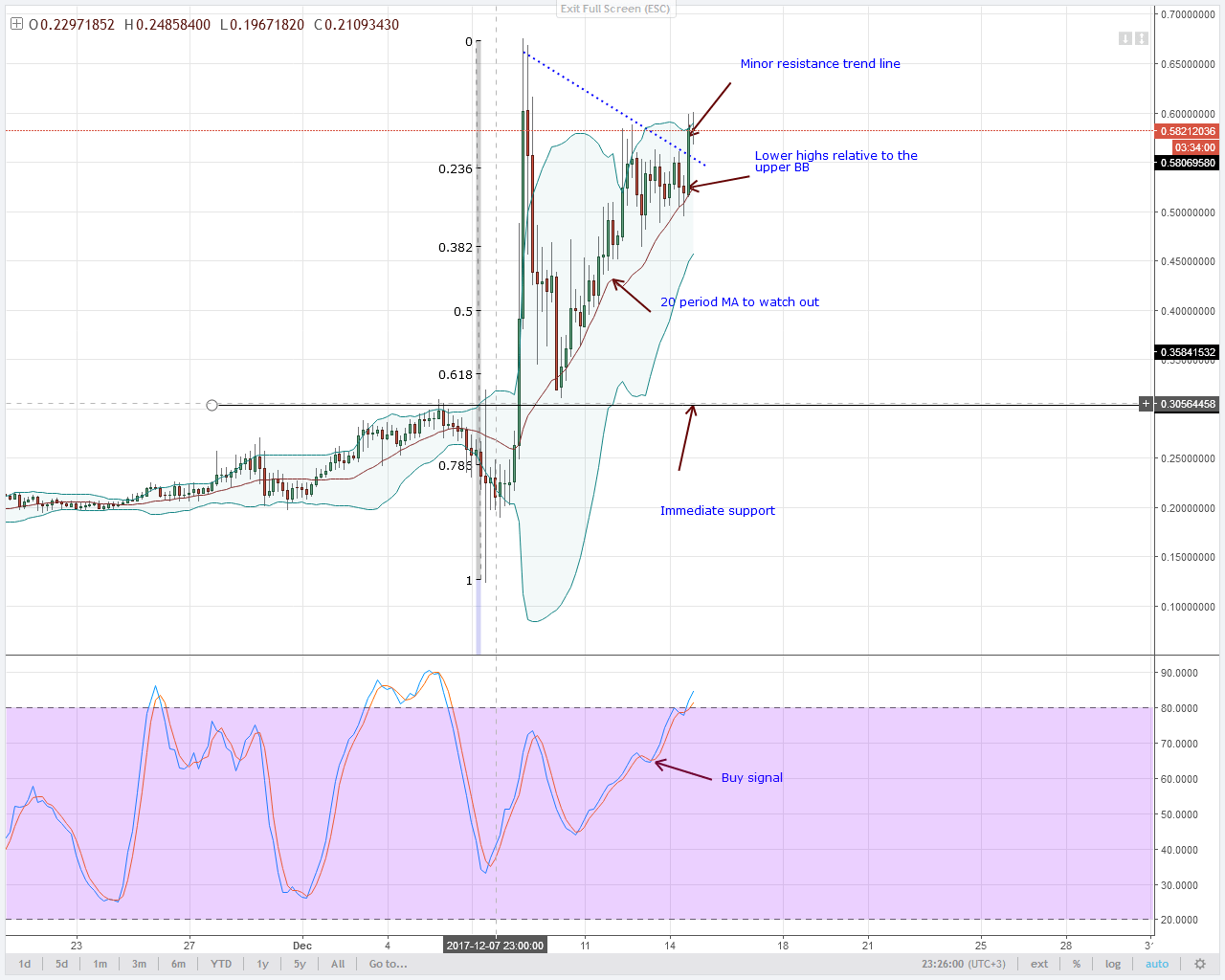 As mentioned yesterday, NEM prices were consolidating and finding resistance at December 12 highs of $0.58.
From this set up we notice that the resistance trend line connecting December 8 and 12 was the main obstacle preventing appreciation.
At the same time, the 20 period MA defined our support line. After the consolidation, there was a dip.  However, NEM bulls picked up from the main support pushing prices above the minor resistance trend line and closing above $0.58.
Even though prices might correct in a "retest", bulls can comfortably enter long and gear up for last week's highs of $0.76 as their immediate bull target.
DASH BULLS SLOWING EVEN AFTER TESTING $1000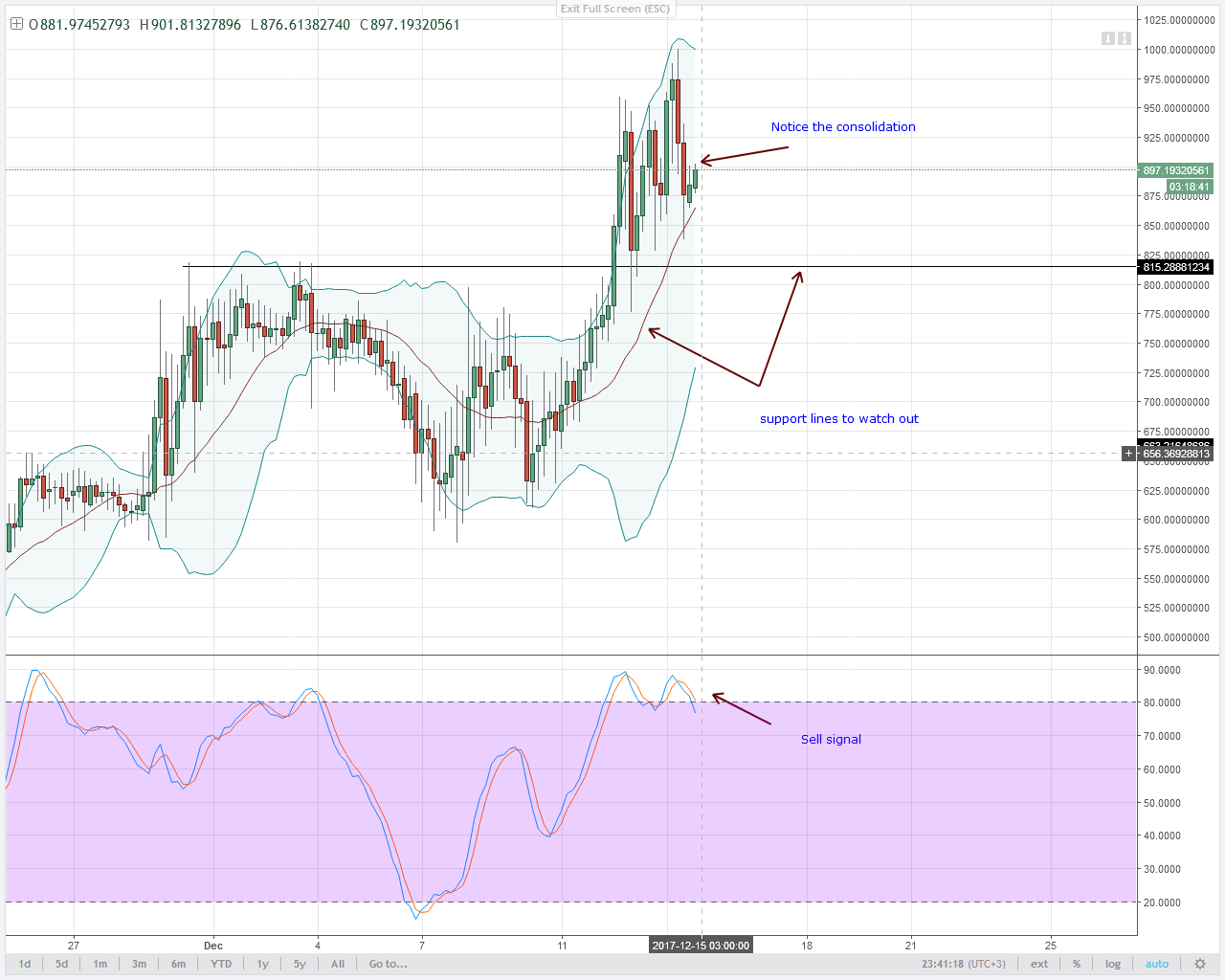 Even though DASH inched up higher and tested $1000, there is considerable bear pressure at those levels.
Not only are we seeing lower highs relative to the upper BB, but we have bearish stochastics complete with a bear divergence.
Despite this, the general trend is bullish. In line with this, we shall only initiate long trades with immediate support at the 20 period MA and December 3 highs at around $820.
Any dip to these levels which is confirmed by strong bulls mean we go long after close.
IOTA BEARS DRIVING PRICES LOWER
Judging from IOTA price action, bears might end up driving prices to $2.8 support.
This largely because of price action and bearish momentum in the daily chart. Despite this short term bear trend, there is a strong uptrend in the weekly chart.
In the 4HR chart, we see that bear candlesticks are already banding along the lower BB meaning momentum is high. To signal further bearish pressure, IOTA bears are trending below the first support at $3.9. As it is, the middle BB is our immediate resistance.
So, unless there is a strong bull candlestick in the next sessions, the short term trend is bearish. That's until maybe when bears test $2.8 and a stochastic buy signal prints at the oversold territory.
MONERO BULLS CONSOLIDATE AT MIDDLE BB RETESTED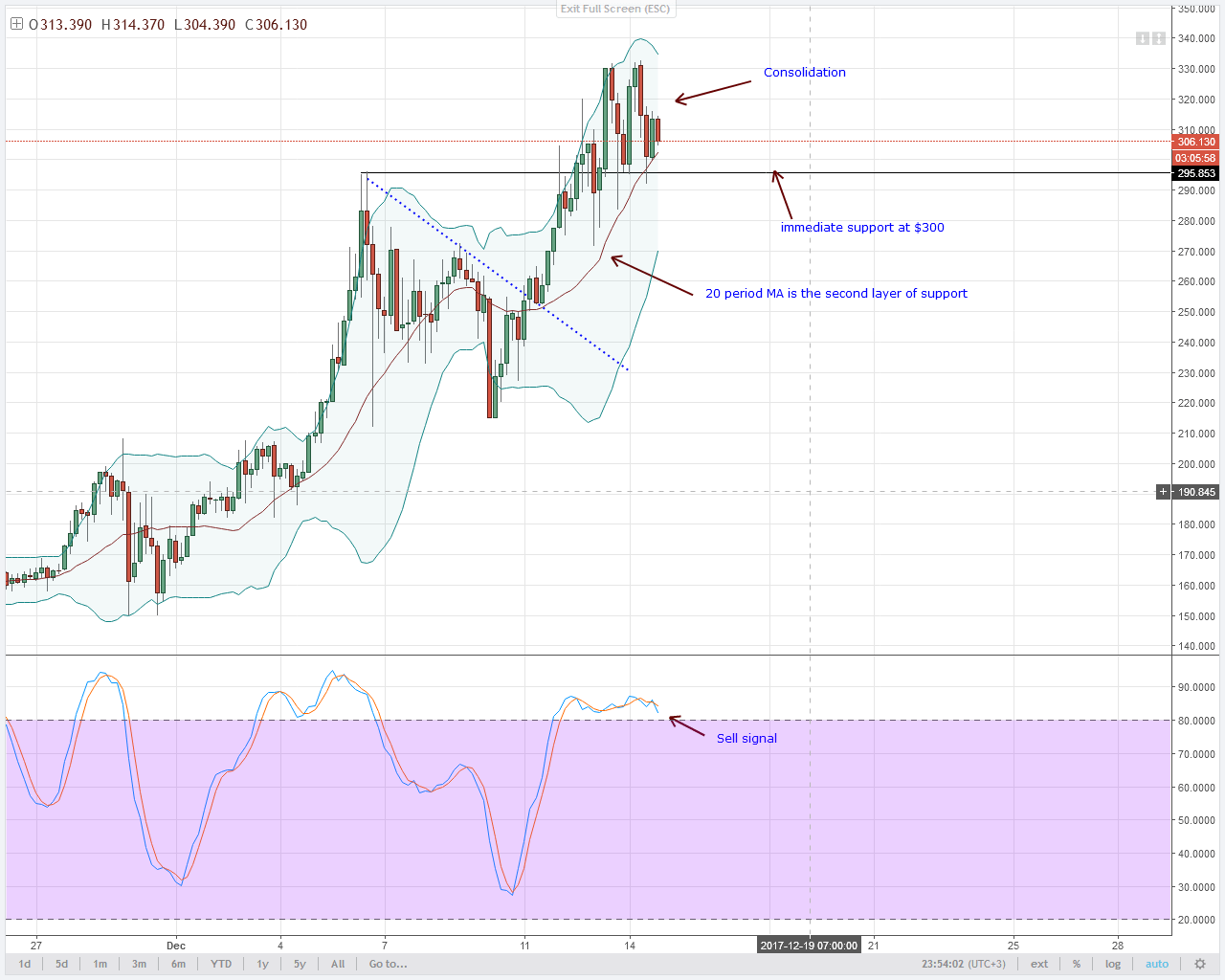 Now that Monero bulls are trending above $300, which by the way is a sensitive round number, we expect some sort of a retest.
Already, we can see some lower highs relative to the upper BB. Furthermore, there is a stochastic sell signal turning from the overbought territory as prices continue consolidating.
If today's prices close below $300,then 20 period MA should act as support in the coming sessions.
Otherwise, if bear momentum is strong and prices close below both support levels then we shall wait until a stochastic buy signal prints.
Conversely, any close above $330 should mean bull trend continuation and a path towards $400.
LTC SHED $130 AFTER TESTING HIGHS OF $420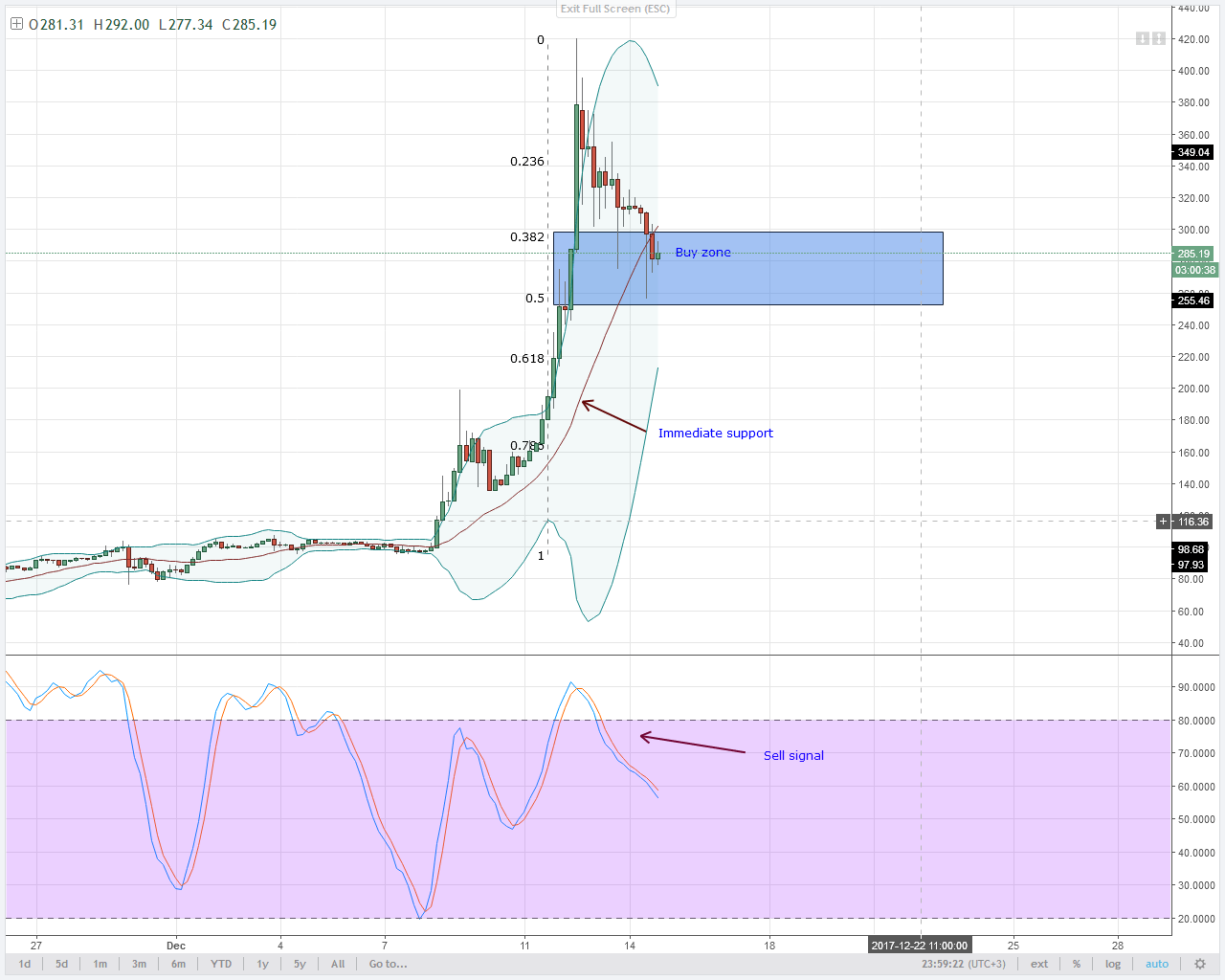 Following our over-extension has mentioned yesterday, LTC bears are now driving prices lower.
There is a stochastic sell signal in place. This means USD bull pressure is strong. Moreover, LTC prices are trending below the 20 period MA for the first time in a month. This is a milestone for USD bulls.
Even though prices are trending within our buy zone, we shall have to wait until strong bull candlestick forms. If LTC prices close below $255, then we expect them to fall to around $210. This level is the 61.8% Fibonacci retracement drawn from last week's high-low.
All charts courtesy of Trading View