NEO bears are fading out which is encouraging for bulls who are now aiming at $45 after bouncing from the double bottoms and this week's low. Other than NEO, NEM bears were obliterated after announcement of NEM-WeChat integration which would make it more accessible to chine. Otherwise, all other cryptocurrencies like DASH, IOTA and Monero are trending higher.
Let's look at the charts:
NEM BULLS UP 150% AND CLEAR 61.8% FIBONACCI EXTENSION LEVEL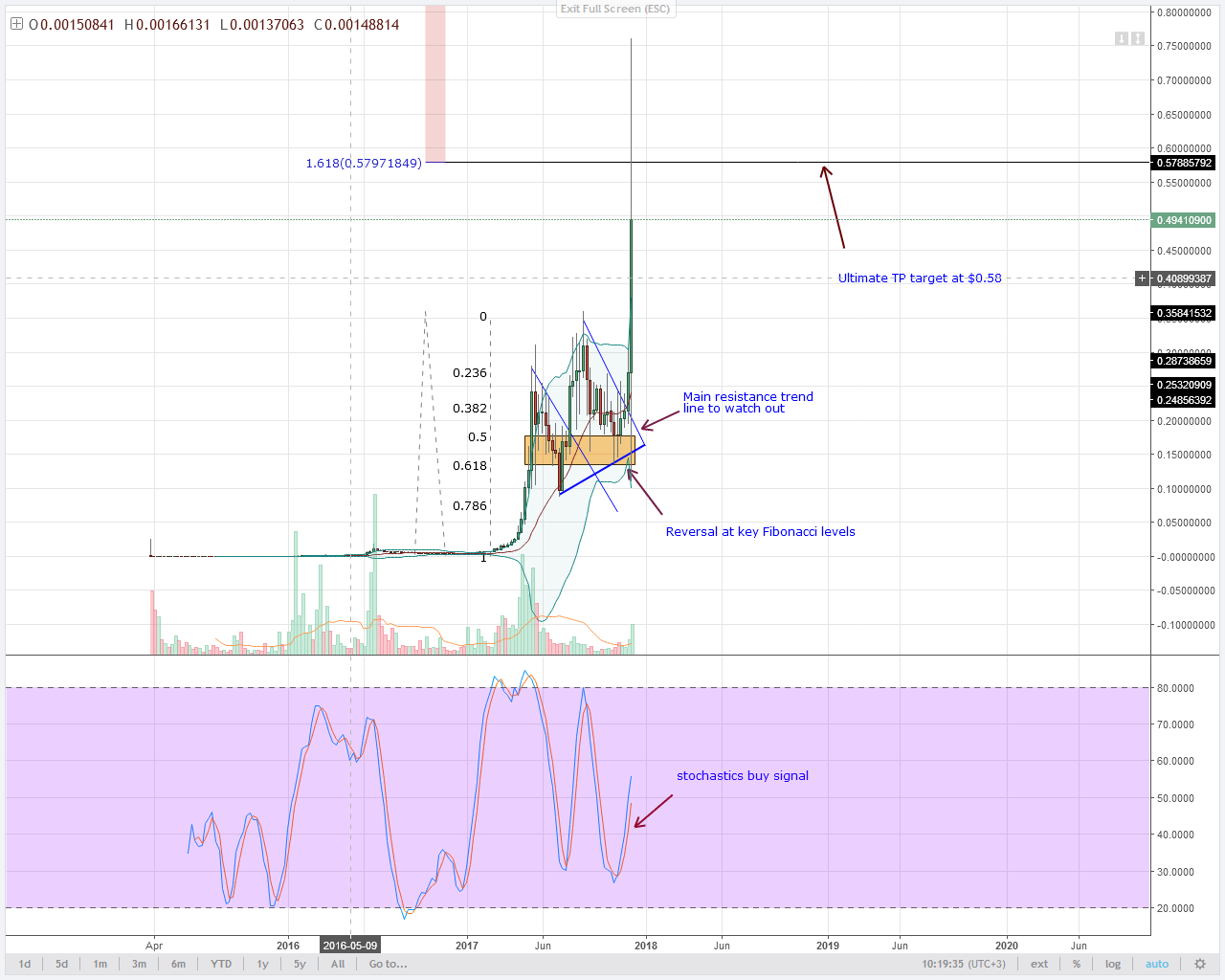 After Poloniex dump, prices were cheap enough for whales to buy in at a discount. Anyhow, thanks to WeChat integration, NEM bulls are surging and aiming at the moon.
This is awesome news and as such NEM bulls are up 150% and market capitalization is past $4B making this cryptocurrency the cheapest in the top 10.
As we can see in the weekly chart, the first level of our Fibonacci extension at $0.59 has been hit and now, August's highs of $0.36 is now our immediate support. NEM bulls should be looking for any dip as another buy opportunity.
DASH BULLS SURGE AND CLOSE ABOVE $670 SIGNALLING BULLS
As per our trade recommendation, DASH bulls ended up leading the way and closing above our immediate resistance line at $670.
Even after a couple of testing support, price continued to make higher highs closing above the 20 period MA.
Therefore, at current prices and a stochastics buy signal in place, DASH is realigning itself and moving as per the weekly chart's bullish trend.
In light of this, any break and close above this resistance line means we enter long. Better entry prices will definitely be found if there is a retest of support-previous resistance-after break out.
IOTA BULLS AIM AT $5.65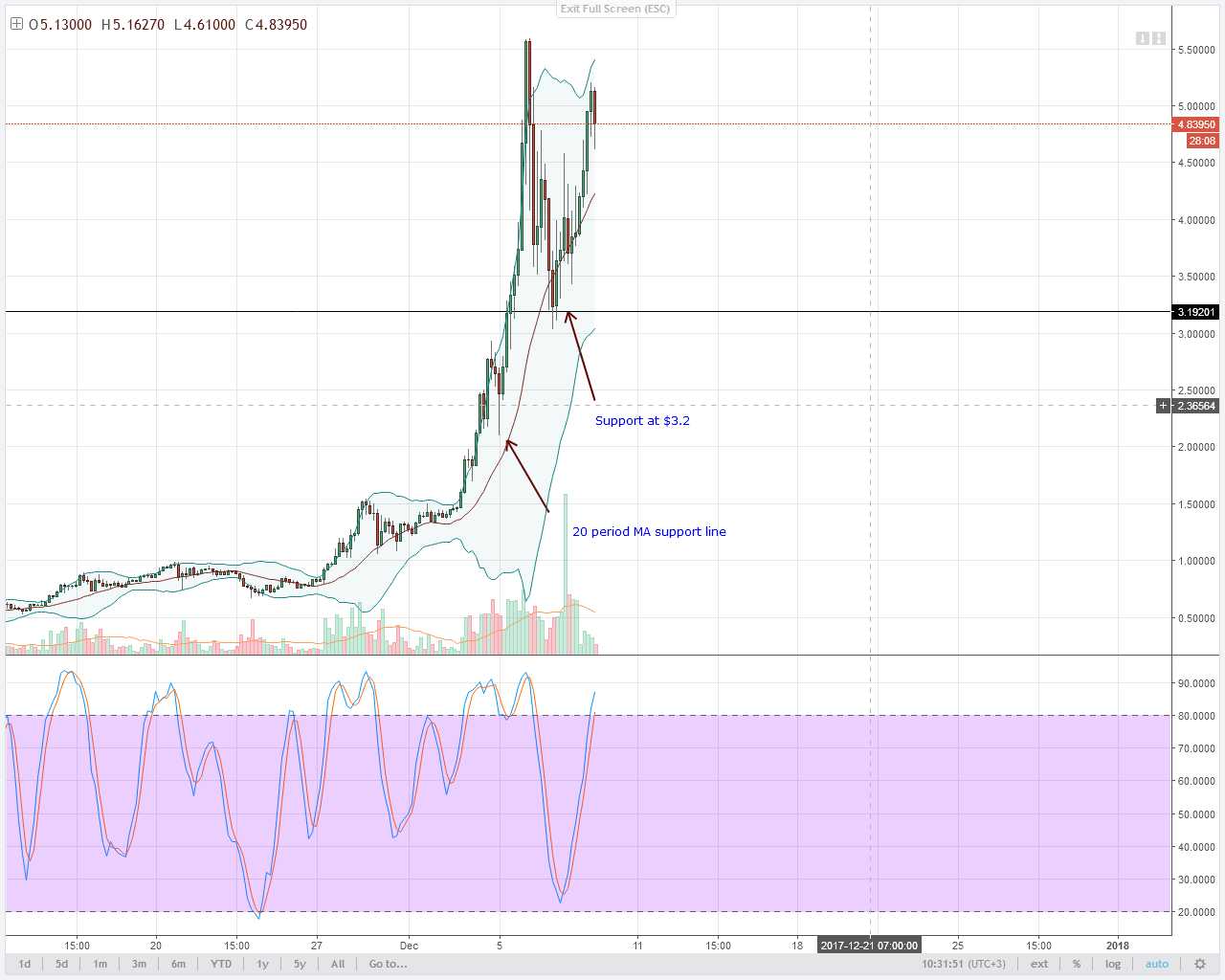 With any buy entry, the bulls get stronger and as it is, it is likely to surge past December 6 highs.
As we can see in the chart, after IOTA bulls picked up from our $3.2 support. To support this, price action has been strong and moving along the 20 period MA. There is also a stochastics buy signal in place.
We are certain that bulls are in charge just by looking at the diverging %k and %d of the stochastics which are almost parallel meaning many IOTA buyers are in the trade.
For now, short term traders should eye $5.65.
MONERO BULLS CLOSE IN ON $300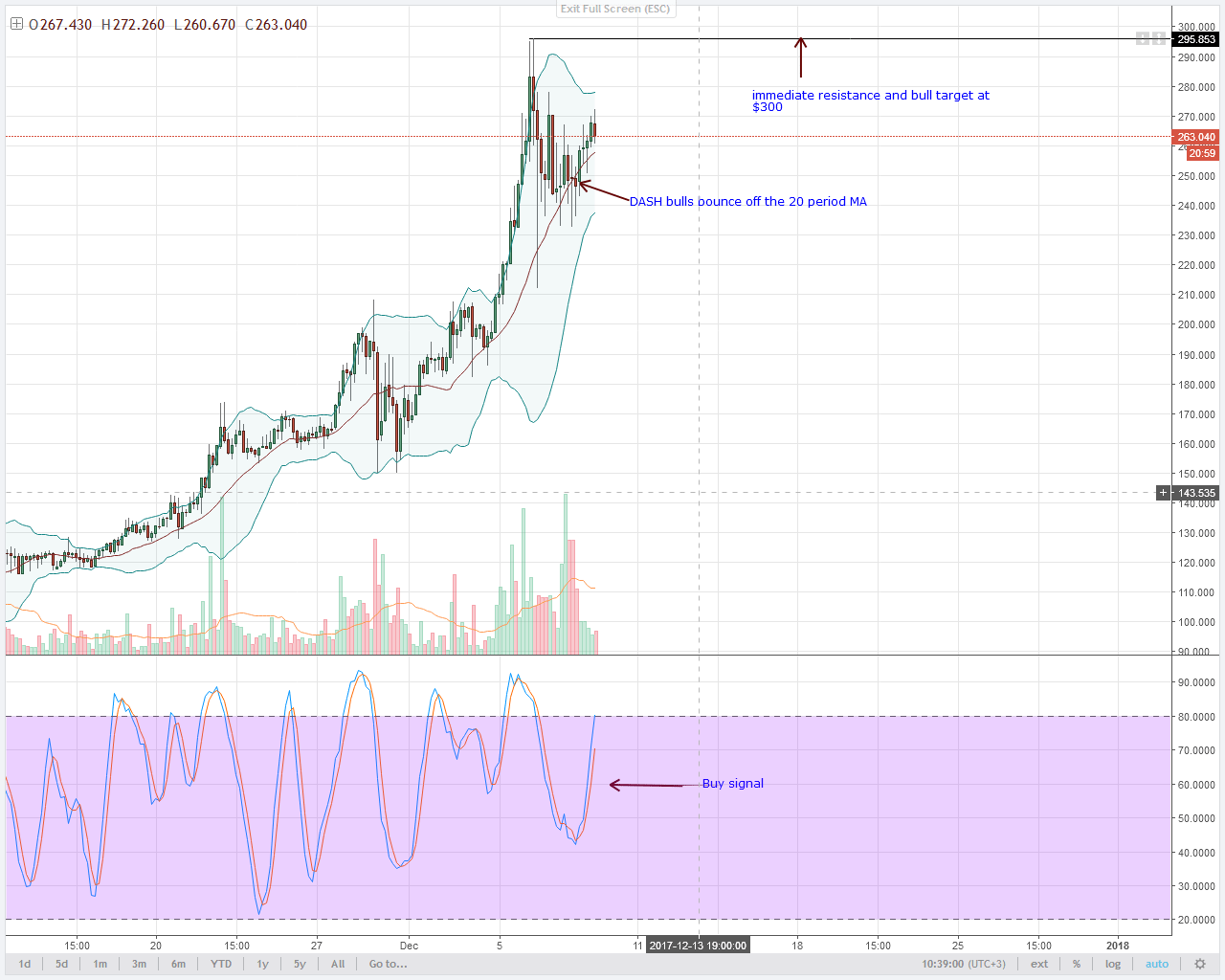 As the chart shows, Monero bulls are in charge. Because of price action alignment in the higher time frame this bull trend might continue past $300.
First off, after that rebound from the 20 period MA, prices are moving higher but with strong bull momentum.
Moreover, stochastic signals are almost parallel and in sync with the weekly trend which is also bullish.
For now, any retest and bullish confirmation of the 20 period MA will represent a buy opportunity. Bull short term target is December 6 highs at around $300.
NEO BEARS ARE FADING OUT AS BULLS AIM AT $45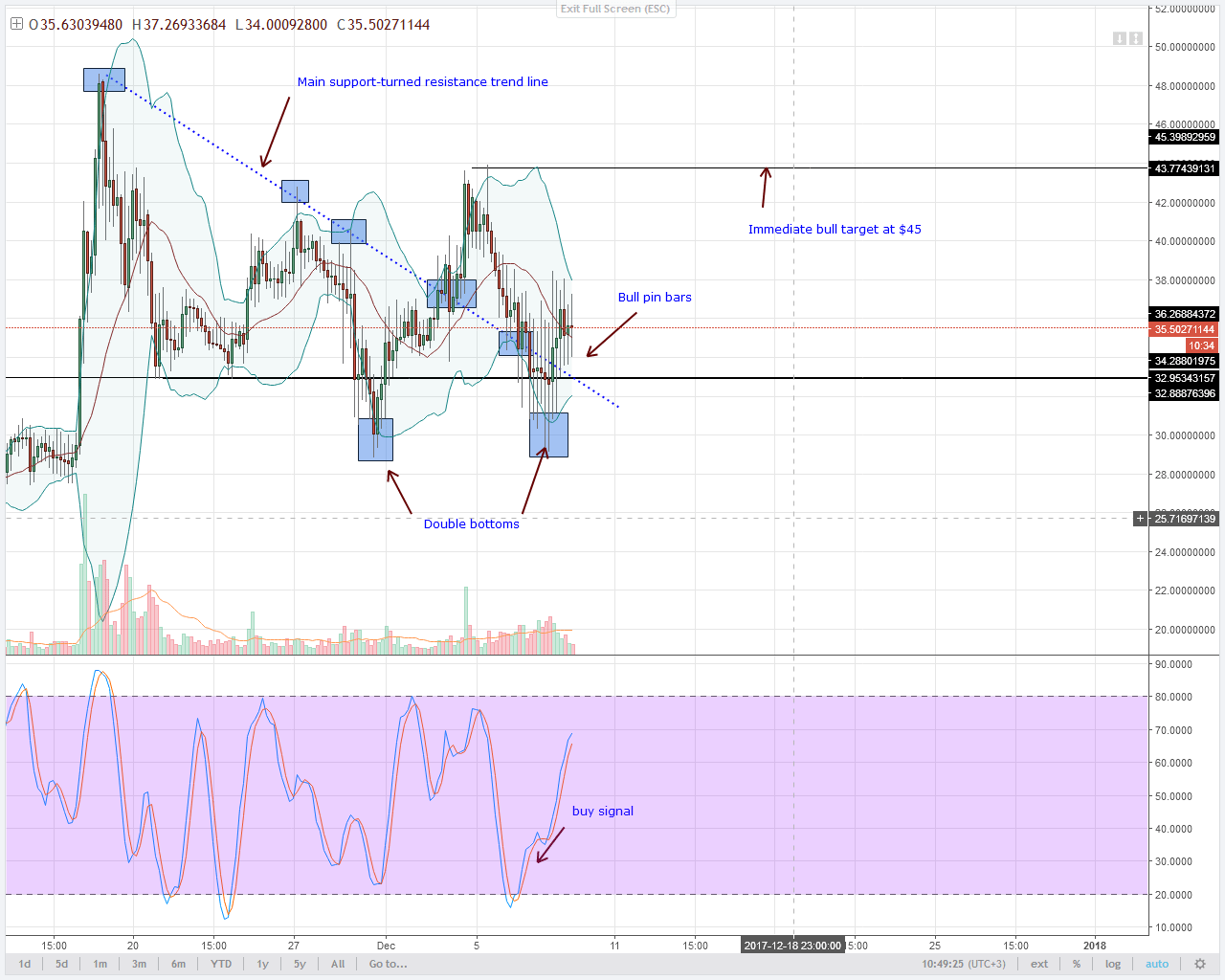 Even though NEO bears are fading out, bull movement is still low. NEO price action is inching higher and in fact it is trending above $34.
Additionally, judging from price action NEO bulls are likely to expand in coming days. Price action is bouncing from our double bottoms towards $45 which is around the upper limit of the W-formation.
Otherwise, buyers are in charge and we shall be taking long positions with stop losses tucked below $34.
All charts courtesy of Trading View