General Notes
USD remains firm across the board
NEOUSD TECHNICAL ANALYSIS
Weak price movement and horizontal consolidation continues as bears and bulls size each other up. As a matter of fact, bull volumes remain muted for the second day in a row with price action stuck within a tight $4 range inside Sunday's Hi-Los. The resistance trend lines drawn from 08.10.2017 and 14.10.2017 highs and support line continues to hold prices. So, we wait until there is a break out from any side of our boundary lines. This break out will be important if it is accompanied by above average volumes.
DASHUSD TECHNICAL ANALYSIS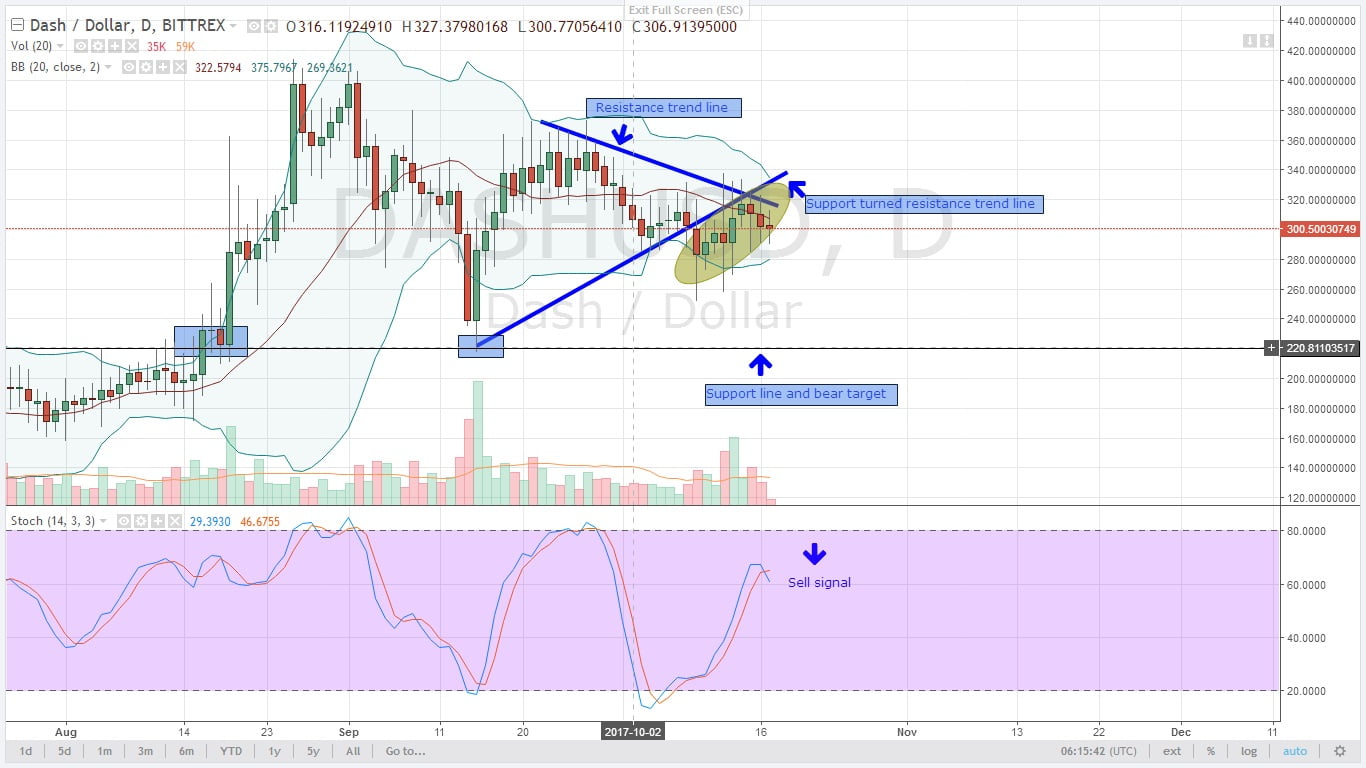 So, as yesterday's candlestick closed a stochastic sell signal was printed and bears were somehow in charge. We can also see the resistance trend line working with the 20 period MA suppressing bullish pressure. Prices are still oscillating within a tight $80 range and 12.10.2017 candlestick still defines bull and sell trigger at its Hi-Los. Anyway, the support turned resistance trend line was retested on 13.10.2017 and 14.10.2017 highs with the resistance trend line forming a barrier for those bear soldiers printed after 14.10.2017. We remain bears and advise trading small lots until there is a break below $250 support.
IOTUSD TECHNICAL ANALYSIS
Apparently there are two levels of resistance in which price action must breach for bulls to be in charge. One is the ability to break and close above that resistance trend line and secondly, a bullish engulfing pattern with strong close above $0.48-the upper limit of 12.10.2017 false bear break out needs to be printed. Since price action is trending with a bull momentum as shown by stochastics, we take a wait and see approach considering there was a close above resistance trend line after yesterday's close. If there is a bullish confirmation today, buyers should be in charge as they ride towards their first target at $0.65.
MONERO/XMRUSD TECHNICAL ANALYSIS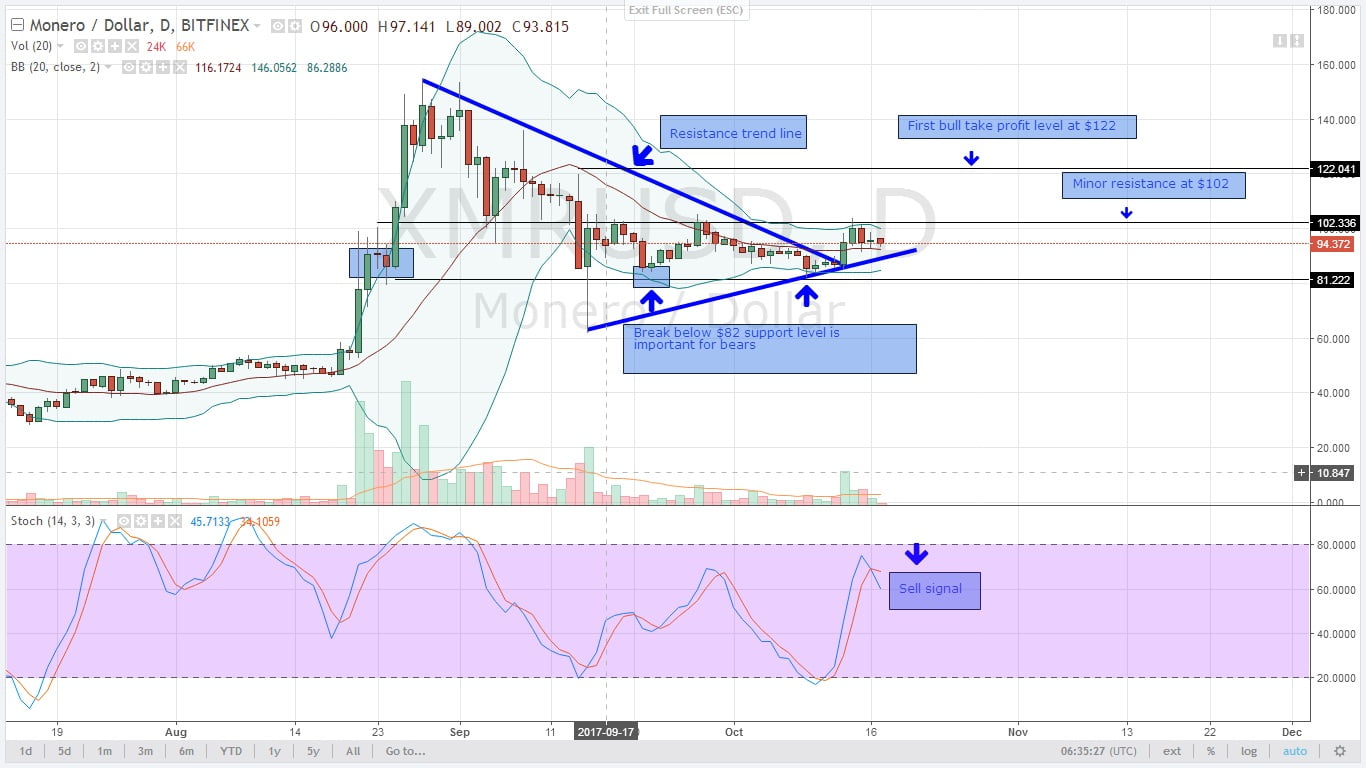 Currently, 14.10.2017 lows and the 20 period MA support level at $90 is being retested. In lower time frames, 14.10.2017 to 16.10.2017 trading range between $103 and $93 qualifies to be a bull flag. However, we are seeing new development with a stochastic sell signal printed at the overbought territory. With hindsight, the support trend line and the resistance level marked at around $86 and $102 are our immediate bear or bullish trigger points. As long as price oscillates at this $10 range, we remain Monero bulls with negation at breach below $86 especially if it does with volumes above 60K.
LSKUSD TECHNICAL ANALYSIS
The many whipsaws in the last 6 days or so means balanced price pressures. The 20 period moving average and the resistance trend line are keeping prices below $5 while the minor support trend line drawn between 09.10.2017 and 14.10.2017 lows are preventing further LSK liquidation below $4.5. Additionally, there is a stochastics buy signal in place. It is safe to wait for a break out before trading this pair.
All charts courtesy of Trading View