From price action, it is turning out that NEO and NEM bulls shall close the week strongly.
What we should note though is the strong NEO bounce from the main support trend line at around $29.
The thing is, NEO is now above $34 line and technicals are even set for more upside.
DASH and Monero are slowing down with lower lows while IOTA is oscillating around key resistance zone of $1.3
Let's look at the charts:
AFTER TESTING LOWS OF $0.20 NEM BULLS BOUNCE BACK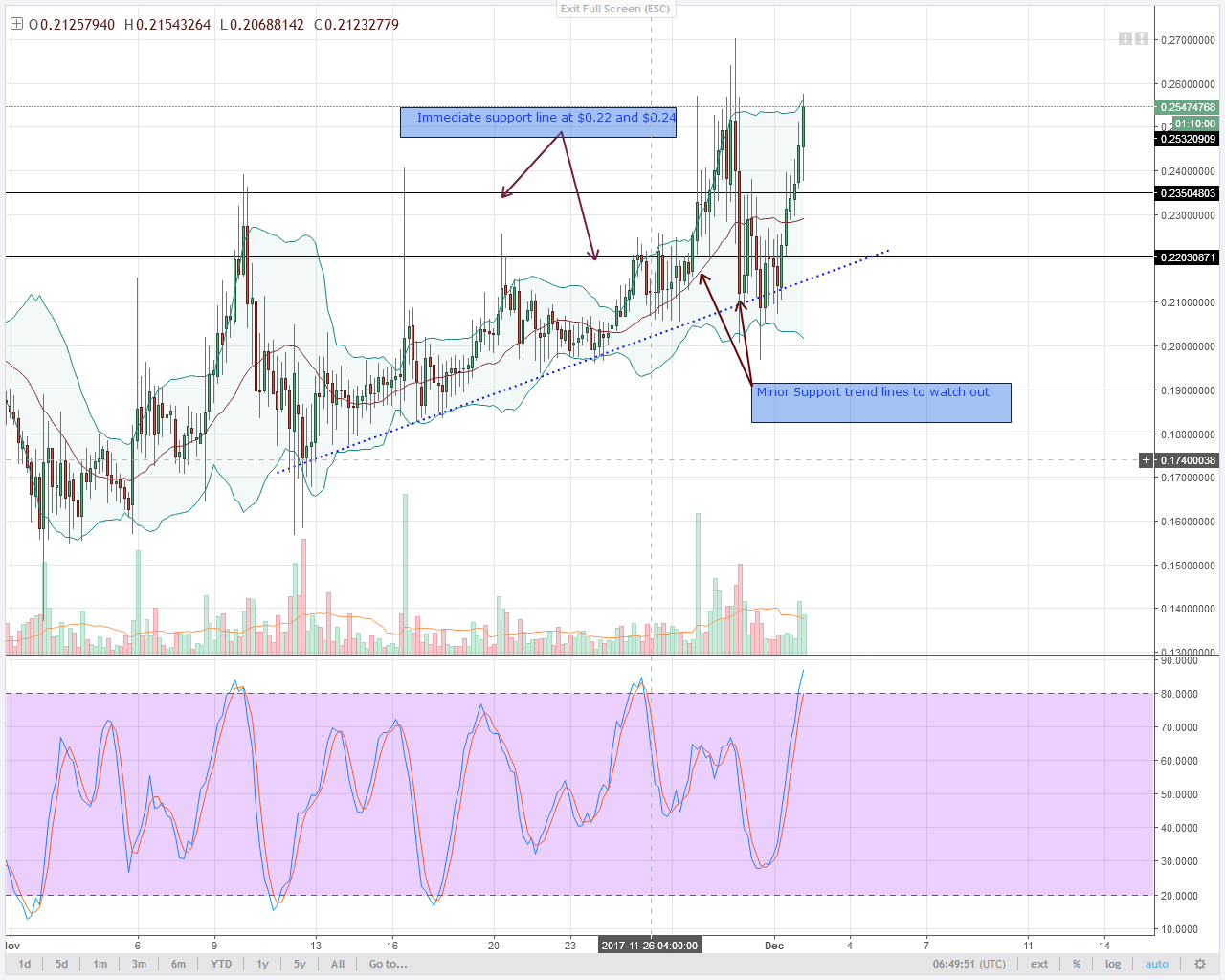 NEM bulls are trending higher in the daily chart and clearly fading the double bar reversal pattern that formed on November 28 and 29.
Overly, the bulls are in charge even if we take a top down approach and base our trades on the weekly chart. In the 4HR chart, bull momentum is strong. In fact, there is a stochastic buy signal turning from oversold territory.
Then again, notice how price action bounced off the support trend line at $0.20. Right now, NEM bulls have broken two levels of resistances at $0.22 and $0.24 with $0.26 highs printed on November 29 being the next target.
It will be extremely important for bulls to close above $0.24 and the main support-previous resistance trend line in the daily chart.
$820 REMAINS A SHORT TERM RESISTANCE ZONE FOR DASH BULLS
In the daily chart, DASH is moving within a very steep ascending channel.
Even if we have a stochastic sell signal turning from overbought territory, buyers looking to enter the trade should tread with caution. This is largely because DASH is bullish in the weekly chart.
Zooming in to the 4HR chart, the lower lows relative to the upper BB is clear and with stochastics in place, DASH looks likely to correct towards the 20 period MA should prices fail to close above November 30 highs of $818.
The ideal bear target is at November 20 highs of $670 but since the trend is bullish, we only initiate longs when there are stochastic buy signals in place.
IOTA BULLS SHOULD IDEALLY CLOSE BETWEEN $1.1 AND $1.3 BY WEEK END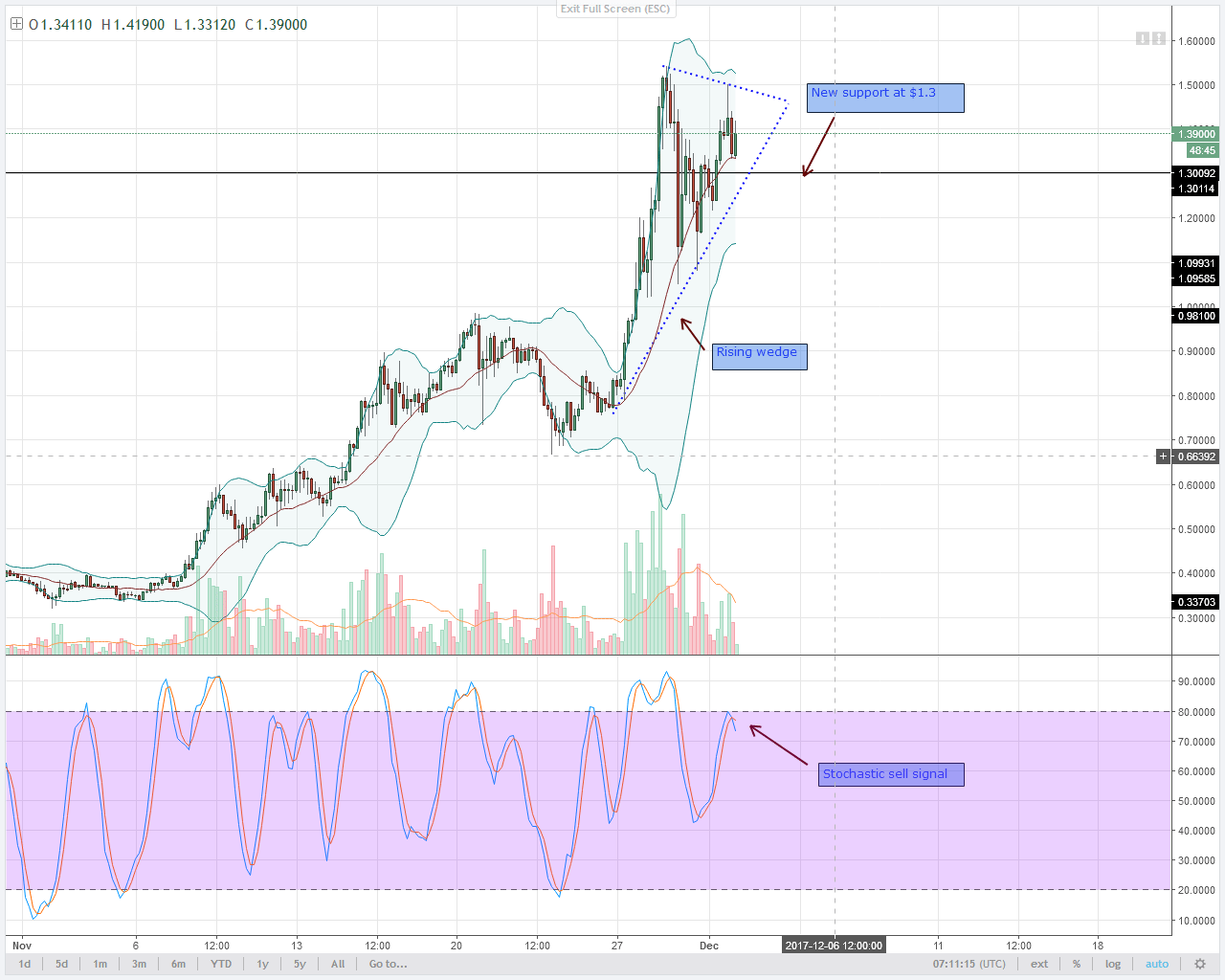 While trading IOTA, we should remember that price action is around highs Fibonacci retracement tool stipulates. This is our area of temporary resistance.
Going forward we expect two things to happen in order to rubber stamp our bull projection. As the week close tomorrow, IOTA bulls should at least close within $1.1 and $1.3.
The second and the most ideal situation calls for IOTA bulls to close strongly above the resistance trend line of this rising wedge even if we have stochastic sell signal in place.
At the moment, intra-day traders should wait for a close below the 20 period MA to execute short positions with immediate target at $1.3.
$170 IS A SHORT TERM SUPPORT LINE FOR MONERO BULLS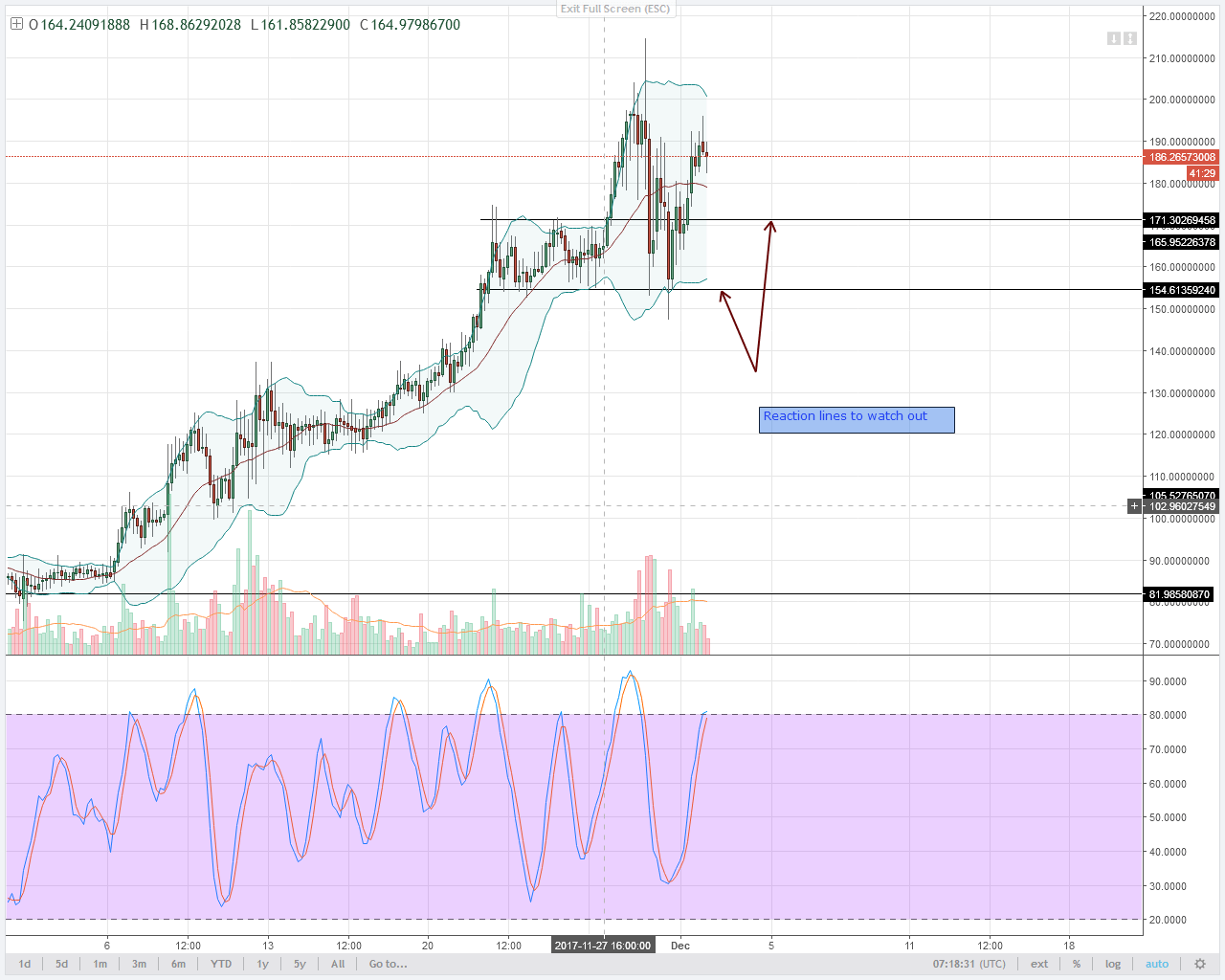 Yesterday, Monero short term trend was entirely based on which part of the divide price action closed at.
Resistance line was at $170 while support was $154. Well, bulls took over after price action moved in sync with the weekly chart trend.
Because of this break and close above resistance, our immediate support is at $170. This will largely depend on if bears shall manage to close below the 20 period MA.
The later has been a strong support zone over the last 4 weeks and is therefore a significant level. Overly we remain bullish and take long positions only.
BOUNCE OFF MAIN SUPPORT TREND LINE MEANS NEO BULLS ARE IN CHARGE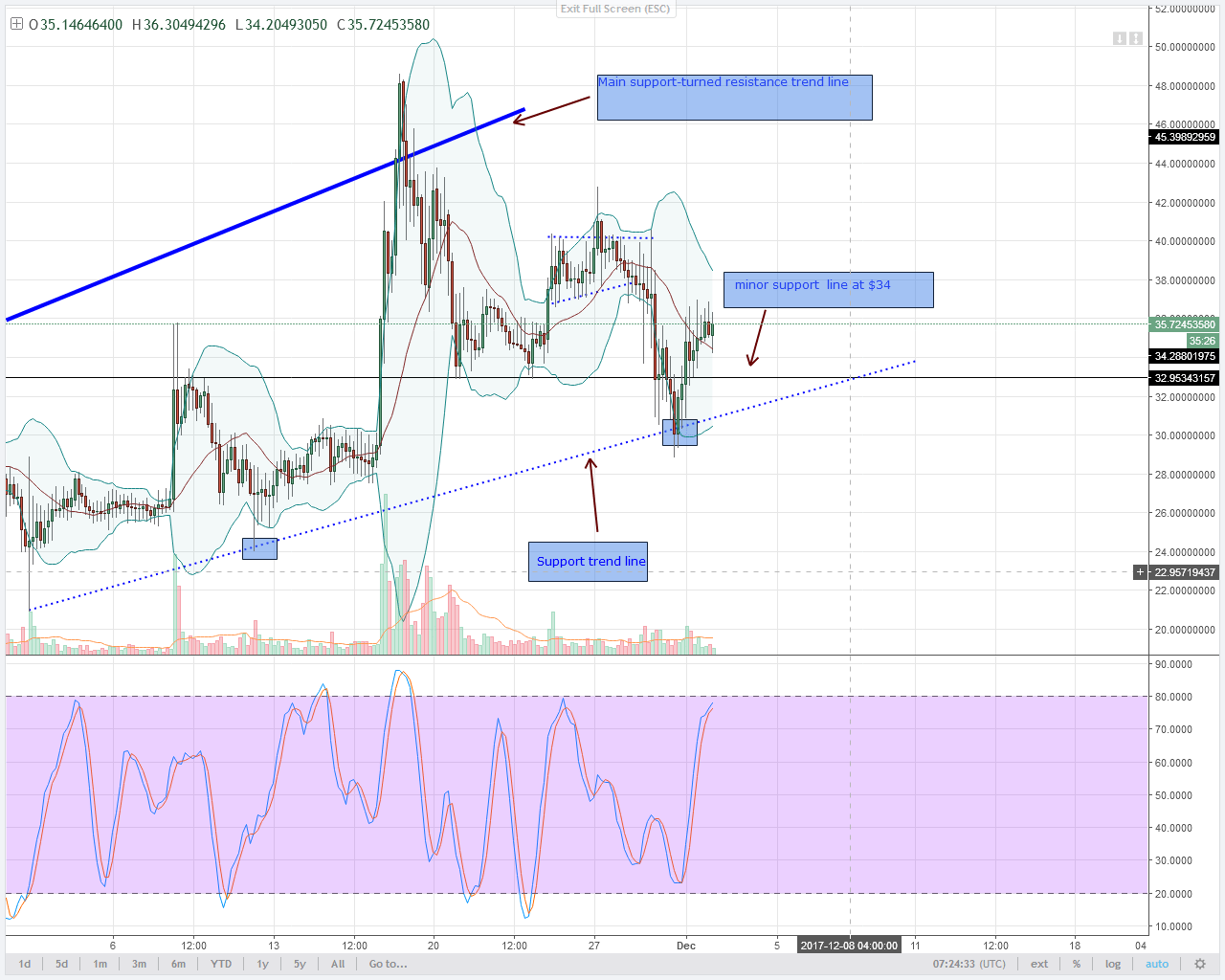 NEO bulls are reversing from below the main support line at $34.
This is after that spectacular reversal from the main support trend line after a double bar reversal pattern was formed accompanied by a stochastic buy signal turning from oversold territory.
Immediate support remains at $34 and retest is a buy opportunity.
Generally, every dip is a buy opportunity going forward and will remain so especially if prices close above $40.
All charts courtesy of Trading View