Bitcoin is back in the spotlight after a 50 BTC transaction potentially owned by its creator Satoshi Nakamoto. As speculation mounted about Satoshi dumping his holdings, the flagship cryptocurrency took an 11% nosedive that saw it dip below $9,000.
Even though it seems like Bitcoin may have stabilized over the last few hours, one of the most prominent analysts in the cryptocurrency industry estimates that it is poised for a steeper correction.
Bitcoin Could Be Bound for Further Losses
The trading aficionado, who is well-known for his bold price predictions, maintains that after the most recent rejection from the $10,000 resistance zone, the bellwether cryptocurrency is "back on track" to reach $6,300.
The massive retracement that Bitcoin suffered during March's Black Thursday resembles the "capitulation of the previous bottom" of January 2015, according to the chartist. For this reason, in combination with several technical indexes that estimate Bitcoin is sitting in overbought territory, he believes that a $3,000 pullback is underway.
But how realistic is this bearish scenario?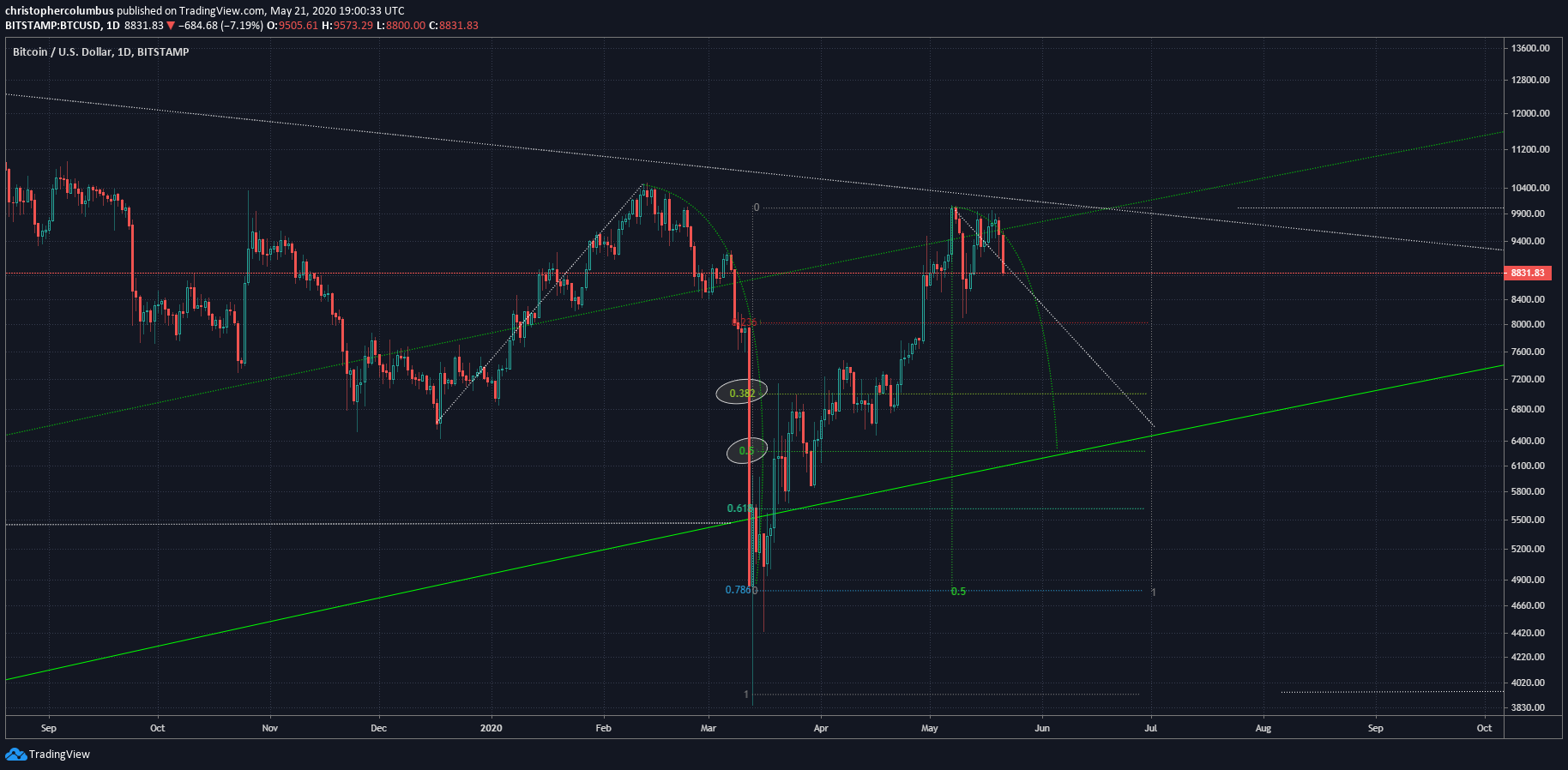 In a recent blog post, Santiment affirmed that after analyzing the emotions across more than 1,000 social media channels, it seems like investors and market participants alike are still bullish. From the point of view of "counter-sentiment trading," one may argue that "there could be more downward market movement," said the behavior analytics platform.
This might be the reason why the number of addresses with millions of dollars in Bitcoin, colloquially known as "whales," have begun dumping their holdings on the market.
Santiment's "holders distribution" chart shows that since May 14 the number of addresses with 1,000 to 10,000 BTC has decreased by nearly 1%. This drop may seem insignificant at first glance, but when considering that these whales hold between $9 million and $90 million worth of Bitcoin, a 1% decline translates into $1.2 billion.

Sitting on Top of Weak Support
A look at IntoTheBlock's "In/Out of the Money Around Price" (IOMAP) model reveals that over 50% of Bitcoin addresses are "Out of the Money," and 49.3% are "In the Money." These figures indicate that the investor base behind BTC could be losing confidence about what the near-term future holds.
If the pioneer cryptocurrency manages to decisively close below the $9,000 support level, investors who have been sitting in the red may unload their holdings, pushing prices further down.
Under such circumstances, the supply wall between $8,600 and $8,800, where 1.13 million addresses bought over 730,000 BTC must hold. Otherwise, Bitcoin could indeed plummet to $6,300 since there is not any significant barrier in-between.

With such a pessimistic scenario in mind, it is important to remain cautious and wait for confirmation before entering a trade. Employing a robust risk management strategy will help avoid adverse market conditions.
Featured Image from Unsplash