Aside from Bitcoin, Cardano (ADA) has rapidly become one of the most popular cryptocurrencies over recent weeks by investors and traders alike.
The prominent altcoin, which has re-entered the top-10, has recently been subject to a strong boost. Data indicates that ADA is up 150% since the start of 2020, outpacing Bitcoin by around five times and other mainstream assets by many times more.
Despite its already-strong outperformance, a top research firm in the cryptocurrency market has suggested that Cardano has room to run.
Cardano Is "One of the Most Bullish" Crypto Assets
According to Weiss Crypto Ratings — the crypto arm of market research giant Weiss Ratings:
"ADA is one of the most bullish looking price charts of any major crypto assets right now. New 2020 highs, and it looks like it could keep going."
#ADA is one of the most bullish looking price charts of any major crypto assets right now. New 2020 highs, and it looks like it could keep going.

— Weiss Crypto Ratings (@WeissCrypto) July 1, 2020
Weiss Crypto Ratings' analysts aren't the only ones expecting ADA to continue to scale higher in the weeks ahead.
According to Nik "Altcoin Trader" Patel, an author and technical analyst, "Cardano continues to look bullish, finding support in [an important] area." He shared this opinion in his latest edition of his "Market Outlook" blog series.
Patel wrote in the June 29th edition that since ADA held a pivotal uptrend and the $0.0738 horizontal, it will likely move higher.
"Looking at the daily, trendline support has remained rock solid since March capitulation, and resistance continues to be turned to support. I am expecting continuation of the rally to follow, with $0.11 as the next area of trouble."
Cardano (ADAUSD) price chart from Nik Patel. Current as of Jun. 29. Chart from TradingView.com
Cardano will be further supported by the roll-out of the blockchain's "Shelley" upgrade. The upgrade will make the network much more decentralized and usable and will also implement Proof of Stake — a feature that some expect to send ADA higher.
Not Everyone Is Convinced
Not everyone is convinced of Cardano's bull case, though.
One trader shared the image below on July 1st, showing that ADA's strong performance actually hides bearish undertones. The chart shows that a divergence has formed between the cryptocurrency, which is trending higher, and a declining indicator.
"The reason I'm building the ADA short here. If we invalidate the divergence I'm happy to step out the way. Until then I'll continue to slowly build this position until the div confirms, at that point I can ramp up," the analyst commented on the chart, suggesting there is underlying weakness.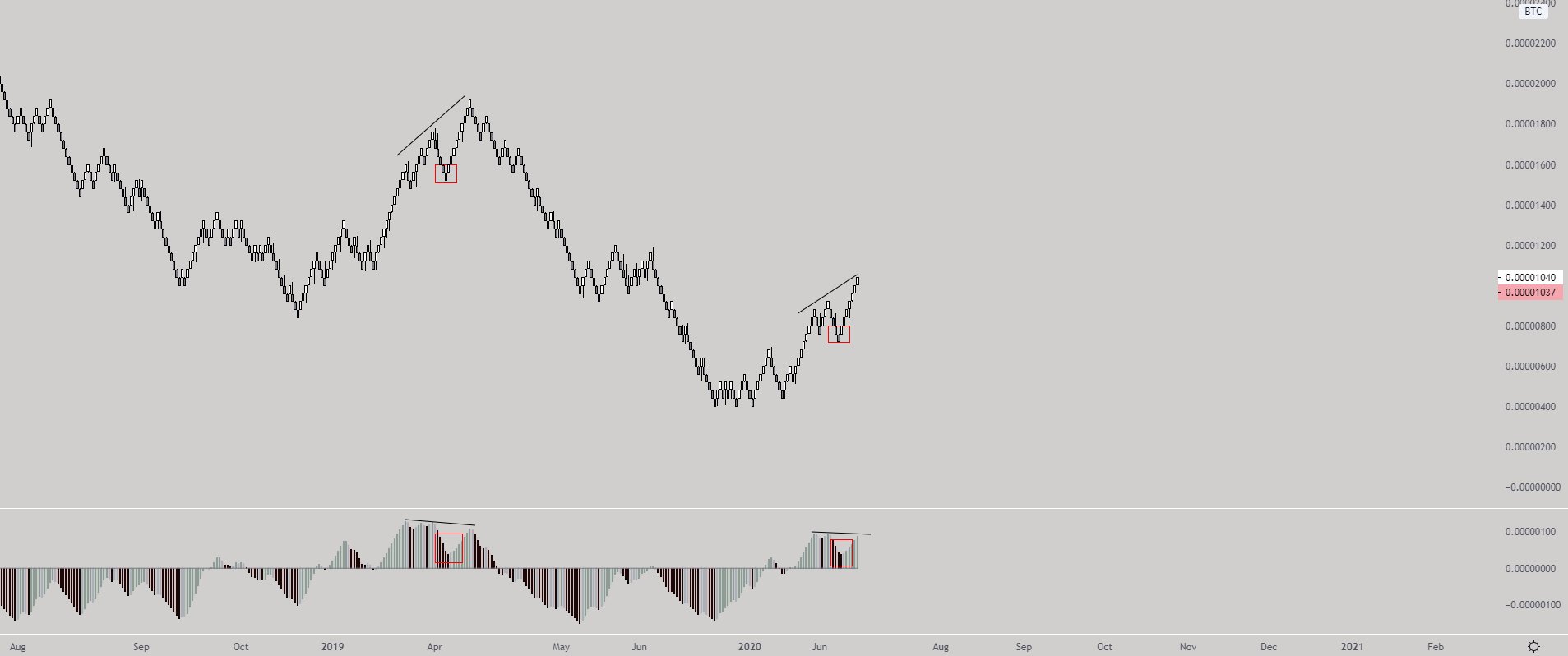 Cardano (ADA) analysis by full-time trader Cold Blooded Shiller (@ColdBloodShill on Twitter). Chart from TradingView.com
The fact that an extremely similar divergence was spotted before Cardano plunged ~75% against Bitcoin in 2019 gives credence to the bear case.
For some context, ADA falling 75% from here while Bitcoin remains stagnant would imply a price per coin of $0.025 or 250 satoshis.
Featured Image from Shutterstock
Price tags: adausd, adabtc
Charts from TradingView.com
Research Firm: Cardano (ADA) Is One of the "Most Bullish" Crypto Assets