Bitcoin's price has been caught within a strong uptrend throughout the past several weeks, although this momentum is showing some signs of stalling as the cryptocurrency consolidates within the upper-$11,000 region.
Analysts are now noting that BTC may soon see a strong uptrend due to inflows of capital from retail traders who are just entering the market for the first time.
This group of investors may provide Bitcoin with a strong base to grow upon and is indicated by the number of addresses holding over 1 BTC coupled with BTC's expanding price.
One trader is also pointing to the benchmark cryptocurrency's daily active address count as one indicator of technical strength.
He is noting that this metric is close to where it was during the June 2019 peak, despite BTC's price being several thousand below where it was at this time.
This shows that the cryptocurrency is fundamentally robust at the present moment and could be poised to see further upside in the coming days and weeks.
Bitcoin Sees Strong Fundamental Growth Despite Consolidation Phase
At the time of writing, Bitcoin is trading down just under 2% at its current price of $11,600. The cryptocurrency has been trading at this price level throughout the past several days.
Last Saturday, the crypto rallied to highs of $12,000 before its momentum slowed, and its price declined down towards $11,000.
The support here was quite significant, however, and BTC's price rapidly rose back to the upper-$11,000 region – where it has been consolidating ever since.
One sign of the cryptocurrency's intense fundamental strength is the number of wallets that now hold over 1 BTC.
This metric has been growing in tandem with the cryptocurrency's price, signaling that further upside could be imminent.
One analyst spoke about this in a recent tweet, saying:
"This graph shows: – the number of addresses with balance ≥ 1 bitcoin – price action. Interesting to see that despite the pandemic/recession the number of people creating wallets grew exponentially over the past few months. Is this retail slowly getting exposure?"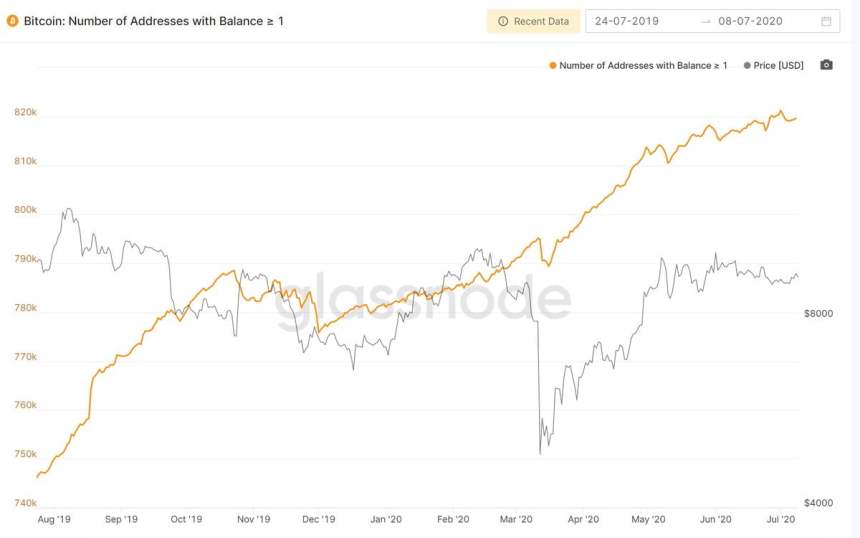 Image Courtesy of Teddy. Chart via Glassnode.
BTC Active Address Count Flashes Bullish Sign 
Another metric showing that Bitcoin's recent rally has been underpinned by fundamental strength is a steady rise in its active address count.
This metric has been trading upwards throughout the past several days and weeks and is now at levels not seen since June of 2019 – despite BTC's price still being well below where it was at this time.
One analyst observed:
"Market cap wise BTC is 216B rn as opposed to 326.5B at ATH. At the same time, daily active addresses matured against 2019 June's peak."
Image Courtesy of CryptoBirb. Data via Santiment.
Where Bitcoin trends in the coming days should provide insight into just how far this macro strength may allow it to climb.
Featured image from Unsplash.
Pricing data from TradingView.