Just as we were talking about how Ripple is less volatile than its other cryptocurrency counterparts, Ripple's XRP caught everyone by surprise and concurred new highs on Thursday.
Meanwhile, most other cryptocurrencies saw a bearish sentiment. So What's going on? Let's take a look.
Asians are Going After Ripple
Apparently, 61 banks in Japan are planning to launch a new digital payments systems pilot program using the Ripple blockchain network. This is organized by SBI Ripple Asia in Tokyo. They will work with Woori Bank and Shinhan Bank of South Korea.
This is a big deal because Asia accounts for at least a third of all cryptocurrency trading volume. The main adopters are from Japan, South Kor, a and China via Hong Kong.
Coinbase Might Add Ripple
Major cryptocurrency exchange, Coinbase has recently announced that it is working to add support for more coins in the future. This has led speculators to go long on Ripple. As one of the oldest and most established cryptocurrencies in the ecosystem, many believe that it's only a matter of time before Coinbase adds support for Ripple, giving the general public an easy outlet for purchasing the token.
Looking at Ripple's Chart
Ripple's XRP finally surpassed the $1.00 barrier and is rapidly approaching $1.2.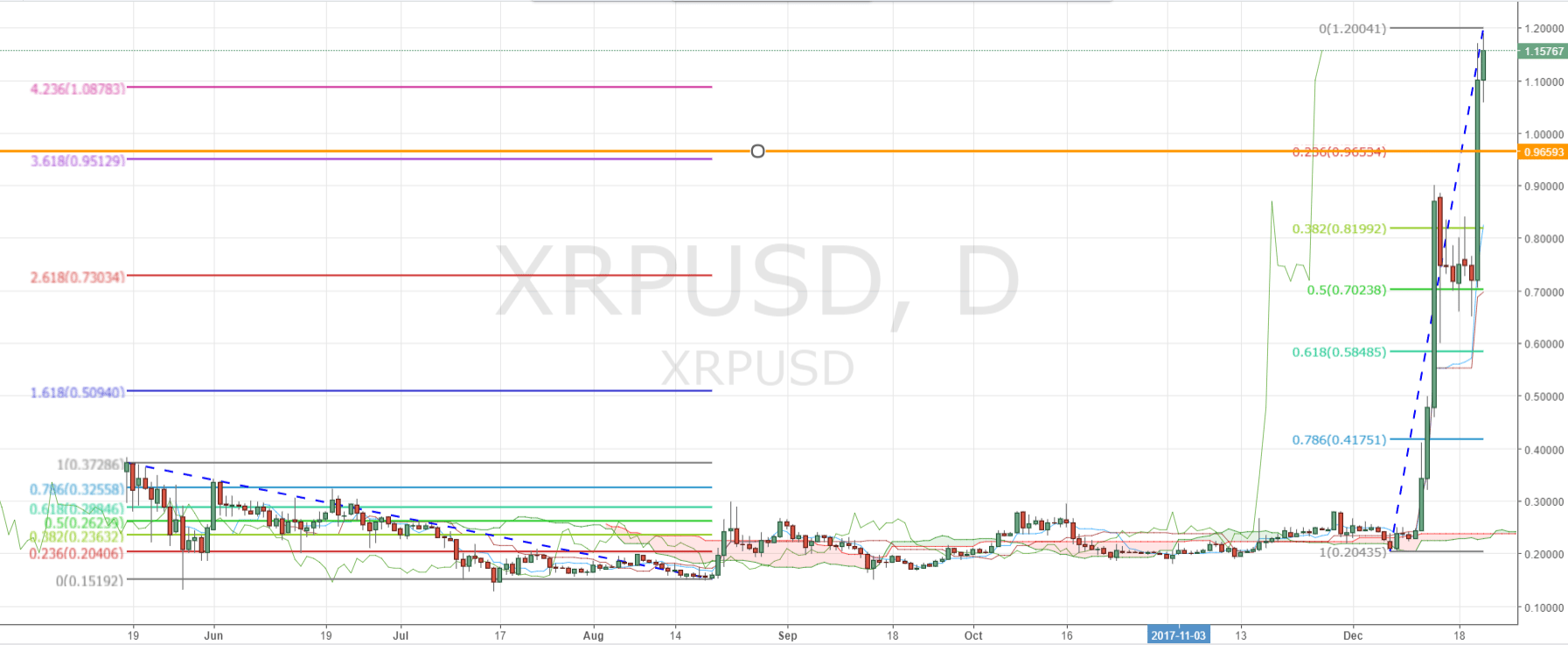 Once the bullish sentiment dials down, we could expect yet another period of consolidation with XRP. There could even be a pullback towards one of Fibonacci's key restracement levels.
Tell Me More About Ripple and XRP
Ripple, Inc. is the company that builds and maintains the Ripple network. It has built a blockchain-based system that banks use to issue IOUs and settle debts. XRP is Ripple's asset and native token.
What's XRP Used for?
XRP basically has two uses. One is to pay fees on the Ripple network. The other is being used as a "bridge currency" for value transfers between any two institutions that don't have a trusted relationship.
However, what cryptocurrency enthusiasts need to keep in mind, is that XRP is not necessary for the Ripple network to function.
Ripple's Market Cap
Ripple continues to save its spot as the 4th largest cryptocurrency by market cap. It is currently trailing behind Bitcoin, Ethereum, and Bitcoin Cash.