Bitcoin hashrate jumped 23 percent since May 26, signaling more miners are resuming operations on the cryptocurrency's blockchain network.
The rally also continued as Bitcoin's mining difficulty dropped by over 9 percent on June 4.
The rising hashrate indicates a slowdown in miner capitulation, which could assist in sending the bitcoin price higher towards $10,000.
The Bitcoin hashrate rose to near 111.43 Exahash per second on Monday, its highest level in the last three weeks.
The surge appeared as the cryptocurrency's mining difficulty adjustment dropped by 9 percent on June 4. The bimonthly event helped miners, who had shut down their machines after halving, to rejoin the network. That further resulted in faster mining on the Bitcoin blockchain, with each block validation taking less than 10 minutes.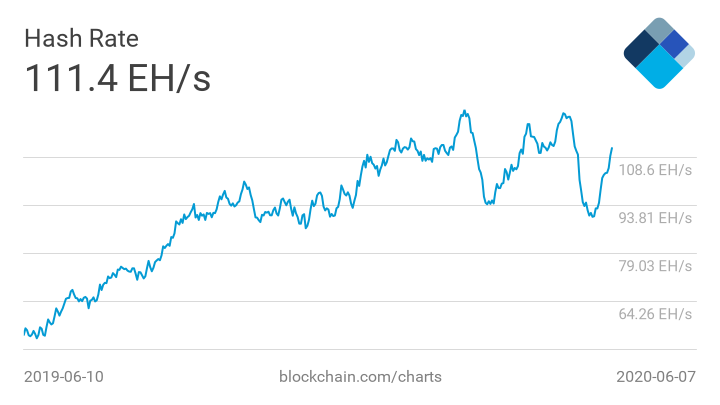 End of Capitulation?
A drop in difficulty makes it easier for miners to solve mathematical problems on Bitcoin blockchain. The higher probability of solving puzzles translate into a higher chance of mining blocks – and, in turn, earn rewards in bitcoin tokens.
Miners typically sell the crypto winnings in open markets to cover their operational costs. When they sell more bitcoin than they mine, it leads to a plunge in the cryptocurrency's spot rates, otherwise known as capitulation.
After halving, an event which has decreased bitcoin's daily supply by half, miners are earning lesser rewards. That has lately caused a miner capitulation. As a result, the spot bitcoin has failed to close above $10,000 despite favorable macroeconomic fundamentals.
But indicators show that miners have slowed down selling their bitcoin stash. The Miners' Position Index, which reflects miners' capitulation/accumulation behavior, is showing a negative value, which shows miners are not selling their freshly-minted coins.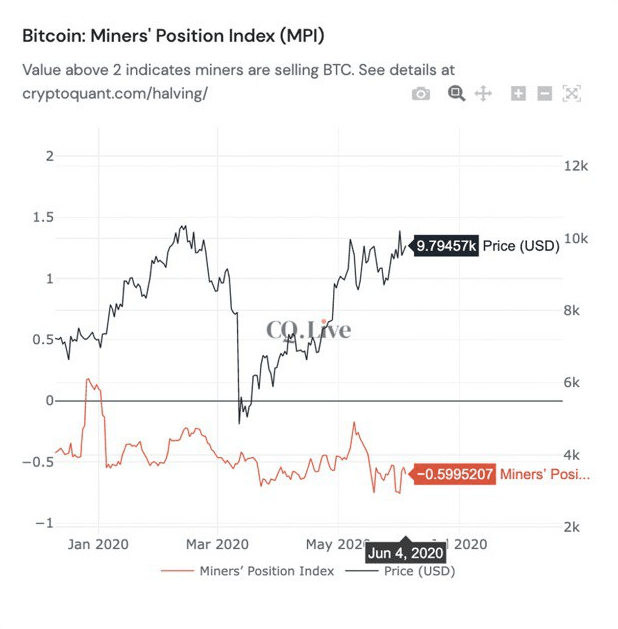 On the other hand, the Hash Ribbons indicator is also signaling a reversal in the mining capitulation sentiment.
That loosely means that miners – the biggest whales – are holding more bitcoin than they are selling, creating a supply-deficiency in the market, which is bullish for Bitcoin.
The $10,000 Bitcoin Target
A rising hashrate, lower difficulty, and slowing miner capitulation create a bullish scenario for Bitcoin. Nevertheless, the cryptocurrency's upside bias remains trapped under $10,000, a level it has failed to break since February 2020.
The on-chain metric creates a reasonable bullish setup thanks to a supply-shock caused by miner accumulation.
Meanwhile, investors are watching the Federal Reserve's two-day meeting on the U.S. economy's health this week. If the central bank keeps rates lower and continues its bond-buying program, then it could keep investors away from holding cash and increase their bets on risky assets like stocks and bitcoin.
The two factors alone point to a rally in the bitcoin market. It would mean a retest of the $10,000-level.