Following the cancellation of Segwit 2X, the pump has been withdrawn and as a result, alt coins are back to their initial trading ranges. Coincidentally, these reversals happened at key Fibonacci retracement levels drawn between August-September/October Hi-Los. Let's see what happened yesterday.
MAIN RESISTANCE TREND LINE AT $0.22 CAP ALT COIN NEM RALLY AFTER SEGWIT 2X IS PUT OFF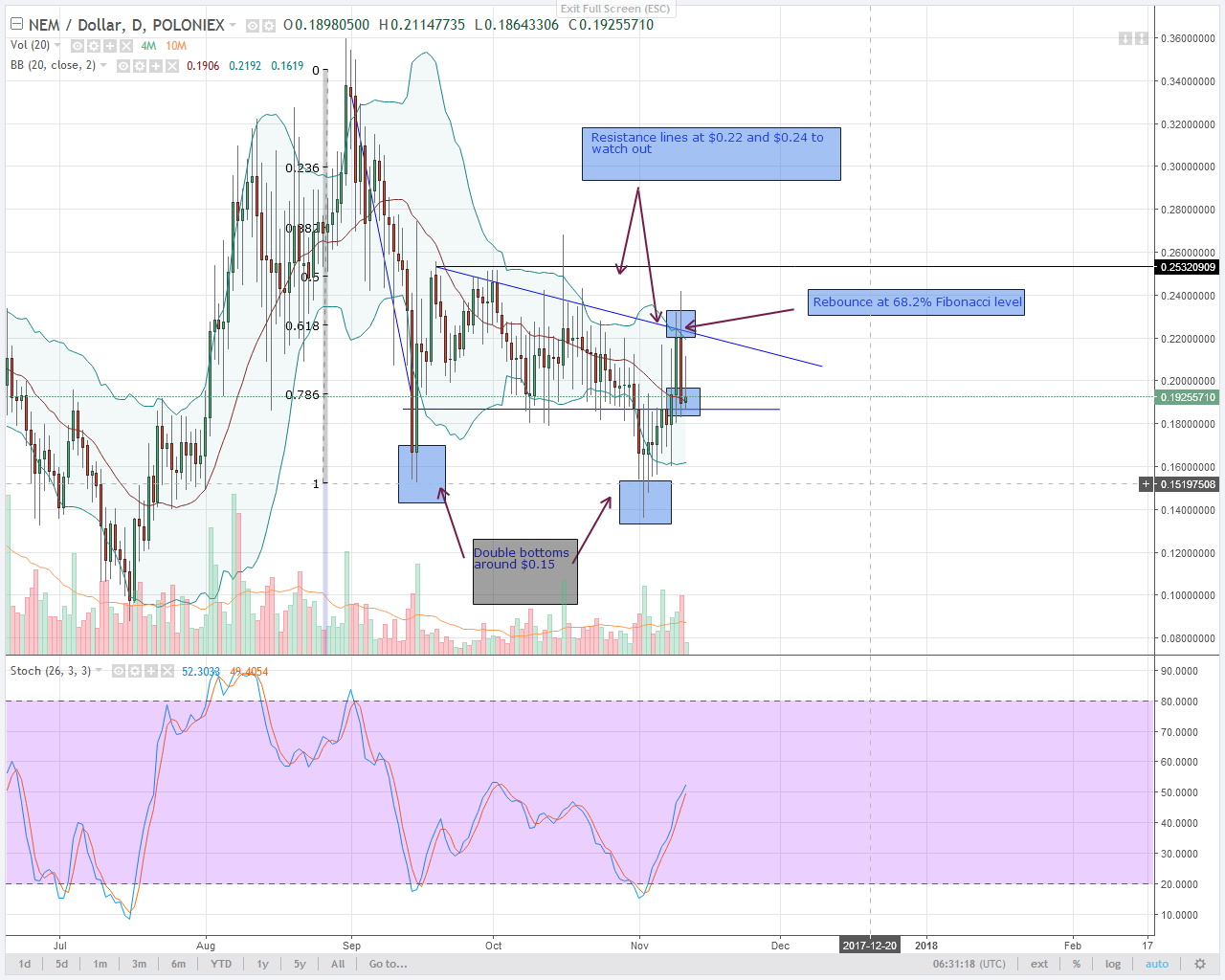 Based on our conditions yesterday, NEM price action failed to close above $0.22 main resistance line.
There was a strong rebound from that level and USD bulls pare losses recovering $0.04 and closing at November 9 lows. Note that this re-bounce was at the 68.2% Fibonacci level. As such, our game plan today is if alt coin NEM will close below the main support level at $0.20 today.
It is likely, check the long upper wick this morning which indicate USD bull pressure and a probable spill over from yesterday's bear run.
STRONG PRICE REJECTION AROUND $335-$370 SELL ZONE FOR DASH BULLS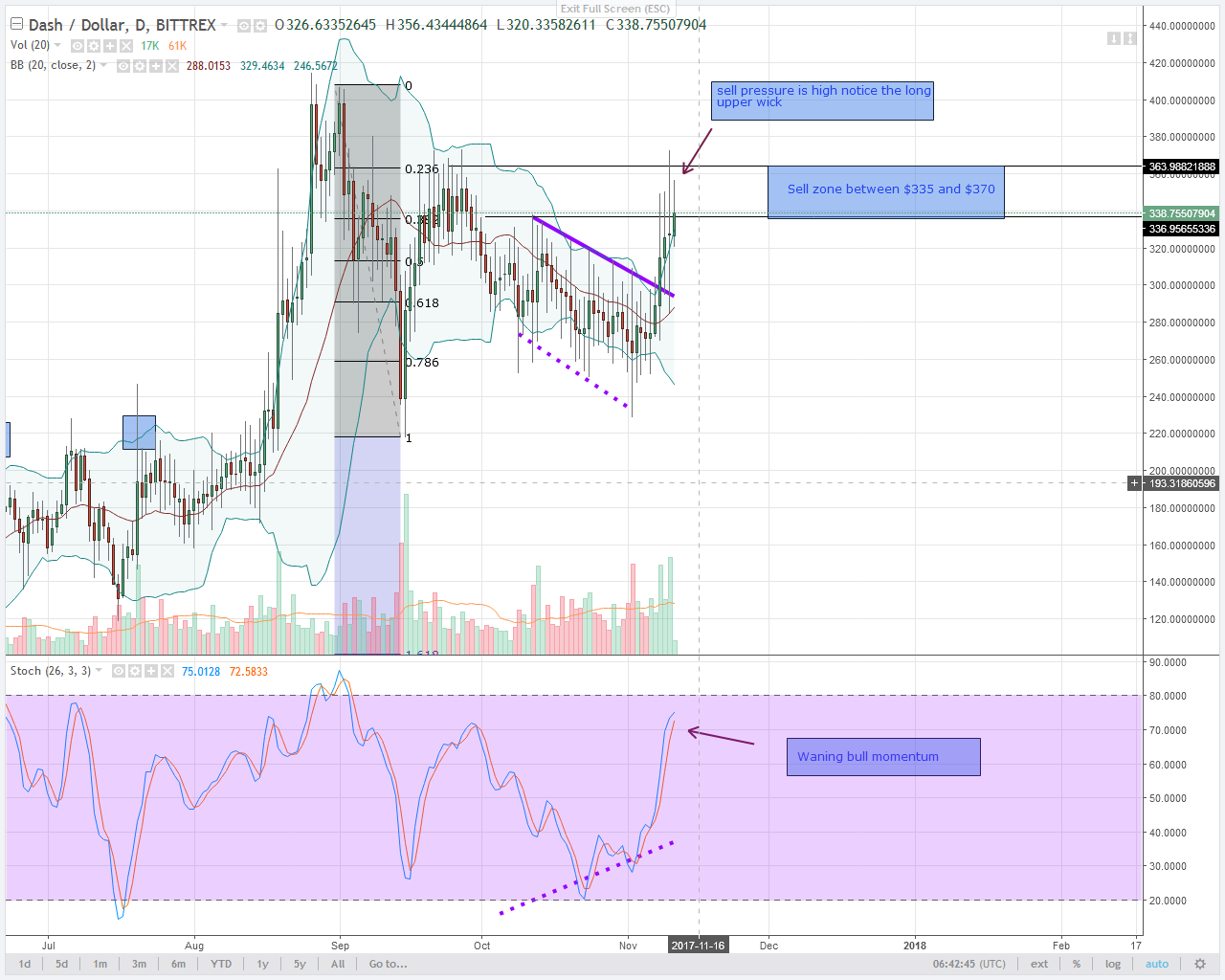 Yesterday's alt coin DASH price action ended up as a doji candlestick closing above the upper BB. Concurrently, alt coin DASH highs reversed in our sell zone between $335 and $370 following segwit 2x cancellation.
November 10 and 11 candlestick characteristics indicate sell pressure build up. After all, $327 November 10 close is above the upper BB meaning DASH is expensive, not at equilibrium with waning bull momentum as stochastics shows.
According to our plan, should sell pressure increase as it is happening now, then we initiate short positions anywhere between 38.2% and 23.6% Fibonacci levels drawn from August-September Hi-Los. Fine tune your entry and enter short in the 4HR time frame.
ALT COIN IOTA WAS OVER-PRICED AND IS NOW CORRECTION LOWER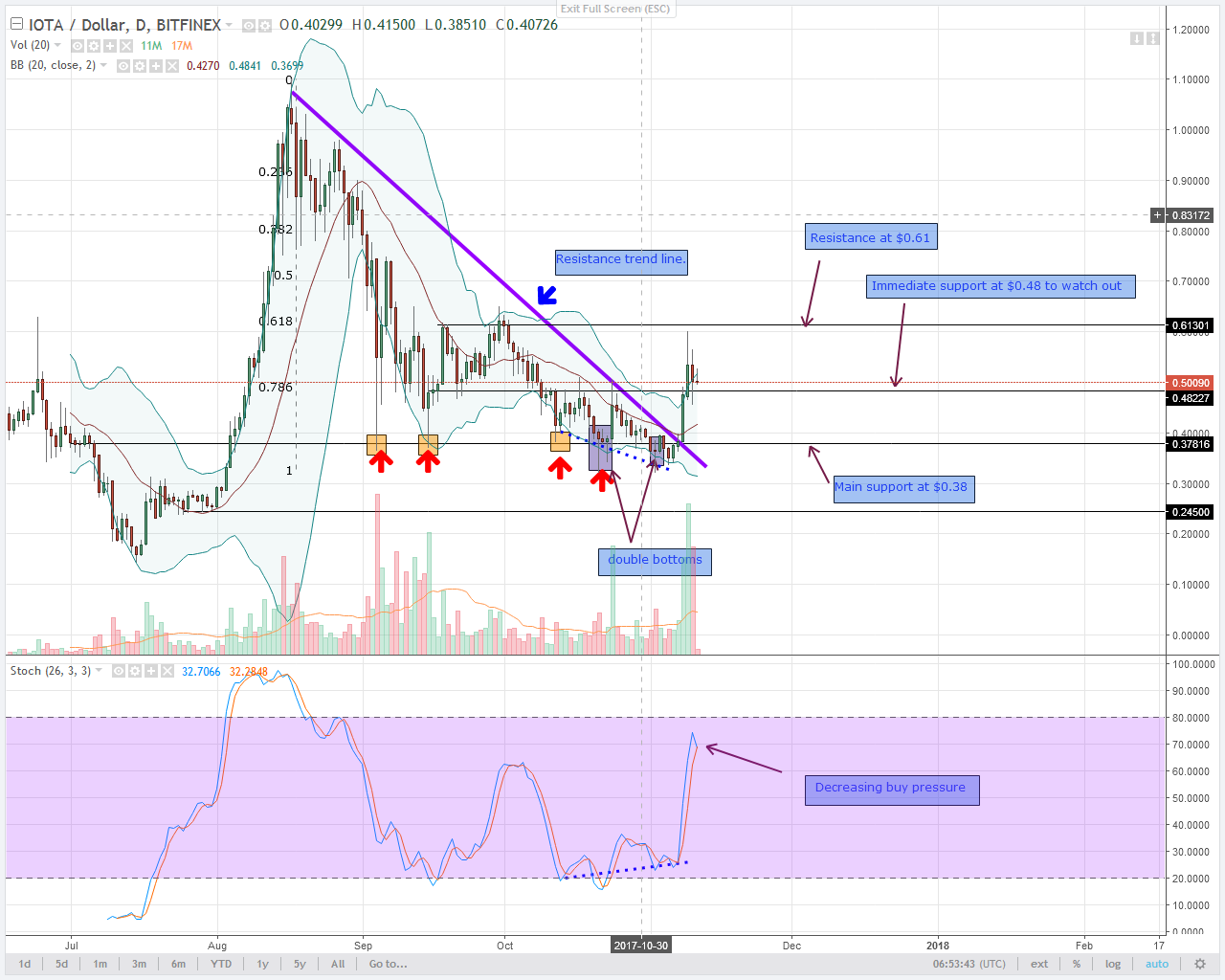 After testing highs of $0.60 resistance line, alt coin IOTA corrected lower and is now trading at $0.50 after news of segwit 2x cancellation.
That means within two days, alt coin IOTA has shed $0.10. Then again, it is reversing from the 61.8% Fibonacci level as drawn from August-October Hi-Los. That's not all. Between November 9 and 10, alt coin IOTA price action ended up closing above the upper BB at $0.53 and $0.50 respectively.
This correction lower should continue now that bull momentum is wearing out as stochastics show. More importantly, if USD bulls manage to close below $0.48 support level, then the bear pressure should continue back to $0.38 main support line.
STOCHASTIC SELL SIGNAL WITH REVERSALS AT 38.2% FIB LEVEL
Now that alt coin Monero bulls are at break even, it is better to exit this trade with some profit. Obviously, the pump is over and capital is flowing back to BTC after Segwit 2x hard fork cancellation.
After all, alt coin Monero is topping as price action hints. That strong bearish engulfing candlestick reversing from 23.6% Fibonacci retracement levels means Monero prices might fall back to $80. In the mean time, let's not forget that there is a stochastics sell signal, indicative of sell pressure.
Additionally, November 9 candlestick is above the upper BB and a close lower to counter this in-equilibrium was necessary.
NEO IS BACK WITHIN NOVEMBER 8 CANDLESTICK AFTER YESTERDAY'S BEAR CANDLE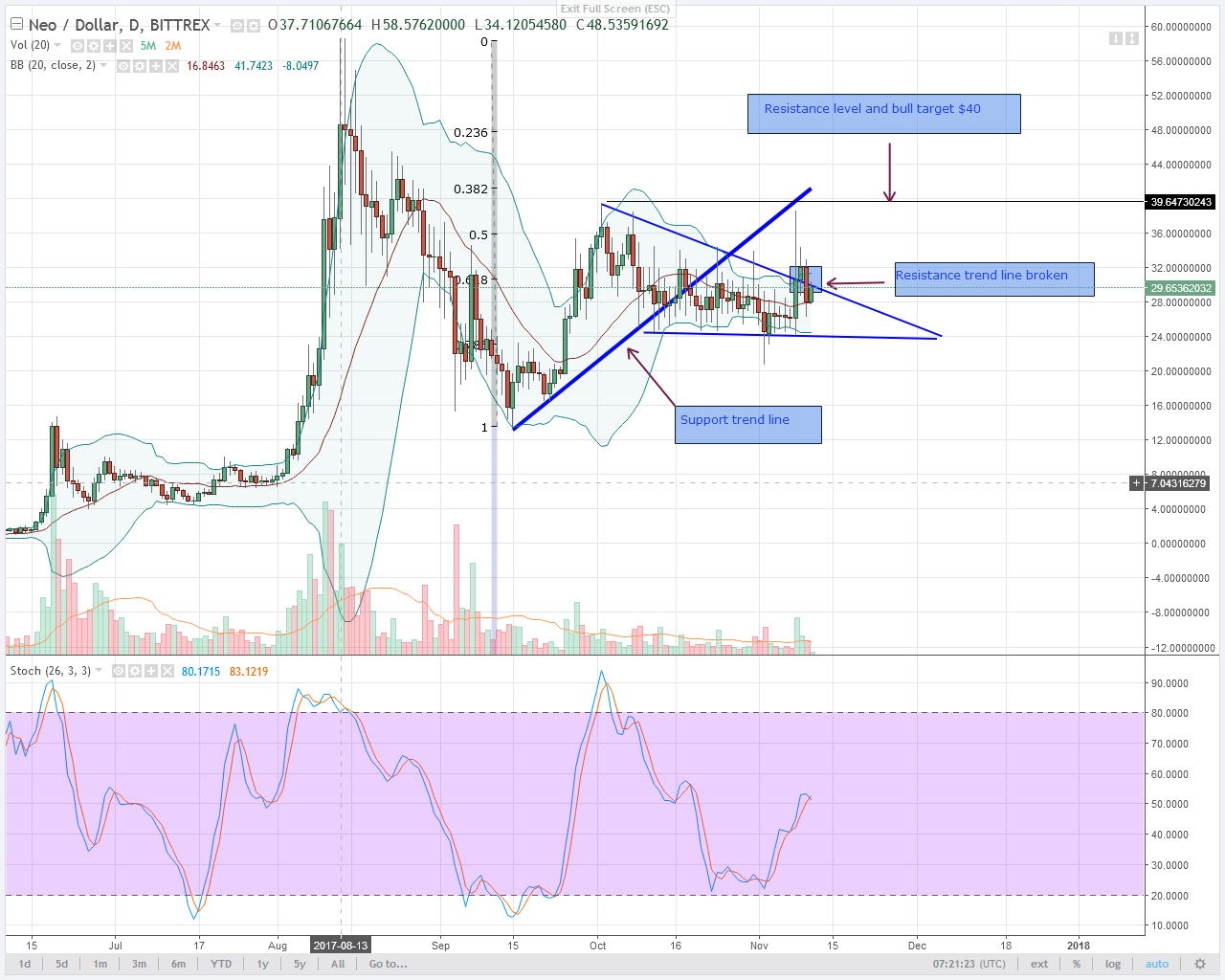 Alt coin NEO didn't break above the $40 mark and after registering highs of $38.5, USD bulls took over.Furthermore, there is a 3-bar reversal candlestick with bearish momentum kicking in after November 10 bear candlestick.
Unless there is more NEO bull pressure and price close above $33, we maintain a bearish outlook. In light of this, the break out strategy is still in play.
All charts courtesy of Trading View