Tezos has seen some relatively strong price action over the past couple of weeks, but the uptrend it incurred around this time last week is starting to stall.
It appears that the resistance laced throughout the mid-$4.00 region is quite intense, which has been stopping it from posting any further gains as of late.
Analysts are now noting that the token may be poised to see further upside in the mid-term, but it may first have to enter a short-term consolidation phase.
As for where it may trend once it resolves this consolidation phase, traders are expecting it to see significant upside.
In one scenario put forth by a popular analyst, XTZ will soon see a 100% rally that leads its price all the way up towards the $8.00 region.
This would mark a massive rise from its recent lows of nearly $3.00 that were set last week.
Tezos Consolidates Alongside Bitcoin Following Strong Uptrend
At the time of writing, Tezos is trading down marginally at its current price of $4.10. This is around where it has been trading throughout the past several days.
The cryptocurrency has been caught in the throes of a strong uptrend since the start of August, rallying from lows of $2.80 to recent highs of $4.40.
After hitting these highs earlier this week, its price slid lower, subsequently entering a consolidation phase that has persisted in the time since.
While speaking about XTZ's current market structure, one analyst explained that holding the lower-$4.00 region is imperative for it to see further upside in the days and weeks ahead.
He explains that a sustained bout of trading above this region could be enough to send its price rocketing up towards $5.00.
"Tezos: Crucial areas to hold is basically the $4 area. Next resistance after this previous high (which would mean that the uptrend is still continuing) is the $5 area," he said while pointing to the levels marked on the below chart.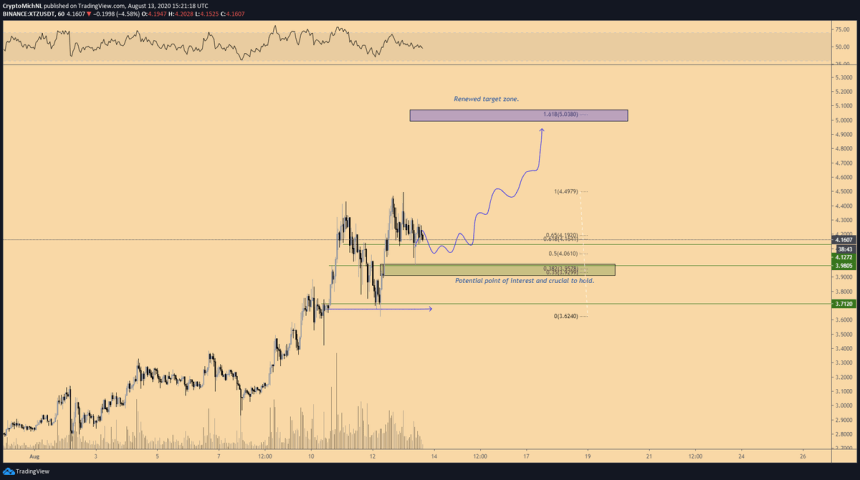 Image Courtesy of Crypto Michaël. Chart via TradingView.
Here's How High XTZ Could Surge Once Its Consolidation Phase Ends
Another trader recently explained that he is targeting significant upside for Tezos in the coming weeks.
He believes that once its ongoing consolidation phase resolves, it will see a sharp move up towards the mid-$8.00 region.
"XTZ is still on pace btw. Chop / accumulation was expected here."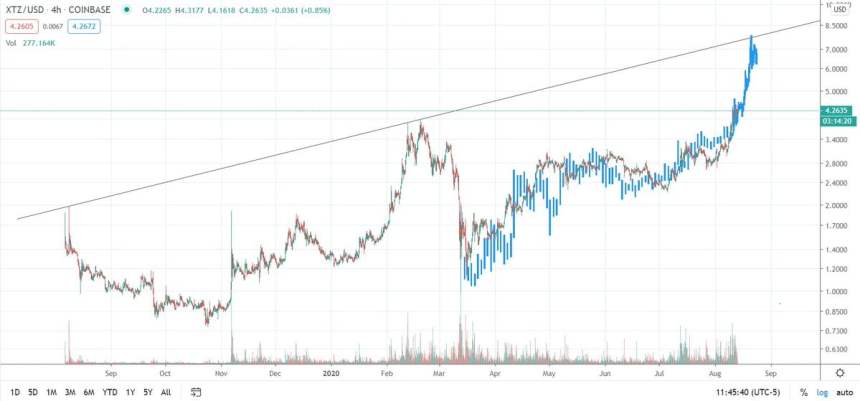 Image Courtesy of Kaleo. Chart via  TradingView.
Tezos should be well-positioned to see upside along with other major altcoins as long as Bitcoin remains stable or starts climbing higher.
Featured image from Unsplash.
Charts from TradingView.