Bitcoin is the best performing investment of the last decade, bringing investors who bought the asset early unimaginable returns.
An important metric in Bitcoin has just signaled buy for the tenth time in the asset's history, with each time the buy signal occurring in the past resulting in an average of 5,000% returns following. Could Bitcoin be ready to bring investors upwards of 5,000% returns in the coming months ahead?
Bitcoin Hash Ribbons Confirm Buy Signal for 10th Time In Crypto History
Investors often look at a number of factors to determine if an asset is a buy, such as conducting detailed fundamental and technical analysis. Some analysts look at price charts, patterns, and more, while others use more unorthodox methods – especially when it comes to Bitcoin.
Related Reading | Spot Versus Tether Exchanges: Can Bitcoin Price Itself Be a Buy or Sell Signal 
Because Bitcoin is a unique asset based on a technology being adopted and isn't a company with shares and revenue models that a value can be derived from, analysts find themselves using tools unique to Bitcoin, and taking into consideration unusual metrics such as mining difficulty or network transactions.
An indicator known as "hash ribbons" is an oscillator based on Bitcoin miners and designed to help analysts understand when this specific subset of sellers is creating additional sell pressure on the market. Not only will the tool tip off traders as to when a capitulation-related selloff is about to occur, as we've seen in recent weeks, but the tool can also signal to investors when it's a good time to buy Bitcoin.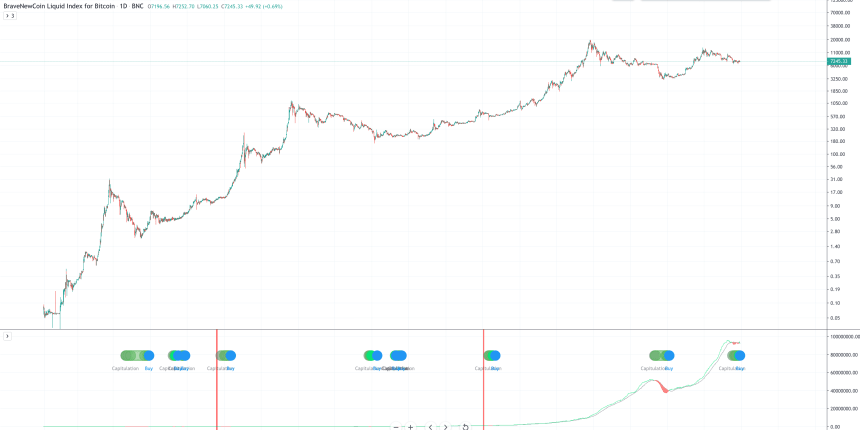 And according to the tool, now might be the best possible time to buy Bitcoin for the foreseeable future. The tool has only given this buy signal just ten times in Bitcoin's lifecycle, and the following uptrend has resulted in as much as 5,000% on average returns for investors.
Hash Ribbons Buy confirmed.

This is just the 10th time these conditions have been met for #Bitcoin.

It is highly likely we never see $BTC under $6000 ever again.

All other occasions saw an average gain-to-cycle-peak of +5000%.

Now is the period to Buy Bitcoin and never sell. pic.twitter.com/hSH9BtRhsj

— Charles Edwards (@caprioleio) December 28, 2019
An analyst following the tool shared a photo of the Oracle of Omaha and a famous quote of his, reminding investors to always be fearful when others are greedy and to be greedy when others are fearful. The quote suggests that although market sentiment may be in the dumps after an extended downtrend, this often results in the best possible financial opportunity and is a strategy some of the most famous investors in the world have long sworn by.
Related Reading | Current Bitcoin Trend Looks Hopeless According To Centuries-Old Charting Tool
Sentiment was last this low when Bitcoin price was hovering around $3,000. Right around then, this same signal flipped buy, taking Bitcoin on a parabolic rally and resulting in 350% returns. Now that the signal has flipped again, the next rally if the crypto asset follows past performance, could make the 2019 and even the 2017 rallies look like a tiny blip on price charts in the future.