Thinking of break out trades? If so, it's time to buy Lumens. Why? First, prices are reversing from key Fibonacci retracement levels and secondly, at the moment Lumens coin is hot property. As such, riding with positive vibes-or anti-FUD news is always a good move.
Alternatively, if you are thinking of Monero buys, you should wait for a retest of 0.025 BTC for sweet entries-and by that I mean low risk and potential of high rewards entries.
Otherwise, the boring accumulation in other high cap alt coins on focus is not helping spread my "bullish" gospel!
Let's have a look at other alt coin charts
NEM IN CONSOLIDATION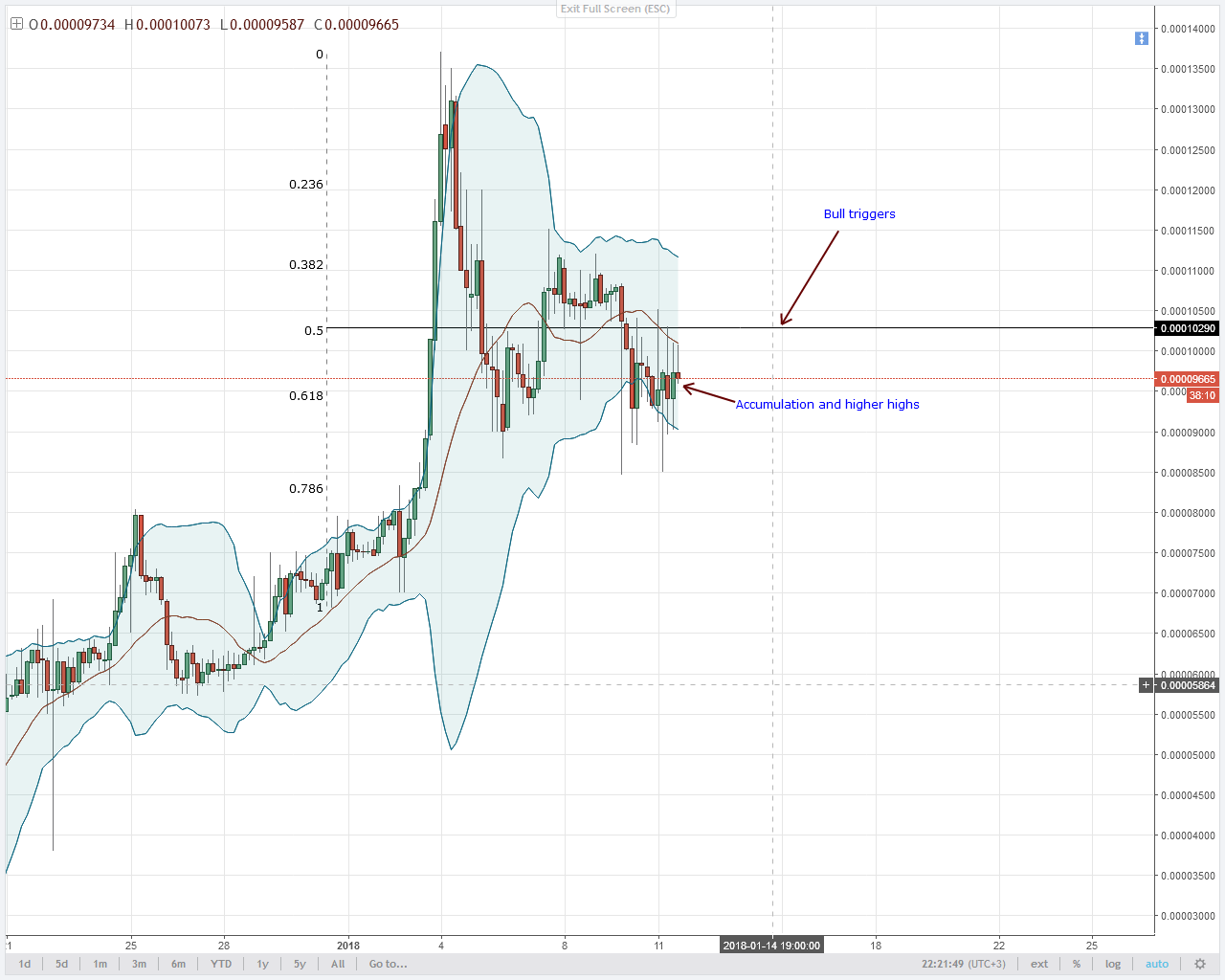 24Hours later and NEM prices are flat and consolidating horizontally.  Of course from the way price action is set up, especially now we have this accumulation, it gets hard to define trend direction.
For certainty, we need NEM prices to close above the 50% Fibonacci retracement level.
The longer it stays in consolidation mode, the stronger the break out. Buyers can take cue from candlestick higher highs relative to the lower BB in the 4HR chart which might hint of buy pressure today.
TIME TO BUY LUMENS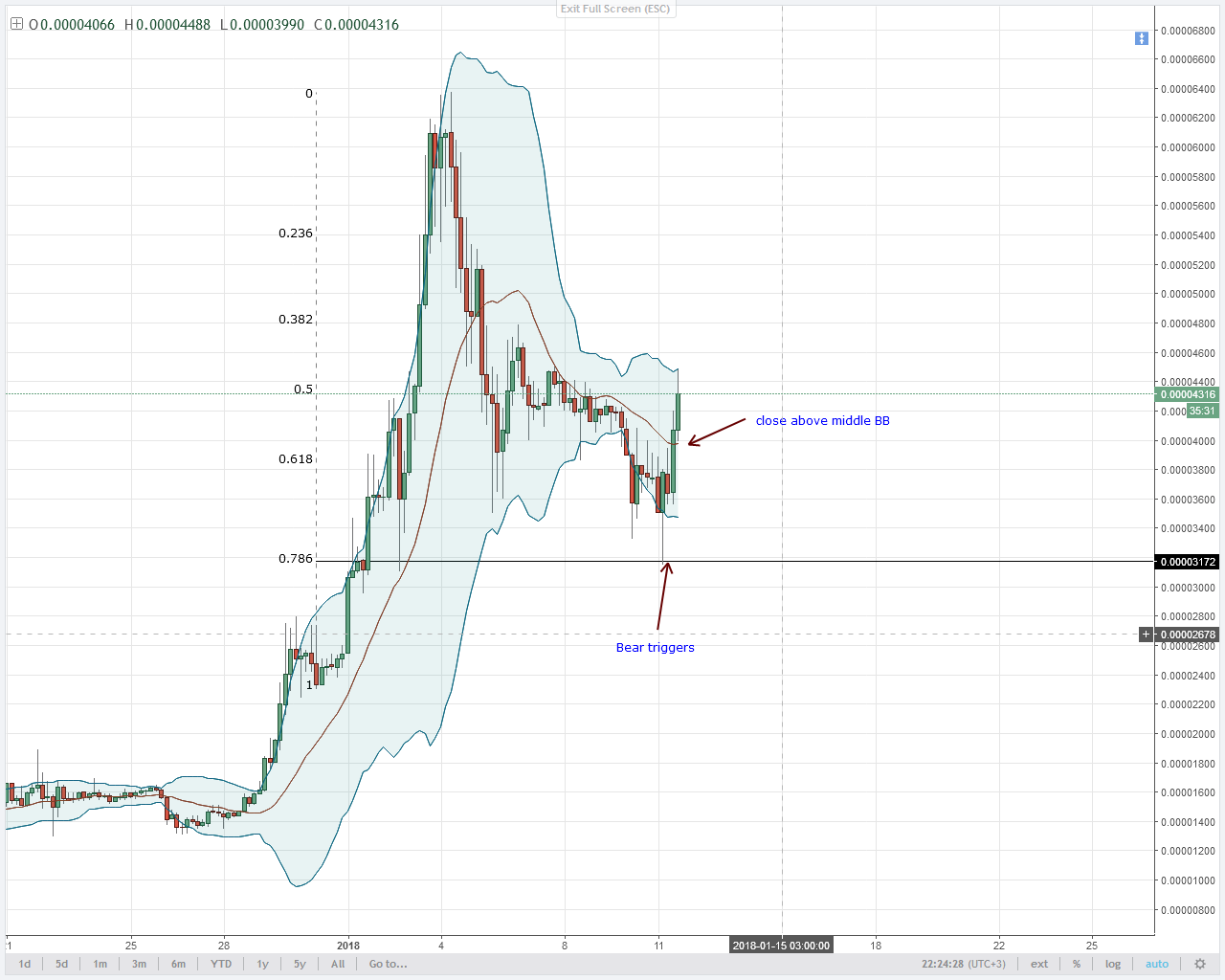 Now that we have that close above the middle BB, Lumens buyers can begin loading up their position as price action is now aligning to last week's trend.
Besides, this specific close above middle BB is in line with yesterday's forecast.
IOTA ACCUMULATES ALONG THE MIDDLE BB
The main resistance trend line stays as IOTA ceiling for now. Unless there is a strong close above it today, buyers should stay on the sidelines as they wait for a strong close above our trigger line.
From yesterday's price action, movement in either direction was limited safe for that encouraging retest and minor consolidation along the middle BB.
I'm not relying on the 20 period MA for obvious reasons-consolidation in the weekly chart due to those spinning tops. I recommend longs but that trade must be backed by buyers.
0.025 BTC IS MONERO'S MAIN SUPPORT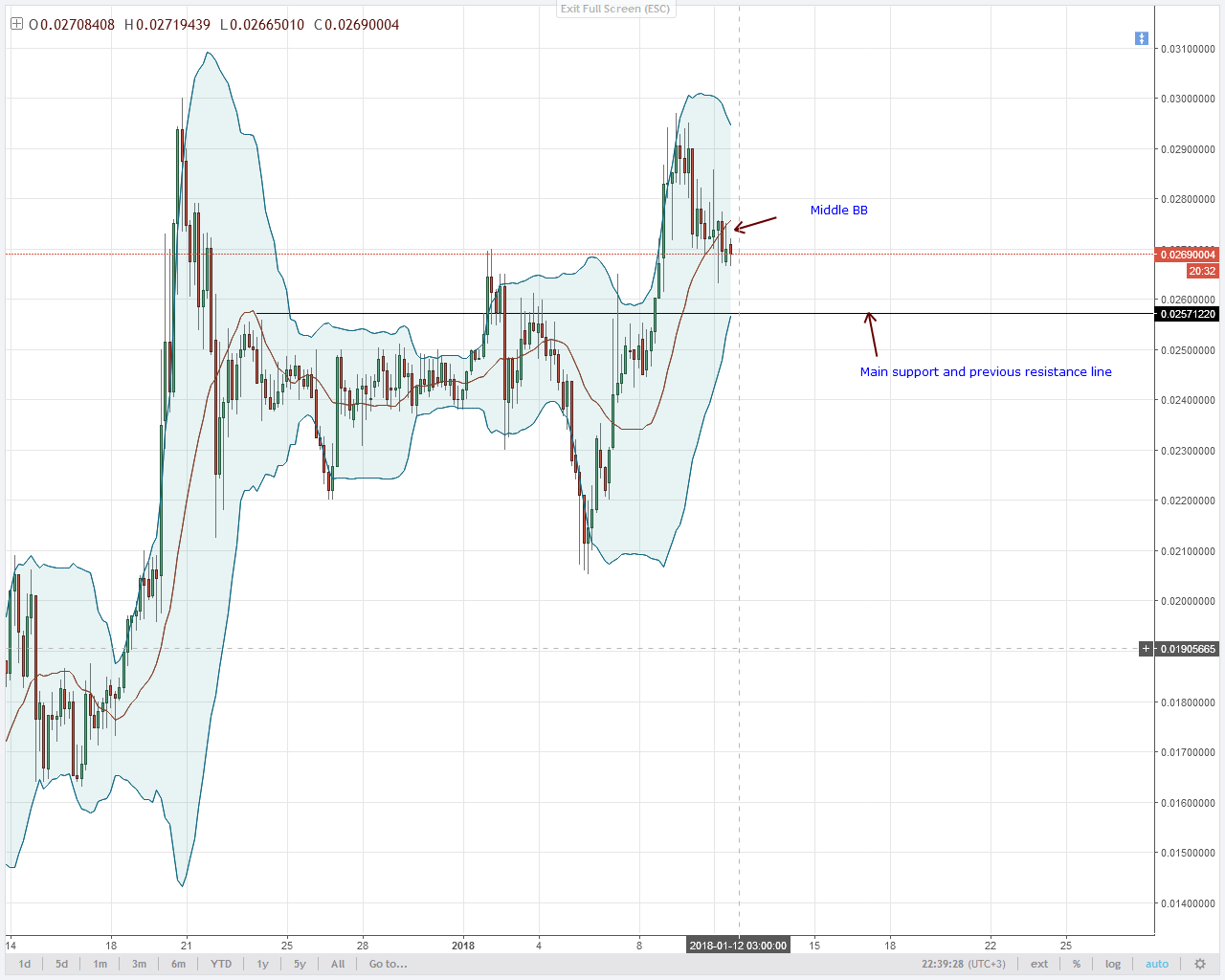 All in all, we are trading a break out on this currency pair after that close above the main support line at 0.025 BTC.
Even though there were hints of support at the middle BB on our entry time frame, Monero continued to weaken.
There are two things that can happen today:  Either bears press lower or in that case we expect reaction at the main support line OR Monero prices close above the middle BB and hopefully trigger buy stops at 0.028 BTC.
I'm rooting for the later due to lack of confirmation of the bear candlestick that closed below the middle BB.
CLOSE ABOVE 0.018 BTC WILL BE A LTC BULL MAGNET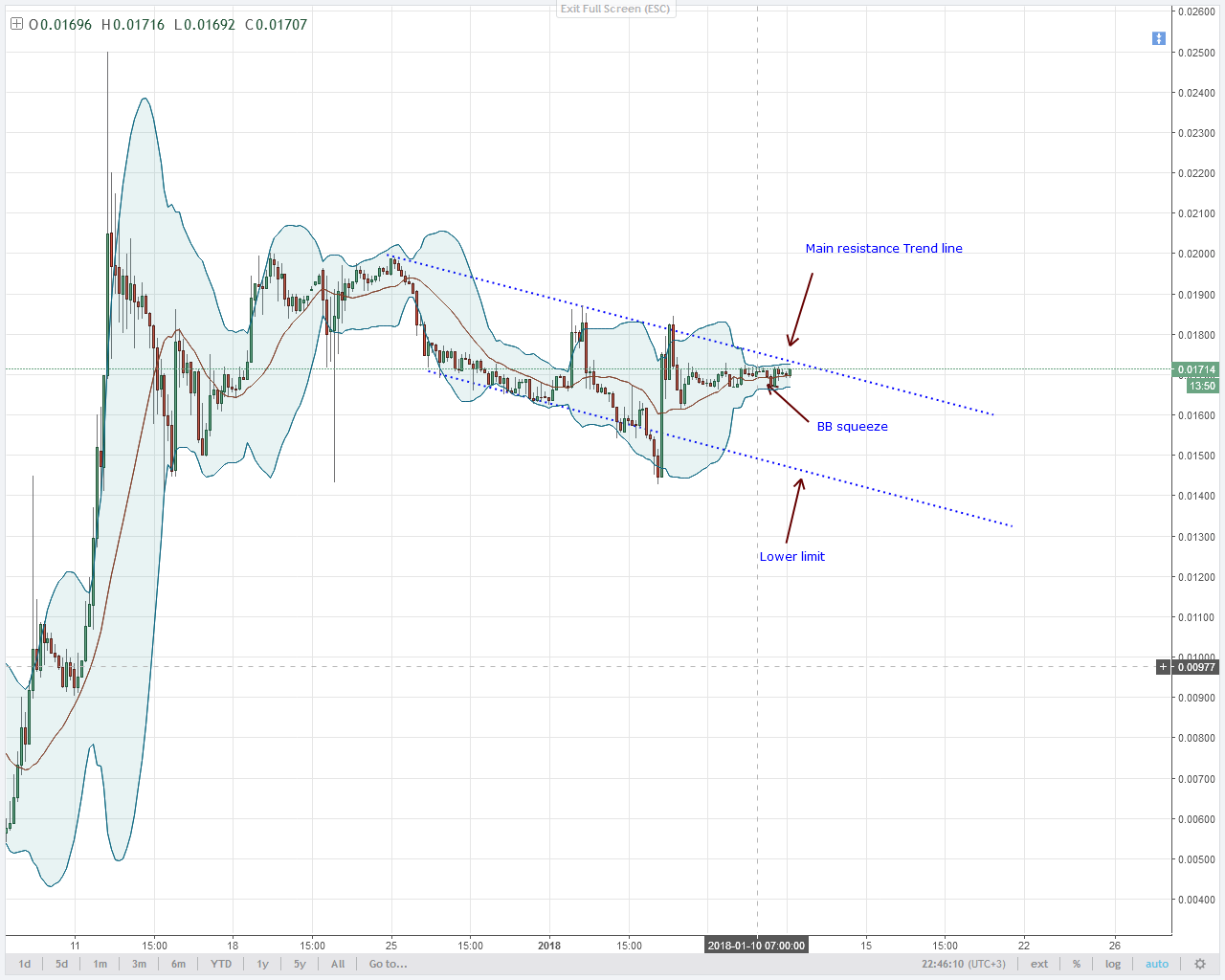 It's better to stare at a wall than watch LTC move for sure. That's how boring price action has been over the last 24 hours.
While the BB squeeze continues, the middle BB continues to shore prices as an obvious consolidation continues.
Relative to the descending channel-within which price action is moving in, there are some hints of bull pressure and a probable retest of the upper limit so long as prices continue to move horizontally as it is.
From our forecast, any bull break out might be a bull magnet.
All charts courtesy of Trading View