Uniswap's UNI governance token has been trading in close tandem with the rest of the blue-chip DeFi assets throughout the past few days.
Although this has generally boded well for UNI, it has faced some pressure today due to a downturn across all DeFi assets. This decline has largely come about due to Bitcoin ripping higher, sucking the oxygen out of the room.
Investors are now cycling their recent DeFi profits back into Bitcoin, and these smaller tokens may continue facing pressure on their price until BTC can stabilize.
Analysts are now noting that Uniswap's token could be on the cusp of seeing a major downside movement, noting that the lower-$3.00 region's selling pressure could continue hampering its price, potentially causing it to see even further losses in the near-term.
One immediate catalyst for UNI to see some upside is the end of farming incentives for the various pairs supported around the time of the token's launch.
Farmers selling the tokens received from these pairs have been suppressing its price action.
Once they're out of the picture, the Uniswap token may be able to catch some strong upwards momentum.
Uniswap's UNI Token Struggles to Maintain Momentum as Market Trends Lower
At the time of writing, Uniswap's UNI token is trading down just over 3% at its current price of $2.89. This marks a notable decline from its recent highs of $3.20 that were set around this time yesterday.
The resistance here proved to be too much for the cryptocurrency's buyers to handle, and there's a strong possibility that it will soon see further downside.
Furthermore, Bitcoin's ongoing upswing is placing some pressure on the DeFi sector, so unless BTC begins stabilizing, it may contribute to this ongoing decline seen by the Uniswap token.
Trader Claims UNI is Poised to Plunge 
While sharing his thoughts on where Uniswap's UNI token might trend in the near-term, one trader stated that he is watching for a sharp downside movement towards $2.50.
If it can find some significant support at this level and the aggregated DeFi sector also moves higher, it could see a move past its local highs.
"UNI: To me it feels a bit over-extended although I think we'll get one more small leg up into white box, which I'll look to short and take into the lows if the midpoint breaks."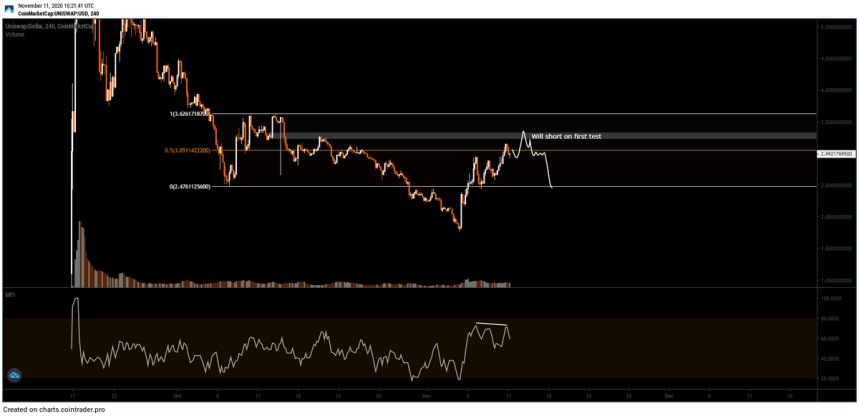 Image Courtesy of Bagsy. Source: UNIUSD on TradingView.
Because Uniswap's UNI is considered a benchmark DeFi asset, its performance will likely match that of the entire sector going forward.
Featured image from Unsplash.
Charts from TradingView.