Uniswap's token (UNI) has seen immense volatility throughout the past few days and weeks, with aggressive buying pressure following its launch pushing it up towards $8.50 before witnessing a massive inflow of selling pressure.
This selling pressure has caused its price to collapse below $5.00, although it is still trading up significantly from its recent lows of $1.00 that were set just after its introduction to the market.
Analysts are now noting that a combination of increased selling pressure and positive funding rates for UNI perpetual swaps indicates that downside could be imminent in the near-term.
One analyst noted that the support within the mid-$4.00 region is quite significant, but it may not be enough to stop it from sliding lower.
While speaking about where he thinks Uniswap's token will trend next, he also said that it all depends on Bitcoin and Ethereum.
These two digital assets have been seeing heightened weakness throughout the past few days, indicating that their prices will slide lower in the near-term.
Uniswap's UNI Token Plunges Below $5.00 as Aggregated Market Sees Weakness 
At the time of writing, Uniswap's UNI token is trading down over 20% at its current price of $4.95. The cryptocurrency has been struggling to gain any momentum ever since it rallied to highs of $8.50 earlier this week.
Despite currently sitting well below its weekly highs, it is important to note that it is still trading up from its post-launch lows of $1.00 that came about directly after the token was listed on Uniswap.
This decline occurred due to the sudden influx of 400 UNI sell orders seen directly after its listing, during which time recipients of the token airdrop frantically offloaded their tokens.
Analyst: UNI's Short-Term Outlook is Dim as BTC and ETH Flash Warning Signs 
While speaking about the cryptocurrency's near-term outlook, one analyst observed that although Uniswap's token is entering a massive support region, the intensity of the selling pressure being placed on Bitcoin and Ethereum could force UNI lower.
"UNI update: Had some bids fill in the gray box, but I'm simply exiting them here in small profits. There's a potential (not saying it will happen), but there's a potential for ETH and BTC to continue downwards, and I doubt UNI will hold if so," he said.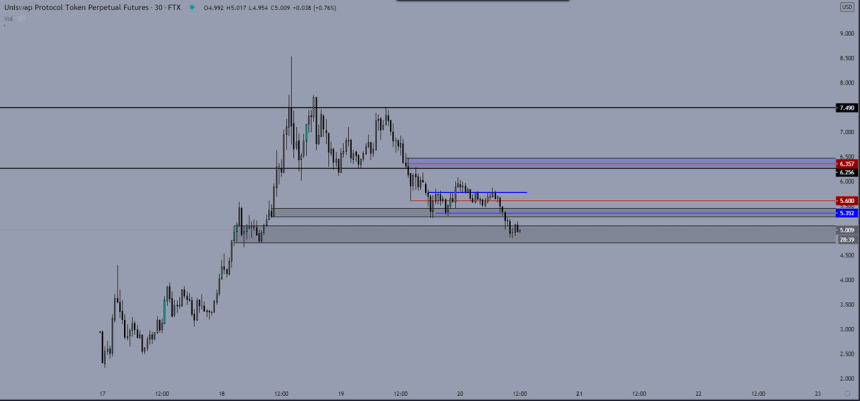 Image Courtesy of Chase_NL. Chart via TradingView.
Altcoins like Uniswap's governance token are currently expressing weakness across the board, which is a trend that will likely persist until Bitcoin and Ethereum find stability.
Featured image from Unsplash.
Charts from TradingView.