A Coronavirus-induced sell-off led Bitcoin SV down by 46 percent in February, but the cryptocurrency is showing signs of healthy upside retracement heading into March.
The controversial cryptocurrency surged by more than 14 percent on a month-to-date basis as buying sentiments erupted across the crypto market. The move led the BSV-to-dollar exchange rate to its new intraday top of $242.88 (data from BitFinex), making the pair one of the best gainers among the top ten crypto assets including Bitcoin.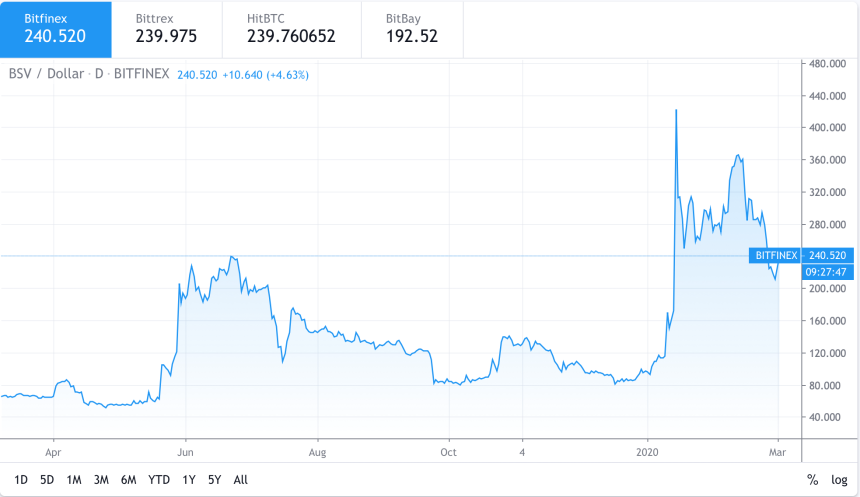 Weaker Trading Data
The gains nevertheless accompanied thin volumes, hinting involvement of very few players that moved the BSV market upward in huge proportions. They also came against very high volatility and higher bid-ask spread across all the major exchanges, including BitFinex.
The uncertain trading data served as a reminiscent of BSV's every upside move noted so far in the year 2020. A combination of larger price swings, weak volume, high volatility, and concern-worthy spread, made the asset too risky to bet on both upside and downside moves.
At the same time, Bitcoin SV improved textbook bullish outlook to show a rosy picture for March. For starters, the crypto closed above a crucial resistance level of circa $227 in its latest upside action. Moreover, it hinted trending inside a Symmetrical Triangle channel whose upside targets are at $300 and beyond.
Bitcoin SV's Bullish Scenario
As the chart below shows, the BSV/USD exchange rate has confirmed a pullback at the Triangle Support. The pair's bounce-back has also led its daily Relative Strength Indicator (RSI) to move from 'Sell' area towards a more neutral zone.
As of now, the RSI is looking to close above 50 – a long-term bias-defining level – to confirm a bull trend.
Given the fundamental outlook led by the spreading of Coronavirus, risks of more declines continue to loom over the crypto market. It could impact Bitcoin SV – one of the most profitable assets so far into 2020 – the most because of its attractive positioning. On the other hand, possibilities of central banks' stimulus programs could send the asset higher.
Easing policies could play a huge role in Bitcoin SV as it inclines to maintain its Triangle Support. Therefore, the price rise could ensue towards the foremost resistance target, which is the 50-day moving average (the blacked wave). The 50 DMA coincides with the $300-price range.
A precautionary move while entering a new long position would be to maintain stop-loss orders slightly below the entry-levels. Meanwhile, breaking below the Triangle support could lead BSV towards $173 (it is also closer to the crypto's 50-DMA).