Privacy coin Monero presses on full steam ahead as its daily transaction count reaches all-time highs. Data from bitinfocharts.com shows the daily number of XMR transactions peaked at 20.136k on October 12, 2020.
This smashes the previous all-time high of 16.689k daily transactions, achieved less than a month and a half ago.
Source: bitinfocharts.com
Since July last year, Monero's daily transaction count has formed an ascending broadening pattern, characterized by two diverging trend lines.
Typically, this pattern indicates random disagreement between investors.
With that, it's possible that some investors feel uncertainty as a result of the IRS's campaign to "break" Monero and other privacy coins.
The IRS is Gunning For Monero
The IRS has, in recent times, ramped up its focus on privacy coins. Last month, blockchain analytics firm CipherTrace announced it had developed a Monero tracking tool in conjunction with law enforcement and government agencies.
"Our research and development team worked for a year on developing techniques for providing financial investigators with analysis tools. There is much work still to be done, but CipherTrace is proud to announce the world's first Monero tracing capability."
However, in an interview with Compliance Analyst at DV Trading, Justin Ehrenhofer, and Monero Labs Researcher, Dr. Sarang Noether, Dave Jevans, the CEO of CipherTrace, admitted the technology is limited to statistical likelihoods.
As such, despite the bravado, at present, there remains no way to directly trace ring signers on Monero.
At around the same time, the IRS also launched a bounty program recruiting help in tracking cryptocurrency transactions.
Up for grabs was a cash reward of up to $625,000 for parties who provided solutions in cracking privacy technology.
"IRS-CI is seeking a solution with one or more Contractors to provide innovative solutions for tracing and attribution of privacy coins and Layer 2 off-chain transactions, such as expert tools, data, source code, algorithms, and software development services to assist their Cyber Crimes agents in carrying out their mission as it relates to cryptocurrency privacy technologies."
The proposal expired on September 16, 2020, and there have been no further updates regarding the success of the program.
XMR is on a Tear Despite Continuing Doubts Over Privacy Coins
Regardless of the uncertain future for privacy coins, both the dollar and BTC price of Monero has been on a tear lately.
Sunday saw the price of XMR stop short of $150, another all-time high, before quickly retracing. Currently, XMR is up 2.5% on the day to $129.51.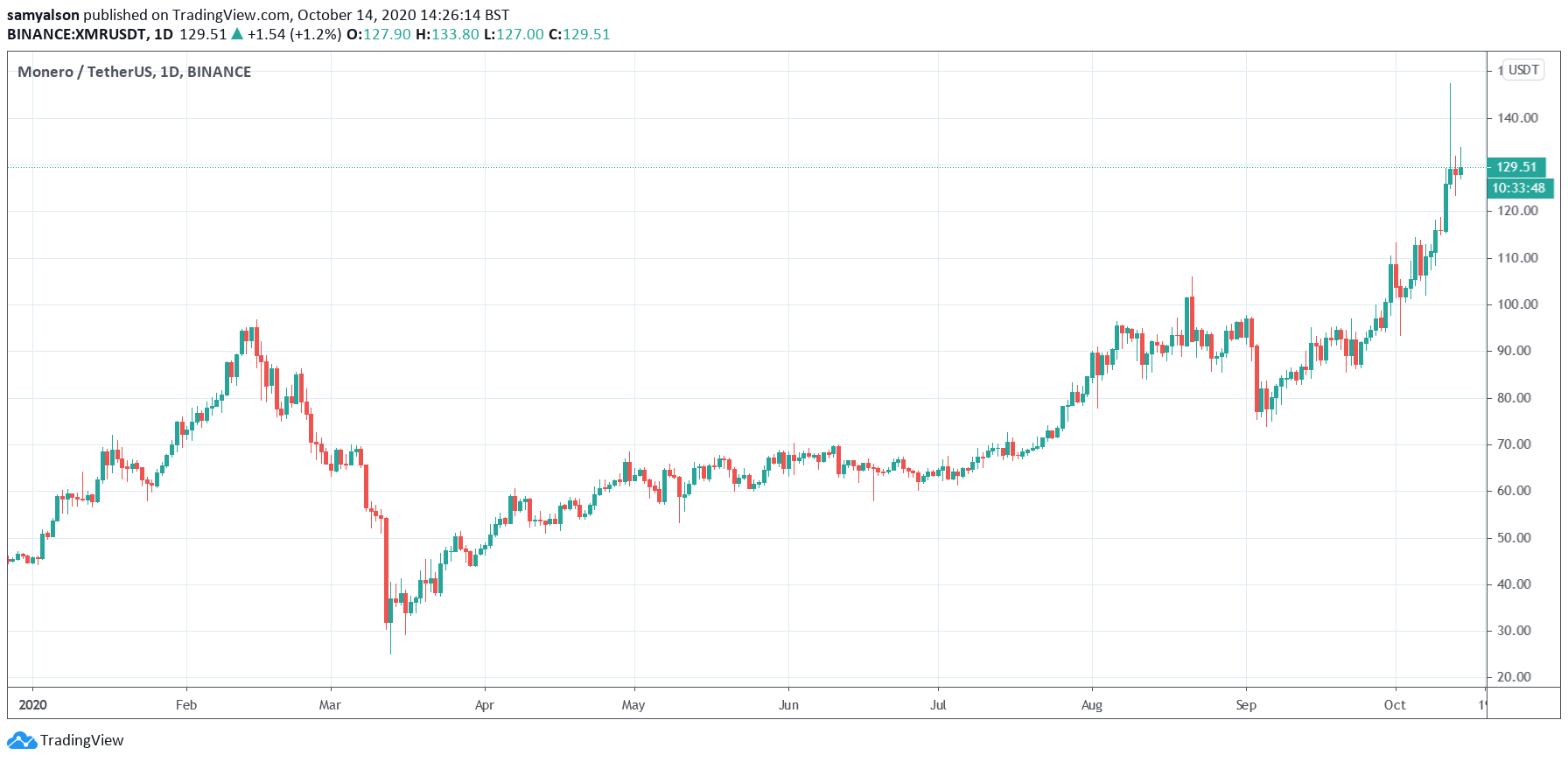 Source: XMRUSDT on TradingView.com
By the same token, while most other altcoins are down against Bitcoin, Monero managed to reach an all-time high against BTC on Sunday, peaking at ₿0.011822.
As such, despite the threat from the IRS, many Monero investors remain confident in the protocol. And considering the recent price moves, this is a sentiment that is spreading.