XRP has seen some mixed price action in recent weeks. After incurring an explosive rally that sent its price surging up towards $0.33 last week, it has been consolidation below its $0.30 support, struggling to garner further strength.
Analysts are noting that this ongoing consolidation phase may simply be the calm before the storm.
One trader is pointing to a plethora of different factors that suggest XRP could be on the cusp of starting its first "moon mission" seen in ages.
Some of these factors include its ability to bounce at its 200-day moving average, which happens to be where it has significant horizontal support as well.
Another analyst is echoing this sentiment, noting that the token's consolidation beneath its resistance is an incredibly bullish sign that suggests a breakout rally is right around the corner.
XRP Bulls Defend Crucial Support as Analysts Eye Upside 
At the time of writing, XRP is trading up just over 2% at its current price of $0.295.
This is around where it has been consolidating throughout the past several days, with $0.30 becoming a slight resistance level.
Currently, the lower-$0.30 region is laced with significant resistance, as this is where it faced a sharp rejection when its price peaked at $0.33 last week.
Where XRP trends next may be somewhat dependent on Bitcoin and the aggregated cryptocurrency market, as all the major altcoins are currently caught within consolidation phases.
This may partially be the result of investors beginning to place a heightened focus on smaller altcoins – which have been posting meteoric gains throughout the past few weeks.
Until these tokens cede their momentum, the major digital assets may continue to stagnate.
While speaking about XRP's current technical outlook, one cryptocurrency analyst explained that he believes it may soon "moon" as it holds above its 200-day moving average and key historical support level.
"XRP Update: Rebuying the 200D MA retest. Confluence with major historical support. Hold it equals moon. It's that simple," he explained.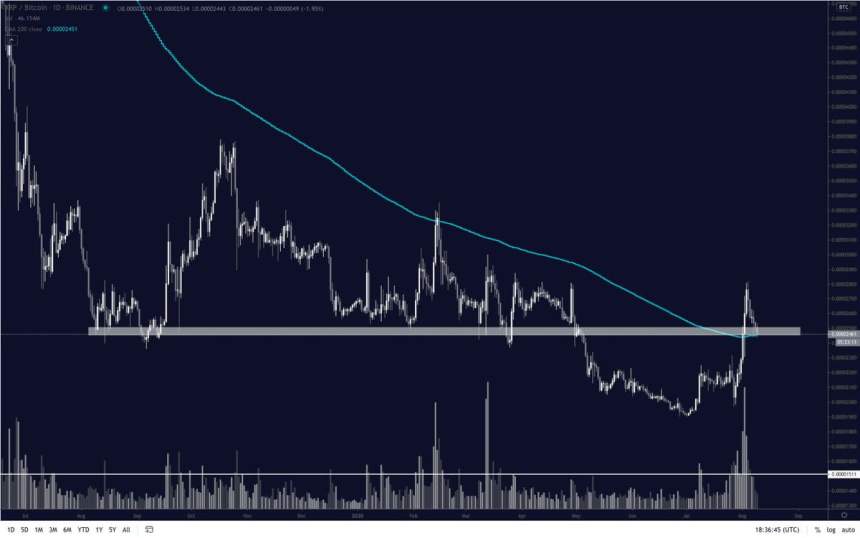 Image Courtesy of Pentoshi. Chart via TradingView.
This Technical Pattern Could Propel the Token Significantly Higher
In addition to holding above its key moving average and horizontal support, XRP is also forming a classic bull pattern as it consolidates beneath resistance.
While speaking about this, one analyst explained that he is expecting it to see an imminent breakout in the days ahead.
"XRP consolidating under resistance, expecting a nice breakout soon," he said.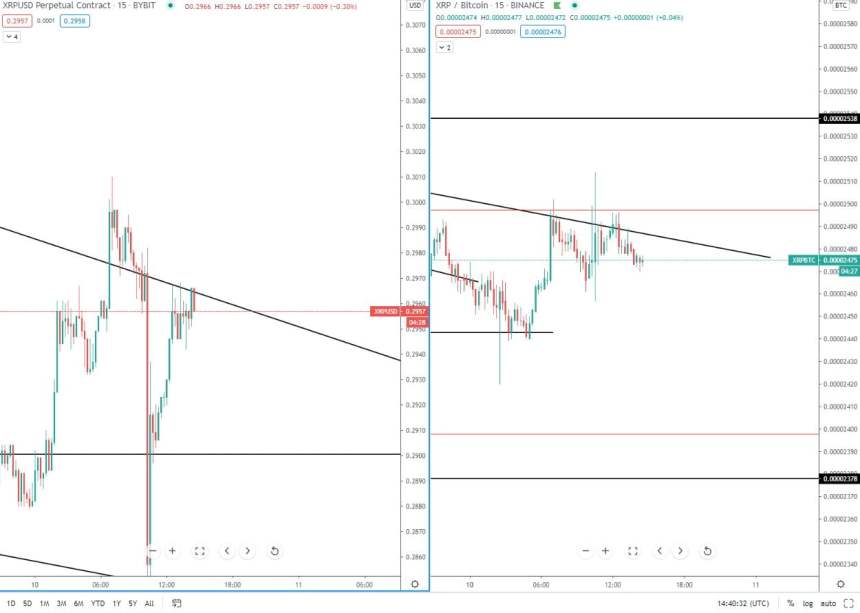 Image Courtesy of Gat. Chart via TradingView.
How XRP trends in the coming days will likely have a major impact on its macro outlook.
Featured image from Unsplash.
Charts from TradingView.