Following the leads of Bitcoin and Ethereum, XRP has stalled in the past 24 hours after a short push higher. The altcoin has flatlined around $0.285 over the past day, consolidating under the pivotal $0.30 resistance.
Despite the consolidation and the medium-term pullback from last week's local highs, the asset's on-chain and technical outlook remains strong according to analyses.
XRP Could Continue to Move Higher: On-Chain Data Analysis By Santiment
Despite falling 10% in the past week, XRP's on-chain outlook remains somewhat bright. Blockchain analytics firm Santiment reported on August 24th that in spite of the price drop, the number of daily active addresses (a proxy count of daily active users) remains at a high level in a significant win for bulls:
"In spite of $XRP's -9.2% retrace this past week, the active address output we're seeing for the #3 market cap #crypto asset has remained high. #Ripple holders can take solace in it being one of the few #alts with a DAA bullish divergences we've identified."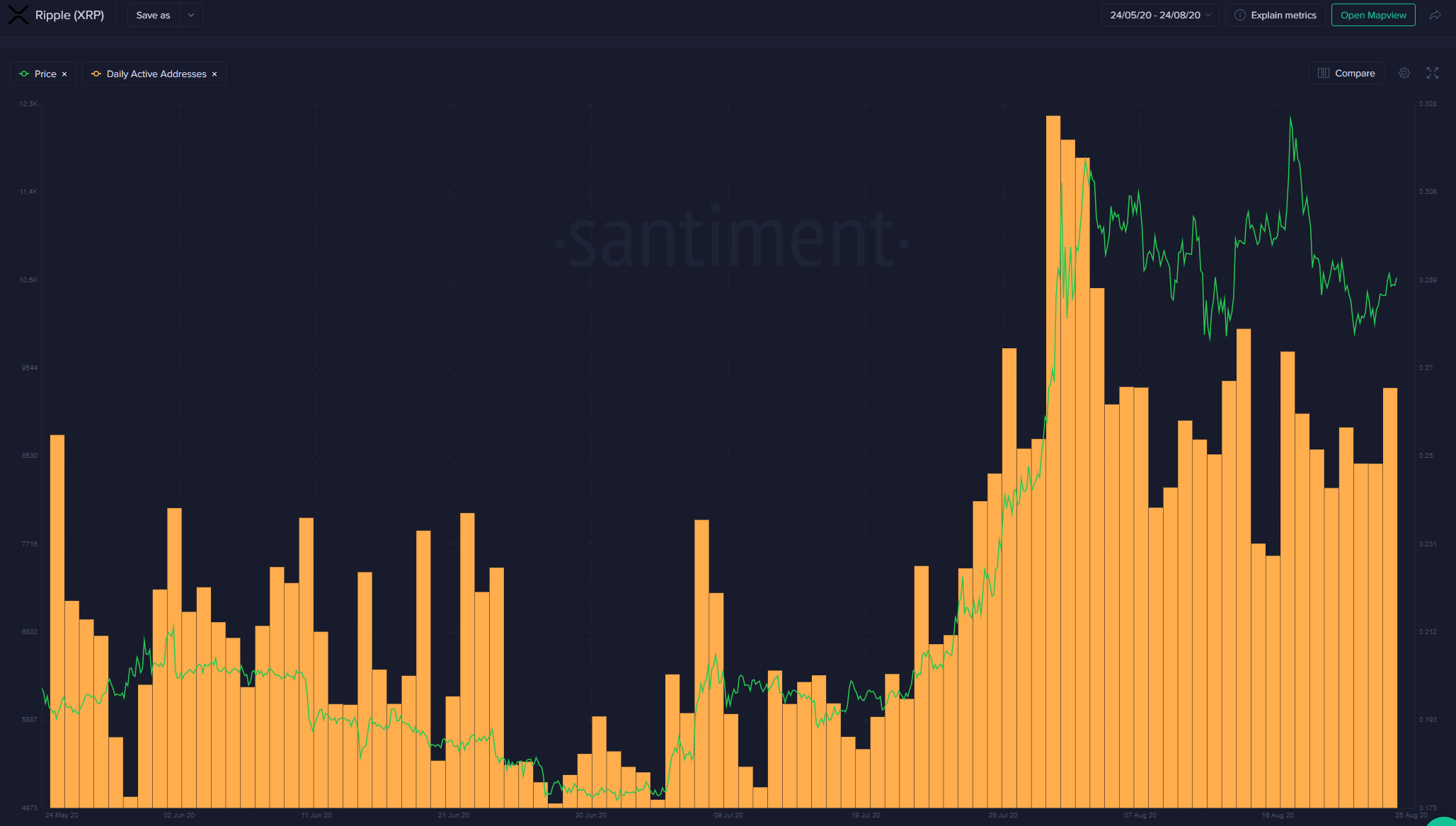 Chart of XRP's price action over the past few weeks with a daily active addresses analysis by crypto data firm Santiment. Current as of August 24th.
As the chart above suggests, XRP's price action has actually somewhat followed the trajectory of the XRP Ledger's on-chain data.
Technicals Paint a Bullish Picture As Well
The technicals paint a bright picture for the leading cryptocurrency as well according to pundits.
One trader noted that while he doesn't think XRP has a long-term position in the crypto top 10, he thinks that liquidity could cause the asset to move higher in the nearer term:
It's been a while since I looked at XRP. Easy to dismiss the stepchild. I think it finally finds its way pushed out of the top 10 during this macro cycle, but liquidity alone is enough to attract movement at some point. That's always been its use-case anyways. Gonna set alarms.
Chart of XRP's recent price action from TradingView.com. Analysis by "Stackin Bits"
This optimism has been echoed by the head of technical analysis at Blockfyre, who wrote the following on the matter on XRP just recently:
"$XRP Still consolidating around this ever so important S/R that dates back 3 years. Ultimately expecting this to move up over the next few months at it's own pace. Eyes on .475 in the coming weeks."
Chart of XRP's price action over the past few years with analysis by crypto trader "Pentoshi" (@pentosh1 on Twitter). Chart from TradingView.com
This trader thinks that by year end, XRP could reach $1.00 as the technicals indicate the asset's macro bear trend has ended.
Featured Image from Shutterstock
Price tags: xrpusd, xrpbtc
Charts from TradingView.com
XRP Prints Strong On-Chain Signal Despite Price Stalling Under $0.30