Bitcoin price lost support yesterday at around $27,000 and is now below a critical level that the last two times it was lost, resulted in a 50% or more decline. 
Will this signal returning once again forecast sudden doom and cause crypto prices to rain down another 50% lower?
Bitcoin Forecast Is Suddenly Cloudy
The last several weeks of resilience in Bitcoin price action have been seemingly erased this week, as price fell below support at $27,000. 
While the rounded psychological number is important by itself, BTCUSD has now pushed below the bottom of the Ichimoku cloud on the weekly timeframe. 
According to historical performance after falling out of the cloud, the top cryptocurrency by market cap continued to tumbled significantly lower to the tune of 50%.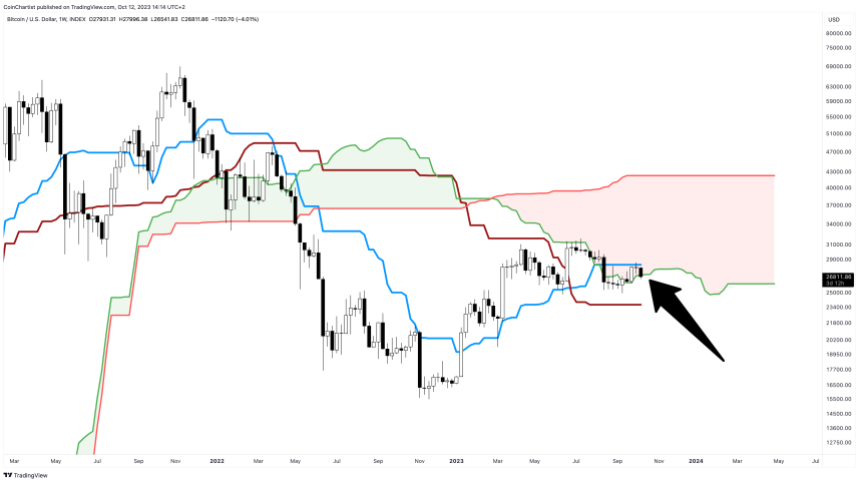 Bitcoin is at risk of losing the cloud | BTCUSD on TradingView.com
Will Crypto Crash Another 50%?
The Ichimoku cloud acts as dynamic support and resistance, and expands and contracts with volatility. Losing this support level in the past has had dangerous consequences. 
In March of 2020, falling out of the cloud on the same weekly timeframe resulted in a 50% flash crash over the next two weeks during the onset of COVID in the US. 
Later in May 2022, the LUNA collapse caused Bitcoin to lose the weekly Ichimoku cloud. It took over 20 weeks later to reach a bottom and a full 55% lower.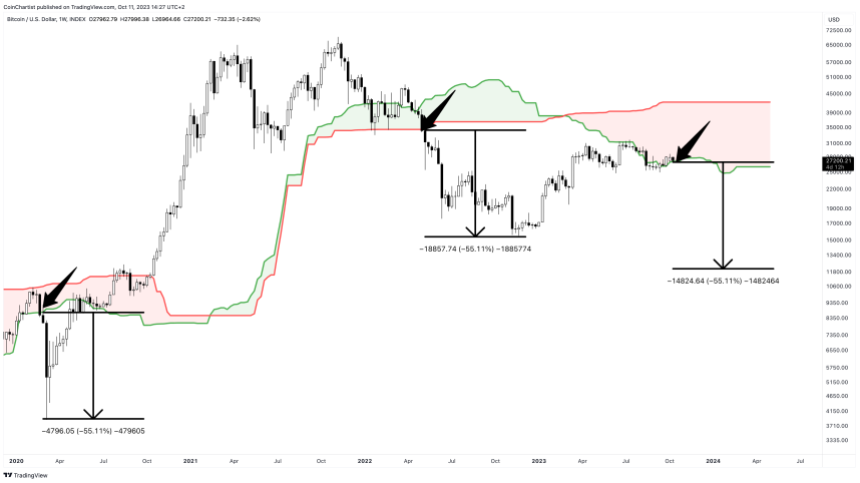 Past instances led to a 50% collapse | BTCUSD on TradingView.com
$12,000 Or $42,000: BTCUSD Levels To Watch
Another 55% crash in BTCUSD would take the price per coin to around $12,000. More importantly, it would be disastrous for altcoins that remain down by 90% or more from all-time highs. 
The major difference between now and the last two times the cloud was lost, and that's the Tenkan-sen and Kijun-sen in blue and maroon respectively (pictured below). Unlike the two past instances, these spans are crossed bullish whereas previously they were during a bearish crossover. 
If for some reason Bitcoin manages to hold inside the bottom of the cloud, it could next target the top of the cloud at around $42,000 per coin. If it doesn't, "look out below."
Charts initially appeared in Issue #23 of CoinChartist VIP. Subscribe for free to learn more about the Ichimoku cloud and what might happen next in Bitcoin.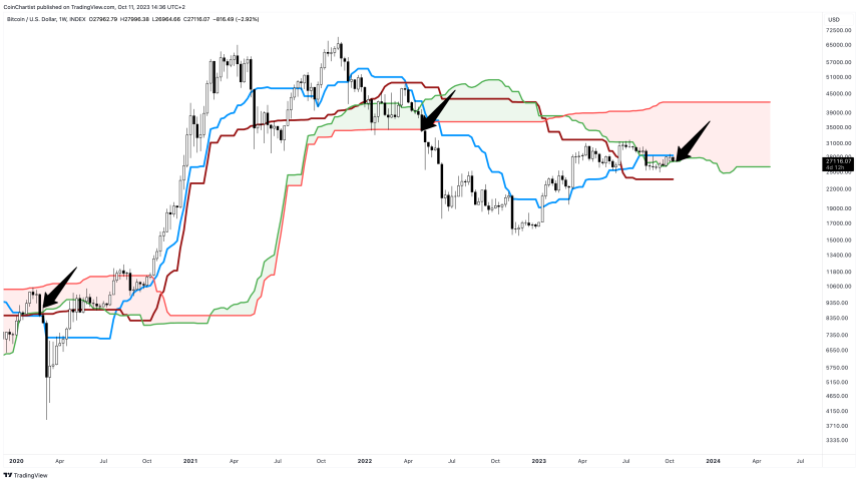 Will this key level hold? | BTCUSD on TradingView.com