Bitcoin price may have resumed its bullish momentum, following a cooler than expected April 2023 CPI report. The Consumer Price Index, a key measure of inflation, fell to 4.9% – lower than the expected 5.0%. As a result, crypto prices are climbing.
Bitcoin Price Reclaims $28,000 After April CPI Release
The Bureau of Labor Statistics released its monthly CPI report this morning, revealing that the key inflation measure dropped to 4.9%. Forecasts had called for 5.0%, so the metric came in lower than expectations. Core CPI was 5.5% in April, down from 5.6% in the month before.
Rising inflation was a primary reason for the US Federal Reserve raising interest rates, which put a damper on global markets, including crypto. From the time rates began increasing until the bottom, Bitcoin fell by more than $40,000 in value.
But with inflation now cooling off, the system starting to break, and a Presidential election ahead, markets may be about to price in a possible pause in rate hikes. In the minutes following CPI figures, Bitcoin price jumped over 2%, reclaiming $28,000 per coin.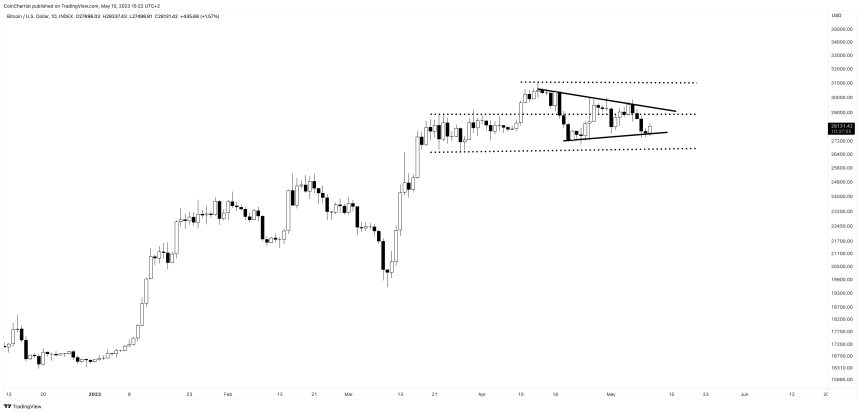 Is Bitcoin ready to rally higher on CPI news? | BTCUSD on TradingView.com
What's Next For BTCUSD Price Action?
Bitcoin price has been consolidating around the crucial level, which is directly below the 2020 yearly close and 2021 yearly open. A forceful move above the high timeframe resistance level could send BTC soaring higher.
Failure to sustain bullish momentum further could send crypto back to bear market lows. Any weakness in the stock market could also hurt Bitcoin. If the current reaction to the April CPI report can be sustained, BTCUSD could be trading above $30,000 in the coming weeks.
Remember: CPI is a lagging indicator. The stock market is a leading indicator.

— Tony "The Bull" (@tonythebullBTC) May 10, 2023