Bitcoin began another recovery trend over the weekend and has been on a bullish path since. This follows last week's incredible bearish movement which saw the digital asset drop below the $26,000 mark for the first time in over a month. However, the bulls are beginning to pick up steam once more, but what could be driving it?
Bitcoin Accumulation Continues
Now, while the decline in prices may have been a deterrent for some, others had taken the opportunity to fill up their bags. The 'Wholecoiner' movement consists of Bitcoin supporters who aim to get their holdings to at least 1 BTC, making a whole coin.
This trend has been rising over the last few years and recently hit an important milestone over the weekend. As of today, there are now over 1 million addresses that are holding at least 1 BTC for the first time in history, data from on-chain aggregator Glassnode shows.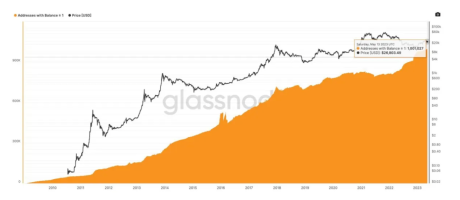 Addresses holding at least 1 BTC cross 1 million | Source: Glassnode
The new milestone was reached at a time when cryptocurrencies in the space were bleeding, presenting a unique opportunity for investors to get in at lower prices. The expectation of better prices from here on out, as well as the uncertainty in the banking industry, has also been a driver in this accumulation trend.
Naturally, when investors are accumulating coins as they are now, it reduces the supply in the market. A reduced supply creates scarcity and this scarcity can lead to higher prices. So such as scenario could be what played out during the weekend.
BTC price recovers above $27,000 | Source: BTCUSD on TradingView.com
BTC Investor Sentiment Is On The Rise
As the price of Bitcoin declined over the last week, investor sentiment went down with it, causing the Crypto Fear & Greed Index to fall below the 50 level once more. While the index still remained in neutral territory, it was bearish given that just a couple of weeks ago, the index was sitting at high greed.
However, as BTC's price has bounced back, sentiment has followed suit. The index is now sitting at a neutral score of 50. This puts the bears and the bulls at a stalemate, meaning each side would have to show higher strength than the other to swing it in their favor.
Despite not being back in green, it is an improvement from yesterday's score of 48, which was dangerously close to plunging the investor sentiment back into the fear territory.
If BTC manages to maintain its current recovery trend, then investor sentiment will grow increasingly positive. However, support at $27,000 is still quite shaky and this means bears could easily take over the market, especially if momentum falls.
Follow Best Owie on Twitter
for market insights, updates, and the occasional funny tweet… Featured image from iStock, chart from TradingView.com