For Bitcoin (BTC), the largest cryptocurrency in the market, the month of September has seen a lack of definitive strength from both bulls and bears, resulting in a period of sideways chop and rapid bouts of volatility. 
Material Indicators, a prominent crypto analysis firm, sheds light on the prevailing market conditions and highlights the intricacies of short-term price action (PA) against the backdrop of the macro sentiment.
Unpredictable Market Conditions Prevail As BTC Seeks Direction
Despite a bearish macro sentiment, where a broader downtrend is anticipated, short-term price action often deviates from the macro trend. This phenomenon explains the occasional short-term pumps and rallies observed even within a prevailing downtrend. 
Material Indicators emphasizes the importance of understanding these dynamics and the potential implications they hold for Bitcoin.
Yesterday's performance of the leading cryptocurrency may have come to a close, but Material Indicators point to indications that another rally could be on the horizon.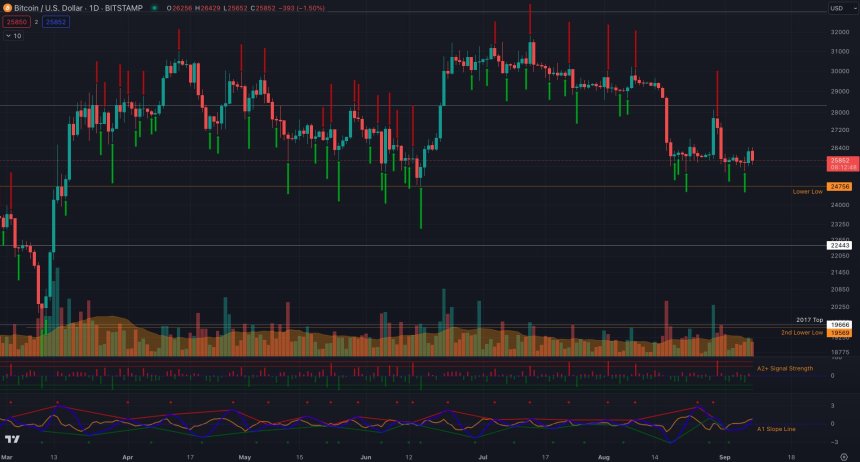 The firm highlights the Trend Precognition A1- indicator developed and used to spot micro, and macro trends by the firm- continues to exhibit a slight uptick in bullish momentum across the daily (D), weekly (W), and monthly (M) charts, as seen above. 
This trend suggests the possibility of a resurgence in Bitcoin's value, albeit with the need for caution and further analysis.
As of the time of writing, Bitcoin is currently trading at $25,800, continuing its prolonged period of sideways price movement since the start of the month. However, it is worth noting that Bitcoin has been unable to regain the critical $26,000 level, which holds significant importance for the cryptocurrency. 
Reclaiming this level is crucial in order to invalidate any potential bearish pressure and mitigate the possibility of Bitcoin experiencing a further decline in its price.
Surge In New Bitcoin Addresses Signals Growing Interest 
Amidst ongoing uncertainty and sideways price action, an intriguing trend has emerged that sheds light on the expanding interest in Bitcoin. 
Notably, approximately 527,000 fresh Bitcoin addresses are being created on a daily basis, reaching a new yearly high. Renowned crypto analyst Ali Martinez delves into the significance of this surge and its implications for the cryptocurrency market.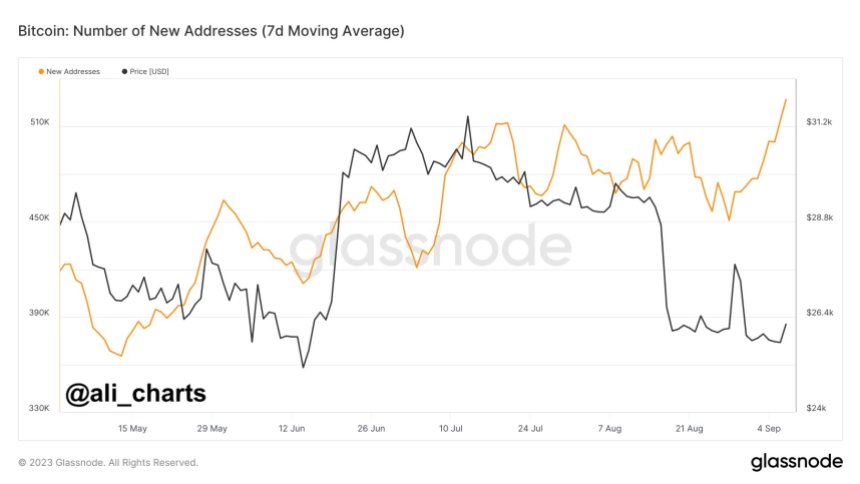 The surge in new Bitcoin addresses suggests a growing curiosity and engagement with the digital currency, even during a period when its price has witnessed occasional drops. 
This surge in address creation indicates that an increasing number of individuals are showing interest in Bitcoin, potentially attracted by its underlying technology, decentralized nature, and potential for financial independence.
For long-term investors and advocates of Bitcoin, this surge in address creation serves as a positive sign, reflecting sustained interest and trust in the cryptocurrency's network. It demonstrates that individuals are not deterred by short-term price volatility and are committed to participating in the Bitcoin ecosystem for the long haul.
By actively creating new Bitcoin addresses, individuals are essentially establishing a connection to the network and positioning themselves to engage in various Bitcoin-related activities, including sending and receiving funds, participating in decentralized applications (DApps), and exploring the broader cryptocurrency ecosystem.
Ali Martinez emphasizes that this upward trend in address creation is significant as it suggests an expanding user base and a potential influx of new participants into the Bitcoin market. 
As more individuals join the network, it strengthens the overall resilience and legitimacy of Bitcoin, further solidifying its position as a prominent player in the global financial landscape.
Featured image from iStock, chart from TradingView.com