Been online and felt a little on edge lately? Have you followed the live Youtube comment feed of a political debate? Humans can come across as utter unfiltered garbage. That is if we aren't careful of what the algorithm starts to avalanche on us due to a bad day. Regardless, most of us now live their lives digitally with billions of others and feel more alone than ever. Twenty years ago there were, on average, five people you could call in a moment of crisis. The most reported western average is now zero. When you listen to a speech like what Andreas Antonopolous gives about the banking cartels and the collusion with social media, you can't help but wonder how this will all unfold. If you don't occasionally sweat knowing all this, the 1984 pills the doctors offered you, somehow worked.
It takes a bad motherfucker to ignore all of the above, have faith in us and keep a healthy perspective of the future of our world. It takes nothing to spiral down, but an upward trajectory is possible if you work at it constantly.  Youtube is also filled with the best of all time of anything. If you are feeling down, go for a jog, listen to Joe Rogan, learn for free on Youtube, drink water, meditate and remember this too, shall pass. Via crypto, even our financial destinies don't look too grim. As numb about the online victim leveraging many of us now are, some crimes are worse than others and the people on the receiving end deserve the best our spirit can conjure. This is not about ushering in a utopia. It's about keeping the real bears at bay.
The Million Dollar Art In The Making
…or more accurately, an attempt to raise a million plus for a charity via the efforts of Tour De Crypto, The Bad Crypto Podcast, and myself, to combat against physical violence and sexual abuse toward women and girls. The charity beneficiary in question is called HAWC, a women's center in Houston, that accepted the help of Blake Rizzo to make blockchain waves to help people in dire straits. We met at World Crypto Con 2018 and through the introduction of the co-founder Adam Williams, the ball started rolling. The piece that was made to mark the occasion of me appearing on the Bad Crypto podcast evolved to be my Dogecoin – an unexpected and unlikely success story.
Bad Positive
Here is a video on how it all started from my episode and the mission we had together at World Crypto Con. It just might make you smile. At that point, we didn't know anything about the coming signatures nor the charity part. The "Blood On The Podcast Floor" and the BAD title are appropriate. As lead by the example of Joel and Travis, none us pretend to be perfect while attempting this. May who is without sin cast the first stone. Due to our collective mess of a planet, this art piece sets the bar low to participate in something good, while welcoming the support of crypto superstars to get to the goal of a million plus. We are figuring out options for fractional ownership and other kinds of alternatives so everyone can participate.

Before I knew it, it was featured on Forbes and started massing crypto superstar signatures in support of the mission. On stage live with the guys and previously has gathered the support and signatures of Maxine Ryan, Charlie Lee, Vinny Lingham, and Ronnie Moas. Later on at Blockchain World Open in Miami, Brock Pierce and Jeremy Gardner joined the gang.
For perspective, most of my other pieces are limited edition of four. This one is unique. Given that as a forty-year-old, even if I work inhumanely and live to 90, there won't be more than a few hundred pieces with paint on them made by me. A bit later we will reach 10 billion people on the planet. Just think what a piece like this will be worth regarding the biggest financial revolution of a couple of hundred years if not of all time.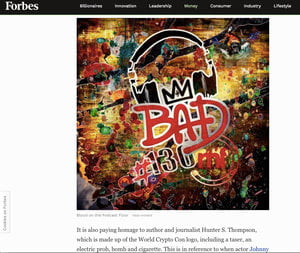 Read the 2018 Forbes article here.
I kind of digress,
Unsurprisingly to most, Andreas Antonopolous brought thunder to the stage that makes the bold man blush, the corrupt cower, and an established central London banking safe space disappear in an instant. At the Crypto Compare Digital Asset Summit, you might have witnessed this kind of bank slap echo along the Thames for miles. The take away keeps being that crypto is not going away. First, because it can't be stopped technically but nothing that is needed this much and essential to the future of so many, can or will be swept under the carpet anymore. As crypto is pumping again, you could feel a fresh vibe in the crowd in contrast to what we've experienced in conferences since February 2018.

Fork and Flip & Lakshmi Resurrection appear in the background of Andreas's talk

You can next see the other amazing artist on show, Trevor's work, next at Bitcoin 2019.
Crypto Compare Enabled
Another outside the norm in the London scene was that some art by myself and Trevor Jones was on show. London has been disturbingly rigid, for the most part, in embracing blockchain and creativity. I know everyone here hates to hear it, but our US counterparts are miles ahead in realizing and implementing how important this is to mass adoption. 85% of my website traffic and opportunities keep coming from across the vast pond. I keep making the arguments but progress on it feels like undoing two hundred years of public education despite the evidence being right in front of us. On my part, I'm happy to give credit where credit is due so many thanks to Vlad Cealicu from Crypto Compare for helping this become a thing. Shoutout also to ETHLDN, without which much would not have unfolded. Big thanks also for the Unblocked ladies for helping with all sorts as I was running out hands pretty badly throughout the day. I'm ever so happy to write elaborate thank you pump notes for those who help us help everyone.


Of course, I asked Andreas to sign the piece which to my delight he agreed to do. Next up was Peter McCormack who signed a mysterious 'CSWINS'. There has been wild speculation that it might mean 'Craig S Wright is not Satoshi' but who knows these things.

Back In Bad
Next conferences where the piece will make an appearance are the Litecoin Summit and World Crypto Con in Vegas again for 2019. With Adam Williams, we are planning on something special for WCC so that we can gather more support and notoriety for the piece. The thing is, I'm happy to keep evolving this piece with new signatures until we get to that million. As a matter of fact, I  won't let go of it without it. Who knows if it will eventually gather more.
Of course, this piece is not valid without being verified on the blockchain. Check out the Codex Protocol verification gallery for it with the latest signatures. It was also the first ever piece verified with my own V E S A signature, kindly offered to me by the platform as the first ever name verification.

If you made it this far, be like Stephen. Tweet this out!
What do you think? Does it deserve to gather a million plus for HAWC?
V E S A
Crypto Artist
Official Pages:
Crypto Art
Artevo Platform
Twitter Insta