After the holidays, it took a bit of mental effort to get my head back in the game. Admittedly, the previous year was amazing, but quite a grind in busy cities too. The chill by the Pyrenée mountains, with no planes flying over in a town called Cerét, of only 10.000 people, was quite necessary.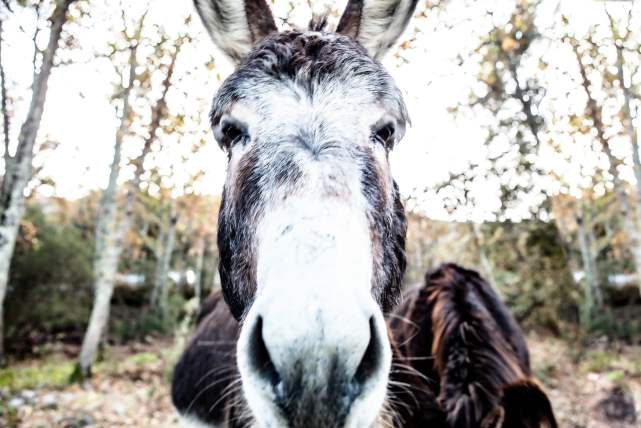 I did ask this jack ass if he wanted to be tokenized. He said he doesn't give a shit, stop talkig nonsense, and that I could finally extend that carrot in my hand.
Moving on now.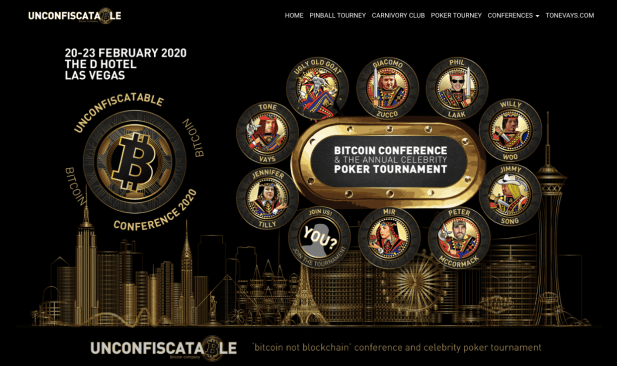 To kick the year off, I recorded a new episode of the 'We Love Decentralized' podcast with Tone Vays about the art commissioned for the Unconfiscatable Conference in Vegas for 20-23rd of Feb. We talked about Bitcoin, Star Wars, culture wars, trust, and in general, why he believes BTC will be the only coin in the end. It gave me all the ammunition I need to make the piece. The central theme is likely the various things that can't be taken away from us. Those might be things like our skills, character, education & Bitcoin. I believe this is what the conference is all about.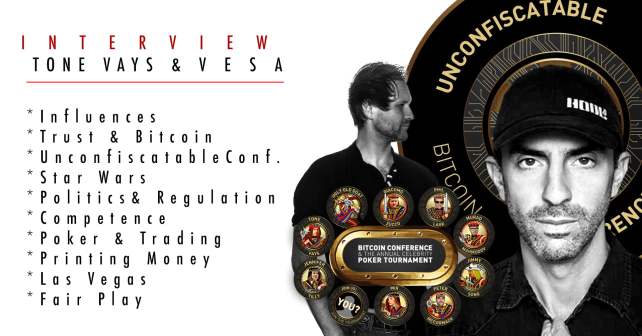 Check the hour-long chat out through this link to Youtube.
Family Man
Our collaboration with Didi Taihuttu, from the Bitcoin Family is now live. It was the next logical step to get off the ground. We were introduced to each other via Sean Stella from Hardforking.com in a mutual podcast, and I was super impressed by the humble integrity way he is bringing Bitcoin and crypto to the world. The more I learned about his story and travels around the world, the more it felt like I need to collaborate with this guy.
The room provided to me by the Litecoin Foundation gave us the space to figure out how to do this, and the Wild West Crypto Show guys kindly helped us get the message out there even in the process phase. While I was making this piece, I re-discovered the Andreas Antonopolous talk about the five stages of grief for banks. It captures well in spoken form why the mission of Didi & his family has weight beyond any individual, company or group in this space.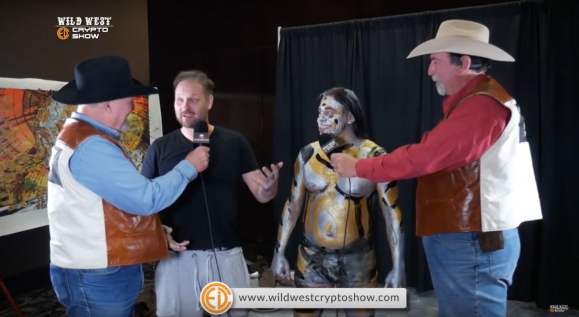 Check out this short reminder interview clip from Vegas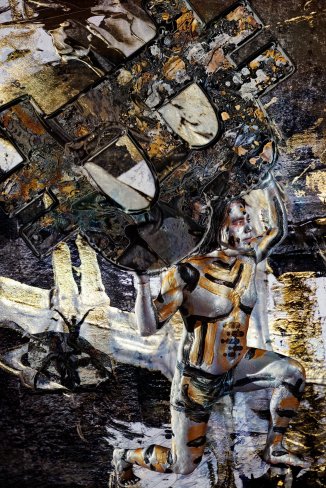 For some reason, the quality goes pretty bad via these uploads. To see the full resolution image and direct buy from ArtForCrypto.Com
There is a natural openness in Didi's eyes in this piece. He holds the sign up like a beacon to passing ships. Not forcing it upon anyone, but inspiring people, through example, to see the benefits. The message is also attached to an ascetic lifestyle, important values, and family. The crypto space, sometimes for good reasons, is full of vitriol. What gets lost in the process is the vital aspect of new people coming in. The ones educating, working as ambassadors outward, are a lot rarer than we'd like to think. The mission is loftier than we, these days, give ourselves credit for. It would be interesting to know how many people toxic Twitter bullshit has turned away out of the people who wandered into CT through natural curiosity? This is why people like Didi deserve to be elevated even higher than where they already are. The ones with the big picture in mind, putting real skin in the game to inspire others, deserve all the respect for doing work for all of us that have lost our virginity a long time ago. In a sense, he also refers to things that can't be taken away from us.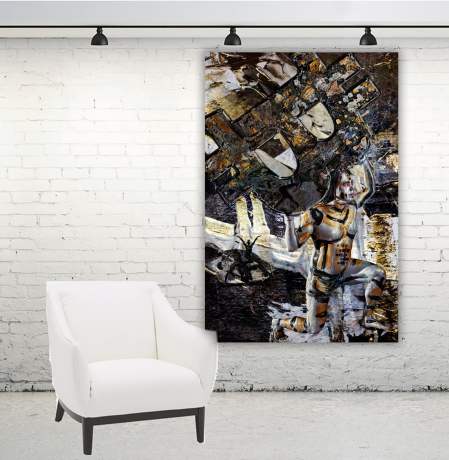 Niko De Jonghe from the Blockchain Valley reserved the first re-paint version right off the bat, so let's see how snatches up the remaining two. What do you think? Did we capture the spirit of it all well?
The Miami Blockchain Weather Cuddle
Next up, before a re-match with Vegas, is going back to Miami again for the blockchain week. The Bitcoin Center, The North American Bitcoin Conference, and Washington Elite have cooked up an addictive tropical feast that just can't be missed. If you also knew just how miserable the weather has been in London for the past few weeks, or the whole year really, you'd also understand why there wasn't much hesitation in booking tickets to come back to see friends.
The second piece to see the full light of day is "Redemption" with made with Annalese from Bits and Tokens last time I was over in Miami for Art Basel 2019. Throughout millennia, nature has been a cruel mistress to us, humans, often. From great plaques to shocking child mortality and hunger. The human struggle to stay alive has not been a problematic choice between which wine you would select from the store, but how to stay alive another day. To many around the world, it still is. Back in 2015, I made a whole art project about the relevance of the sun, which still, in terms of generating energy holds its own. Politically, and in many other ways, it's a lot of water under the bridge.
The earth has always been our mother, but she's been a cruel bitch at times. As a fan of nature documentaries, though, you now end up mostly watching cries for help from various fronts. This piece, for me, is an attempt to reconcile the many things inside me about the mess we are in politically, with plastic, pollution, and disharmony in general. Despite whatever personal demons you might carry, the winner makes relative peace with them. No matter which camp you feel like you belong to politically, in religious terms or otherwise, this art is an offering to remember gratitude and nuance in the process. Sacrifice is a foundational theme in most spiritual practices. When we learned to think long term, we elevated out of the darkness of animals. This offering can now be interpreted in many ways. What are we willing to give up is a question rarely asked. Anywhere.
I'm sure Annalese has another version of what the free-posed position meant for her. Tweet @ her to ask if you like.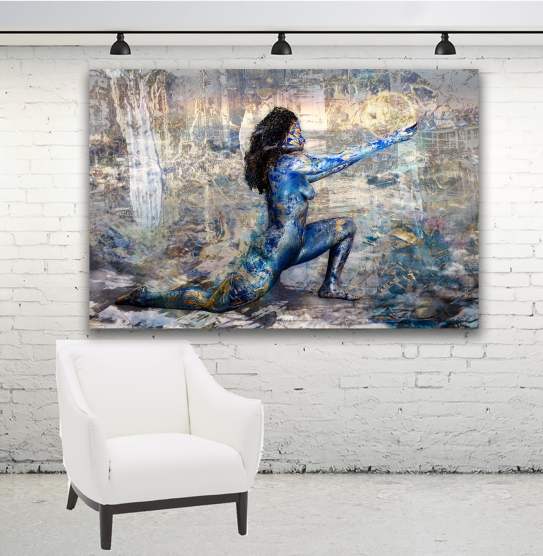 See the piece in full resolution and direct buy from ArtForCrypto.Com
There are some very exciting things coming up that I can't yet make public, but the pipeline is looking good – not only for me but crypto art in general. Congrats to Superrare for record sales in purely digital art and many notable crypto artists doing very well, like Trevor Jones with his "Most Influential 2019"series. Alotta money made some great motion stuff as well as Tom Badley with his well selling Banknote series. As a general awareness lift, check out this cool Spy vs. Spy piece by Vizique. It describes the situation well.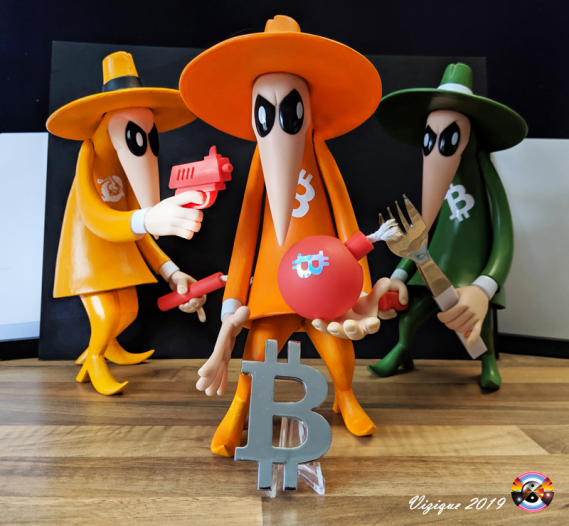 Bring on the roaring '20s!
V E S A
Crypto Artist
Official Pages:
Crypto Art
Artevo Platform
Twitter Insta