Massive selling pressure from the crypto exchange FTX hacker hit Ethereum; the bad actor has been dumping the cryptocurrency during the weekend. This "dumping," selling an asset in the market, is creating panic in the crypto market. The hacker stole over 200,000 from the trading venue. 
As of this writing, Ethereum is trading in the red. The second cryptocurrency by market cap is priced at $1,120 with a 5% and 9% loss in short and higher timeframes. ETH's price is recording adverse price action and much more downside pressure than other cryptocurrencies.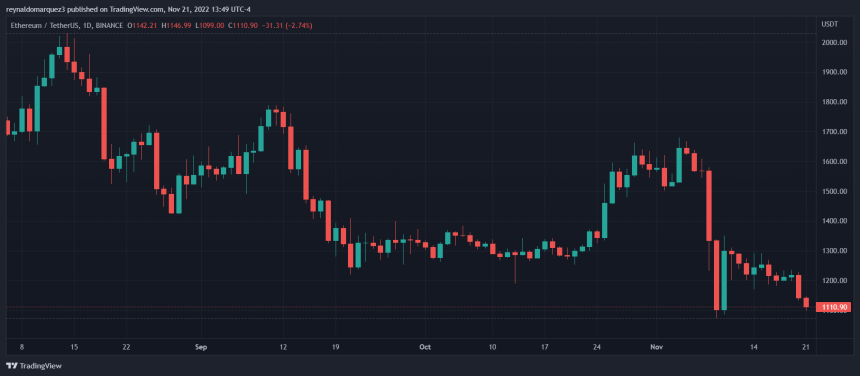 FTX Ethereum (ETH) On The Move, Crypto Market Braces For Impact
Several on-chain monitors are recording new activity on the Ethereum blockchain related to the FTX hack. Data from Etherscan indicates that the bad actor moved over 180,000, almost the total of the stolen funds, in the last hour. 
According to a pseudonym user, the hacker is moving ETH in $15,000 batches. The hacker is potentially positioning to sell the funds in the market. This ETH dump could negatively affect the Ethereum price and trigger a fresh leg down. 
Hacker moving all his ETH right now in 15k lots, seems likely he is getting ready to sell pic.twitter.com/TXjpaG7i6f

— Avi (@AviFelman) November 21, 2022 
On-chain monitor PeckShield managed to uncover the FTX hacker's modus operandi. The bad actor is swapping ETH for a synthesized form of Bitcoin called renBTC. 
#PeckShieldAlert FTX Accounts Drainer 1 has transferred 15k $ETH (~$16.7M) to 0x8059, then 0x8059 swapped these $ETH for ~1,023.6 $renBTC and 0.33 $WBTC
These $renBTC have been bridged out
Seems like the Drainer is temporarily limited by the liquidity of $renBTC 👀 pic.twitter.com/g9ByFFmjk5

— PeckShieldAlert (@PeckShieldAlert) November 21, 2022 
The decentralized cross-chain exchange, RenBridge, issues this token. Users believe the bad actor can swap this renBTC for regular Bitcoin (BTC) and eventually send these funds to a mixer service to clean it with a low-tier centralized exchange. 
As noted by a CNBC report, FTX purchased RenBridge for $74 million back in 2021. FTX, under its new CEO John Ray, issued an alert to all crypto exchanges. Ray and other entities asked the trading venues to monitor any suspicious activity. 
Ethereum Will See A 2022 Low?
In the wake of recent events, market participants are expecting further downside pressure. Analyst Justin Bennett believes Ethereum is on a decline. 
As seen in the chart below, the daily chart for Ethereum hints at two potential support levels at around $1,080 and $1,010. If bulls fail to defend these levels, the cryptocurrency might return to its yearly low at about $900.