Platform Name: PrimeBit
URL: https://app.primebit.com
Support: https://support.primebit.com
Owner: PrimeBit Ltd., registered in Saint Vincent and the Grenadines
Deposit Options: PrimeBit accepts Bitcoin deposits only. There are no minimum deposits.
Withdrawal Options: Instant withdrawals in Bitcoin
Trading instruments: Perpetual fixed value contracts for BTCUSD, ETHUSD, and LTCUSD
Leverage options: 1x, 2x, 5x, 10x, 25x, 50x, 100x, 150x, 200x
Unique value proposition: Fair Price Marking, Fixed Price Perpetual Contracts
Social Media:
Facebook: https://www.facebook.com/PrimeBit-2594190343985244
Twitter: https://twitter.com/primebit_com
YouTube: https://www.youtube.com/channel/UCKgISvjcocN_Rjlxk2X668Q
Blog: https://blog.primebit.com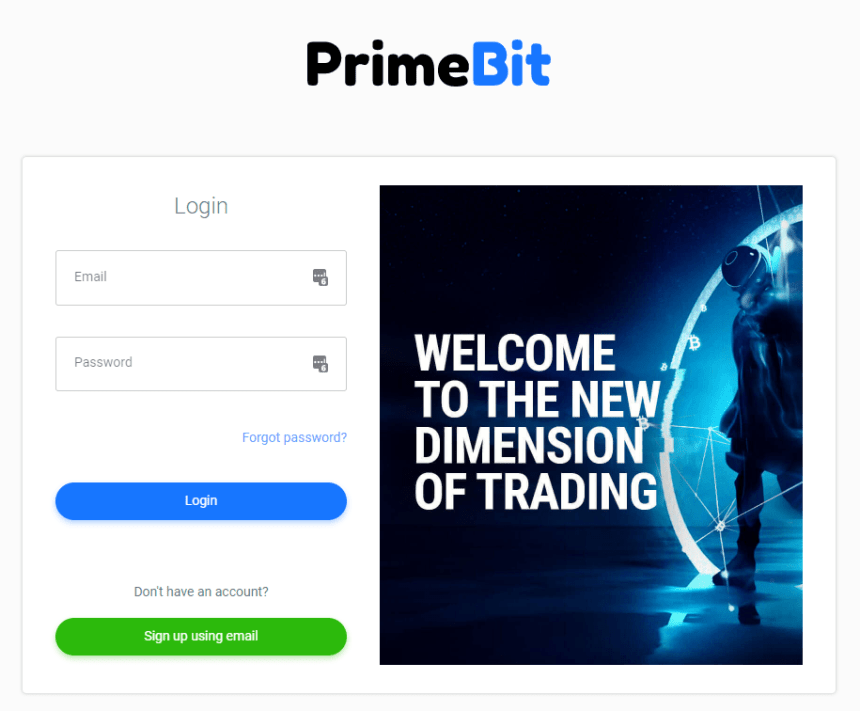 Overview
PrimeBit is a P2P crypto-products trading platform. The users can exchange perpetual fixed value contracts on Bitcoin, Ethereum and Litecoin. PrimeBit has a complex engine hidden behind a simple user interface and easy to understand transparent rules. 
PrimeBit Ltd. aims at providing a better alternative to popular BitMEX services. The new platform offers a wide spectrum of leverage (up to 200x against up to 100x available in BitMEX) as well as fixed-point value contracts.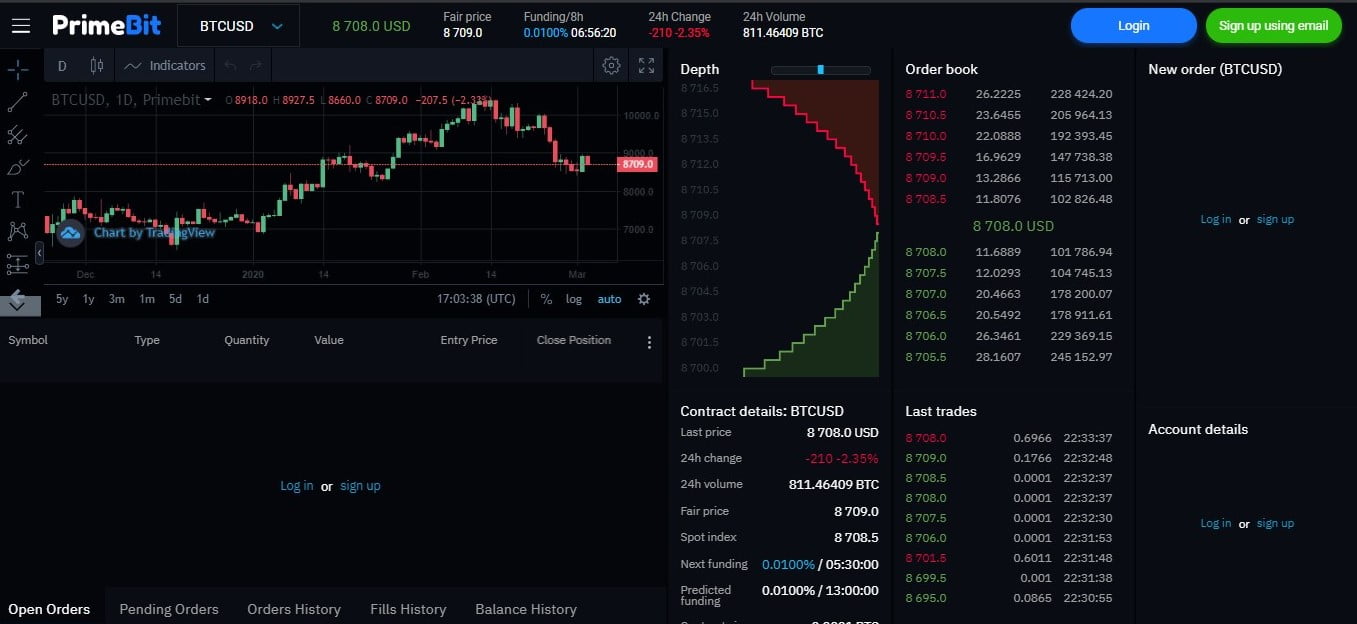 Fixed-point value makes it much easier for the traders to estimate the value of a contract they are buying. It's simple – when the price of BTCUSD, ETHUSD or LTCUSD goes up or down $1, the value of PrimeBit's contract changes by 0.1 mBTC.
PrimeBit also wants to compete with its advance Fair Price indicator, an equitable Funding System, and an unbiased auto-deleveraging mechanism. The paltform has also created its own Webtrader which is fast, flexible and offers a great trading experience.
The exchange has the ambition to become the standard for a "Fair Way to Trade Crypto" as the platform's mission states. The goal of PrimeBit's creators is to deliver a democratic, distributed, bottom-up mercantile exchange for digital currency.
PrimeBit features
Here are some basic features of the platform: 
up to 200x

– the highest leverage on the market

MetaTrader 5

desktop and web application

PrimeBit Webtrader – created in-house, easy to use, intuitive browser-based trading interface
Fair Price Marking

– a mechanism to enable smooth trading on volatile assets even with high leverage

No minimum deposits

and fully-functional demo accounts for easy access for beginner traders 

No expiry dates

– trade perpetual contracts with no limits to your profits

Fixed point value

– easy to understand price model with linear returns

A lucrative affiliate program with up to

20% revenue share

and a transparent dashboard for controlling the revenue flow

PrimeBit

Trade Calculator

for easy computing of the basic parameters of an order you consider to make.

Contract types
On PrimeBit you can exchange three types of perpetual contracts – BTCUSD, ETHUSD, and LTCUSD. They are priced based on the Bitcoin, Ethereum, and Litecoin composite indices called fair price (price is built from multiple external sources). 
This contract is settled in BTC and quoted in USD. Each contract has a fixed value of 0,001 mBTC per $1 price. It means that with every price change of $0.01 the contract value changes by 1 Satoshi. The relation between the contract price and the contract value is linear and does not change with the contract price.
These are used to calculate the final funding rate. Funding is paid and received every 8 hours. PrimeBit does not charge fees on funding payments.
PrimeBit offers an attractive affiliate program with up to 20% revenue share. The program is powered by a fully automated system. Every PrimeBit user can grab a referral link and send it to friends to promote their network.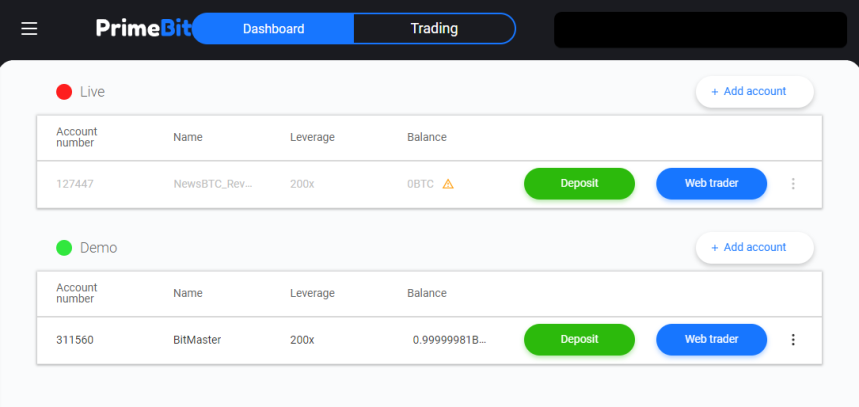 Fees
BTCUSD – Maker Fee -0.025%, Taker Fee 0.075%, Funding fluctuating BTCUSD.funding symbol in MetaTrader 5, funding interval every 8 hours.
ETHUSD – Maker Fee -0.025%, Taker Fee 0.075%, Funding fluctuating ETHUSD.funding symbol in MT5, funding interval every 8 hours.
LTCUSD – Maker Fee -0.025%, Taker Fee 0.075%, Funding fluctuating ETHUSD.funding symbol in MT5, funding interval every 8 hours.
Account Verification
Currently, PrimeBit does not require any user verification, only email is needed to create an account and start trading.
Should I try it?
The above features make PrimeBit a unique platform, with the potential to disrupt the cryptocurrency margin trading market. In order to do it, PrimeBit has to attract a critical mass of traders. PrimeBit is open for traders since the end of August, and we predict that in the first weeks of trading there's going to be some chaos, where some exceptional trading opportunities can appear. If the community learns the relatively easy mechanics of PrimeBit crypto-products, the platform may grow.
It's definitely worth trying since the upside is high and there are no entry fees.