Platform Name: PrimeXBT
URL: https://primexbt.com
Location: Republic of Seychelles
Supported Currencies
Deposit Options: BTC, Credit cards (USD/EUR), 30+ cryptocurrencies
Withdrawal Options: BTC Only
Social Media:
Facebook: https://www.facebook.com/primexbt
Twitter:  https://twitter.com/primexbt
YouTube: https://www.youtube.com/channel/UCzH0C03Gy8uHyKr-Y59cwJg
Blog: https://medium.com/primexbt
Overview
Today's crypto industry is so advanced that there are so many trading platforms available with a variety of features suiting the needs of one segment of traders or other. PrimeXBT is a platform with diverse features, designed to meet the needs of all kinds of traders, irrespective of their experience levels. The platform is relatively new in the industry. Established in 2018, the creators of the platform have taken ample time to analyze other platforms, usage patterns of various segments of the trading community to develop a more refined tailor-made solution that resonates with the needs and wishes of traders ranging from newbies, amateurs to professionals.
Platform Features
PrimeXBT is a simple, easy-to-use platform with an intuitive user interface. Setting up an account the platform can take as less as 40 seconds, and once the account is created, users can take advantage of a long list of trading pairs and leverage options. It offers a 100x leverage for all crypto trading pairs, with an additional 10x leverage level at 1000x for FX and CFDs.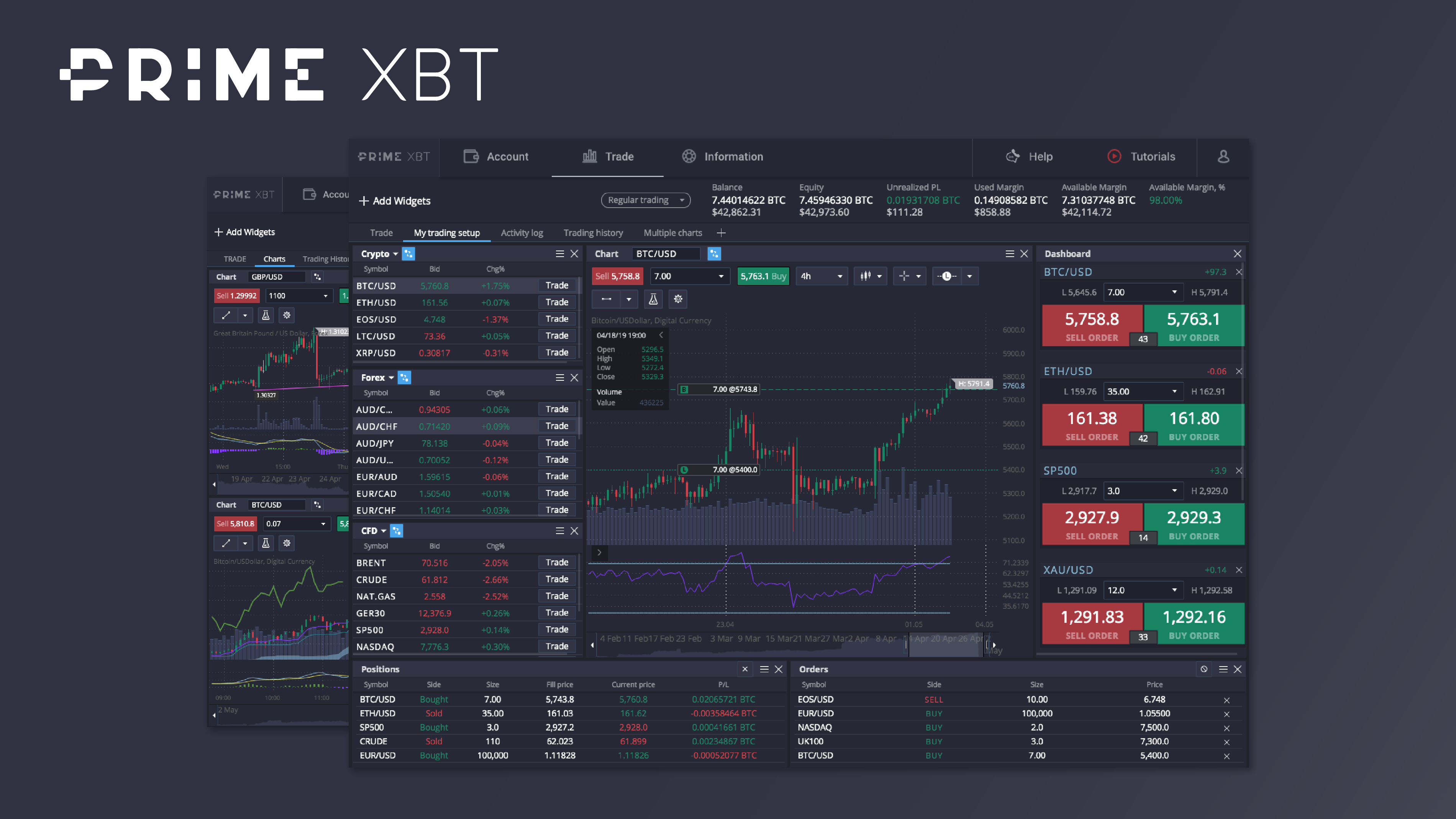 Other features on PrimeXBT include cross margin, customizable layout, professional charting package, advanced order types, trading from charts, secure address whitelisting, various deposit options and a flat rate fee of 0.05% on all tradable assets. Similarly, PrimeXBT also enables traders to open long and short positions while trading to profit from both market rallies and declines. With a processing speed of 12,000 orders per second traders have vast option to trade without order rejections and super low latency.
Deposits and Withdrawals
When it comes to funding your trading account on PrimeXBT, there are multiple options. The platform supports cryptocurrency deposits in BTC and 30 other virtual currencies in addition to fiat deposits in USD and EUR denominations through credit cards.
The withdrawal options on PrimeXBT is currently limited to BTC. However, the platform could add additional options in the near future.
There are no deposit and withdrawal limits.
Platform Accessibility
Accessing PrimeXBT is a walk in the park. Users can log into their accounts on the platform's light, responsive web interface, using the browser on any connected device. In addition, PrimeXBT also has a mobile application for Android-powered devices which can be downloaded from the Google Play Store.
PrimeXBT offers a highly customizable dashboard for its users along with a powerful charting engine for multiple chart types. These charts come with a variety of indicators and drawing tools for analysis and interpretation of trends. Users can also place orders directly from the charts.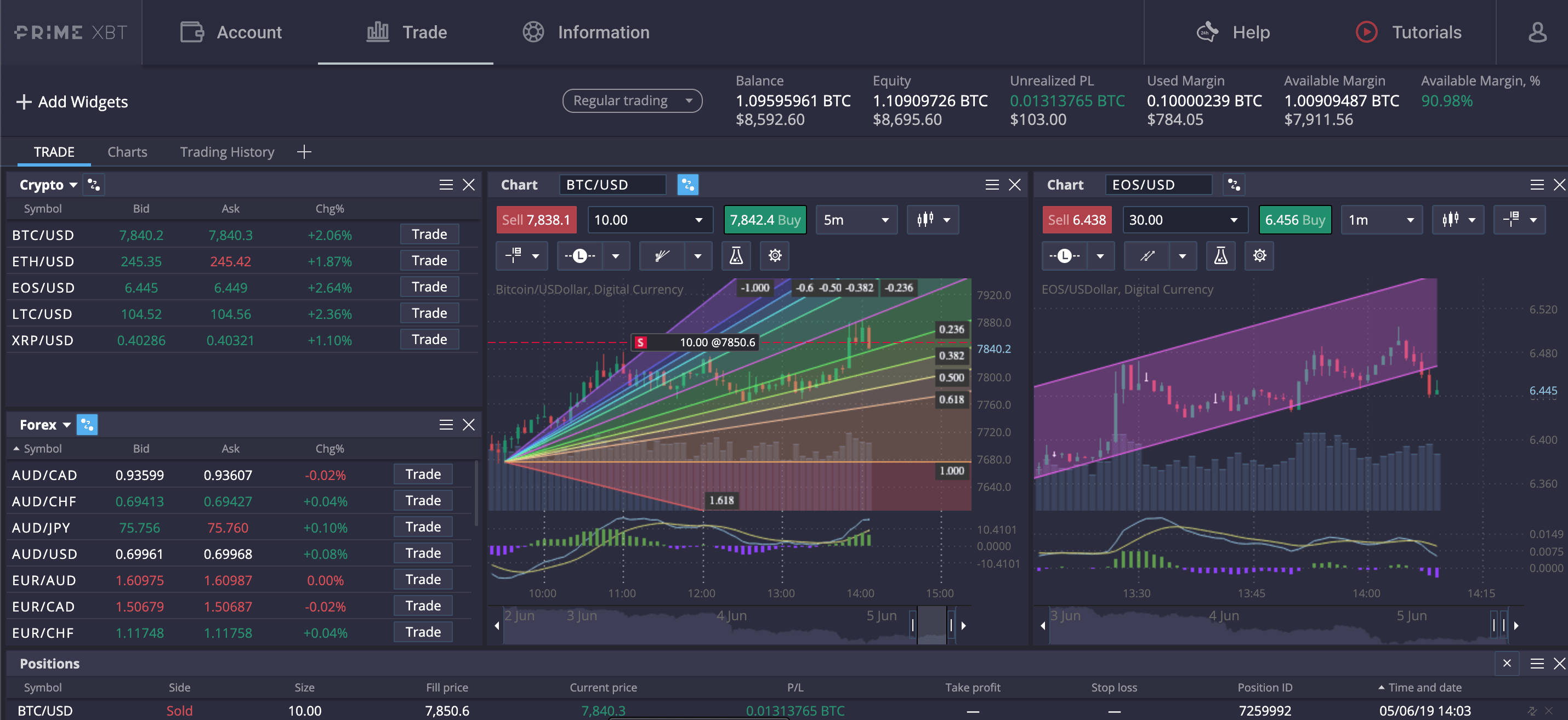 The platform supports 5 different order types: Limit, Market, Stop market, OCO and Stop Loss/Take Profit.
Supported Currencies and Indices
BTC, LTC, ETH, XRP, EOS, EUR/USD, GBP/USD, AUD/CAD, AUD/CHF, AUD/JPY, AUD/USD, EUR/AUD, EUR/CAD, EUR/CHF, EUR/GBP, EUR/JPY, GBP/AUD, GBP/CAD, GBP/CHF, GBP/JPY, USD/CAD, USD/CHF, USD/JPY, XAG/USD, XAU/USD, HKD/USD, BRENT, CRUDE, NAT.GAS, GER30, SP500, NASDAQ, HK-HSI, JAPAN, UK100
Security
PrimeXBT offers a no-KYC trading platform, making the onboarding process easier for traders. The company is heavily invested in ensuring top-class security by implementing multiple security fail-safes to ward off cyber threats and risks of hacking.  For starters, most of the user funds on the platform is held in offline cold wallets, completely limiting access to third parties. In addition, all PrimeXBT wallets are secured by multi-signature protocols to eliminate single point failures.
Furthermore, passwords are hashed cryptographically, the site's traffic is encrypted with SSL algorithms, hardware security modules with ratings of FIPS PUB 140-2 Level 3 or higher are also in place. PrimeXBT also has a mandatory Bitcoin address whitelisting process for wallet addresses to ensure that the funds aren't withdrawn to any wallet other than the one pre-authorized by the user. Cloudflare integration protects the platform from DDoS attacks.
Customer Support
To provide its users with the best customer support services, PrimeXBT has appointed personal account managers and has its lines open 24/7 to ensure any complaint lodged is taken care of in the shortest time possible. Users can email their queries to support@primexbt.com or chat with company representative online.
Besides just giving traders a dedicated platform to execute their trades, PrimeXBT also has a 4-level affiliate system in place. The latter guarantees users up to 50% of their referrals pay in trading fees. Although based in the Republic of Seychelles, traders have access to its platform worldwide. To enjoy the ultimate experience while trading crypto, open an account at PrimeXBT.