StealthEX: A Most Convenient and Beneficial Crypto Exchange Platform
Cryptocurrency industry keeps developing, and many new platforms become popular among users, especially in the field of crypto exchange. StealthEX is a user-friendly non-custodial cryptocurrency swapper that was founded in 2018 and lets you exchange over 700 cryptocurrencies anonymously, as well as buy crypto using fiat currency. The service partners with world-famous trading platforms, such as Binance, Bitfinex, Huobi, KuCoin, OKEx, etc. along with exchange aggregators, such as SwapSpace and Swapzone. 
StealthEX does its best to provide its users with maximum as per its exchange model: you don't need to add your personal details when swapping crypto. Let's take a closer look at some of the benefits the platform has to offer.
StealthEX Product Offering
While many exchange platforms are concerned with charts and cram a lot of features into a bulky design, StealthEX is simple and user-friendly. You can exchange digital assets without the need to sign up for the service. The sleek platform has two main features cryptocurrency investors and crypto enthusiasts need: the ability to buy crypto with fiat currency and the ability to swap coins and tokens between exchanges.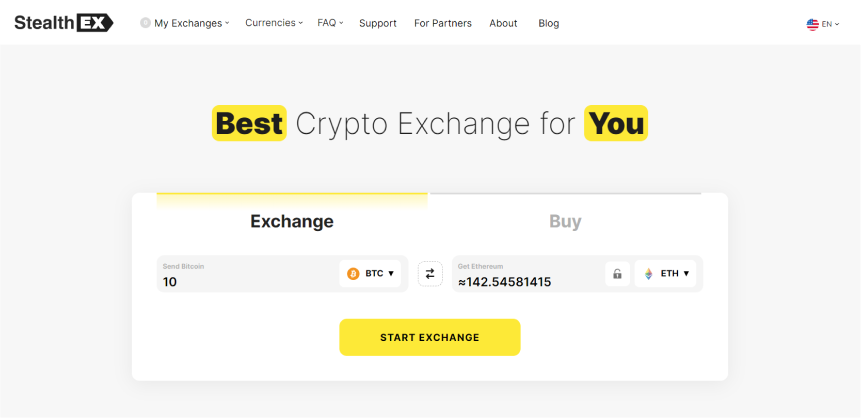 The StealthEX platform is rich in digital assets: it supports a large collection of coins and tokens, including Bitcoin (BTC), Cardano (ADA), Aptos (APT), Dogecoin (DOGE), Monero (XMR), Litecoin (LTC), Ethereum (ETH), and many more cryptocurrencies that are rarely found in external wallets. The platform calculates a fixed fee for each transaction and does not use a spread. The final fee is determined by various factors, including the cryptocurrency being exchanged, network fees, and others. At the moment, the service also offers its users an opportunity to buy crypto with fiat money. In order to buy crypto, you can use the following currencies: USD, EUR, GBP, TL, KES, ZAR, GHS, TZS, MXN, VND, and BRL.
As the service offers cross-chain exchanges, it can be just as easy to initiate a swap between any two blockchains without the need to go through numerous steps that most swaps require. Basically, StealthEX allows its users to swap different crypto between two chains directly. This is one of the most convenient features that the platform has to offer.
No KYC Swaps at StealthEX
As StealthEX wants to make the user experience as smooth as possible, it started offering its customers no KYC swaps. KYC (Know Your Customer procedure) was introduced to protect both customers and trading platforms. Most crypto exchanges require you to sign up with them, take your selfie, send in your ID, and provide your credit/debit card details to buy or sell crypto coins. As the market is becoming more regulated, it gets more difficult to find an exchange with no KYC for buying crypto.
StealthEX has made buying crypto much easier. Thanks to an agreement with their trusted partner Mercuryo, a London-based cryptocurrency payments company that facilitates their fiat swaps, you can now purchase an amount of crypto without KYC if it's less than €900 or the equivalent of this amount in other currencies. This is what makes StealthEX stand out among its competitors.
Crypto-to-Crypto Exchanges
To make a crypto-to-crypto exchange on StealthEX, all you have to do is select the cryptocurrency you currently have and enter the amount you want to exchange. You then select the crypto you want to receive and the wallet address you want it sent to. 
StealthEX will automatically compare the exchange rates among all their partner exchanges and provide you with the best exchange rate – with all fees included in the final quoted price. 
The last step is to choose whether you want a fixed exchange rate or a floating rate; a fixed exchange rate guarantees that you will receive the quoted amount regardless of market volatility, whereas if you choose a floating exchange rate you may receive more or less coins than quoted due to market volatility and ever-changing prices.
Additional StealthEX Features
The platform has accumulated a number of advantages both for experienced traders and crypto beginners which makes it one of the most efficient players on the market. This includes: 
The platform is non-custodial.

Everyone has their private key, and only this user owns his digital assets. These funds are not controlled by the government or other third parties. That's why when using StealthEX, users don't run a risk of being hacked or their funds stolen.

Fast exchange.

This platform makes all cryptocurrency transactions instant. There is no need to provide a lot of additional details and wait a long time to complete an exchange.

No limits.

Everyone can exchange even the smallest sums or buy tokens for fiat money by investing as little as 30 USD or 30 EUR. There's also no upper limit. 

Floating and fixed exchange rates.

A floating rate is a rate that is not fixed at a particular level but is subject to regular changes. With StealthEX, crypto enthusiasts can choose between fixed or floating rates. This will help users decrease risks and make more precise crypto-to-crypto swaps.

24/7 customer support.

StealthEX's efficient customer service is also one of the major advantages for both newcomers and crypto pros. Users can ask their questions via online chat, and in order to link docs or solve more complicated problems, they can contact the service's friendly customer support via email.

Transparency.

For every exchange, the user will have to pay the network transaction fee – this payment is needed to push the transaction into the blockchain. StealthEX makes sure to calculate and include all the possible fees into the transaction estimate and present it to the customer before they make an informed decision to exchange their cryptoassets.

Seamless transactions.

No swap can be lost or sent to a wrong wallet. In addition, StealthEX exchanges are free from sign-ups and private.
StealthEX Mobile App
Last year, StealthEX released a new user-friendly mobile app that lets its users initiate crypto exchanges while on the go. The app is available in Google Play Store along with other apps for Android, it can be downloaded as an APK  file, and will soon be available in App Store. The app is just as sleek and stylish as the non-custodial platform itself and can be easily used to swap crypto from any corner of the world. From now on, users will be able to effortlessly exchange cryptocurrencies or buy a number of digital assets with their credit/debit cards.
To top it off, the crypto exchange mobile app comes feature-packed. It contains a set of useful features, including exchange history, a crypto watchlist, crypto rates, competitive rates, floating or fixed rate swaps for more flexibility, and provides its users with full transparency. The all-encompassing SteathEX service lies at the core of the app, making swapping crypto fast and simple.
Future Endeavors 
StealthEX keeps building its service. Except for the mobile app, in the last year, the service partnered with a number of platforms and wallets, including Omega Wallet, a secure blockchain wallet that supports Aptos, and a close collaboration with Solar, a fully decentralized blockchain and open-source network which supports the SXP blockchain. 
Very soon, the platform will partner with Simplex, an industry leader in the fiat/crypto infrastructure of tomorrow. Thanks to Simplex integration, StealthEX will be able to work with purchases of 170 cryptocurrencies against more than 100 fiat currencies. 
With these new developments, StealthEX is continuing to build a solid reputation in the crypto industry and remains your number-one choice if you are looking for a platform to swap or buy crypto without KYC. Make sure to check it out next time you decide to do an instant cryptocurrency swap!