The Arbitrum airdrop has been one of the most highly anticipated events in the crypto space in recent weeks, but the price performance of the ARB token is rather disappointing at the moment. Facing a massive selling pressure from the beneficiaries of the airdrop, the Arbitrum token dropped to a low of $1.11 on Monday.
Since then, however, ARB has been in an uptrend, maneuvering the price up to $1.44 yesterday. With this, ARB gained 23% since the beginning of the week. At the moment, however, there is a correction that caused the price to drop. But, where do we go from here?
Are Wale And Institutions Buying Or Selling ARB?
On-chain analysis service provider Lookonchain has analyzed the largest Arbitrum whales to find out what the "smart money" is doing. In doing so, the analysis service found that Amber Group, a leading digital asset company, has reduced most of its ARB holdings.
Two related addresses of Amber transferred 11.2 million ARB worth $15.8 million, of which 7.3 million ARB (about $10.3 million) were transferred to crypto exchanges OKX and Binance. The remaining 4.47 million ARB worth $6.3 million continue to be held by the Amber related address.
However, other whales are accumulating the ARB token. In total, Lookonchain has found three major holders adding to their holdings. Whale "0xe04d" received 2.186 million ARB (about $3.08 million) from OKX the day before yesterday, and bought another 1.861 million ARB (about $2.62M) from OKX and Binance yesterday.
Another whale currently holds 4,048 million ARB (around $5.71M). Whale "0xadf5" received 2.288 million ARB (around $3.22M) from OKX a day ago, and added another 1.81 million ARB (around $2.55 million) a little later. Currently, he holds 4.099 million ARB (about $5.78M).
In addition, the largest buyer continues to hold ARB and has not transferred any of his Arbitrum tokens. This unknown whale still holds 9.94 million ARB (about $14 million). He had increased his holdings by 5 million ARB on the first day of the listing on major exchanges.
Arbitrum Fundamentals Remain Strong
As analyst Aylo outlined in a Twitter thread, Ethereum's layer-2 technology shows no signs of slowing down after the airdrop. Arbitrum has done more DEX volume in the last 24 hours than BSC, Polygon, and Avalanche combined, as the chart below shows.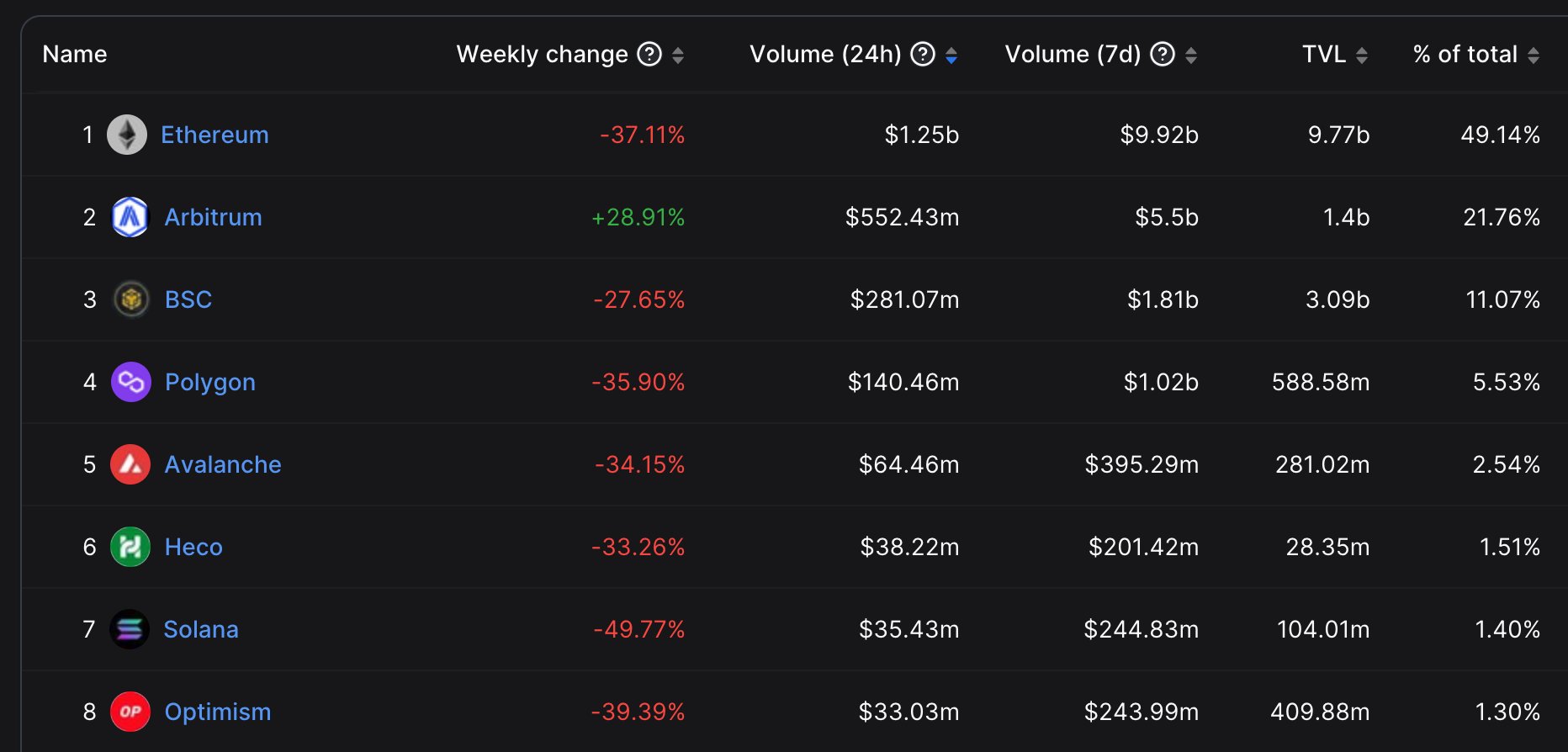 Also bullish are daily transactions and daily active addresses, which remain higher than a month ago. Likewise, TVL shows consistent growth and continues to climb higher. TVL reached a new high of $2.2 billion yesterday, up from around $1.5 billion in the middle of the month.
In addition, Arbitrum is seeing the largest percentage increase in stablecoins bridged in the last 7 days. Daily revenue is also steadily increasing.
ARB Price Today
At the time of writing, ARB was at $1.35. Since Monday's low, ARB's 1-hour chart shows a clean uptrend that is still intact despite the consolidation. ARB continues to post higher highs and higher lows.
Currently, the most important support is the $1.32 level. If ARB falls below this price, the uptrend could falter. For now, however, the bulls retain the upper hand.
Featured image from Kraken Blog, chart from TradingView.com