With yesterday's slump in Bitcoin and crypto markets, the uncertainty returns. Bitcoin, as the lead currency of the crypto market, is currently struggling to regain support at $29,100.
At press time, Bitcoin has not yet been able to initialize an uptrend. BTC was trading at $28,680, down -5.5% since the price was rejected at the $30,500 level on Tuesday. The majority of altcoins are following this trend, writing even bigger losses for the most part.
Buy The Bitcoin And Crypto Dip?
The co-founders of on-chain data provider Glassnode, Jan Happel and Yann Allemann write in their latest market update "don't get spooked" and explain that a $900+ move in Bitcoin is in line with expectations, "avoid shake outs".
According to the analysts, the market sentiment remains intact. Both the fear and greed index and the on-chain data (NUPL) continue to look bullish. Bitcoin's average true range is between $28,300 and $30,200, according to Glassnode founders.
Sentiment has not turned negative either. The fear and greed index continues to signal greed in the market, which should be considered bullish. Furthermore, the two analysts remark:
Today's retrace to the lower end of $29k is a good opportunity to buy. Our mid-term outlook remains bullish, order books show more liquidity, and the Bitcoin Risk Signal is at 0.
Net Unrealized Profit and Loss (NUPL), the difference between market cap and realized cap divided by market cap, indicates that unrealized gains exceed unrealized losses, which is also bullish.
Analyst Scott Melker thinks it remains to be seen whether this correction will continue. Nevertheless, he is confident that Bitcoin has found some support at the "most predictable level" at $28,600:
I have been screaming this number from the mountaintop, so there should be no surprise here. […] This is theoretically strong support. If it breaks, we look to $25,212. Play it level by level.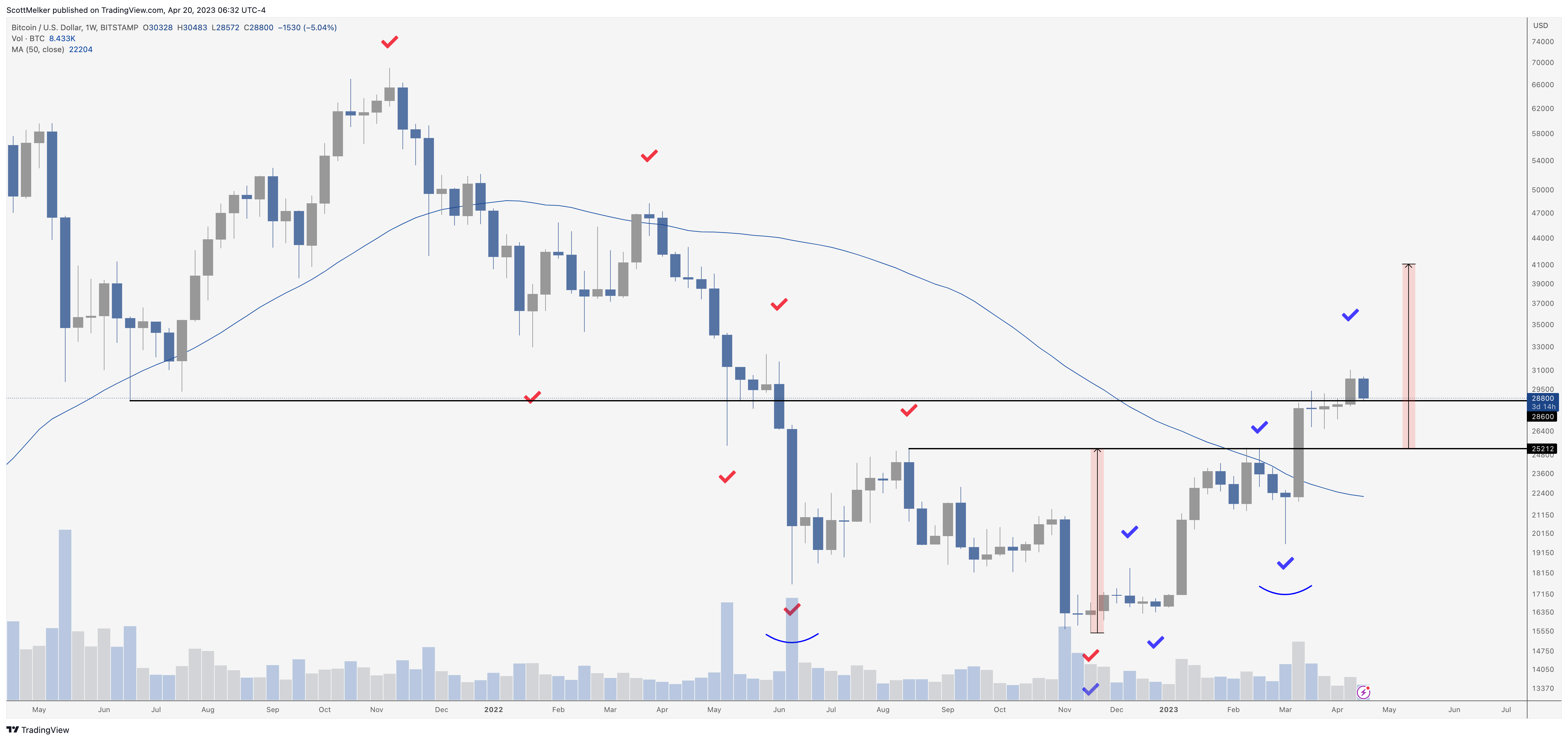 The renowned trader @52kskew, referring to the 4-hour chart of Bitcoin, notes that there is a retest of the previous resistance. In his opinion, a weak RSI divergence and the stochastic RSI signal that there will be a relief bounce.
A bullish scenario, according to him, would be a reclaim of $29,500 and the 4-hour/ 1-day trendline. The bearish scenario is a rejection at $29,500 and the 1-day EMA trend, as well as a trend towards $27,000.
Regarding the lower timeframe aggregate CVDs and delta of Bitcoin, he notes, "Price moving higher here; while CVDs moving lower = limit buying & some absorption of sellers below $28.6K. Market buying yet to follow (which is the market momentum required for higher prices)."
The Binance Open interest could also be an indicator that BTC will see a relief bounce:
Some high short float here & funding moving lower. Ideally for a relief bounce there's continued spot buying & funding goes negative later.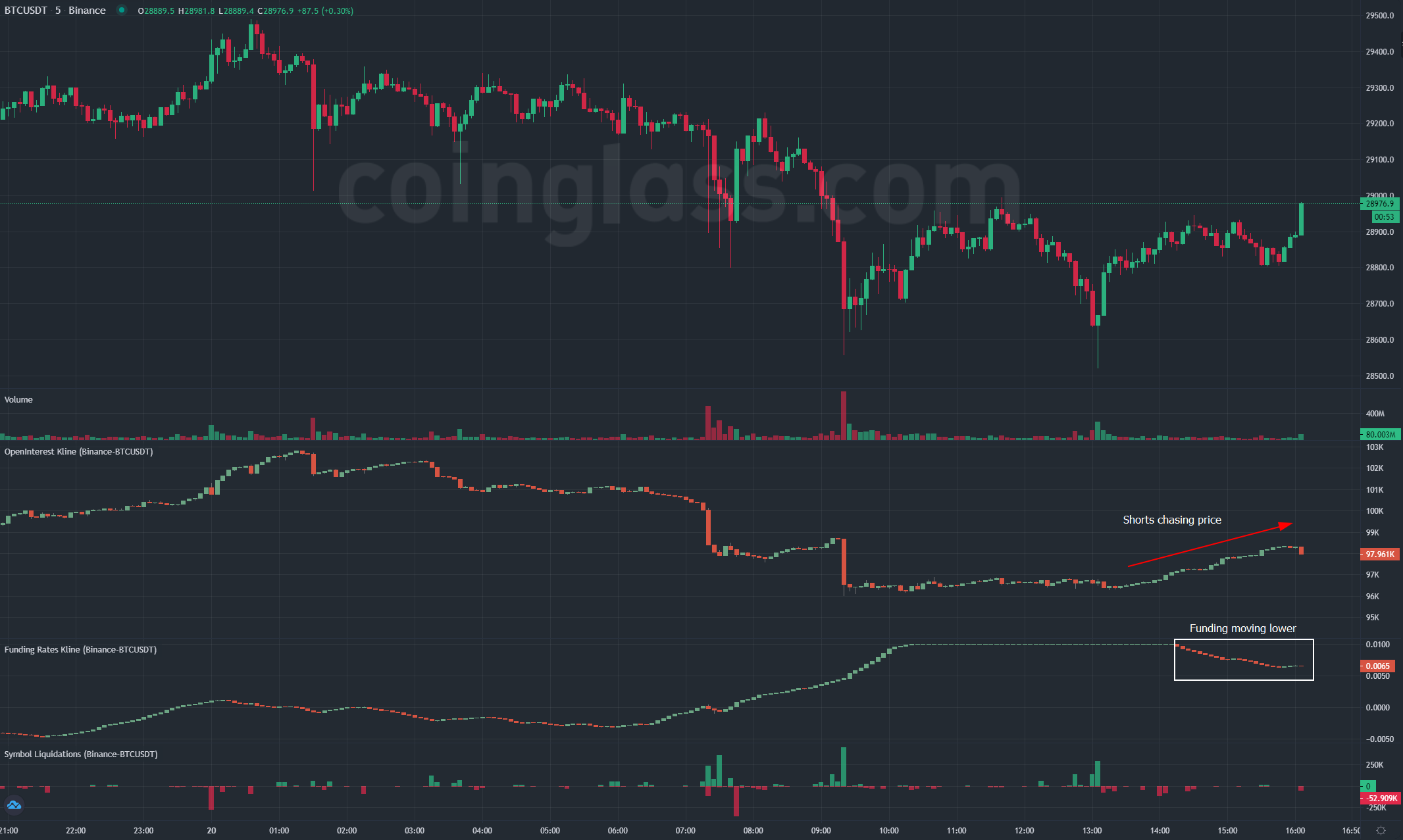 At press time, the Bitcoin price stood at $28,680, bouncing up from another leg down.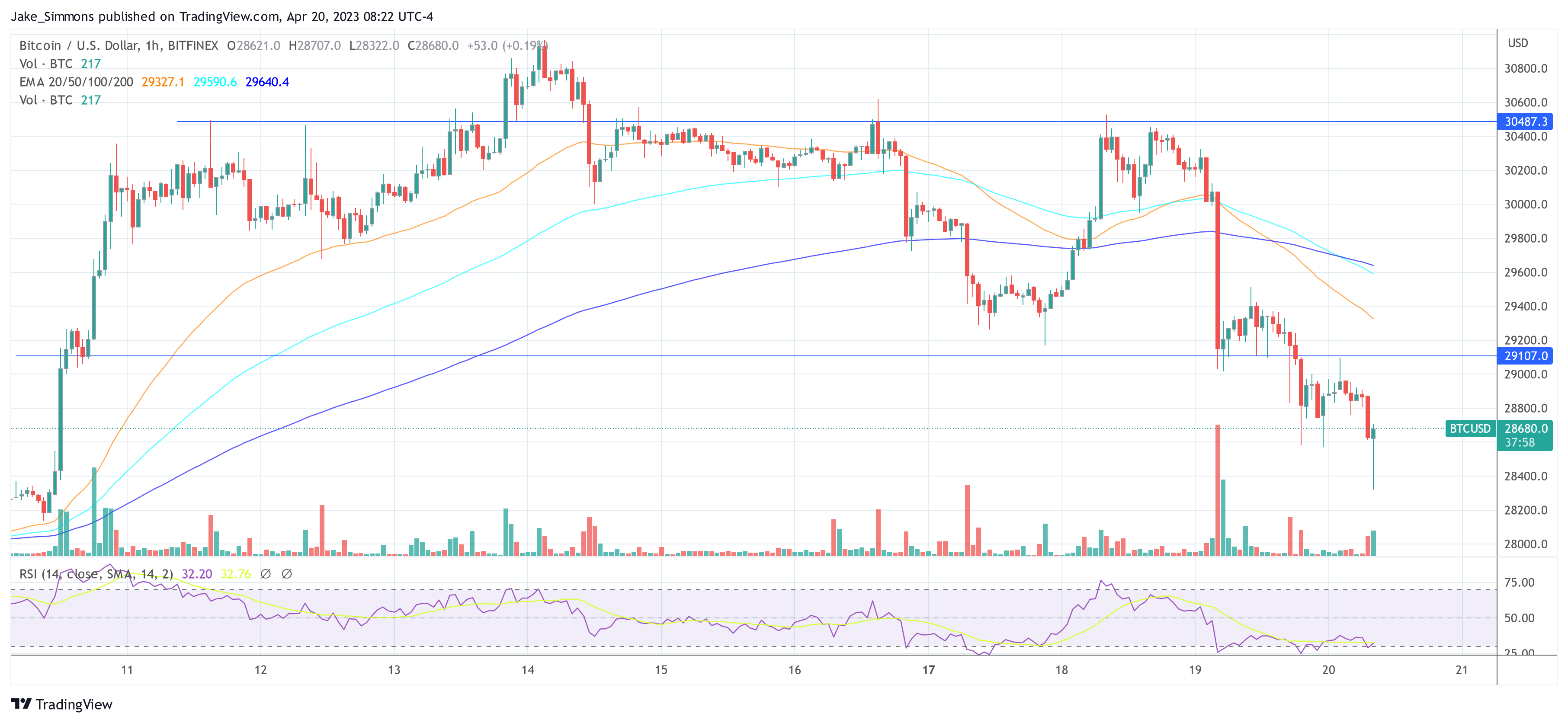 Featured image from iStock, chart from TradingView.com