Crypto investor sentiment is already on the downside following the market crash, erasing the progress that has been made over the last month. The Fear & Greed Index is now on a reversal, falling back to its lowest point in over one month.
Crypto Fear & Greed Index Trending Toward Fear
Coming out of the weekend, the Crypto Fear & Greed Index has seen a decline which has sent it back toward the fear territory. It is currently sitting at a score of 48 at the time of writing which puts it closer to fear than it is to greed. It also shows that investors are warier when it comes to getting into the market, which would explain the muted momentum in the market over the last couple of days.
It is also the first time that the Fear & Greed Index has been this low since January. Usually, higher numbers follow market uptrends and vice versa. It also shows how investors are viewing the market, so a less favorable view could lead to less money flowing into the market.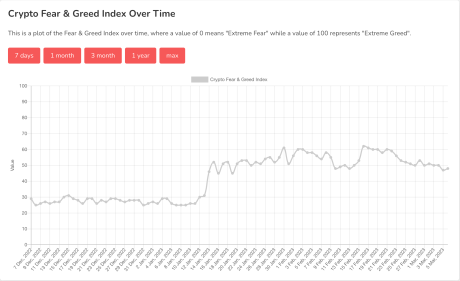 Fear & Greed Index inches toward fear territory | Source: alternative.me
However, the level at which the Fear & Greed Index is currently sitting is considered neutral as it falls within the 47-53 range. This means that even if the index is still closer to fear, investors are still considered to be indecisive when it comes to investing in crypto. But a mere 2-point fall from here can easily plunge it back into fear as the fight against the bear market continues.
Market Leaves Quick Gains Behind
A good amount of the selling pressure being felt in the crypto market right now is a result of the anticipated Ethereum Shanghai upgrade. With billions of dollars locked in the contract, it is expected that a good chunk of ETH will be dumped on the market as coins are gradually unlocked.
Market cap loses $12 billion during the weekend | Source: Crypto Total Market Cap on TradingView.com
This expectation also explains why the Crypto Fear & Greed Index remains in neutral territory for such an extended period of time. Investors are waiting to see the outcome of the upgrade before throwing their hats in the ring, although the upgrade has now been pushed back from March to April.
With the crash, the market has now settled into a more sustainable pace which could be good for the market. There is also less volatility right now in the market with only a slight uptick in the trading volume of Bitcoin, presumably a result of the USD transfer suspensions across multiple exchanges.
At the time of writing, the total market cap is sitting at $985 billion, with a $12 billion loss from its weekend peak of $997 billion.
Follow
Best Owie on Twitter
for market insights, updates, and the occasional funny tweet… Featured image from Zipmex, chart from TradingView.com