Over the last week, the crypto market has seen what can be described as a rollercoaster movement. After coming out of an impressive rally, the digital assets in the space attempted to hold on to their value but a downward spiral would follow. However, neither the upward nor downward movement has been sustained, leading to a completely neutral setup by Monday morning.
Crypto Inflows And Outflows Remain Identical
The exchange inflows and outflows can usually be indicators of how investors are viewing the market. When inflows to centralized exchanges soar, it can lead to sell-offs, meaning that prices of digital assets in the space will decline. At the same time, outflows can point toward accumulation, helping to prop up the prices of cryptocurrencies.
However, in the last week, there has not been much of a demarcation between the inflow and outflow volumes. Data from Glassnode shows that in this 7-day period, there was $3.9 billion worth of Bitcoin (BTC) flowing into CEXes and $3.8 billion flowing out of exchanges.
Total market cap still holding above $1 trillion | Source: Crypto Total Market Cap on TradingView.com
Likewise, Ethereum (ETH) saw $2.4 billion flow into exchanges with $2.2 billion flowing out. The stablecoin Tether (USDT) had the closest margin between the two with $3.7 billion worth of inflows and outflows recorded, respectively, with negative net flows of only -$23 million.
🚨 Weekly On-Chain Exchange Flow 🚨#Bitcoin $BTC
➡️ $3.9B in
⬅️ $3.8B out
📈 Net flow: +$96.5M#Ethereum $ETH
➡️ $2.4B in
⬅️ $2.2B out
📈 Net flow: +$242.3M#Tether (ERC20) $USDT
➡️ $3.7B in
⬅️ $3.7B out
📉 Net flow: -$23.0Mhttps://t.co/dk2HbGwhVw

— glassnode alerts (@glassnodealerts) February 27, 2023
These figures point to indecisiveness among crypto investors who seem to be holding off on making any drastic moves right now. This explains the low momentum in the market this past week, leading assets like BTC and ETH to maintain a tight price line while waiting for investors to decide.
Investor Sentiment Stands Completely Neutral
In the midst of the low momentum, investor sentiment has moved to completely neutral territory. According to the Crypto Fear & Greed Index which is ranked from 1-100, investor sentiment is sitting at a score of 50. This is right in the middle of the scale, proving once more that investors are choosing to do nothing at this point.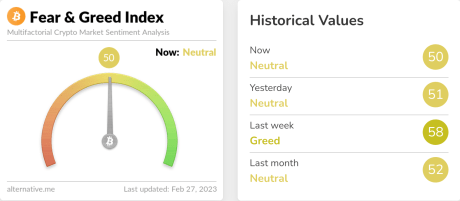 Investor sentiment sits completely neutral | Source: alternative.me
The thing about investor sentiment sitting in such an utterly neutral territory is that there is no way to tell where the market will swing next. But any swing from here will be a significant one. So it can either end up very good for the market or very bad for the digital assets in the space.
Currently, the total crypto market cap is still holding above $1 trillion despite the slowdown. The market cap is now sitting at $1.027, down 1.05% in the last 24 hours.
Follow
Best Owie on Twitter
for market insights, updates, and the occasional funny tweet… Featured image from Pure Healthy Living, chart from TradingView.com