Hedera's native token, HBAR, is currently in the green, while its counterparts in the crypto market are flat or recording losses on high timeframes. On-chain data shows the coin has been witnessing impressive performance this year.
Now trading at $0.08664, HBAR has seen a 24-hour price surge of nearly 9.3%. It also has a 62% 30-day price gain, a 34.4% 14-day increase, and a 7-day price rally of 29.90%. The token could see further profits in the coming days.
With the 7-day price surge of 29.90% at press time, HBAR is outshining the global crypto market, which is down by 6.90% weekly. According to Coingecko, HBAR has outperformed similar smart contracts platforms like Ethereum (ETH), Cardano (ADA), and Binance Coin (BNB), which have been down by 4% in the past seven days. 
Hedera (HBAR) Price History and Factors Behind The Bullish Momentum
Hedera is a decentralized public network dedicated to developers who intend to build secure and fair applications using real-time consensus. According to data from Messari, the Hedera network was launched in August 2018, with an initial token supply of 50 million HBAR. 
As of September 2019, when the network recorded new additions on its mainnet, HBAR traded at $0.078209. However, historical data indicates that the token reached an all-time high of $0.56 9229 on September 15, 2021.  HBAR is 84.64% down from its all-time high price.
HBAR price started correcting in 2022 until it eventually returned to $0.07 around June 2022 due to the crypto winter. After several lows in 2022, the coin rose to its current price of $0.087867 from ~$0.03652 on December 31, 2022. 
Hedera's (HBAR) positive price performance could be supported by the improvement in investors' sentiments in the broader cryptocurrency market in January. With the release of the December Consumer Price Index (CPI) report in January, including improvement in macroeconomic conditions, the crypto market capitalization started rising. This market rebound must have rubbed off on HBAR alongside other cryptos, as the asset price saw a considerable increase in price in January. 
However, many cryptocurrency prices are red lately while the global crypto market cap is down by over 6%. This price action might be due to recent developments on the Hedera network. But HBAR seems to be holding on to its gains.
On January 4, 2023, the Hedera network announced a new upgrade for LG Art Lab, a non-fungible token (NFT) platform anchored on this blockchain. The upgrade allows LG Art Lab to leverage Hedera's unique features to benefit NFT artists. It is a good development and could have contributed to pushing and sustaining HBAR's price since January, as it has the potential to attract more investors to the network.
Also, the Hedera community saw several developments towards the end of 2022 that might have brought a spillover effect into 2023 and scaled up the coin price. According to recent data, the Hedera community has grown by 47% and 66% across popular social media. 
This spike in these metrics suggests more people are interested in the project. As is often true in the crypto market, price follows adoption levels.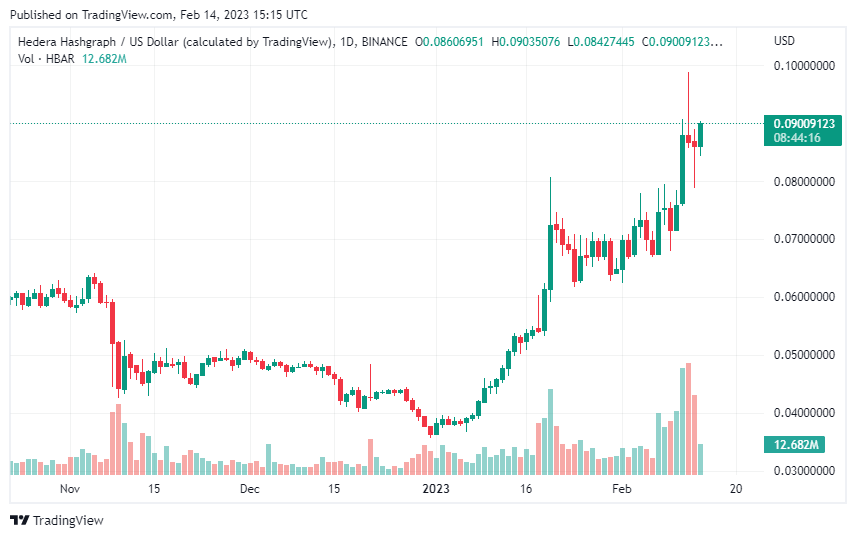 Hedera (HBAR) Price Outlook, And Prediction
HBAR is trading in the green today, breaking out of the sideways trend on February 11, 2023. The token is trading above its 50-day and 200-day Simple Moving Average (SMA), which is a bullish signal. The 50-day SMA looks set to cross the 200-day SMA, which might soon create a golden cross on the price charts.
The support levels are $0.07075, $0.07496, and $0.08027, and the resistance levels are $0.08978, $0.09400, and $0.09930. The Relative Strength Index (RSI) is at 68.88, close to the overbought region of 70. 
HBAR MACD (Moving Average Convergence/Divergence) is above its signal line and still rising to show a bullish signal. Expect HBAR to continue on its uptrend and test the $0.08978 resistance level soon. 
Featured image from Pixabay and chart from TradingView.com.