Hi Everyone,
Perhaps one of the most revered personalities in the crypto world is Vitalik Buterin, the creator of Ethereum. His pioneering work on smart contracts is arguably one of the most important technological advancements in the development of cryptos.
Ethereum's co-founder Joseph Lubin recently stated on Bloomberg that he doesn't see the current falling prices as a hindrance to growth and I have to agree with him there.
What might prove to be a hindrance though, is the sheer popularity of the Ethereum network. As we saw with Bitcoin in early December, the Ethereum blockchain is now seeing times of stress as there are more transactions than the miners can confirm in a timely manner.
This morning, Vitalik provided a 75 tweet report on the network's multiple paths forward, including the much anticipated Casper upgrade.
The good news is that the Ethereum developers seem to have good solutions for most of the issues. Unfortunately though, the timeframe remains elusive with some experts estimating that it could take more than a year to properly scale the busy network.
Many agree that decentralized applications will play a prominent role in our daily lives in the future. Currently, Ethereum is the prevailing platform for the creation of these dApps. What's clear today is that they will have to work very hard to keep it that way.
@MatiGreenspan – eToro, Senior Market Analyst
Today's Highlights
Trump & China – Talking Again
Dollar Step Back
Crypto Also Rebounding
Please note: All data, figures & graphs are valid as of August 16th. All trading carries risk. Only risk capital you can afford to lose.
Traditional Markets
Markets are breathing a sigh of relief this morning as…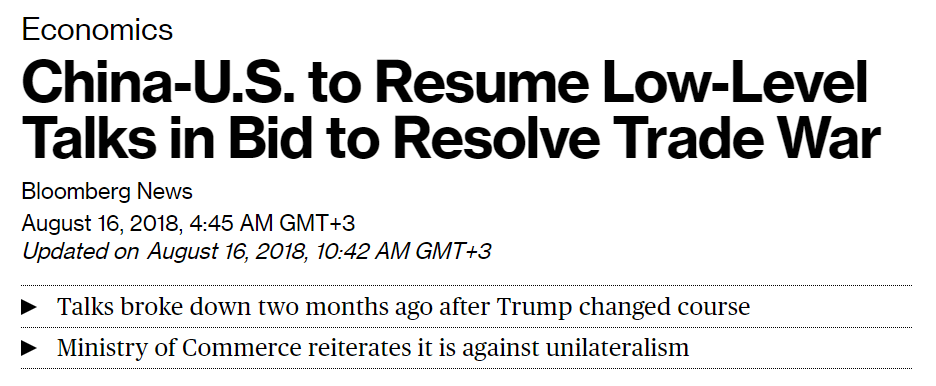 The Turkish issue is still far from resolved, but it seems that Angela Merkel has been able to make some headway on the issues. In any case, this spat has roiled markets far more than it probably should have and it's good to see things returning to some level of normality.
Asian and European markets have started out in a good mood. Let's hope it sticks.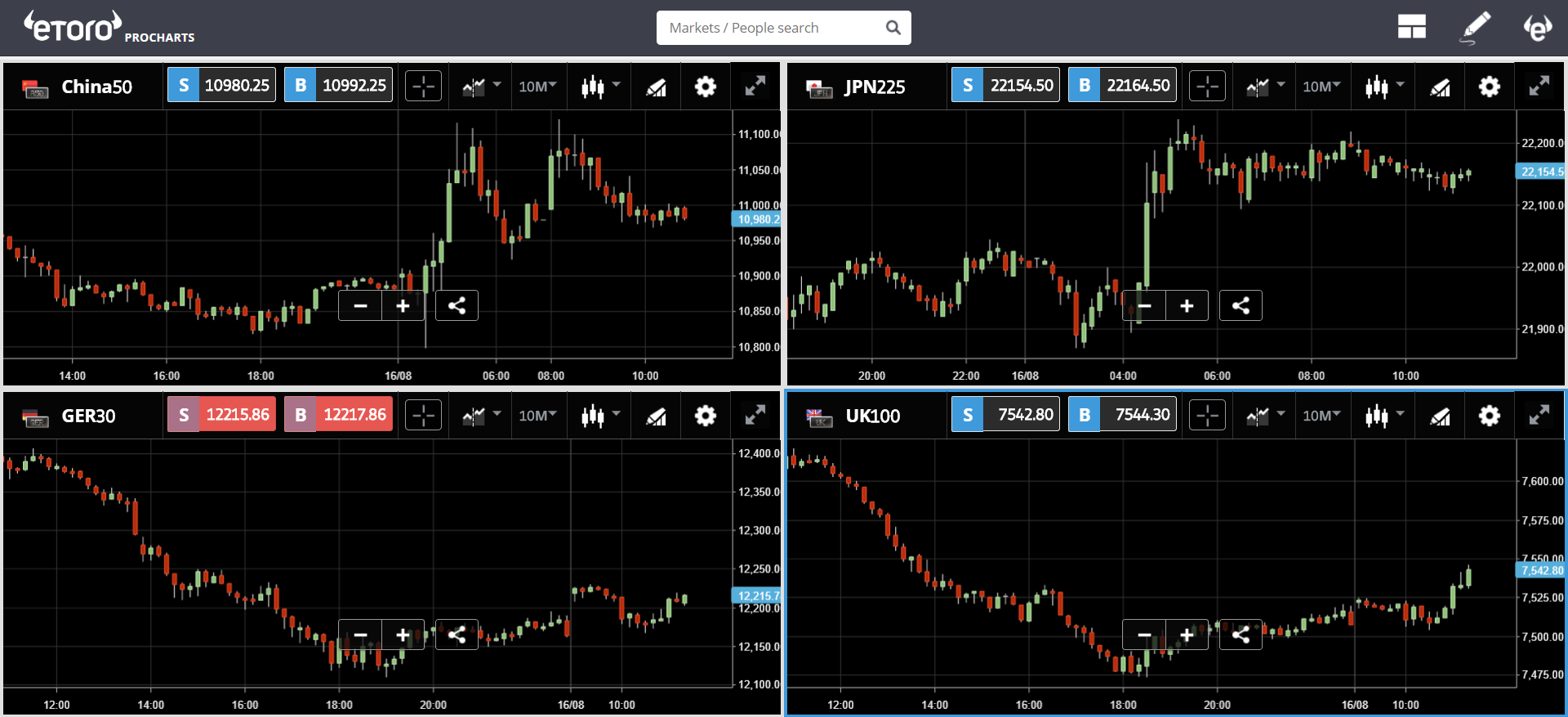 Dollar Pullback
Along with this positive risk sentiment, we do see some much-needed signs of weakness from the Greenback.
Most of the Emerging Markets currencies that we saw falling apart at the beginning of the week are now fighting back hard.
Here we can see the USD falling today against the Lira, Rand, and the Peso…
Even though the precious metals did continue to get hammered throughout the day yesterday and most of last night, they do seem to be rebounding this morning.
Crypto Fighting Too
Not to be left out, the crypto market also seems to have found relief in the Dollar's pullback.
The markets are now seeing some much-needed calm after the declines of the past two weeks, which seems to have culminated with Tuesday's plunge.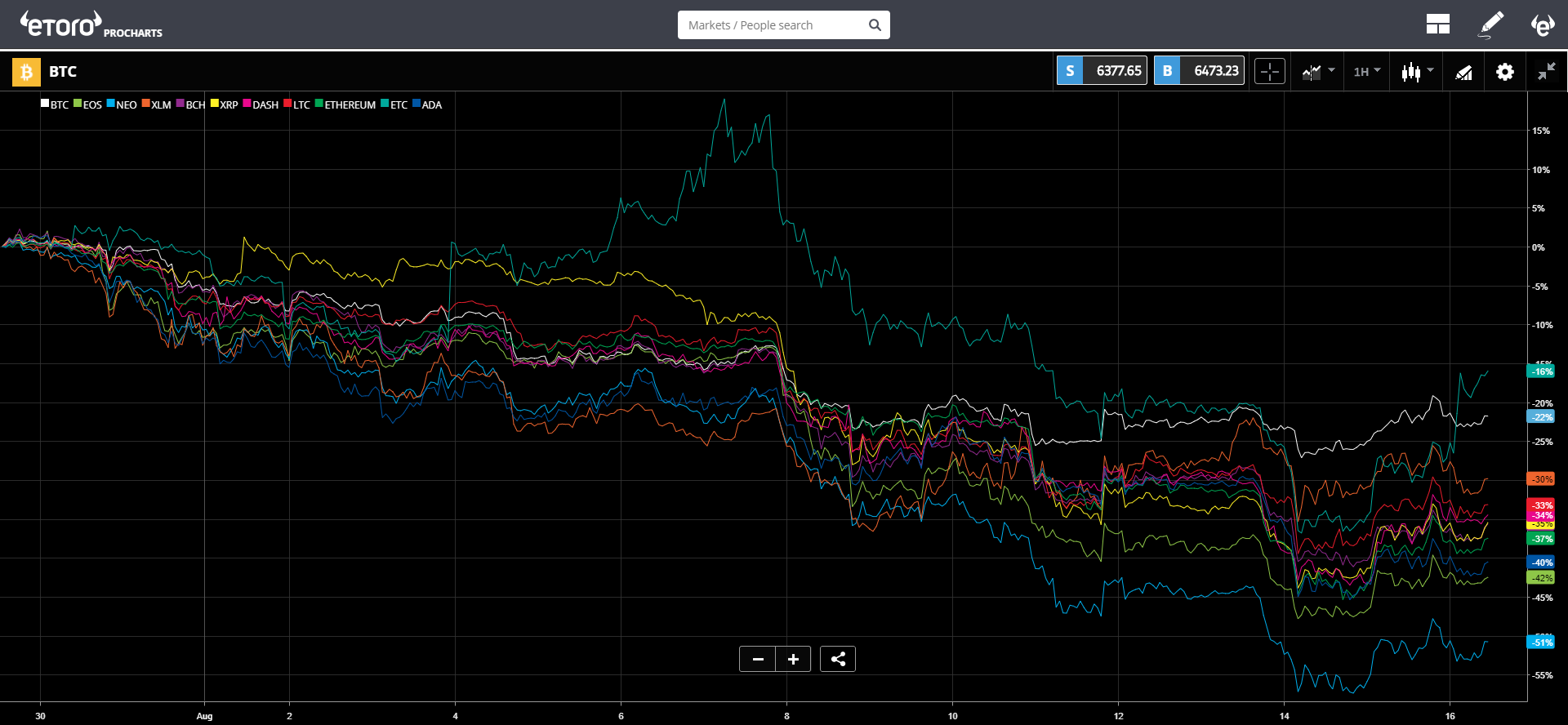 Let's have an excellent day ahead!
This content is provided for information and educational purposes only and should not be considered to be investment advice or recommendation.
The outlook presented is a personal opinion of the analyst and does not represent an official position of eToro.
Past performance is not an indication of future results. All trading involves risk; only risk capital you are prepared to lose.
Cryptocurrencies can widely fluctuate in prices and are not appropriate for all investors. Trading cryptocurrencies is not supervised by any EU regulatory framework.
About the Author: Mati Greenspan is a Senior Market Analyst at eToro
Connect with Mati on….
eToro: http://etoro.tw/Mati | Twitter: https://twitter.com/matigreenspan | LinkedIn: https://www.linkedin.com/in/matisyahu/ | Telegram: https://t.me/MatiGreenspan | Office Phone: +44-203-1500308 (ext:311)
Disclaimer: The opinions expressed in this article do not represent the views of NewsBTC 
or any of its team members. NewsBTC is neither responsible nor liable for the accuracy of 
any of the information supplied in Sponsored Stories/Press Releases such as this one.