Hi Everyone,
Who knew mining cryptocurrencies could be a crime?
Well, I suppose when you're doing it from someone else's computer, it is probably illegal. In a landmark case, the country of Japan has sent a hacker to prison for doing just that.
Allegedly, the hacker uploaded a patch to his blog site that was supposed to help people cheat at an online game. The unsuspecting cheaters would download the patch only to have their computer's resources repurposed to mine crypto.
Should gamers wish to use their PCs to mine crypto, there are an increasing number of user-friendly options to do this. The price of gaming PCs has gone up quite significantly due to the popularity of their use in mining cryptos, so if you're already considering purchasing a computer for gaming, you may as well subsidize it with a little side-hustle.
@MatiGreenspan – eToro, Senior Market Analyst
Today's Highlights
Stocks Rebound
Merkal in Hot Water
NEO Fueled Rally
Please note: All data, figures & graphs are valid as of July 3rd. All trading carries risk. Only risk capital you can afford to lose.
Traditional Markets
Risk appetite seems to be back in the markets this morning. Stocks are making a bit of a recovery… just in time too.
The Dow Jones had been trading below its 200-day moving average (blue line) for several days and threatened to raise some alarm bells if it fell below the 24,000 level (yellow dotted line)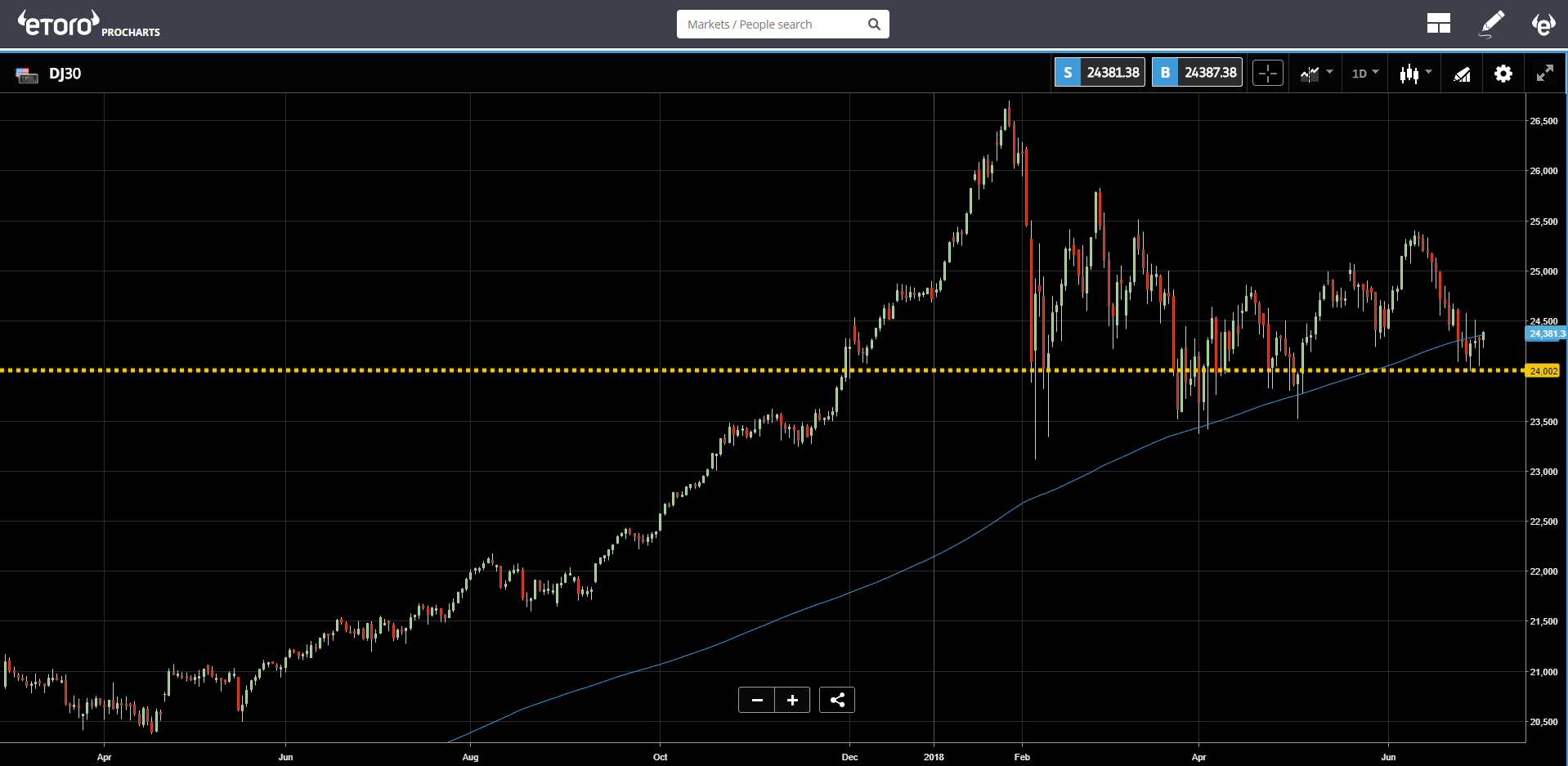 The stock situation in China, on the other hand, has already crossed the line. In this graph, we can see that the China50 (blue) has been underperforming compared to the rest of the global stock markets lately.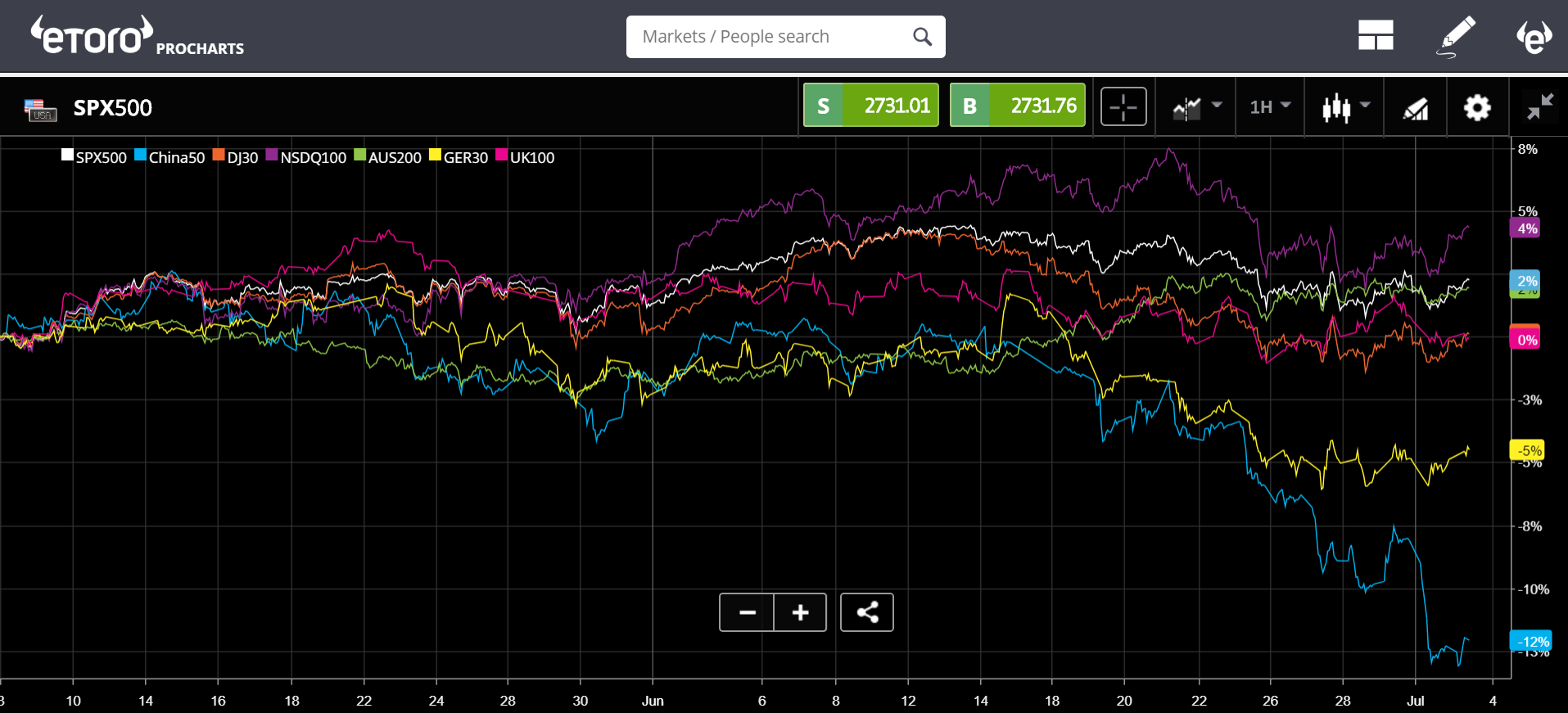 Sister Currencies
In line with this newfound risk-on sentiment, the US Dollar is giving up some ground, especially against the Euro and the Pound. As we've discussed in previous updates, the fate of these two currencies has been bound tightly together over the last year or so.
In these two graphs, we can see the sister currencies losing ground against the buck since mid-April. It seems that we are at a pivotal point now.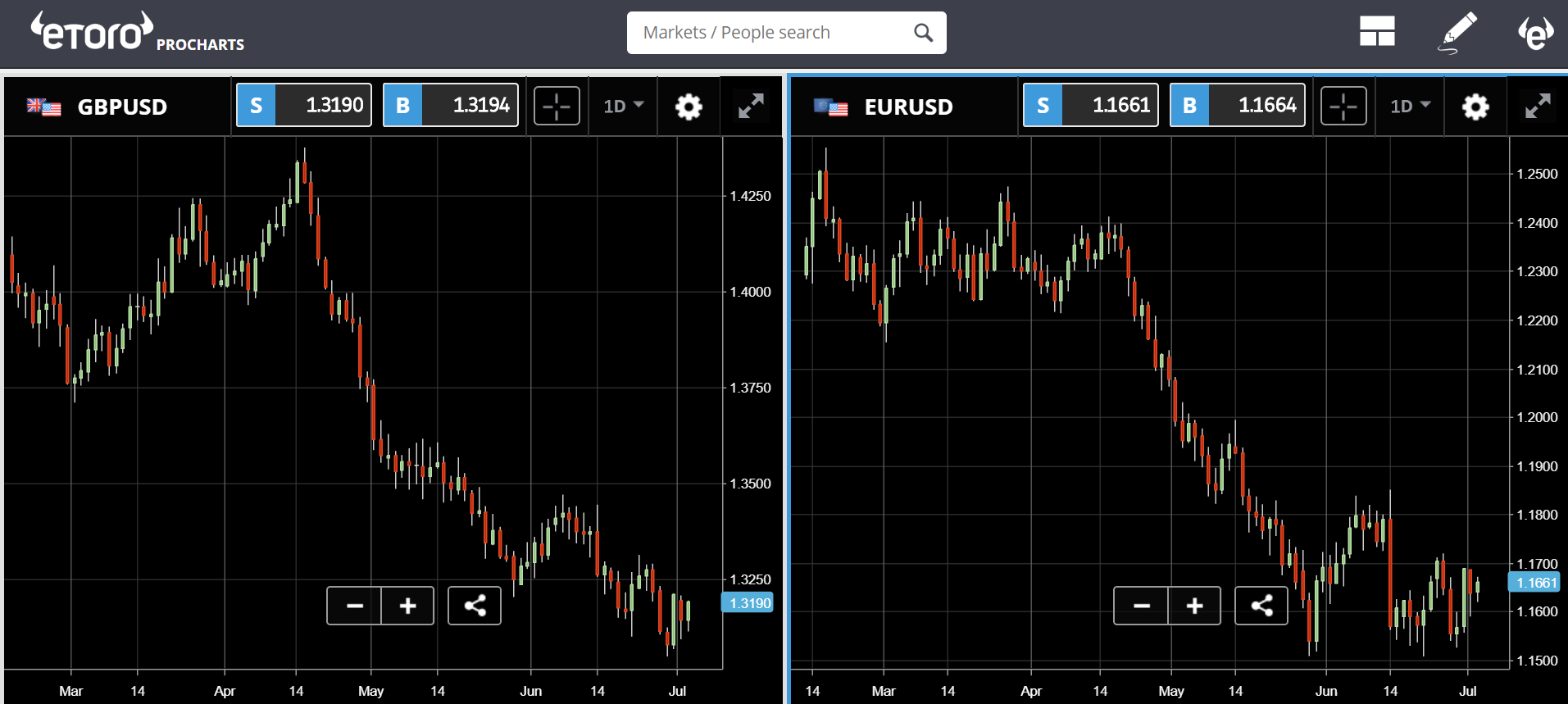 Theresa May has been having a lot of closed-door meetings lately with members of Parliament and is reportedly working on some sort of Brexit deal that will please everyone. If she is indeed successful in this endeavor, it could serve both currencies well.
What Caused Yesterday's Crypto Rally?
Though many have attributed the recent crypto comeback to a new institutional service by Coinbase. As we know, markets don't move on news. They move on volumes. So let's take a closer look…
The surge yesterday happened from 16:15 to 16:25 local time, just before the opening bell on Wall Street. According to data from cryptocompare, there was a spike in USD volumes at the exact time of the surge…
Even though the spike in volumes from Japan was notably larger, it seems that the Japanese volumes actually peaked a few minutes later.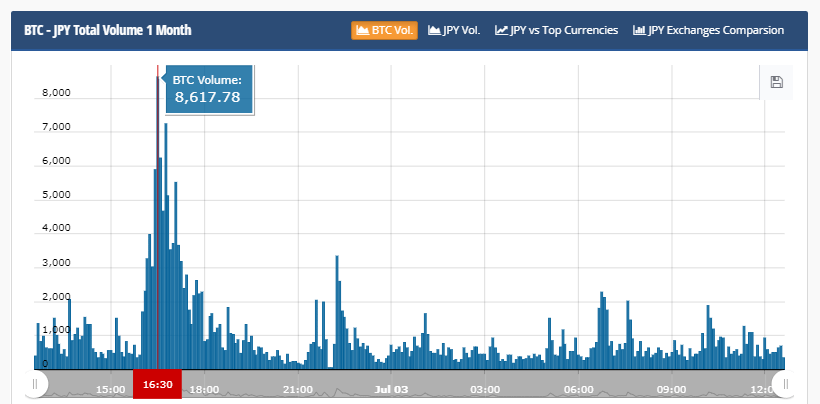 Here we can see the comparative volumes at the time of the surge marked with a black meter at the top. Notice also the mini chart at the bottom showing the entire markets volumes exploding at the time.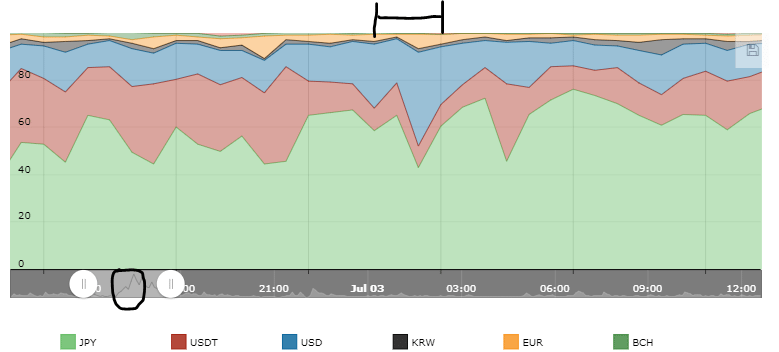 Though the news from Coinbase was timed pretty well with the 5% rise in bitcoin, it's not clear how much volume was actually created from this new service, how much around the news of the new service, and how much was simply a well-timed coincidence.
NEO is Ahead of the Curve
No matter what caused the spike in prices yesterday one thing is clear. NEO was way ahead of this movement.
Here we can see all of the 11 cryptos traded on eToro. The green line is NEO. Notice how it was rising steadily the entire morning and then when the surge happened, NEO exploded.
Let's have an amazing day ahead!
This content is provided for information and educational purposes only and should not be considered to be investment advice or recommendation.
The outlook presented is a personal opinion of the analyst and does not represent an official position of eToro.
Past performance is not an indication of future results. All trading involves risk; only risk capital you are prepared to lose.
Cryptocurrencies can widely fluctuate in prices and are not appropriate for all investors. Trading cryptocurrencies is not supervised by any EU regulatory framework.
About the Author: Mati Greenspan is a Senior Market Analyst at eToro
Connect with Mati on….
eToro: http://etoro.tw/Mati | Twitter: https://twitter.com/matigreenspan | LinkedIn: https://www.linkedin.com/in/matisyahu/ | Telegram: https://t.me/MatiGreenspan | Office Phone: +44-203-1500308 (ext:311)
Disclaimer: The opinions expressed in this article do not represent the views of NewsBTC 
or any of its team members. NewsBTC is neither responsible nor liable for the accuracy of 
any of the information supplied in Sponsored Stories/Press Releases such as this one.