Hi Everyone,
As crypto progresses further into the mainstream, one of the greatest regions for potential growth is the United States, which is why it's so important for US authorities to get the regulation right.
Given the current regulatory framework, that's been working well for decades already, there are a few challenges when introducing a new form of assets such as crypto, which basically represent programmable money and have such a wide array of versatile applications.
Much of the stuff we've discussed here focuses on SEC (Securities and Exchange Commission) but another regulatory body opened up to the crypto community yesterday, the CFTC (Commodity Futures Trading Commission).
On an interview yesterday with BlockTV, the newest commissioner of the CFTC, Dan Berkovitz discussed the interactive process of regulating blockchains as well as some of the advantages that blockchain brings to regulators.
VanEck has been comparing crypto regulation to a baseball game, where you don't necessarily need to hit a home run, but rather a steady stream of small gains can end up winning the game.
@MatiGreenspan – eToro, Senior Market Analyst
Due to local holidays, there will be no daily update tomorrow. We will resume on Friday the 22nd.
Today's Highlights
BMW & FedEx
It's Fed Day
Alt Season Continues
Please note: All data, figures & graphs are valid as of March 20th. All trading carries risk. Only risk capital you can afford to lose.
Traditional Markets
Markets struggled through the Asian session this morning. Following some sour profit forecasts from BMW and FedEx, it seems the European session is decidedly down.
The woes of both companies are significantly tied to the current developing global trade war. FedEx mentioned the global slowdown as their number one reason for disappointing numbers, while BMW spoke more broadly but did name Brexit as a major factor of uncertainty.
Many stock indices have given back yesterday's gains, with interest.
Still, these are short term charts, and you can't have a great day every day. Long term trends remain unclear for the stock market. Many analysts believe that we're near the end of the cycle but others feel there's still room to grow. It might be prudent for now to remain selective.
Fed Up
At 1:00 PM on Wall Street the US Federal Reserve will release their economic projections, a written statement, and their interest rate decision. 30 minutes later, we'll get a press conference with Fed Chairman Jerome Powell.
As we've been discussing, the Fed is the largest player in the global financial markets and their policy, and policy shifts, have arguably been the largest factor moving everything from stocks, commodities, bonds, forex, and possibly even crypto.
For those of you who are new, I'll sum up the last decade of Fed policy in three sentences…
From 2009 to 2017 the Fed supported markets. When they withdrew that support in 2018, the markets started to fall. Due to the markets falling, they decided to support the markets again early this year.
Now that they're on the supportive side again, stocks are somewhat stable. The current strategy they've been emphasizing lately can be summed up in one word…
Patience
Therefore, we can probably expect the most important part of their event today to be the Economic Projections. If the economy is improving at a faster rate than they're ready for, it might force them off their patient position. Not likely, but it is a possibility that traders should be prepared for.
Alt Season Continues
The top cryptos have mostly been stable over the last week but there has been rapid fluctuation among many of the lower cap coins.
Over the last 24 hours, there have been dozens of altcoins with massive gains and massive losses. Some of the top gainers have seen more than 200% returns and some of the losers are down more than 90%. Most of these coins, I've never heard of before.
When coins have a smaller market cap, it takes less money movement to have a significant impact on their price. Given that global exchange volumes are holding above $30 billion per day, about triple what they were in mid-December, it makes sense that we're seeing these type of fluctuations.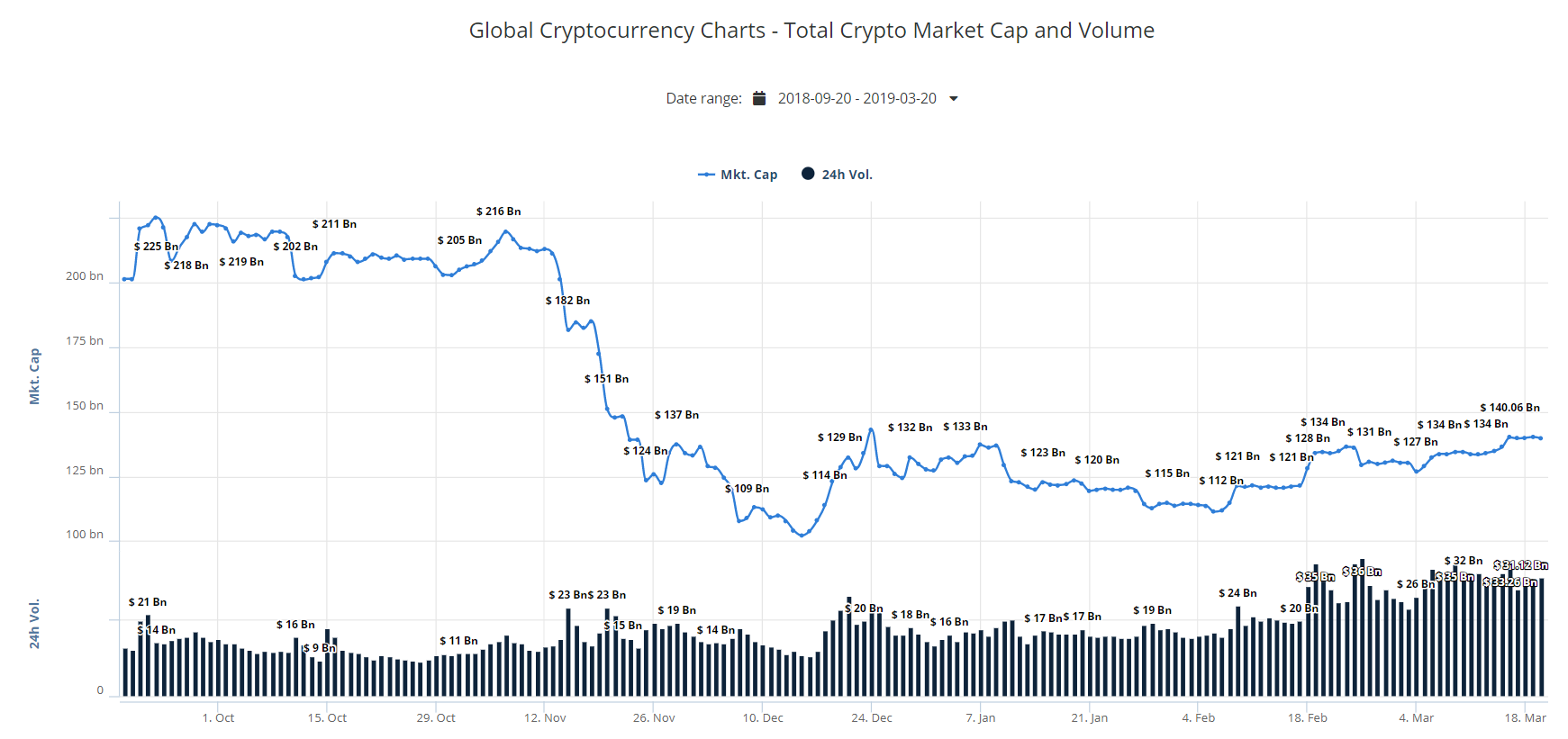 The large-cap coins are being influenced as well, but the impact is a bit tamer. Yesterday's Altseason winner was Cardano, which rose 7.5% in less than three hours. Not a monstrous move in the crypto world, but still a pretty significant move.
Wishing you an awesome day ahead!
About the Author: Mati Greenspan is a Senior Market Analyst at eToro

Connect with Mati on….

eToro: http://etoro.tw/Mati
Twitter: https://twitter.com/matigreenspan
LinkedIn: https://www.linkedin.com/in/matisyahu/
Telegram: https://t.me/MatiGreenspan
Office Phone: +44-203-1500308 (ext:311)


Disclaimer: The opinions expressed in this article do not represent the views of NewsBTC 
or any of its team members. NewsBTC is neither responsible nor liable for the accuracy of 
any of the information supplied in Sponsored Stories/Press Releases such as this one.