Hi Everyone,
According to a recent article from crypto news site The Block, Bakkt, the largest project to bring crypto to Wall Street, is now valued at $740 million.
That's a lot of money for a company that's yet to onboard a single customer.
Bakkt originally intended to launch in December but has since seen several delays, largely due to regulatory concerns. The Wall Street Journal is now reporting that talks with the CFTC have stalled. In the video we posted in yesterday's update with CFTC Chairman Dan Berkovitz, it did seem like this is a priority for them.
In a tweet on Tuesday, Bakkt was trying to outline some of their advantages but the way they phrased the tweet drew heavy fire…

Responses to the ratioed tweet did seem to display frustration with the delays but also, it seems to me that as soon as they do manage to get the door open, there are high hopes for this service to succeed both from the crypto community and, as can be clearly seen by the price tag, by some of Wall Street's incumbent financial firms.
@MatiGreenspan – eToro, Senior Market Analyst
Today's Highlights
New Date for Brexit
What the Fed Said
New Data confirms altseason
Please note: All data, figures & graphs are valid as of March 22nd. All trading carries risk. Only risk capital you can afford to lose.
Traditional Markets
This morning European leaders this morning gave the UK a short extension to figure things out. The deadline of March 29th, which is next Friday, has now been moved two weeks back to April 12th.
Some pundits are pointing out that this is a classic case of the European Union kicking the can down the road. Overall, not much has changed. Theresa May might have another chance to pass her deal through the UK Parliament. The same deal that has already been denied twice by a wide margin.
The British Pound remains volatile as global stock indexes are registering declines this morning, especially in Europe where services and manufacturing PMI data has come out much weaker than forecast.

The purple rectangle on the chart below shows the impact of the above data. It seems to be the German manufacturing numbers that caused the biggest drop.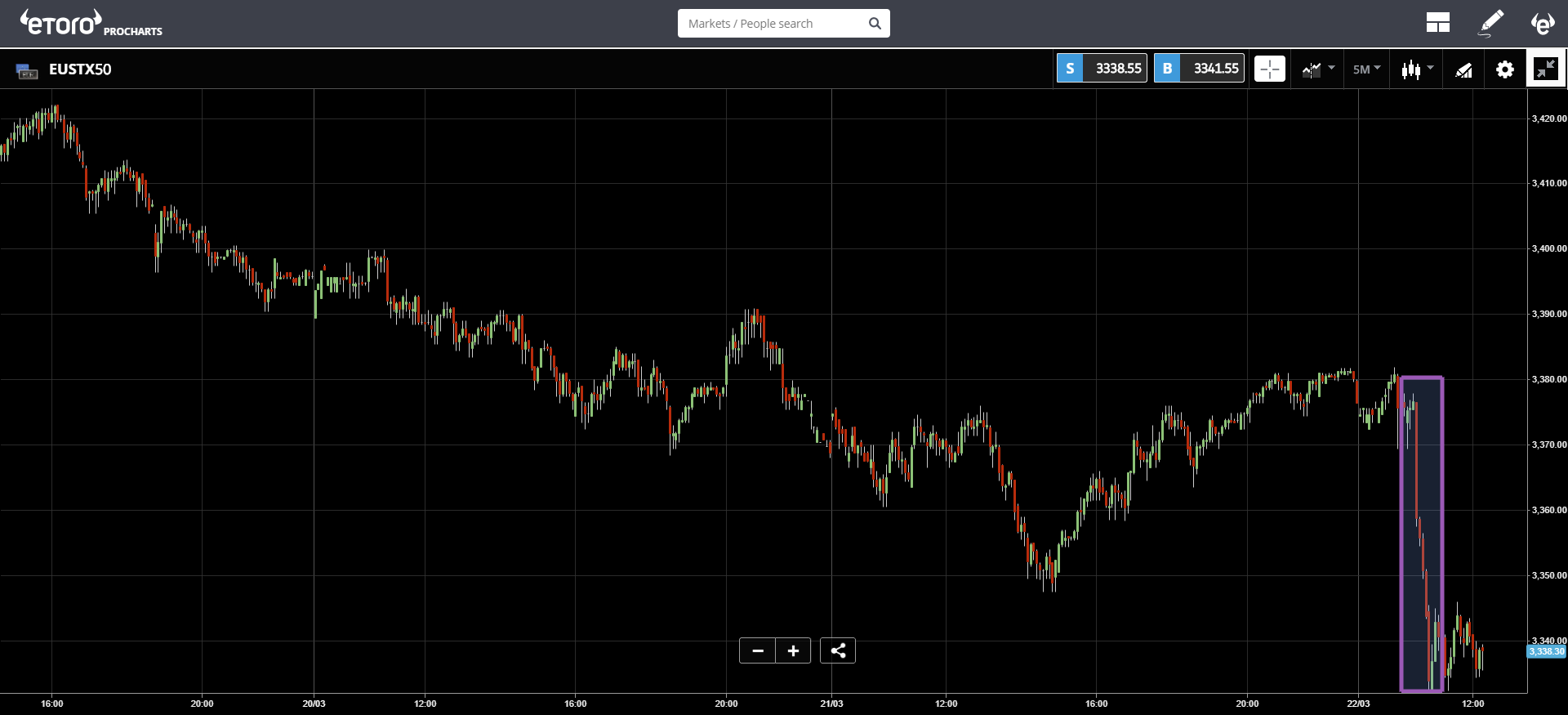 The European session's declines also come in spite of apparent optimism from New York, where Apple led the market higher. It will be interesting to see how we end the week.
No New Rate Hikes
The Fed meeting on Wednesday was a lot more eventful than anticipated and seemed to send to mixed signals to the market. Though many were expecting the Fed to maintain their 'patience policy' it seems they've gone even further down the road of monetary easing than expected. Here we can see the highlights…
The initial reaction (purple circle) was for the US Dollar to fall. Fewer rate hikes, means less money flowing into the Greenback. As you can see though, this dynamic has completely reversed itself this morning.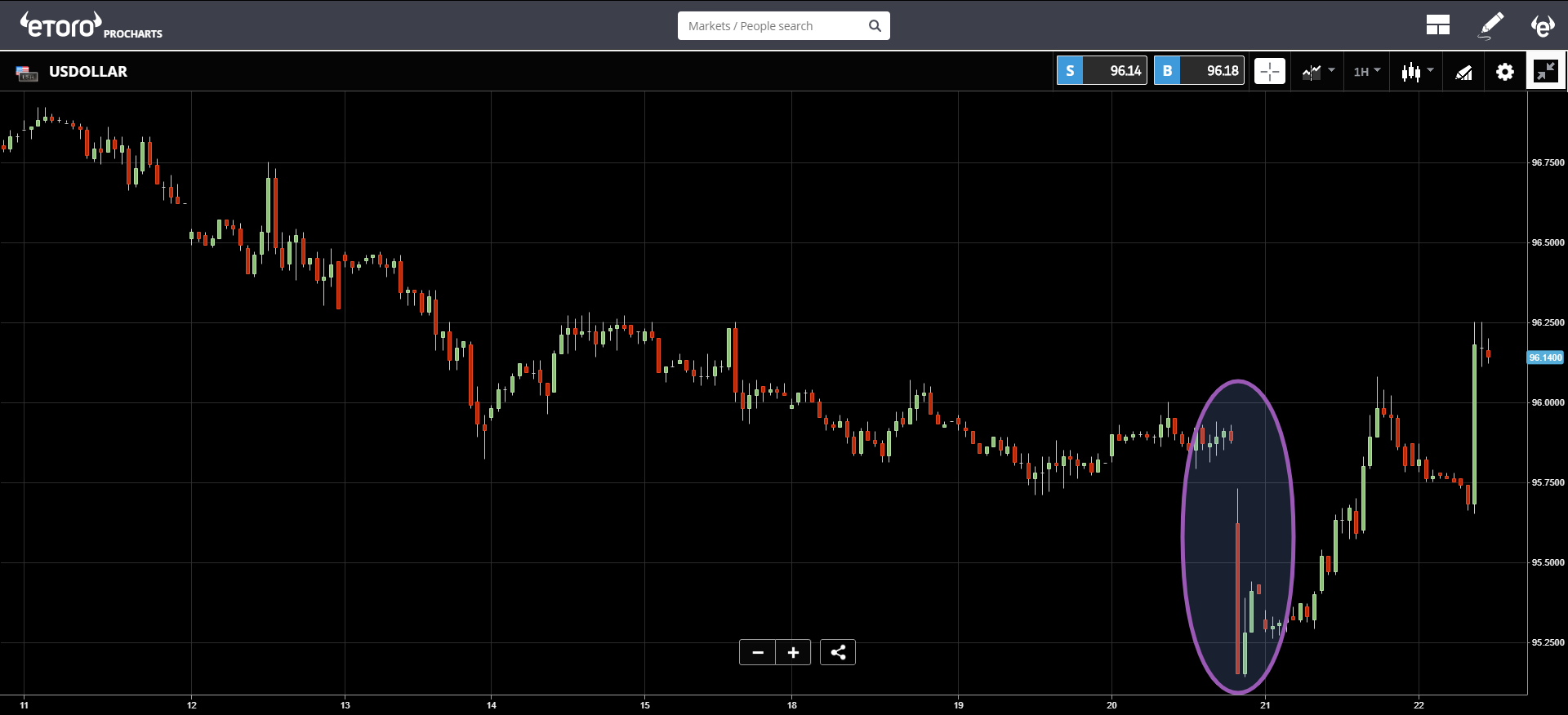 The Dollar's strength today seems to be affecting everything from stocks to crude oil, but the emerging markets currencies are seeing the biggest impact.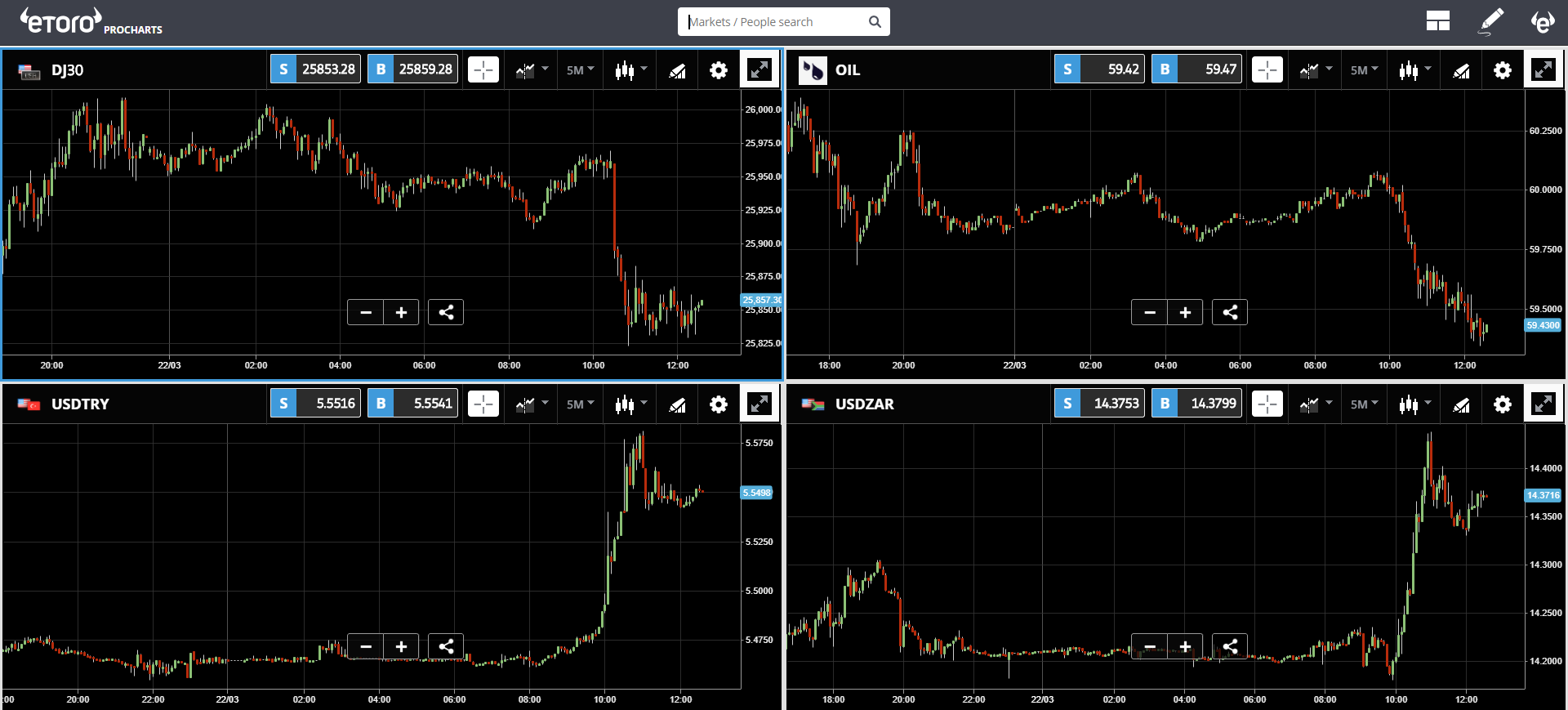 Many are taking the Fed's new stance as a sign that weaker times may be ahead for the global economy.
Altseason is Upon Us
As we've been discussing for several weeks now, the crypto market is currently in the throes of altseason.
This is a necessary process where a lot of the shitcoins and garbage ICOs of 2017 are losing their value as investors dump them for tokens with greater potential.
It's important to remember that just because a particular project is doing well during this altseason, this is not necessarily an indication of long term viability. Always make sure to do your own research before investing. Keep a diversified portfolio.
If you're unsure of how to test a particular blockchain project, you can also check out our Crypto CopyPortfolio, which invests in all the cryptos on the eToro platform and rebalances on a monthly basis according to market share.
In any case, some interesting data was published earlier this week that seems to confirm that altseason is on. The monthly report from CryptoCompare known as CCCAGG contains a graph showing that volumes of crypto to crypto exchanges rose by 20% in February, while the fiat to crypto exchanges remained stagnant.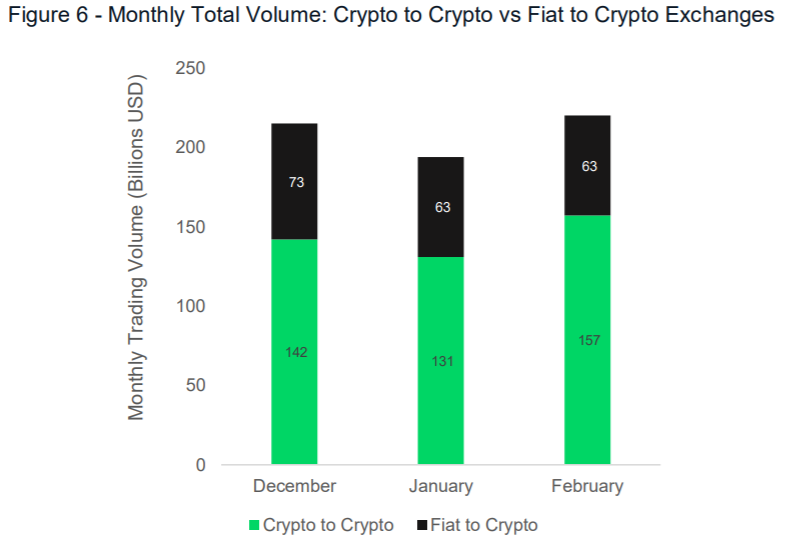 Given that the spike in global exchange volumes happened in late February, this is right in line with what we've been saying. Further to that, another excellent indication of the current market conditions comes directly from the price action.
Here we can see that there was a noticeable dip across the entire crypto market yesterday. Three coins: Cardano, Ethereum Classic, and IOTA have already managed to shake off that move and are up today.
We can't go from winter to summer in a few days, probably not even in a few weeks. Spring is generally a time of volatility where hot and cold often surprise us. Though Bitcoin has yet to snap the bear market, I do believe that crypto winter is now over and we are entering spring, right in line with the earth's rotations.
Have a fantastic weekend!
About the Author: Mati Greenspan is a Senior Market Analyst at eToro

Connect with Mati on….

eToro: http://etoro.tw/Mati
Twitter: https://twitter.com/matigreenspan
LinkedIn: https://www.linkedin.com/in/matisyahu/
Telegram: https://t.me/MatiGreenspan
Office Phone: +44-203-1500308 (ext:311)


Disclaimer: The opinions expressed in this article do not represent the views of NewsBTC 
or any of its team members. NewsBTC is neither responsible nor liable for the accuracy of 
any of the information supplied in Sponsored Stories/Press Releases such as this one.