Hi Everyone,
Yet another indication of a global slowdown came in yesterday. The Organization for Economic Cooperation and Development, better known as the OECD has slashed its forecasts for global growth even more drastically than the IMF.
The Paris based institution has reduced its outlook for global GDP by two notches from 3.5% to 3.3%.
While markets are optimistic about possible upcoming trade deals between China and the US, the US and Europe, and the outcome of Brexit, the impact of these existing situations is already smothering the world's economy. Not to mention if any of those risks should materialize.
We hope that these tensions are resolved in the next couple of months but remain cautious in case they are not.
@MatiGreenspan – eToro, Senior Market Analyst
Today's Highlights
ECB Day!
In-depth view of Litecoin
Please note: All data, figures & graphs are valid as of March 7th. All trading carries risk. Only risk capital you can afford to lose.
Traditional Markets
Today, the European Central Bank (ECB) will deliver their interest rate decision followed by a press conference with their Governor Mario Draghi.
There are a slew of central bank announcements this month and the ECB is the first major one. After completely ending their QE program at the start of the year, investors want to know if and when they plan to start raising interest rates.
Given the recent capitulation from the US Fed and the rising risk of a no-deal Brexit, we can probably expect Super Mario to echo Powell's tone of 'patience' and possibly add the word 'caution'. Both of which markets tend to adore because it means more support in the short term.
As Draghi takes the stage at 1:30 PM GMT, our eyes will be on the EURUSD, which has been building itself a meaningful level of support at 1.1250. A break of which could very well lead to a strong Dollar swing throughout the markets.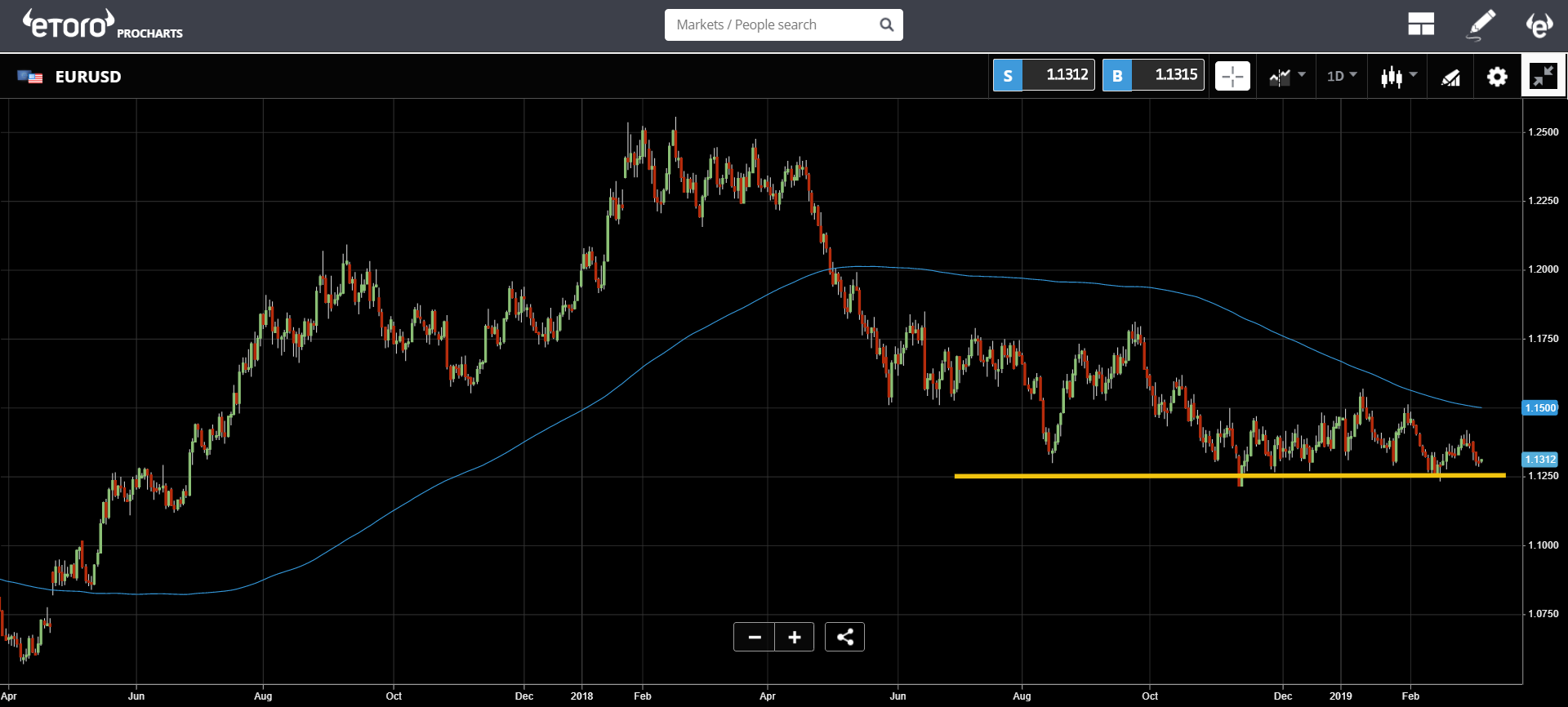 In-depth view on Litecoin
Following a recent argument with one of my favorite trolls, I decided to do a little bit more digging into Litecoin and how people are using it.
This graph shows the number of transactions on the Litecoin blockchain, which has remained remarkably stable at 20k transactions per day (TPD) since last April.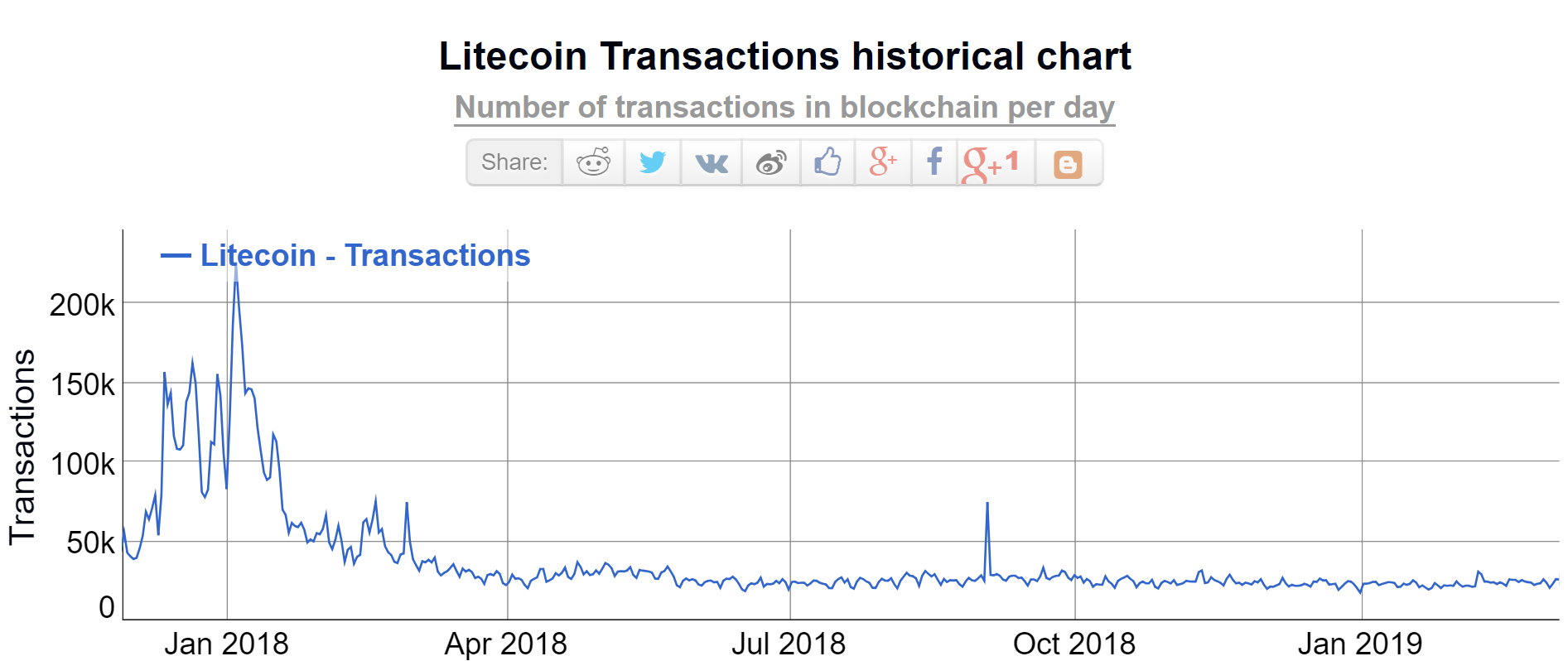 My claim that this shows a minimum level of real-world usage and possibly a bottom in the market was quickly refuted by my friend Udi, who argued that approximately 100% of $LTC transactions are due to speculation.
Now, I'm pretty sure this is not true. Firstly, because I've done a full in-depth research on Litecoin. Secondly, because I've personally bought things irl with Litecoin and have witnessed others paying with Litecoin.
So, I decided to look into it further and see if we can get some numbers. To start, I posted this poll urging only Litecoin people to respond…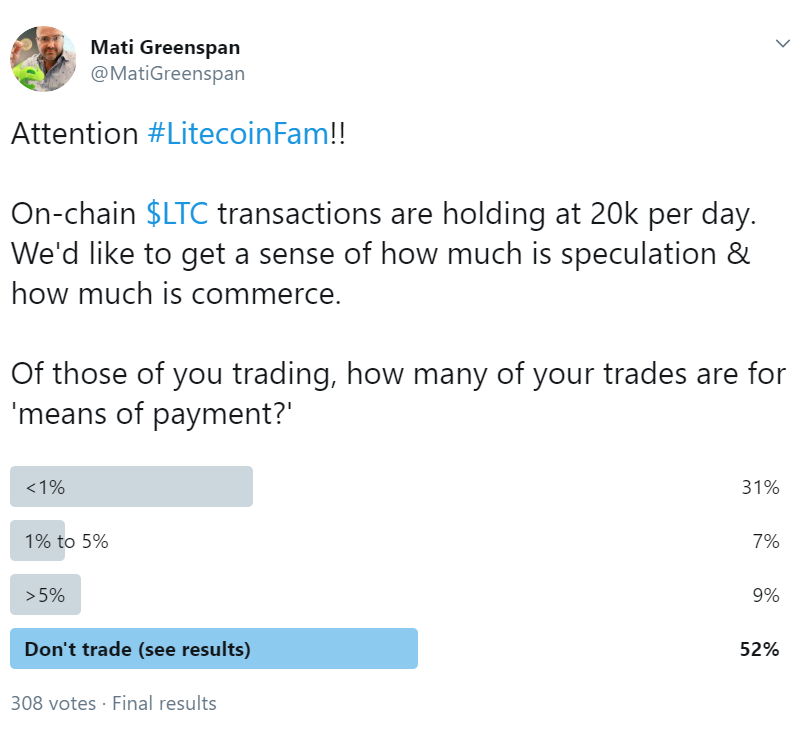 Now, admittedly the sample is pretty small and of the 308 responses, we need to immediately discount 160 (52%). Of the remaining 148 people, about 69 people seem to be using it purely for speculation, while 49 people are also using it as a means of payment.
Still, these numbers aren't exactly concrete. So, I reached out to a few payment processing companies that deal with Litecoin. Of three main companies one of them was willing to give me usable stats. CoinGate.com claims that they are processing about 1,200 to 1,400 transactions a month in Litecoin. At best this is about 0.25% of the total TPD.
One person pointed out a unique use-case for Litecoin, feeding chickens!!
It seems someone actually jerry-rigged their coup to feed their brood with crypto payments sent from strangers. This innovation of unique crypto Internet entertainment seems to be accounting for between 3 and 30 TPD.
Still, the number one real-world usage of Litecoin it seems is as a settlement method for cryptotraders. For people who often send money from exchange to exchange to private wallets, it's much cheaper and faster to do this with Litecoin than it is with Bitcoin.
This is why it indeed deserves the title "digital silver" and with the upcoming halving event in early August, which is likely why it's been outperforming the rest of the crypto markets lately.
The only coin that's been doing better than LTC is Binance Coin, which has just overtaken Tether for the number 7 spot by market cap and currently nipping at the heels of Bitcoin Cash.
Wishing you an excellent day ahead!
About the Author: Mati Greenspan is a Senior Market Analyst at eToro

Connect with Mati on….

eToro: http://etoro.tw/Mati
Twitter: https://twitter.com/matigreenspan
LinkedIn: https://www.linkedin.com/in/matisyahu/
Telegram: https://t.me/MatiGreenspan
Office Phone: +44-203-1500308 (ext:311)


Disclaimer: The opinions expressed in this article do not represent the views of NewsBTC 
or any of its team members. NewsBTC is neither responsible nor liable for the accuracy of 
any of the information supplied in Sponsored Stories/Press Releases such as this one.

Image: Pixabay