Hi Everybody,
It's not the first time that Venezuelan President Nicolas Maduro has restructured the Venezuelan economy but it might be the most significant update so far.
With the economic crisis in Venezuela reaching levels that some are calling a humanitarian disaster, and inflation projected to reach 1,000,000% by the end of the year, President Nicolas Maduro is now turning to crypto to try and stabilize the situation.
This announcement might not be getting enough attention in the mainstream media but it certainly is turning a few heads in the crypto space.

Because the Venezuelan national cryptocurrency, known as the Petro, is pegged to the price of oil, the government's hope is that it will provide a backstop to the new version of their currency, the Sovereign Bolivar.
The old Bolivar was a bit complex because it carried an official exchange rate of 10 Bolivar's to the Dollar, whereas the actual rate on the street was more like six to eight million Bolivars to the Dollar.
Several reports have indicated that the new structure represents a massive devaluation of the Bolivar. However, those headlines might be misleading.
As each Petro is supposed to be pegged to a barrel of oil, one Petro should be worth about $60, so the new minimum wage of half a Petro a month is about 3000 times the current minimum wage, which is about $1 per month.
The main problem with this plan is that we still have no way of verifying that each Petro represents one barrel of oil. Should the Venezuelan Government wish to provide this level of transparency, it would be rather simple using the Ethereum blockchain. But alas, Maduro chose to use the less transparent NEM network for the Petro and therefore we have no choice but to hang on his two words that were prevalent in his Friday night announcement…
"Trust Me"
@MatiGreenspan – eToro, Senior Market Analyst
Today's Highlights
Don't Skip This Part
Fed Meeting Incoming
Brand new Crypto
Please note: All data, figures & graphs are valid as of August 20th. All trading carries risk. Only risk capital you can afford to lose.
Traditional Markets (Don't Skip this Part)
Sure, most of you are probably reading these daily market updates strictly for the crypto part. However, it is my strict belief that it is impossible to understand the economics of cryptocurrencies without understanding the traditional markets that provide the backdrop.
For example, last week we saw some rather unusual drama surrounding Turkey, which did seem to spill over into other markets, including cryptocurrencies.
In this graph below we can see the Turkish Lira (red) starting to slide on August 9th. If was soon followed by the Dow Jones (Green), which opened with a gap down on Friday the 10th. Then you can see Ethereum (purple) plunging on Saturday and gold (yellow) marking new lows by Wednesday the 15th.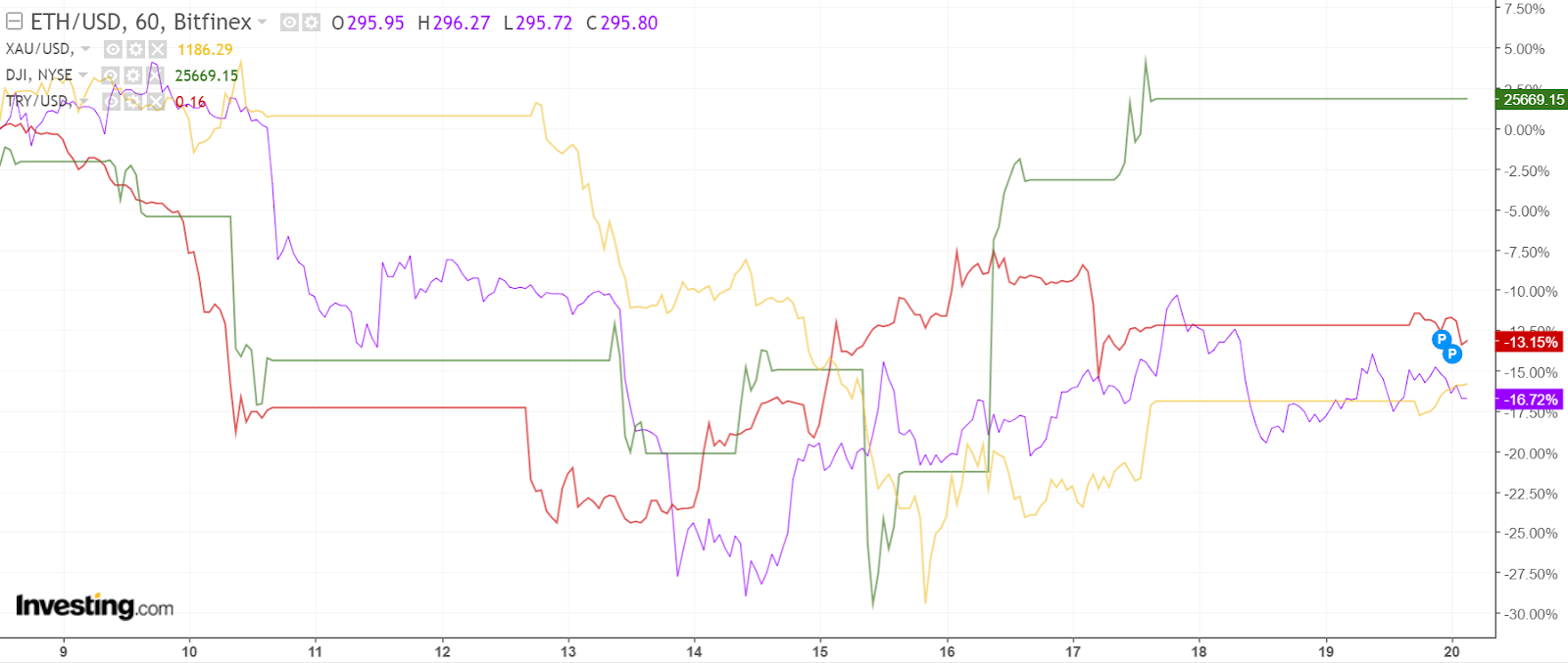 Now, normally a crisis in Turkey shouldn't have much of an effect on any of these other markets. However, due to the severity of the slide and the sudden nature, it seems that it did catch many traders off-guard.
However, we can see that on Friday the 17th, the Lira took another sudden dive, this time the other markets were more prepared and therefore unaffected.
This morning, the stocks seem to be doing well and yet crypto-assets are struggling, and emerging market currencies still haven't taken much of a direction. This as the US Dollar has begun the week on a stronger foot ahead of an important Fed meeting that will take place on Thursday and Friday.
Brand New Crypto
eToro is pleased to announce that we've added our 12th digital asset to the number one social investment app.
You can now find IOTA among the 2000+ markets that you can easily add to your eToro investment account. (This is not investment advice)
As always, let me know if you have any questions, feedback, or further insight. I'm always happy to hear it.
This content is provided for information and educational purposes only and should not be considered to be investment advice or recommendation.
The outlook presented is a personal opinion of the analyst and does not represent an official position of eToro.
Past performance is not an indication of future results. All trading involves risk; only risk capital you are prepared to lose.
Cryptocurrencies can widely fluctuate in prices and are not appropriate for all investors. Trading cryptocurrencies is not supervised by any EU regulatory framework.
About the Author: Mati Greenspan is a Senior Market Analyst at eToro
Connect with Mati on….
eToro: http://etoro.tw/Mati | Twitter: https://twitter.com/matigreenspan | LinkedIn: https://www.linkedin.com/in/matisyahu/ | Telegram: https://t.me/MatiGreenspan | Office Phone: +44-203-1500308 (ext:311)
Disclaimer: The opinions expressed in this article do not represent the views of NewsBTC 
or any of its team members. NewsBTC is neither responsible nor liable for the accuracy of 
any of the information supplied in Sponsored Stories/Press Releases such as this one.