Hi Everyone,
Cannabis stocks have been getting incredibly high lately and through the haze, it's not difficult to see why. With the recent push towards legalization of cannabis in the United States and breakthroughs in medicinal marijuana, many are seeing huge potential in this emerging industry.
Now some on Wall Street are asking the question…

For crypto enthusiasts, the answer seems to be no. A poll that I put out on Twitter a few hours ago is showing that many of my followers have a clear opinion on this one.

The great thing is, we don't really have to make a decision on this one. Luckily, the rules of portfolio management are in favor of diversification. So we can take advantage of many different trends at the same time. In fact, the more we diversify the better.
Of course, similar to crypto-assets, when we see this type of volatility and short-term gains, it's probably best to treat these stocks as a high-risk investment and therefore they should probably only be a small part of a well-diversified portfolio.
That said if you are interested to diversify into companies that deal in medicinal marijuana, the eToro @CannabisCare CopyPortfolio is still open for new investors today. The full details on that can be seen here.
@MatiGreenspan – eToro, Senior Market Analyst
Today's Highlights
Fighting Fire with Ice
New Crypto Hack
Ripple in the Market
Please note: All data, figures & graphs are valid as of September 20th. All trading carries risk. Only risk capital you can afford to lose.
Traditional Markets
The Chinese government has seemingly chosen to fight fire with ice.

Yeah, the above headline made me do a double take too.
Yes, China has responded to Trump's latest round of tariffs with some tariffs of their own, but in conjunction, they are reducing tariffs across the board on some products for all of their trading partners including America.
Stocks in Asia and Europe are enjoying the new sentiment as it indicates a greater level of globalization than we've been seeing lately.
Zaif Crypto Hack
Zaif is not safe. The Japanese crypto exchange was just hacked for approximately $60 million worth of BTC, BCH, and something called MonaCoin.

In comparison, the attackers of CoinCheck got away with about $500 million in crypto, and the Mt. Gox hack ended up with losses of around $450 million.
I'm tempted to say that these two price fluctuations were caused by the hack but it does seem that the timing is a bit off.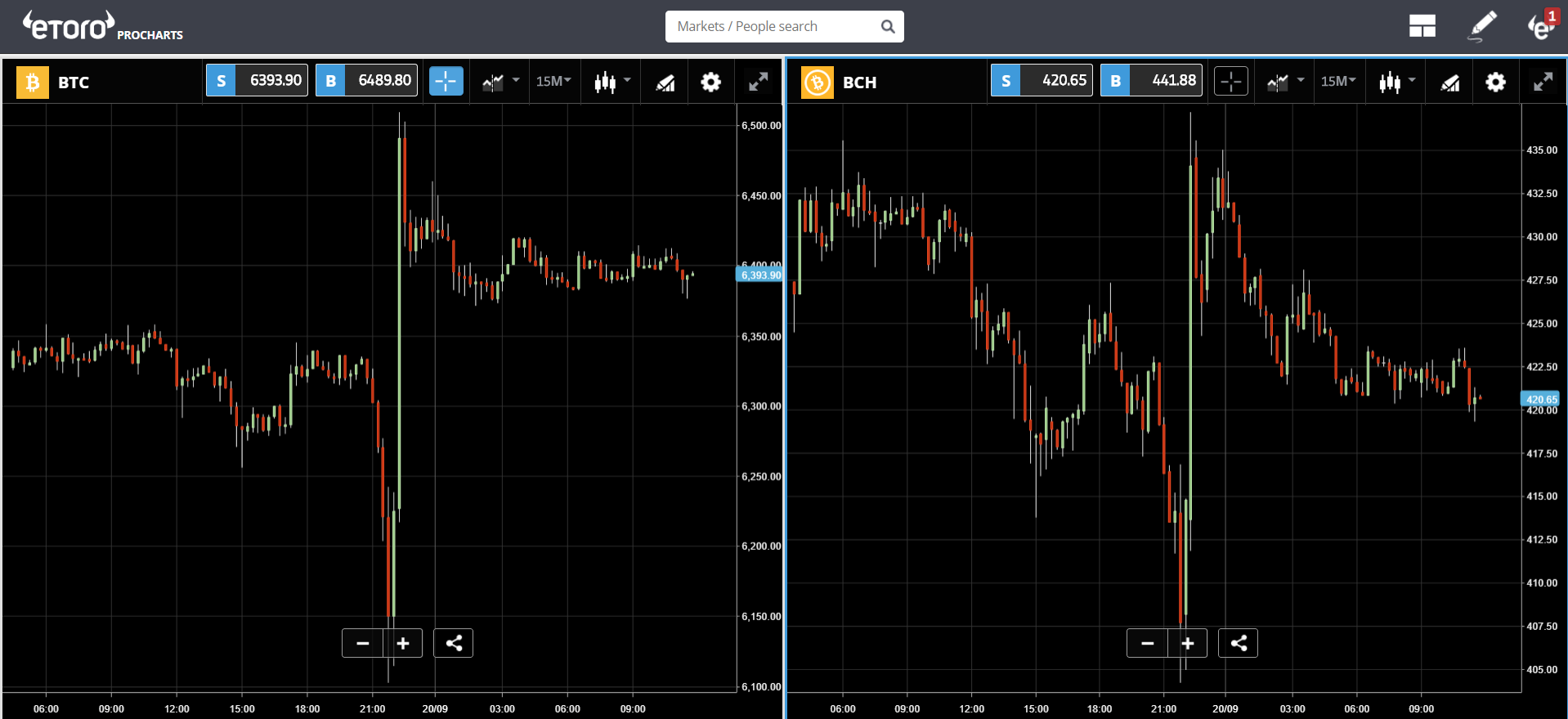 News of the hack began circulating about 12 hours ago (as of the time of this writing) and the volatility of this chart was over about 6 or 7 hours before that.
Even still, we can see that the end result of the above was higher prices. So the conclusion is that the hack hasn't affected the market but what is clear is that Japanese companies should probably be investing more in cybersecurity.
Ripple in the Market
Crypto markets have been remarkably stable over the last few months. Sure, there is some FUD in the market surrounding Ethereum prices and their testing of the $200 mark, but even ETH is up 19% over the last 7 days.
The real winner in the graph below is XRP though. Check the blue line with a sudden breakaway from the rest of the crypto market on Tuesday afternoon.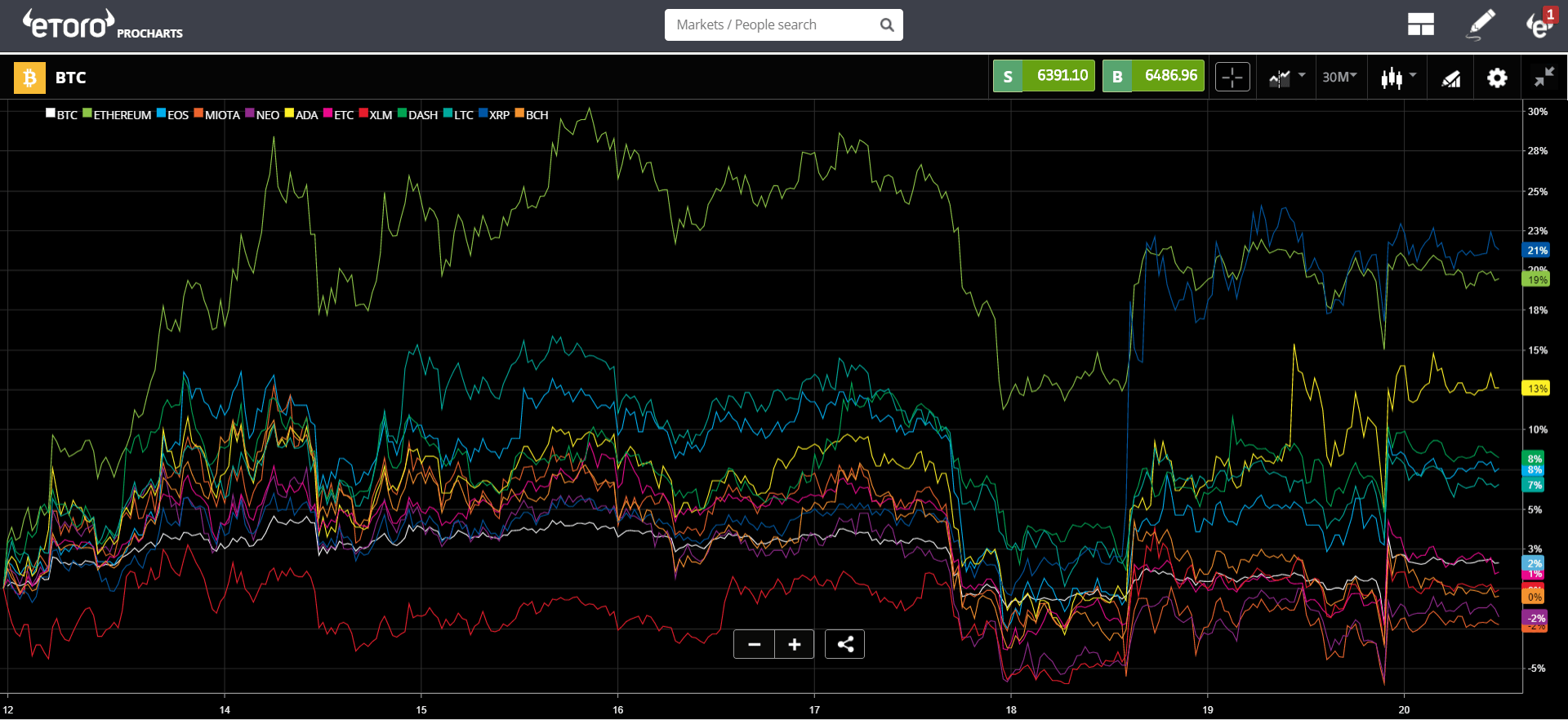 The reason for the spike isn't entirely apparent but the staff at Ripple Labs seem rather excited about it. As with the above story about Zaif, the market seems to be reacting prior to the news.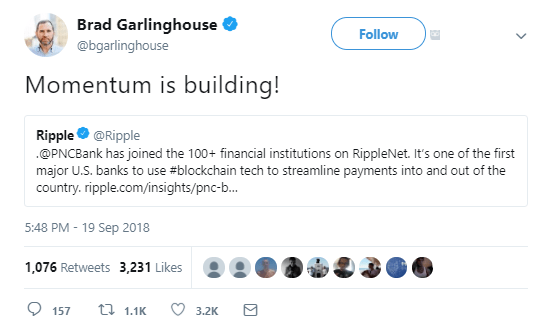 The specific story that Garlinghouse was retweeting was published on Ripple.com on Wednesday.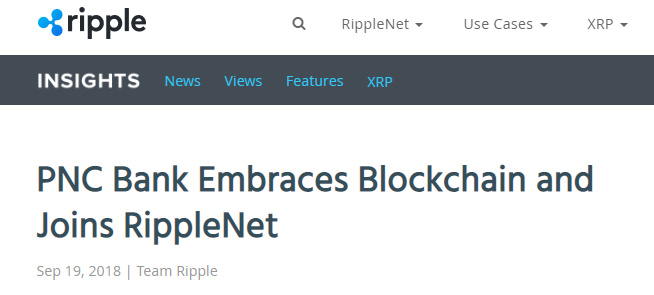 Either way, it is a positive update for the integration of XRP into the US financial system, so the 20% spike actually seems a bit light.
This content is provided for information and educational purposes only and should not be considered to be investment advice or recommendation.
The outlook presented is a personal opinion of the analyst and does not represent an official position of eToro.
Past performance is not an indication of future results. All trading involves risk; only risk capital you are prepared to lose.
Cryptocurrencies can widely fluctuate in prices and are not appropriate for all investors. Trading cryptocurrencies is not supervised by any EU regulatory framework.
About the Author: Mati Greenspan is a Senior Market Analyst at eToro
Connect with Mati on….
eToro: http://etoro.tw/Mati | Twitter: https://twitter.com/matigreenspan | LinkedIn: https://www.linkedin.com/in/matisyahu/ | Telegram: https://t.me/MatiGreenspan | Office Phone: +44-203-1500308 (ext:311)
Disclaimer: The opinions expressed in this article do not represent the views of NewsBTC 
or any of its team members. NewsBTC is neither responsible nor liable for the accuracy of 
any of the information supplied in Sponsored Stories/Press Releases such as this one.