Hi Everyone,
One of the issues with the bitcoin futures markets on Wall Street is the way in which they're disconnected from the markets and actually settled in cash.
Meaning, that investors are simply speculating on the price between a buyer and the seller and, once a month, they settle the difference in cash.
On Wall Street, this hasn't been much of an issue so far because the volumes are fairly low and the players are big enough to withstand them. However, a crypto exchange that's largely directed at retail investors is having an issue that's playing out at the moment.

Apparently, one of the traders amassed a large buy position which was liquidated a few days ago. The contract expiration is happening just as I'm writing this and it seems that some profitable traders could take a hit in the fallout
However, despite anything you may have read elsewhere, it is extremely unlikely that this situation will actually affect market prices.
@MatiGreenspan – eToro, Senior Market Analyst
Today's Highlights
Dollar Tops Metals Messed
NFP Jobs Report
Bitcoin and the 200 DMA
Please note: All data, figures & graphs are valid as of August 3rd. All trading carries risk. Only risk capital you can afford to lose.
Traditional Markets
The fundamentals are the same as they've been for the last few weeks but it does seem like all the craziness is finally falling into a routine.
The trade talks continue to escalate, and the US Federal Reserve continues to tighten their monetary policy while the central banks are being more cautious. At the same time, we have corporate earnings which seem strong but are showing a few holes under the surface.
Though the Dollar is still in its consolidation, as we highlighted on Wednesday, the last few days have brought us to the top of that range as the Dollar is gaining steadily.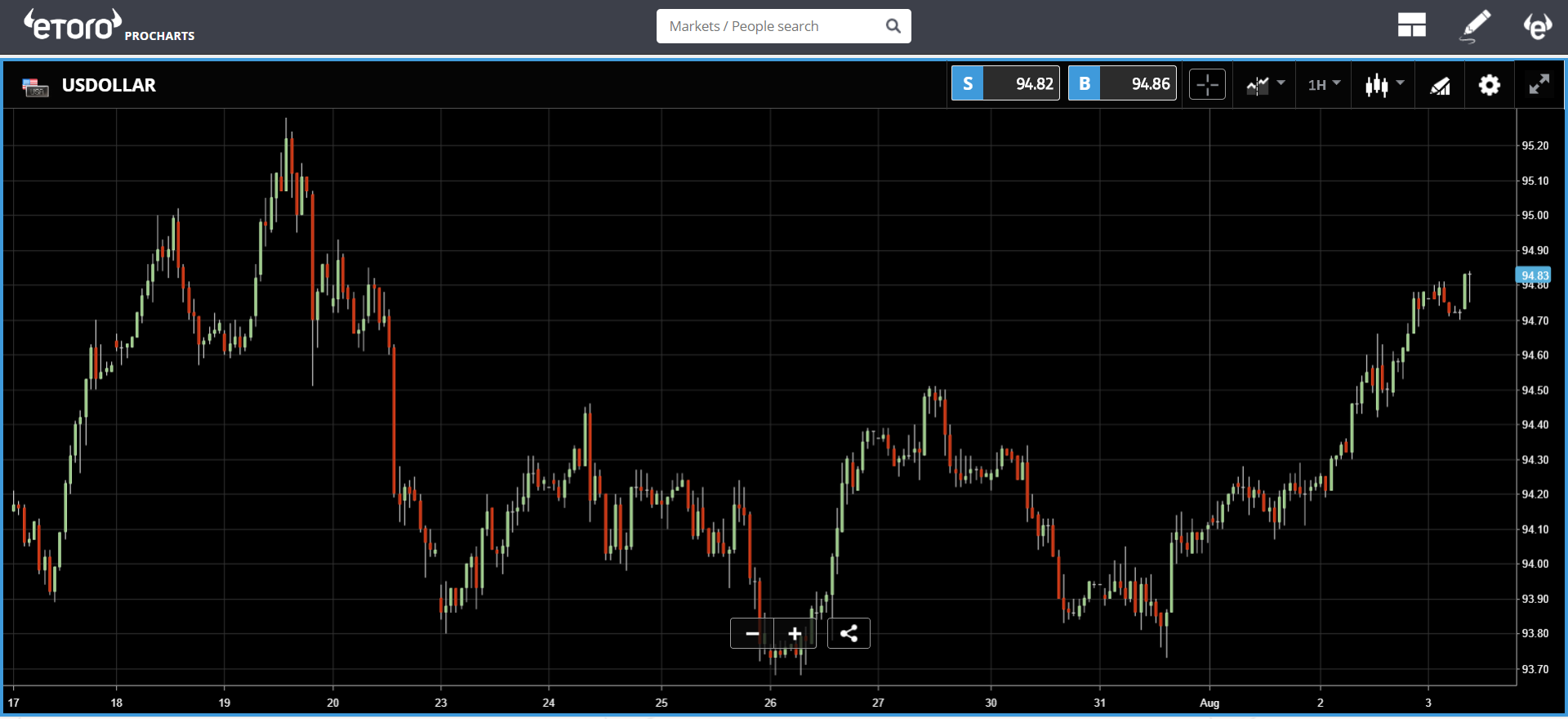 This is likely what's dragging the metals market down further lately. The hardest hit has been gold, which has seen some fresh freaky lows, now supported by the round level of $1,200 per ounce, a price point that has proved significant in the past.
Bitcoin's Technicals
Speaking of price points, a journalist recently asked me about the significance of the 200 DMA line on Bitcoin.
For those of you who are less familiar with technical analysis, the 200 Day Moving Average (DMA) is a line that's drawn over the chart that shows the average price of the last 200 days at any point.
A moving average can really be set for any period that you like but for some reason, 200 days seems to be a significant one that investors pay attention to.
My natural response was to say that crypto tends to pay attention to technical indicators, but when I checked the chart, it seems that this trend is even more pronounced than I'd originally estimated.
Here's the chart with the 200 DMA in blue…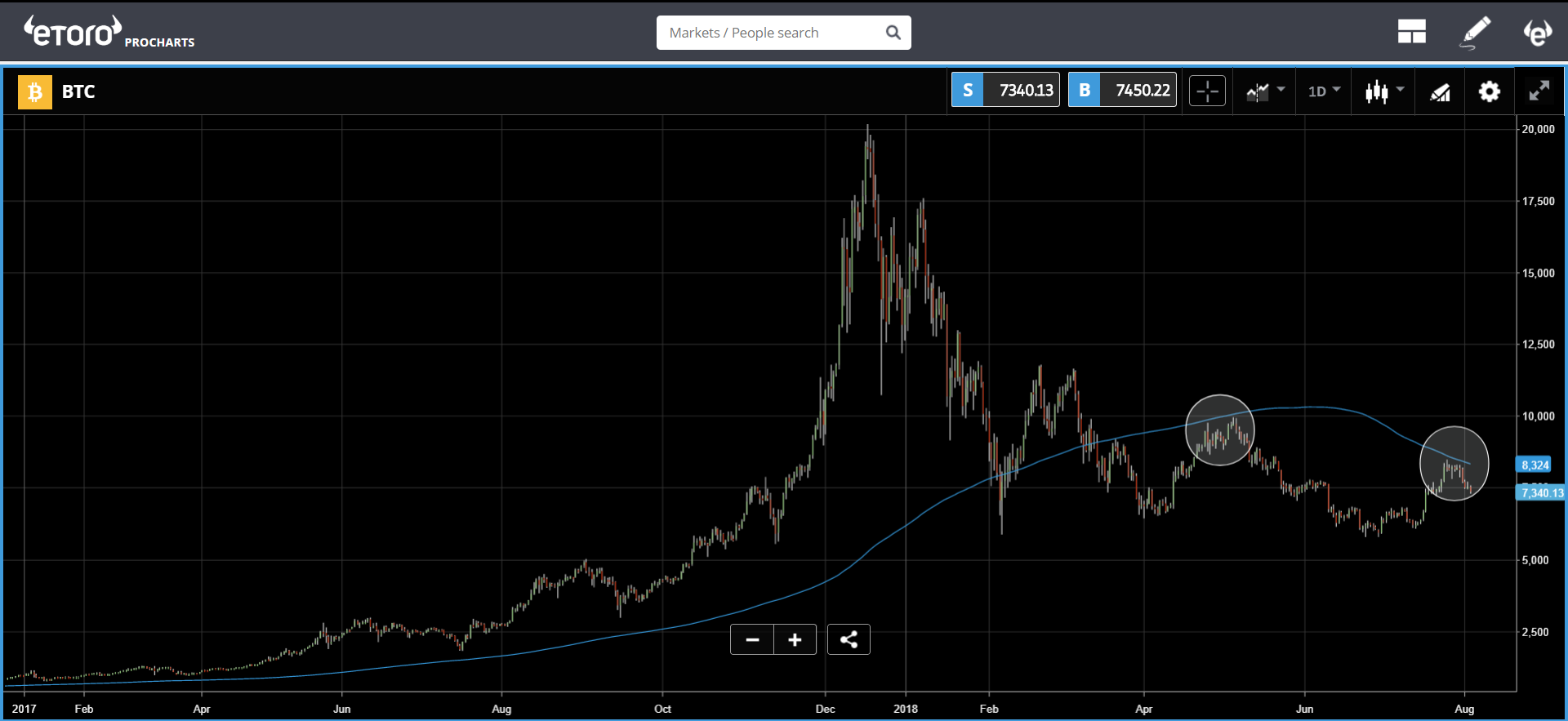 The white circles are highlighting that both of the major rallies that happened this year were stopped short by this indicator. Not only did the price fail to get an upside breach but you can see that both times it had tried for several days, testing the barrier, before finally retreating.
Similarly, we can see that the 200 DMA played a huge role in bitcoin's 2017 rally, especially in the beginning of the year, where it provided the market with support.
Wishing you an amazing day ahead!
This content is provided for information and educational purposes only and should not be considered to be investment advice or recommendation.
The outlook presented is a personal opinion of the analyst and does not represent an official position of eToro.
Past performance is not an indication of future results. All trading involves risk; only risk capital you are prepared to lose.
Cryptocurrencies can widely fluctuate in prices and are not appropriate for all investors. Trading cryptocurrencies is not supervised by any EU regulatory framework.
About the Author: Mati Greenspan is a Senior Market Analyst at eToro
Connect with Mati on….
eToro: http://etoro.tw/Mati | Twitter: https://twitter.com/matigreenspan | LinkedIn: https://www.linkedin.com/in/matisyahu/ | Telegram: https://t.me/MatiGreenspan | Office Phone: +44-203-1500308 (ext:311)
Disclaimer: The opinions expressed in this article do not represent the views of NewsBTC 
or any of its team members. NewsBTC is neither responsible nor liable for the accuracy of 
any of the information supplied in Sponsored Stories/Press Releases such as this one.