Hi Everyone,
As if the world of crypto isn't entertaining enough already, it looks like Hollywood is about to dramatize it even further.
At a Bitcoin conference in Miami, Kevin Connolly who plays Eric Murphy in Entourage made a surprise appearance on stage and announced that he's developing a new show called "Cryptos."
What's even more interesting is that the producers of the show, Sords and King, who are both big blockchain advocates, seem to have modeled the plot after their own aspirations to take on Hollywood by using decentralized ledger technologies.
Despite the current memefest on Twitter, this kind of show on Netflix or Amazon Prime can do wonders for mainstream awareness of cryptoassets and their power to disrupt centralized industries.
@MatiGreenspan – eToro, Senior Market Analyst
Today's Highlights
Shutdown: Day 31 | Days to Brexit 67
China Hard Landing
Crypto in Wyoming
Please note: All data, figures & graphs are valid as of January 21st. All trading carries risk. Only risk capital you can afford to lose.
Traditional Markets
Little or no progress has been made in the UK or USA. Prime Minister May is apparently ceasing cross-party negotiations and instead re-focusing on the issue of the Irish backstop, previously a deadlocked issue. An increasing consensus that the odds are now rising for either a time extension on Brexit negotiations or even a 2nd referendum has the Pound Sterling Rising this morning.
No such serendipitous optics have been presented for President Trump, however. The Democrats rejected a proposal from the White House that would compromise on DACA in order to fund the border wall. Now we're back to square one. It's been more than a month since the shutdown began and many government employees and contractors are already feeling the pinch.
Today the US markets will be partially closed in honor of Market Luther King Jr. Day. In the good words of the great Reverend…
"The ultimate measure of a man is not where he stands in moments of comfort and convenience, but where he stands at times of challenge and controversy."
China's Challange
As was widely expected, the growth figures out of China this morning were extremely disappointing.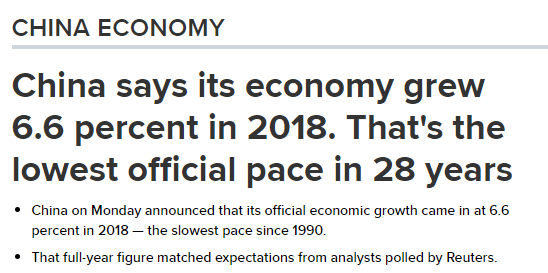 There were some sprinkles of positivity buried under the headline though as both industrial output and retail sales came out strong. The feeling is though, that no matter what happens to the economy, the People's Bank of China will be there to inject further stimulus if needed and prop up the markets.
Asian stocks did experience a tad bit of volatility at the time of the announcement (purple circle) but overall are taking this in good stride.
European stocks, on the other hand, have not been performing particularly well today, and at the time of writing, indices are slightly in the red.
Wyoming Crypto Country
Even though there are only about half a million people living in Wyoming the square state is quickly becoming a leader of bitcoin and blockchain legislation.
A new bill has now been introduced to clarify the status of bitcoin and other crypto assets. The highlight, of course, is that bitcoin and other cryptocurrencies will be given the same legal status as money.
The state has also clarified the definitions of cryptoassets, very similar to the way the Swiss regulator Finma has almost exactly a year ago and divided them into three categories: Currencies, Securities, and Digital Assets (Utility Tokens).
At this point, though the news is exciting the effects are rather limited. Wyoming is a small state and it's still not clear how the federal government will react to this. Certainly, if other states follow in their footsteps this can turn into something bigger but we're still very much in the early stages of the game.
Nevertheless, this small step is a huge win for bitcoin and blockchain as it sets a great example of supportive legislation for the entire country and the entire world.
Let's have an amazing week ahead.
About the Author: Mati Greenspan is a Senior Market Analyst at eToro

Connect with Mati on….

eToro: http://etoro.tw/Mati
Twitter: https://twitter.com/matigreenspan
LinkedIn: https://www.linkedin.com/in/matisyahu/
Telegram: https://t.me/MatiGreenspan
Office Phone: +44-203-1500308 (ext:311)


Disclaimer: The opinions expressed in this article do not represent the views of NewsBTC 
or any of its team members. NewsBTC is neither responsible nor liable for the accuracy of 
any of the information supplied in Sponsored Stories/Press Releases such as this one.