Hi Everyone,
As you may know, every month we're doing a special webcast for all platinum clients in eToro to go over the upcoming events and best market opportunities.
Due to popular demand, we've decided to open up the webcast on a quarterly basis for everyone to participate. Tomorrow will be the perfect timing for this "all-access" webcast, just ahead of D-Day, which is scheduled for this Friday. (More on this below)
To join in, please register now at: http://etoro.tw/WebcastJuly2018
See you there!
@MatiGreenspan – eToro, Senior Market Analyst
Today's Highlights
China is Exposed
India Crypto Ban
Is NEO Killing Ethereum?
Please note: All data, figures & graphs are valid as of July 4th. All trading carries risk. Only risk capital you can afford to lose.
Traditional Markets
We'd like to wish a very happy Independence Day to all of our colleagues and clients in the United States.
Please note that many assets will be closed for trading today at various hours. Feel free to check the market hours page for the specific markets you're trading.
With that in mind, we're likely to experience diminished volumes across the board especially in the afternoon.
Stocks are down this morning in Asia and Europe, clearly not taking advantage of the US holiday. The China50 index is down nearly 1% today as…
In a Hong Kong interview, JPM's Jing Ulrich pointed out that due to the tight credit and property markets in China, it's not just trade that's on the line come this Friday, which she referred to as "D-Day."
Between the China trade decision and the American Jobs numbers, this Friday could indeed prove very eventful indeed.
Ulrich also pointed out the weakness in the Chinese Yuan, something we've been watching closely as well. As we can see here, the US Dollar has given back some ground in the last 48 hours (last two candles) but remains stronger than average (blue line = 200 DMA).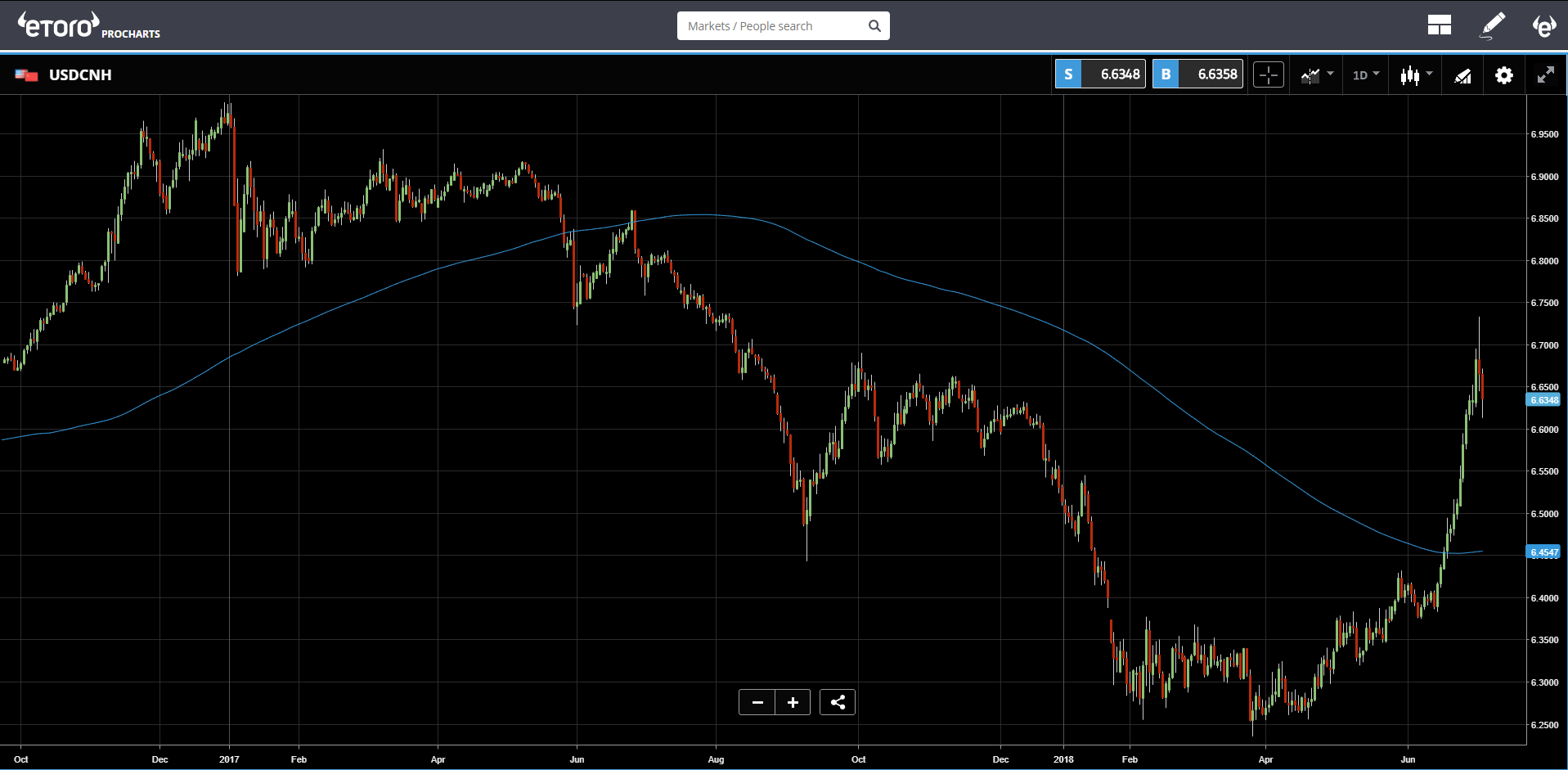 Judging by the reactions in the stock market it does seem like the US has the upper hand in these negotiations. Here we can see the Dow Jones (white line) Vs the China50 (green) since the beginning of the year.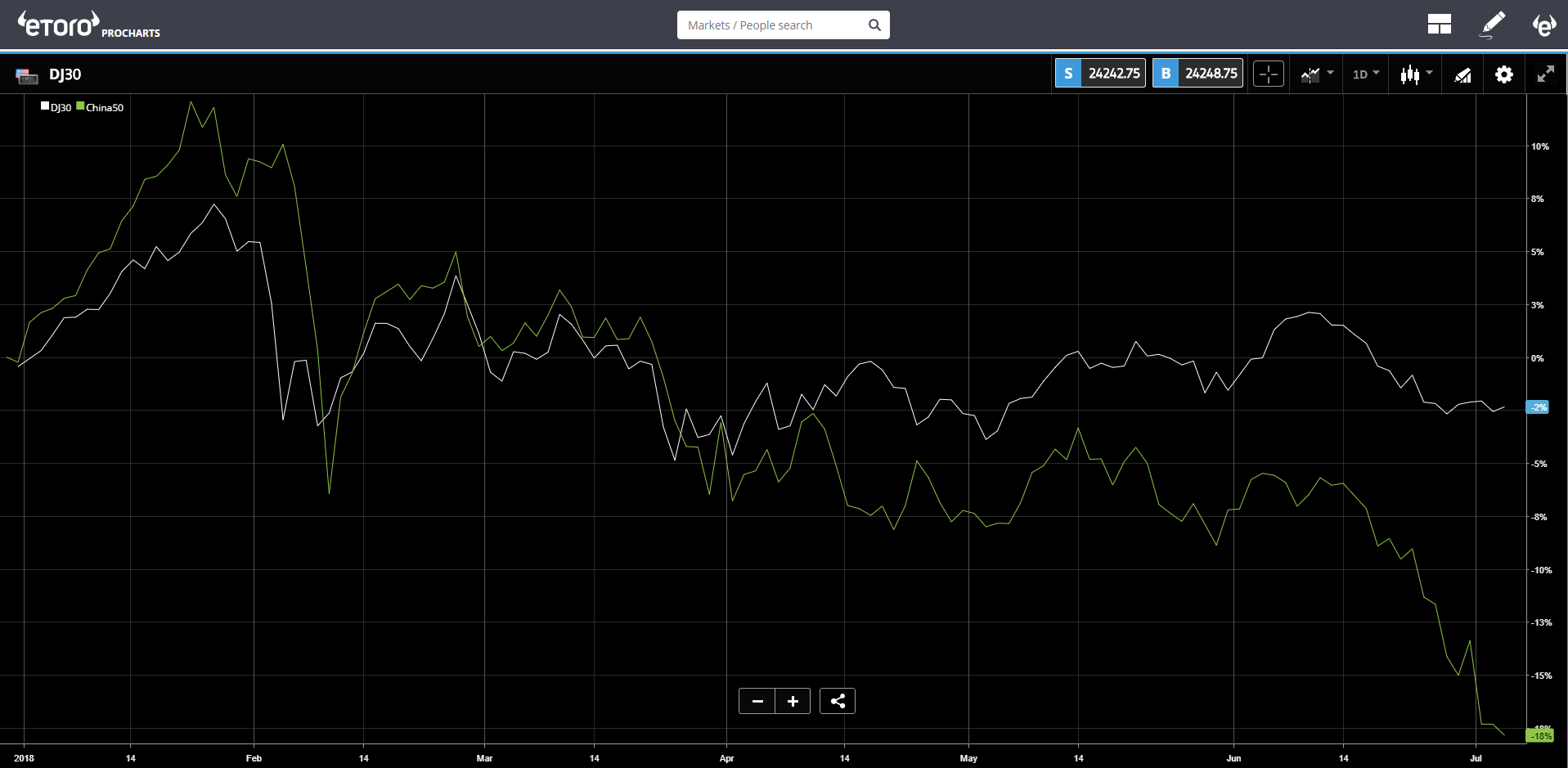 Still, China does have another card that they have so far been reluctant to play. At the moment, China is holding approximately $1.19 trillion worth of US bonds, which is about 19% of America's foreign debt.
So far these assets have been considered off-limits in these negotiations as any sudden debt dump by China would likely hurt both economies. However, should things continue to escalate at the current pace, it wouldn't surprise me if Xi Jinping started hinting at such a move.
Crypto in India
Yesterday we had a rather sour update on the outlook for crypto in India.
As we know, India's central bank (RBI) has imposed a ban on cryptocurrencies that is set to be enforced this Friday, D-Day.
The event yesterday was an early hearing that was requested by crypto-companies to try and stop the ban from taking place and, unfortunately, the courts rejected the motion by upholding the ban for now.
The reason that the RBI gave in court was rather contradictory though…
By this same argument, they would need to rule out all forms of digital money, which India has been relying on since Modi's government got rid of 86%of the bank notes in 2016.
In any case, this update doesn't seem to have affected the market too much. The full-length hearing is still set for July 20th. This isn't over yet!
NEO Kicking Ethereum
As investors wait patiently for the next upgrade to the Ethereum network, some may be losing patience.
The upgrade known as Casper is supposed to be brilliant and will reportedly include things like PoS and sharding, which will make the network much more scalable. However, even though Ethereum founders Vitalik Beterin and Joseph Lubin have indicated that the upgrade will happen soon, we still have no official release date.
In the meantime, the network is showing serious signs of congestion and many transactions are being delayed.
In this chart, we can see the four biggest platforms that are competing to be the number one network for decentralized apps.
As we mentioned yesterday, NEO is flying lately and that move has carried through this morning in a big way.
There are two big headlines that could be contributing to the surge…
The first is that NEO seems to be taking their first steps towards decentralizing the network.

For our customers in China, here is the update that NEO posted on their Twitter feed yesterday.
In a separate update, a landmark ruling in China indicated a rather favorable position towards digital assets.

Though we know that ICOs have been illegal in China since September 2017, blockchain technology seems to be finding more favor in the country lately. As NEO is the number one blockchain in China, this could provide a strong narrative for its development and usage there.
Wishing you an amazing day ahead!
This content is provided for information and educational purposes only and should not be considered to be investment advice or recommendation.
The outlook presented is a personal opinion of the analyst and does not represent an official position of eToro.
Past performance is not an indication of future results. All trading involves risk; only risk capital you are prepared to lose.
Cryptocurrencies can widely fluctuate in prices and are not appropriate for all investors. Trading cryptocurrencies is not supervised by any EU regulatory framework.
About the Author: Mati Greenspan is a Senior Market Analyst at eToro
Connect with Mati on….
eToro: http://etoro.tw/Mati | Twitter: https://twitter.com/matigreenspan | LinkedIn: https://www.linkedin.com/in/matisyahu/ | Telegram: https://t.me/MatiGreenspan | Office Phone: +44-203-1500308 (ext:311)
Disclaimer: The opinions expressed in this article do not represent the views of NewsBTC 
or any of its team members. NewsBTC is neither responsible nor liable for the accuracy of 
any of the information supplied in Sponsored Stories/Press Releases such as this one.